At the end of nearly every fall, one can look back at the praises of spring and see misguided conclusions. Such is the nature of competing against oneself for months at a time. Last year, the greatest misread from Notre Dame's spring actually may have been the underrating of the Irish defensive line. Its struggles to mount a pass rush spoke more to the offensive line's dominance than it did the defensive front's ineptness, but the latter became the view du jour.
Thus, every conclusion drawn this spring should be measured with a great deal of trepidation and a few qualifiers. Nonetheless, certain possibilities this spring would offer the most promise to Notre Dame's 2018.
Starting with, of course, avoiding any and all injuries in the coming month of practices.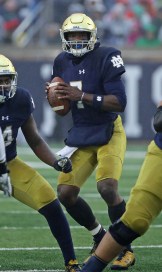 Beyond that, the greatest development would be settling upon a starting quarterback without any remaining doubt. Such a decision is hard to fathom without one of the two main competitors — rising senior Brandon Wimbush and rising junior Ian Book — failing as much as the other succeeding, and that may seem contrary to the search for an ideal 15 practices. However, if that is what it takes to have no quarterback question moving forward, it would be a net positive.
This would require one of Wimbush or Book to show an "adeptness," to borrow a word from Irish coach Brian Kelly, in both passing and running.
"What I want to know is that our quarterbacks are equally adept at running it and throwing it, and that wasn't the case [last] year," Kelly said before spring practices began.
Proving that beyond the shadow of a doubt would hinge on a nearly flawless month to come, which would also be the longest stretch of stellar play seen from either Wimbush or Book. It remains unlikely, but it would be the first step toward an ideal scenario.
A young emergence along the offensive line
Splitting right tackle duties last year worked in large part because the rest of the offensive front was proven and experienced. With rising sophomore Robert Hainsey likely at a new position and rising junior Tommy Kraemer taking on more duties (if not also at a new position), finding a single fifth starter would allow this new-look line a full summer to develop the chemistry last year's already had.
That could come in the form of rising sophomore Josh Lugg or rising junior Liam Eichenberg or from another of the handful of candidates. Whomever it is, identifying him before the summer would bode well for whoever is taking the snaps.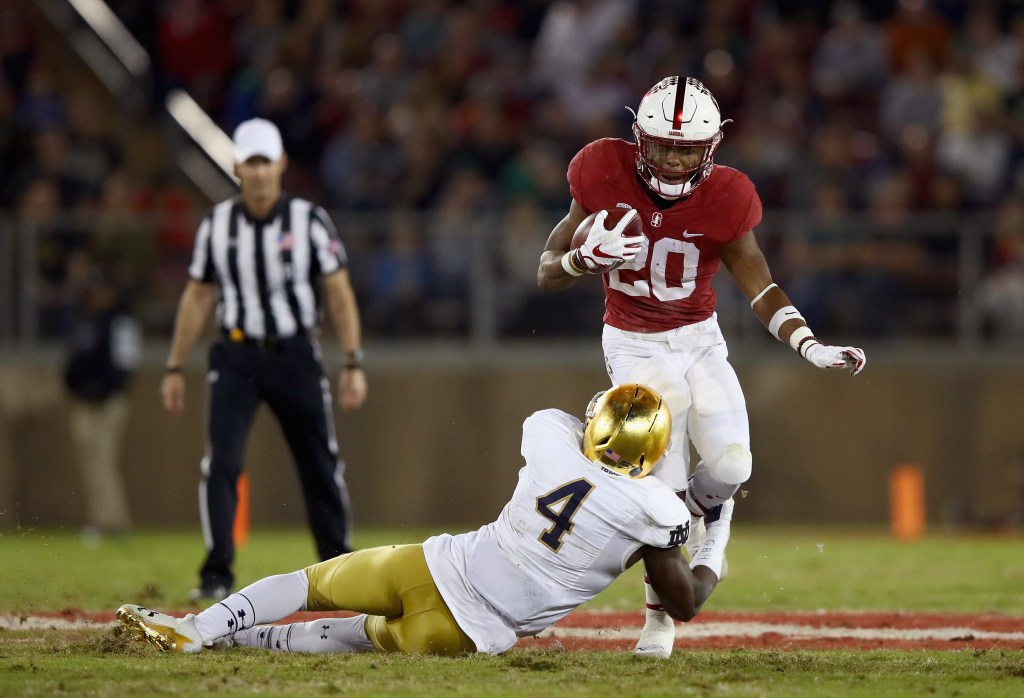 Coney's command of the defense
Rising senior Te'von Coney will step into the role formerly filled by the likes of Te'o, Schmidt and Morgan. Not only will he be counted on to make the most defensive plays and break 100 tackles again, but his command and understanding of the defense will dictate how a number of other players perform, as well.
Granted, Coney will have fifth-year linebacker Drue Tranquill in the middle with him, and Tranquill showed a solid grasp last year, often directing traffic from the rover position, but Coney will be in the middle and efficient pre-snap adjustments this fall will be best coming from there.
Competent safety play emerges
The odds are slim Notre Dame will find two excellent safeties this offseason. Given there was not even good safety play last year, finding two stellar starters would require both rising junior Alohi Gilman to be better than advertised and some distinct development from an unexpected source.
More realistically, Gilman may be good, certainly better than options seen last year, and one of those options also takes a few strides forward this spring.
Having some viable possibilities at safety may sound like a low bar to clear, but it would be a marked improvement over the last two seasons and may be the final piece to the 2018 Irish defense.
---
Anything else found this spring would be icing on the cake. Even if that includes early-enrolled freshman running back Jahmir Smith flashing unexpected speed, rising senior Asmar Bilal showing a complete handling of the rover duties and/or rising sophomore receiver Michael Young not dropping a single pass throughout all of March and April. The Notre Dame coaching staff would certainly welcome each of those daydreams, but such micro performances may be a mirage this time of year.
Bigger picture changes — such as at quarterback, offensive line and the up the middle of the defense — would present a strong foundation for 2018.
[protected-iframe id="4322d87b3e2eb4d11caa19723fa3b36c-15933026-22035394" info="//platform.twitter.com/widgets.js" class="twitter-follow-button"]