Notre Dame restarted spring practice Tuesday, not much worse for the wear from spring break, per Irish head coach Brian Kelly and the conditioning tests tied to the return to campus.
"I'm sure they got a chance to be college students on break, but they also understood how important it was to come back in good physical condition," Kelly said.
Much like it has frequently in the past, Notre Dame intentionally scheduled a few practices before taking more than a week off for the mid-semester break. In doing so, the Irish do not gain additional practice time, but they do stretch the time spent engaged in football activities during the spring, nonetheless. The NCAA allows only 15 spring practices, all to be held within 28 days, but when school is not in session, that clock pauses.
Thus, Kelly and his coaching staff spent the two practices preceding break focusing on scheme implementation. Worst-case scenario, Notre Dame gets its 15 practices with a slight bit less fatigue. Best-case scenario, the conversations before break mill around in players' heads a bit for an additional week. It also helps allay some of the mid-semester academic burdens.
Whether as a result of that strategy or simply due to spending a second season within the same scheme, Kelly saw a more consistent performance from the Irish defense in Tuesday's practice, the spring's third and first in pads.
"You don't see a lot of the miscues that maybe we had at other times, relative to the number of guys that have experience," he said. "I don't think you see it in a transformational sense as much as you see it in small areas that look to be really clean."
That defense may go as far as its linebackers carry it this fall. The defensive line looks to be a strength both in terms of talent and depth. An array of skilled cornerbacks will hold up a secondary likely still plagued by average safety play. The linebackers, however, are not as clear an image yet. Fifth-year rover-turned-linebacker Drue Tranquill and rising senior Te'von Coney will lead the way, leaving a question mark at rover.
Kelly spoke well of rising senior Asmar Bilal at the position, but only against more physical opponents. Against a spread offense, a different option may be needed at the safety/linebacker hybrid position.
"We have some other options there," Kelly said. "I don't think it needs to come to, 'Alright, this has to happen in the spring.'
"I think the nickel position will help us decide the rover positon. We know what we have in Asmar against the tight end there, and then we just keep working some young guys."
One particular "young guy" in the mix is rising sophomore Jeremiah Owusu-Koromoah, who has shown all the physical gifts necessary, but has yet to experience collegiate competition.
"It is strictly about his ability not to [make mistakes], and that's just going to take time," Kelly said. "He has traits, there's no question about that from a physical standpoint. He has to get the traits from the other side of it, understanding the game and what we're doing."
In addition to rover, Notre Dame needs to find a backup linebacker to give Tranquill and Coney some rest when needed. At least at rover, situational packages can offer a breather to anyone who takes the majority of reps there.
While rising junior Jonathan Jones is the front-runner for that responsibility, three early-enrolled freshmen are in the mix, as well, although only to various degrees. Kelly indicated Bo Bauer may be the most game-ready of him, Jack Lamb and Ovie Oghoufo.
"[Bauer's] physicality is really good," Kelly said. "He's capable of probably playing right away. Smart and physical.
"Of the three guys, he's a little bit ahead of them, but each one of them has some interesting and unique traits that are going to allow them to be very successful for us."
Kelly praised Oghoufo's athleticism and football intellect, while hoping he will see gains in strength and conditioning this offseason. Lamb, meanwhile, is possibly athletically ready to see action, but may not yet be prepared for the wear-and-tear of playing as an interior linebacker.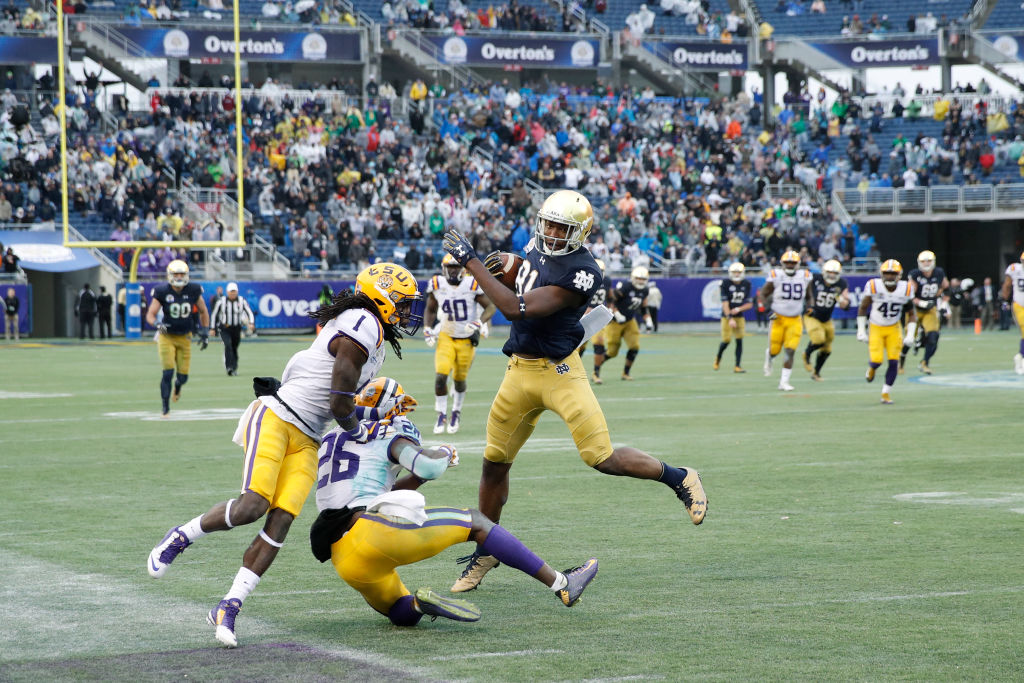 On Brandon Wimbush and Miles Boykin
Recapping every step forward or backward of every position this spring would become a repetitive and aimless exercise. One day rising sophomore receiver Michael Young will look like a rapidly-developing weapon, and a week later rising junior Javon McKinley may have replaced him as the flavor of the day.
But the competition at quarterback will be the topic paid most attention to, so when a pertinent bit is offered, it should be included. With that in mind, the only mention of either rising senior Brandon Wimbush or rising junior Ian Book on Tuesday was Kelly's highlighting of the chemistry between Wimbush and classmate Miles Boykin.
"Wimbush and Miles have a great relationship out there," Kelly said. "You can see that they're going to connect on some big plays for us."
Furthering the conversation on Boykin: "He's playing with a lot of confidence, now with [former Irish receiver Equanimeous St. Brown] moving on, [Boykin] has that opportunity to really shine and he's had three really good practices. I think that's a guy now that ascends."
[protected-iframe id="4322d87b3e2eb4d11caa19723fa3b36c-15933026-22035394" info="//platform.twitter.com/widgets.js" class="twitter-follow-button"]