In its retelling, Ian Book's press conference following last spring's Blue-Gold Game gains a bit of humble drama. The then-freshman did not completely acquiesce Notre Dame's starting quarterback role to Brandon Wimbush. He simply acknowledged reality and its likelihoods. Wimbush was the presumed Irish starter with DeShone Kizer headed to the NFL and Malik Zaire transferring to Florida.
Recognizing that fact did not mean Book liked the pecking order.
"Obviously, I think I can be the starter," Book said nearly a full 12 months ago. "Brandon is a great player. … If something were to happen, and it's the next man in, I would be able to do a good job."
Book started only one game in 2017, but he was called on three times in competitive situations, and in two of them he performed quite well, certainly better than "good." Before the season had even ended, Book knew he was more than "the next man in," per Notre Dame quarterbacks coach Tom Rees. A disappointing November forced the Irish coaching staff to have both Book and Wimbush ready heading into the New Year's Day matchup with LSU in the Citrus Bowl.
"They knew going into the game, we're going to make the decision that gives us the best opportunity to win and everybody in this room is on board," Rees said Tuesday. "They support one another like a brother, and their relationship helps mitigate [any friction]."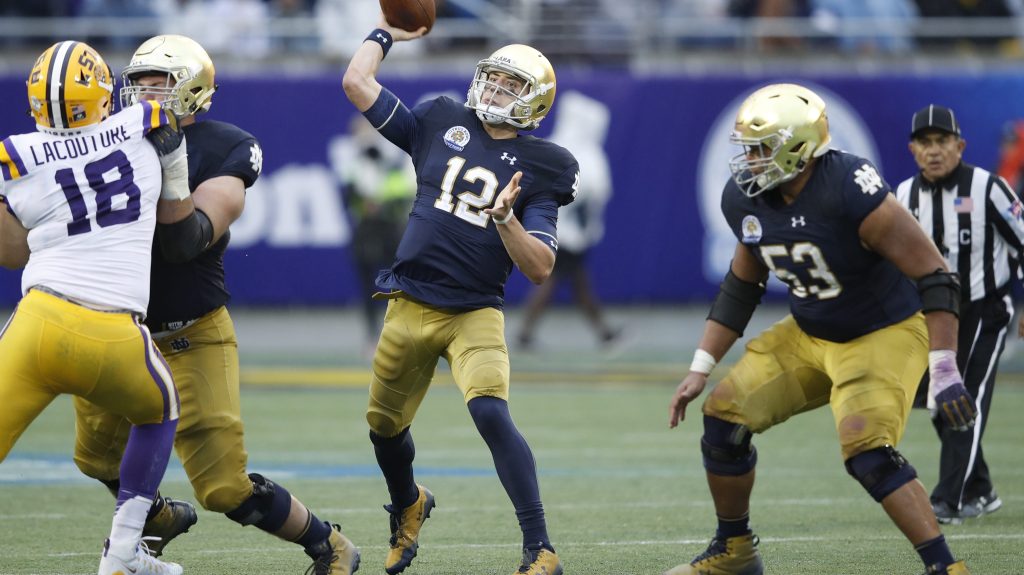 In memorable fashion, Book led Notre Dame to a second-half comeback, generating the only genuine offensive production of the day while Wimbush remained on the sidelines after a stagnant first half. Wimbush finished the bowl game 3-of-8 for 52 yards while Book threw for 164 yards and two touchdowns on 14-of-19 passing.
Nonetheless, with a full offseason ahead of them, Rees wanted both Wimbush and Book to move past that day's results and focus on a quarterback competition to come.
"Nothing changes. We talked as soon as the game was over," Rees said. "You step into the [football facilities], you expect to be the guy. Same thing to Ian, you expect to be the guy."
During his Irish career, Rees experienced such a situation from both sides of the duel. He was the incumbent quarterback working through growing pains while the unproven-but-unblemished backup challenged for the job. Before that, Rees was the backup trying to show he was ready to become the starter.
When Rees makes comparisons between himself and Book, a rising junior, it is that latter situation he alludes to. Rees had performed well in forced duty to end his freshman season after starter Dayne Crist suffered a season-ending injury, yet once healthy, Crist was slotted back into the starting role. Rees set to usurping that order.
Book may be a year older than Rees was then, and Wimbush's benching came due to inefficiency and inaccuracy rather than injury, but the task ahead of Book remains the same as the challenge Rees faced.
"You need to be sharp mentally and then accuracy can never be an issue with him," Rees said. "You need to be the most accurate quarterback we have.
"… He needs to recognize coverage, push himself to understand where we're trying to go with the ball, and when he delivers it, he needs to be as accurate as anyone in the country."
In other words, Book needs to erase any doubt. Wimbush, a rising senior, at least has game footage of repeated successes to give him some cushion in coaches' minds. Book's game film consists of the strong performance against LSU, a rout of North Carolina and a contributing role to the debacle in Miami. Even that 17-of-31 showing against the Tar Heels came along with two interceptions, half of his four in only 75 season-long pass attempts, compared to Wimbush's six interceptions in 275 attempts.
"All the other intangibles you hope come along and pull you through," Rees said. "… You need to be the sharpest guy and the most accurate to really play at a high level."
As Book progressed throughout the 2017 season, perhaps especially coming off the week as starter against North Carolina while Wimbush recovered from a foot injury, he still showed his flaws in practice too often to set the stage for an in-season quarterback controversy. That consistency is still sought.
"[Book] can't have some lows in practice and then raise it all of a sudden when we get to team [drills]," Rees said. "He needs to be steady throughout the whole process.
"For him, you see a different mentality, a different attitude, where he's really attacking, where he's really taking ownership. When he's in there, he's taking ownership of the offense."
Book thought he was ready to take that lead a year ago, but understood it was not about to happen. Accuracy and consistency could now change that once-acknowledged reality.
[protected-iframe id="4322d87b3e2eb4d11caa19723fa3b36c-15933026-22035394" info="//platform.twitter.com/widgets.js" class="twitter-follow-button"]