Halfway through spring practice, Notre Dame's offensive line remains in distinct flux, albeit an expected one. A week ago, Irish head coach Brian Kelly made it clear he did not anticipate exiting spring with a set front. Instead, he wants to know what his options in 2018 will be.
"I want to know where we are when we leave the spring as to who can play what positions," Kelly said Saturday. "Who is going to be the next left tackle? Is there a starting left tackle or right tackle? Does [rising junior] Liam [Eichenberg] go over next week and start playing some left tackle?"
Yes, Eichenberg does, it would seem.
Kelly said Eichenberg spent Thursday's practice at left tackle, with rising sophomore Robert Hainsey moving to right tackle, where he spent his debut season. In that alignment, rising junior Tommy Kraemer moved to left guard from right tackle, where he spent the 2017 season and much of the spring to date.
Of course, fifth-years Sam Mustipher and Alex Bars remain at center and right guard, respectively.
Eichenberg's solid play this spring has created this whole new set of possibilities, perhaps allowing Hainsey to remain at right tackle where he is both more experienced and even at ease.
"He's actually a little more comfortable on the right side," Kelly said. "We know what his strengths are and some things he has to continue to work on, he knows what they are.
"We needed to see a bigger-body guy out there at left tackle, too, and Liam gives us that size and strength that maybe [Hainsey] doesn't have. Robert has outstanding technique. We wanted to be able to see them both."
In the remaining eight spring practices, concluding with the Blue-Gold Game on April 21, Notre Dame will almost assuredly roll out another offensive line alignment or two, simply to be sure of who can play where before the summer.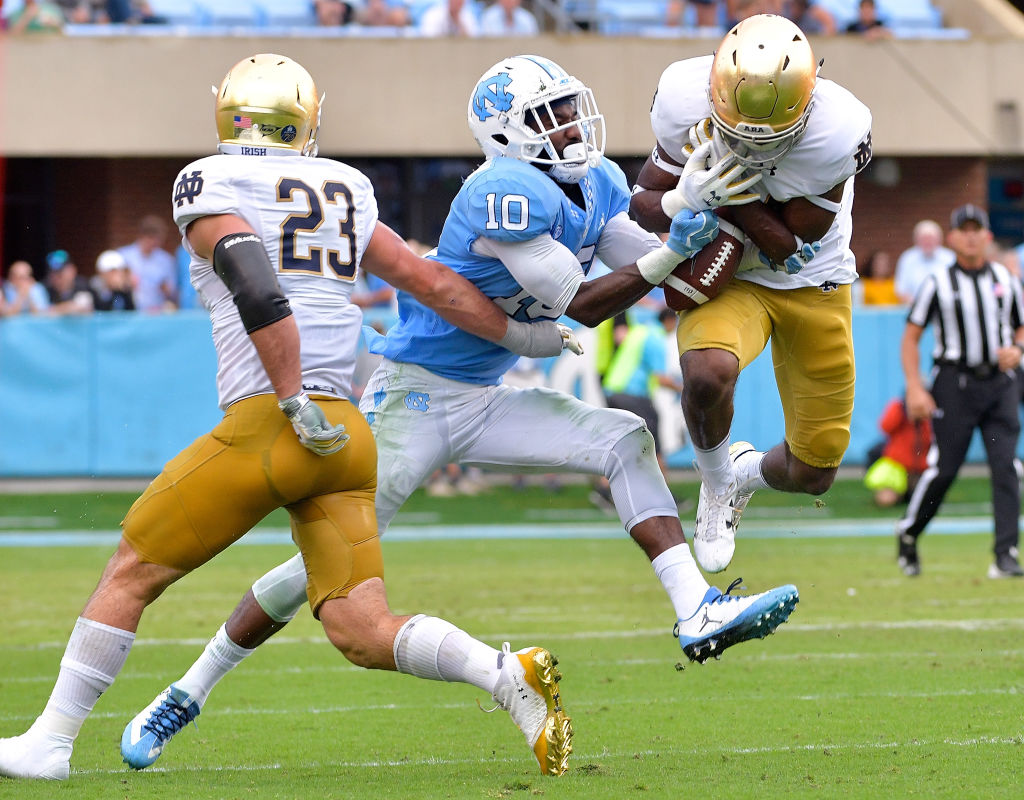 Secondary shifts, as well
Early-enrolled freshman Houston Griffith arrived this winter best-described as a defensive back, rather than constricted solely to cornerback or safety. Up until Thursday, he had toiled amidst the cornerbacks, a position group stocked with both known talent and experience. At safety, neither of those commodities is at a proven abundance.
Due to the "plus situation" at cornerback, Griffith flipped to safety Thursday. In turn, rising senior Nick Coleman spent some time at nickelback, rather than safety.
"[Coleman] is a really good athlete," Kelly said. "He has some really good strength. I gave him a look two years ago at nickel and he did some really good things. We want to be a little more focused on that."
Listed at 6-foot and 191 pounds, Coleman stands three inches taller and weighs 13 pounds more than rising senior Shaun Crawford, the presumed frontrunner at nickelback. If Coleman proves Kelly correct, Crawford could spend more time on the outside as a more traditional cornerback, creating quite the pass-protection duo alongside rising junior Julian Love.
"We'd like a little bit more size at [nickel]," Kelly said before listing off Crawford's undeniable intangibles as displayed in particular in the first month of the 2017 season when he forced three turnovers. "But to have somebody like Nick Coleman who has that strength and size at that position, it just made sense that we'd let them both compete in there at that position."
Quarterback commentary
Rising senior quarterback Brandon Wimbush spent spring break working with former Arizona State quarterback Taylor Kelly and some others, focusing on Wimbush's mechanics. Throughout the fall, Brian Kelly would acknowledge Wimbush had some improvements to make in that regard, but the fixes were too big picture to be properly addressed during the season. Working through break was an extension of that necessity.
Wimbush worked with that particular group, led by former MLB pitcher Tom House, partly because his head coach knows the process House uses and how it closely parallels Notre Dame's.
"Brandon has made some great progress with his accuracy, his consistency," Kelly said. "He did a great job today … where we add a little bit of chaos to the situation. He went through a progression and checked it down to his [running back] for a touchdown. Good poise and presence in the pocket."
Rising junior quarterback Ian Book's performance has been less consistent than his quarterback competition counterpart.
"Ian's been a little bit spotty at times in the morning with his reads," Kelly said. "Sometimes that's just focus and concentration on his part, but his feet are light. He's throwing the ball well."
Injury update
Rising senior defensive tackle Jerry Tillery returned to practice from a concussion suffered last week, while rising sophomore receiver Michael Young is now in the concussion protocol after a hit in Tuesday's practice.
[protected-iframe id="4322d87b3e2eb4d11caa19723fa3b36c-15933026-22035394" info="//platform.twitter.com/widgets.js" class="twitter-follow-button"]