No matter how Notre Dame goes about it, replacing 1,830 rushing yards and 14 touchdowns on the ground will be difficult. That kind of production does not come around readily, especially when it comes from only two players, one of which accounted for 1,430 yards and nine touchdowns in mounting a brief Heisman campaign.
That is the task ahead of the Irish and, more precisely, running backs coach Autry Denson. In rising senior Dexter Williams (pictured above) and rising junior Tony Jones, Denson has two possibilities with plenty of room to grow. Their stats alone speak to the potential for more:
Williams in 2017: 360 yards and four touchdowns on only 39 carries, a 9.2 yards per attempt average, in 10 games.
Jones in 2017: 232 yards and three touchdowns on 44 carries, a 5.3 yards per attempt average, in 12 games.
Combining the concept of health with the opportunity created by the loss of NFL-bound Josh Adams, those numbers should increase. Notre Dame head coach Brian Kelly has already said the rushing game's future may hinge on Williams' development — with development, it becomes a viable two-back attack. A two-back attack will have a starter nominally, but Denson hopes neither accepts the fate of a No. 2 back.
"There's no way to prepare to be No. 2," Denson said last week. "Every one of those guys has the mindset from a preparation standpoint that he is preparing to be the starter, so when his opportunity comes about, he is ready to take advantage of it."
Given the natures of the running back position, though, Denson will likely need more than just those two upperclassmen. If the 2017 Irish season underscored any football truth, it pertained to the slim odds of keeping running backs healthy. Ankle injuries and muscle tweaks limited Adams, Williams and Jones throughout the season, creating the chance for Deon McIntosh to rush for 368 yards and five touchdowns on 65 carries. C.J. Holmes also took eight carries for 32 yards as a result of those injuries, getting activated into an active duty role in case McIntosh, too, went down with an injury. (Both McIntosh and Holmes have since been dismissed from the program due to violations of team rules, and with Notre Dame currently four projected scholarships above the NCAA maximum of 85, speculation about either or both returning to the team before the fall seems unfounded at best.)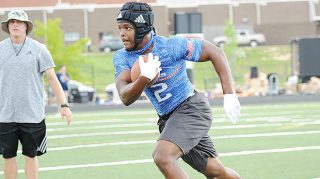 Avoiding those injuries is just this side of impossible. Denson joked he would need a glass bubble, perhaps even on gamedays, to keep all the backs healthy. Accepting that reality, the progress of early-enrolled freshman Jahmir Smith and rising sophomore Jafar Armstrong becomes more important than the usual third-stringers' growth.
Smith has already impressed Denson with his ability to retain information, furthering the options he would offer a game plan if needed.
"[He is] kind of a cross between speed and power," Denson said. "Catches the ball a lot better than I thought he would, and retains information really well. His academic IQ and his football IQ are mirroring up really well."
Armstrong continues to split his time between receiver and running back, though Denson wants as much time with Armstrong as possible. Armstrong spent last season working as a receiver. If Notre Dame can prove he is a viable running back, his presence could suddenly create a variety of formation difficulties for defenses.
"The fact that he can play both, you can never have too many guys that play multiple positions," Denson said. "We run a spread offense. It's about getting the best five guys on the field from those skill positions and just trying to threaten the defense with the best players possible."
The biggest obstacle between both Smith and Armstrong and a plethora of playing time may be the same challenge that limited Williams at points the last few years. Jones was an exception to the rule, not one disproving the rule, of young backs struggling in pass protection. Having lived through that experience himself once upon a time, Denson offered an understandable explanation for that struggle.
"When you're in high school, usually these guys are the best player on their team, so they aren't called to block a whole lot," he said. "They usually have the ball in their hands, one way or another.
"It's that, but it's also that our playbook is a lot bigger. Understanding where you fit into the protection when the protections are called, that just takes repetition."
One luxury of having so few backs is it guarantees Smith and Armstrong get those repetitions this spring, and they will almost certainly need that understanding this fall when either Williams or Jones sprains another ankle.
[protected-iframe id="4322d87b3e2eb4d11caa19723fa3b36c-15933026-22035394" info="//platform.twitter.com/widgets.js" class="twitter-follow-button"]