For every strong performance in tomorrow's conclusion to Notre Dame's spring practices, a misstep or mistake will inherently match. If rising-senior running back Dexter Williams breaks loose for a 40-yard touchdown run, a critic might note the lack of speed in the Irish secondary. Should the Notre Dame defensive line wreak havoc in the backfield all afternoon, it may be due to a shoddy offensive line rather than a stellar defensive front. Interceptions will be considered equal parts a quarterback's failing and a defensive back's playmaking.
A year ago, defensive end Daelin Hayes recorded multiple "sacks" in the Blue-Gold Game. Whether or not he actually tackled a quarterback, the pressures indicated to the public's eye that the right side of the Irish offensive line would be a 2017 weakness. Instead, they should have sparked no offensive line worry, only taken as a precursor to Hayes' three real-world sacks and 6.5 tackles for loss in the fall. The right side of the line, manned by the tag-team of Tommy Kraemer and Robert Hainsey, was actually a strength, part of the country's best offensive line.
Such are the flaws to over-analyzing an intrasquad scrimmage.
With those disclaimers in mind, the things to learn in the Blue-Gold Game hinge more on scheme, order of appearance and type of usage. Throughout the spring, the Irish offense has focused on the passing game. Yes, the running game drove the Notre Dame offense throughout 2017, but it is now without two All-American offensive linemen and a record-setting running back. At some point, the ground game needs to be proven all over again, and that point is supposedly Saturday.
"As it relates to our offense against our defense, we've thrown the ball much more than we've run it because of those things that we've wanted to grow in," Irish head coach Brian Kelly said over the weekend. "The spring game, we'll get a better sense because we'll run the ball a whole lot more and we'll be who we have been."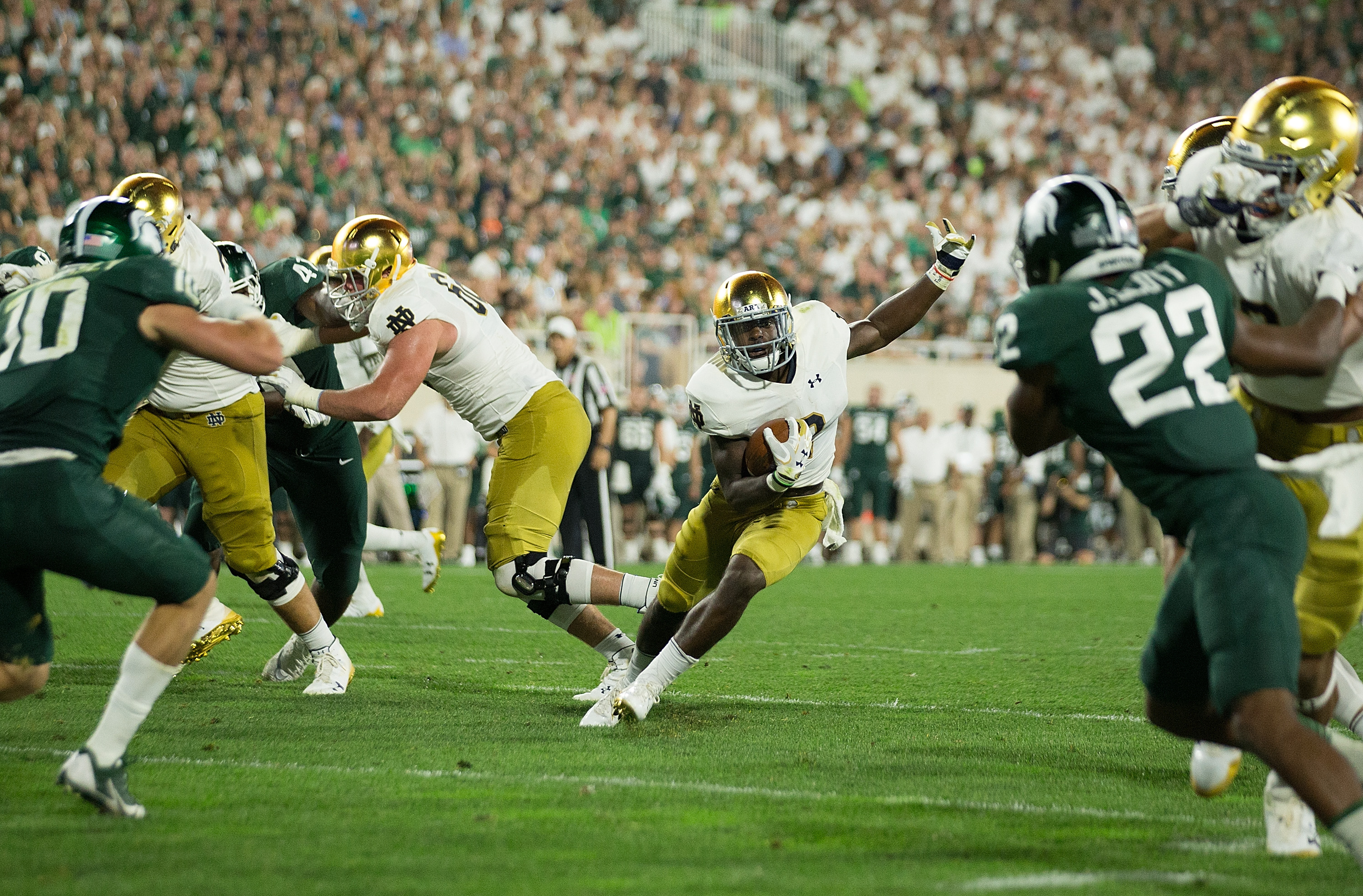 That sense will begin with Williams and rising-junior Tony Jones (pictured at top). Williams appears to have the starting position within his grasp, but picking up a few pass blocks against the likes of Hayes would solidify that pecking order. Aside from that, perhaps the greatest thing to learn regarding Williams and Jones is, can they get through a competitive environment without injury?
Of course, limiting their carries will not only help that cause, but also reveal what kind of running back depth Notre Dame has. After the two injury-plagued upperclassmen, all the Irish can claim is an early-enrolled freshman, a receiver-turned-hybrid and a quarterback-turned-running back/receiver.
The Irish desperately need at least one of, preferably two of, Jahmir Smith, Jafar Armstrong and Avery Davis, respectively, to step forward.
The offensive line has set itself. With four returning starters and a long-touted tackle-of-the-future in rising-junior Liam Eichenberg along the front, the blocking is not the concern in the running game. Williams' speed and Jones' versatility offer promising potential when healthy. But this is football, both will not be healthy throughout the fall. Other carries need to be handled ably by at least a portion of that trio.
Though he may be the youngest, Smith may be the best option, simply because Armstrong's and Davis' responsibilities vary so greatly as they bounce between running back and receiver and, in Davis' case, quarterback.
How will offensive coordinator Chip Long deploy Armstrong and Davis? Will they spend more time in the backfield or at slot receiver?
The addition of the two pass-catching backs increases the likelihood of Long using his favorite alignment, one with two running backs, at least one of which is a veritable route-runner and pass-catcher. Williams has never proven himself to fit that description, though Long noted Williams has improved his pass-catching as of last week. When Jones was injured last year, Long could no longer deploy the two-back set that quickly puts opposing defenses in unavoidable binds.
"That was a big part of our offense in spring ball, fall camp, then the backs got knocked out and hobbled," Long said. "We couldn't use that part of our offense. It hurt us."
Should Jones twist an ankle again in September, Armstrong and/or Davis should keep that option available for Long's play calls.
"Just having the ability with more depth back there, those type of guys, instead of just being Tony, now you have Avery, possibly Jafar," Long said. "Injuries can't take us out of that personnel."
When he was healthy, Jones would often motion out of the backfield in those alignments. Although he finished the year with only six catches for 12 yards, the mere threat of his receiving abilities altered defensive approaches.
At other points, Jones was a bulldozer of a blocker, taking on multiple defenders to help spring either quarterback Brandon Wimbush or now-NFL-bound Josh Adams for a longer gain. Jones is likely to remain the best at this varied skillset, but having depth in the role is a luxury critical to Long's preferred offensive scheme.
Most starting positions are settled, especially with the offensive line now set. Safety is not. Who will start at safety? Who will be the second-unit?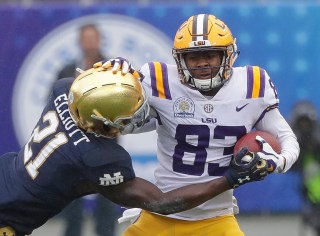 Even the candidates at safety have ebbed and flowed this spring. Rising-sophomore Jordan Genmark-Heath now appears to be headed toward a future at linebacker and rising-senior Nick Coleman has dabbled at nickelback while early-enrollee Houston Griffith moved from cornerback to safety to become another considered option.
At this point, rising-juniors Jalen Elliott and Alohi Gilman appear to be the likely starters, with Griffith offering a possibility of that changing as he learns the position over the summer. Defensive coordinator Clark Lea has certainly left the door open for just such a development, or even the emergence of incoming-freshman Derrik Allen.
"The depth back there has yet to really take shape and we're not in a hurry to dictate who is the 1 and who is the 2," Lea said Tuesday. "… Those guys have a lot on their plate, it takes some time. They need some time to be able to execute those responsibilities at a high level. We're getting to that point, I don't think we're all the way there yet."
Learning who the starting duo is, and who fills in the second unit — be it still Genmark-Heath or Coleman, or rising-junior Devin Studstill or rising-senior Nicco Fertitta — the concerns of tackling from the position or attacking the ball in the air will be naturally included. Elliott's physical gifts have long been evident, but he has lacked in both those areas. If he trots out with the starting defense but does not exhibit improvement in both categories, that will be portend another year of poor play along the defense's back line, no matter what Lea may say publicly.
"I do think we're not doing as much to adjust for the need for time to let them come along," he said. "I think we're allowed to get back into what is the base of the package, which is exciting."
Notre Dame had a strong defense in 2017. Aside from the precarious positions offensive turnovers put the defense in at Miami and Stanford, it rarely buckled. Realizing the defense played that well while only occasionally getting into its most basic package because the safety play was so dismal is a sobering conclusion. It is also a tantalizing thought of what could come in 2018 with nine returning starters and improved safety play.
Lastly, who be the fourth Irish captain? When Kelly named fifth-year center Sam Mustipher, fifth-year punter Tyler Newsome and fifth-year linebacker Drue Tranquill captains early in spring practice, he said a fourth would be voted upon by the team as spring came to its close.
At that point, the most-likely candidates, all rising seniors or fifth-year graduates, seemed to be defensive tackle Jerry Tillery, linebacker Te'von Coney, left guard Alex Bars, quarterback Brandon Wimbush, tight end Nic Weishar or cornerback Nick Watkins. Rising-junior cornerback Julian Love's talent alone made him an outside contender.
As spring practice has progressed, reading between the lines might reduce that pool to three front-runners of Tillery, Coney and Bars. The first two of those three have had disciplinary issues during their time at Notre Dame, oftentimes an exclusionary factor in this conversation. To hear offensive line coach Jeff Quinn on the issue, the fourth captain should be Bars.
"Anytime your big guys run the program, I think you always have a better chance of succeeding," Quinn said Thursday.
Two more quick-hitters:
— How will Coney fare in pass coverage?
Coney may not play that much this weekend. He does not need to prove anything in the 15th spring practice, while his backups need every rep they can get. When Coney is on the field though, watching him in coverage against any of the Irish tight ends could be revelatory. Lea has put the onus on himself for Coney's past coverage woes.
"Coverage is a product of teaching," Lea said. "Coverage deficiency can be a product of teaching deficiency. … Some guys do it naturally and some guys don't, they have other things they have strength with. … As a unit, we've put a focus here on the end of spring practice in playing better in coverage and as a result, we're seeing that play out in skeleton and team periods."
— Will the receivers flash any speed?
When it comes to the positioning and usage of unique talents, the mismatches created by Armstrong and Davis may be the most predictive, but Notre Dame lost much of its outside speed with the departures of Equanimeous St. Brown (to the NFL) and Kevin Stepherson (to repeated disciplinary issues). The defensive headaches caused by those two-back sets are best taken advantage of when a receiver can also take the top off a defense. Rising-sophomore Michael Young and rising-senior Chris Finke are both quick and shifty, but neither has shown truly top-end speed to this point. Despite his 6-foot-4, 227-pound, frame, rising-senior Miles Boykin has apparently improved his burst quite a bit this offseason. Fifth-year Freddy Canteen landed on the Irish roster last offseason largely due to his natural speed, before injury cut short his first season with the Irish.
Can any of them single-handedly alter a defense's coverage, or will Notre Dame need to turn to incoming freshmen for that threat?
[protected-iframe id="4322d87b3e2eb4d11caa19723fa3b36c-15933026-22035394" info="//platform.twitter.com/widgets.js" class="twitter-follow-button"]