It may have just been an intrasquad scrimmage in April, but the Blue-Gold Game included the most-consistent performance seen by the public in rising-senior quarterback Brandon Wimbush's career at Notre Dame. Looking through 2017's game-by-game stats, no other showing comes very close to Saturday's 19-of-33 passing for 341 yards and two touchdowns with one interception.
His 57.6 percent completion rate was outdone only once, when he completed 70 percent of his passes, 14-of-20, for 173 yards and one touchdown at Michigan State. This weekend's accuracy could have ended up a few points higher, too, if Wimbush had been allowed to scramble on broken plays, rather than try to force a pass into tight coverage.
Yes, it may have just been the conclusion to spring practices, but Wimbush proved he physically can put together an accurate day with more than his coaches and teammates watching.
"Obviously, I wasn't too accurate last year," Wimbush said. "I missed some balls that should have been completed. It's the fundamentals and my footwork, emphasizing urgency with my footwork that will help me."
The minutiae of fundamentals and footwork manifest themselves by throwing behind receivers on drag routes, making Equanimeous St. Brown reach behind himself to pull in a five-yard throw intended to turn into 10 or 15 yards. They result in hitting Alizé Mack's shoes in the flat against Miami (OH) on a first-and-10 in the red zone. The simple change in arm angle turns simple pick-ups into lost downs and torpedoes any hopes of a tolerable completion percentage and efficient drives down the field.
Throughout the latter half of 2017, Irish head coach Brian Kelly acknowledged those mechanical mistakes, but put off rectifying them until the offseason, lest a week's game planning be lost to rushed returns to basics. With an offseason working on those building blocks, Wimbush showed Saturday he can make those throws, finding Mack, Cole Kmet, Chris Finke and even Jafar Armstrong either crossing just past the line of scrimmage or in the flat. His completion percentage reflected it, and the offense moved down the field.
"Consistency in his mechanics was probably the biggest thing," Kelly said. "His (arm) drop put him in a lot of compromising situations in terms of throwing the football, and so I think that was cleaned up. Started with his attention to those things, and being very coachable.
"Then repetition, doing it consistently, play in and play out. We're not there yet, but we made a huge jump forward."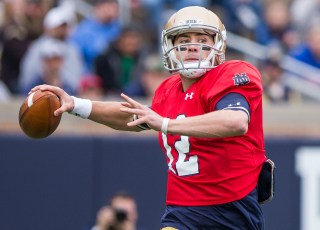 This may all read as if through rose-colored lenses — and it needs to be again acknowledged this was in front of a generously-announced crowd of 31,729, far from the Stadium's capacity of 80,795 — but the numbers are unprecedented in Wimbush's tenure. He gained 10.33 yards per attempt. The closest he managed last season was 9.33 yards per attempt against Wake Forest, when he completed only 50 percent of his passes. Even last year's Blue-Gold Game saw only 9.47 yards per Wimbush passing attempt, although it did include a 68.75 percent completion rate.
Then things changed in the season. Wimbush's muscle memory vanished. He had it once. He may have it again.
"It was [committed to muscle memory] coming out of high school and going through a couple years of college," Wimbush said. "Then, sometimes you just lose sight of what got you to where you are, and I think that happened to me last year. I went back to the details and the fundamentals and got it right."
None of this means a thing if Wimbush returns to aiming at Mack's shins against Michigan on Sept. 1, but it is now clear he should be able to avoid that habit. Another four months of this trend-line, and perhaps some of this spring Saturday's stats could become figures seen on a fall weekend.
Of course, Wimbush had help. Two of his passes went to rising-junior receiver Chase Claypool for 25 yards, part of Claypool's six total receptions for 151 yards and two touchdowns.
For a rising-senior with only 12 catches for 253 yards last season, Miles Boykin is rather established as Notre Dame's top receiving option. One could be forgiven for assuming Claypool would have had those honors after catching 29 passes for 402 yards last season. Instead, he spent much of the spring working with the second set of Irish receivers, while Boykin, rising-sophomore Michael Young and rising-senior Chris Finke took the starting reps.
That did not sit well with Claypool.
"I was starting with the 2s there, and I kind of wanted to show that's not my position," he said. "… I think my potential is limitless. I like to think of it that way, that I'll never peak."
If Claypool's potential has a limitation, it is due to his emotions, something Kelly has spent the spring harping on. When Claypool makes a first-down grab, his focus should be on the rest of the drive, not celebrating moving the chains. Likewise, after a dropped pass, he needs to ready himself for the next down, not dwell on the missed opportunity.
"He wasn't one of our cool, calm and collected guys last year, but he's really worked hard on that and the way he's practiced has allowed him to be much more focused," Kelly said. "… Since he's found where that optimal zone is for him to be when he plays, he's been so much more consistent.
"If he continues to trend this way, we've got another big, rangy, physical wide receiver that we can put on the field."
Remove Claypool's afternoon against Wake Forest to start November, in which he caught nine passes for 180 yards and a touchdown, and the then-sophomore never topped 60 yards or four receptions last season. As physically gifted as he very clearly is, inconsistent was just as apt an adjective when discussing the Canadian product.
Finding that "optimal zone" against the Wolverines will be a challenge, but it is one Claypool knows is ahead of him.
"I think I can do that every time," he said. "I told [rising-junior quarterback Ian] Book and Wimbush, the only way they'll stop me — with all confidence, I don't want to be cocky — is if they [pass interfere with] me. … It kind of showed I can make plays, but I have to still keep working until I can give myself the opportunity."
How many times can "Aloha, Alohi" be used before it gets old? Oh wait, it already is? Fine. So be it. Anyway, welcome Alohi Gilman as a starting safety.
The rising-junior transfer from Navy totaled only six tackles and did not break up any passes, but he also did not appear to blow any coverages or outright miss any tackles. (He can thank rising-junior cornerback Troy Pride for cleaning up a takedown of Finke which Gilman was on the verge of mishandling.)
When Wimbush connected with Young off a play-action fake early on, Gilman made the instinctual play to swat the exposed ball out of Young's hands and then recovered the fumble. That nose for the ball has been missing among Notre Dame's safeties in recent years.
"If you look at every time [Gilman is] near the football, there is high contact with him," Kelly said. "That's what we're looking for at that position: High contact, plays the ball well in the air, a very smart football player.
"He's what we thought he would be. He started a little slow in the spring. I think he's really picked it up to the point where he's making things happen back at that safety position."
Unless incoming freshman Derrik Allen makes an immediate impression or early-enrolled freshman Houston Griffith shows great development over the summer, Gilman and rising-junior Jalen Elliott will likely man the Irish backline against Michigan. It is no coincidence they created a turnover apiece Saturday.
Notre Dame will need that new indoor practice facility when it is finished next summer.
Saturday's Blue-Gold Game was one of only two practices the Irish held outdoors this spring, out of a possible 15. Such are the joys of a northwestern Indiana winter. The ceilings at the Loftus Sports Complex are too low to genuinely work on the kicking game, and it showed with fifth-year punter Tyler Newsome averaging only 40.5 yards per punt and rising-senior kicker Justin Yoon missing two of five field goals.
The new indoor facility is intended to have higher ceilings, allowing those specialists more offseason work.
Kelly was not concerned in the least by the kicking performances, and considering the veterans at his disposal currently, his calm makes sense. Nonetheless, the new practice facility is needed, even if it is another whole spring away from being completed.
Notre Dame's 2019 recruiting received another boost with the commitment of rivals.com four-star safety Litchfield Ajavon (Episcopal High School; Alexandria, Va.).
Not much else needs to be said about Ajavon's recruitment. Until further notice, safety play will remain a concern for the Irish, so pulling in a talent like Ajavon's is vital. He is the fifth commitment in the Notre Dame class of 2019, following in the Friday footsteps of consensus four-star offensive tackle John Olmstead.
[protected-iframe id="4322d87b3e2eb4d11caa19723fa3b36c-15933026-22035394" info="//platform.twitter.com/widgets.js" class="twitter-follow-button"]