Immediately following the 2017 spring game, I walked by two much smarter, savvier and more veteran Notre Dame reporters on our way to post-game interviews. Our two minutes of exchange included them riffing on various hypothetical position changes that were eventually not seen come fall, including how much better of a guard than a tackle Tommy Kraemer could be. It should be noted, the junior began lining up at guard this spring.
My contribution to the conversation hinged entirely on repeating, "That offense just isn't ready. It's not close to ready."
Of course, that assessment figured the spring game struggles were against a porous Irish defense, something freshly-arrived and since-departed defensive coordinator Mike Elko had already taken tangible steps toward fixing, far quicker than expected.
That evaluation also failed to recognize the potential of a running attack led by Josh Adams. Notre Dame knew it had a stalwart running back, and did not need to see more than eight carries for 39 yards and a touchdown from the lead back.
The point stood, though. The offense was not ready then or in November.
Driving away from this past Saturday's Blue-Gold Game, the thought bouncing around my pickup's two-seat cab was simple: This offense is unlikely to reach its ceiling, but if it did, it would be really, absurdly high-powered.
This time, that assessment offers some deference to first-year defensive coordinator Clark Lea's ability to turn nine returning starters into another strong defense, perhaps superior to last year's.
The praise of the offense must be hedged thanks to IF after IF after IF after IF. If senior quarterback Brandon Wimbush displays those mechanics and that accuracy against opposing defenses …
If senior running back Dexter Williams (pictured above) decides it is worthwhile to play, and play well, through pain …
If junior receiver Chase Claypool maintains the necessary emotional equilibrium …
If senior tight end Alizé Mack offers a consistent performance, even if not stellar, but stable …
In those four upperclassmen alone, the Irish have unique talents whom opposing defensive coordinators should lose sleep thinking about. They will determine how high this offense's ceiling is, while the likes of senior receiver Miles Boykin, junior running back Tony Jones and sophomore tight end Cole Kmet will set the floor, along with what looks to be yet another overpowering offensive line (with Kraemer at right guard).
Obviously, the most-promising players always set the height of a vaulted the ceiling. As they perform against Michigan, Stanford and Virginia Tech will determine how the season ends. However, to pinpoint four like this is an extreme end of the spectrum.
Exiting last year's Blue-Gold Game, it was clear Wimbush needed to learn much more of offensive coordinator Chip Long's scheme. Aside from that, the only possible ways to increase the offense's potency was to teach receiver Kevin Stepherson self-discipline and figure out why Mack could not make a gameday impact. The rest was essentially known, even if the running game's potential was overlooked after the spring exhibition.
Entering this summer, the gap between the offense's floor and its ceiling is a vast one. To have four question marks of this magnitude speaks to the possible volatility awaiting in the fall. Logically speaking, it is most likely two of the four above IFs become realities. In that case, it will be a good offense, but not the utterly threatening one conceivable. The odds are slim all four come to fruition, but crazier things have happened, especially when discussing the rapid development of 18- to 21-year-olds.
Without Adams following two All-American offensive linemen, this rendition of the Notre Dame offense may take a step backward, but the talent is there for it to actually improve, to carry the day if/when an experienced quarterback picks apart the defense (see: the Seminoles' Deondre Francois).
That could not be said in 2017.
OTHER QUICK TAKEAWAYS FROM THE BLUE-GOLD GAME:
Much of this will be discussed in greater length in the coming two weeks, but …
— The interior of the offensive line — fifth-year left guard Alex Bars, fifth-year center Sam Mustipher and Kraemer at right guard — is quite a physically-imposing trio. Some defensive ends may find success against first-year starter and junior left tackle Liam Eichenberg, especially early in the season, but the inside trio should at least create massive holes for the Irish running game.
— Ideally Long can deploy Mack and Kmet together, but the spring performance of the latter certainly eases the concerns about the maturation and consistency of the former.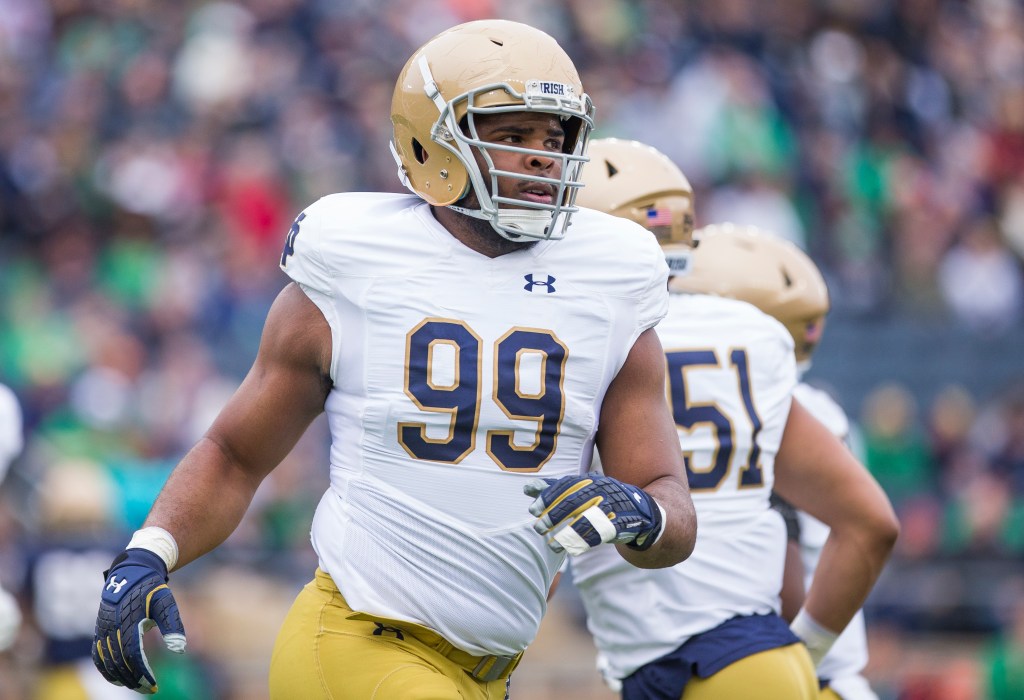 — Notre Dame head coach Brian Kelly insists fifth-year defensive tackle Jonathan Bonner's fitness will not be overly-effected by the wrist injury that kept him out of most of spring practice and all of the Blue-Gold Game.
"He's been doing everything (in weight-lifting) but at lighter weight, and now he's only a couple of weeks away from being full-go," Kelly said Saturday. "He was already physically really gifted, so we don't think that's going to be a big curve for him, and he'll be able to start training aggressively when we get back here in June."
Consider this scribe skeptical. Not only is Kelly often overly-optimistic about injury effects and timetables, but to think missing six months of strength and conditioning will not be noticeable along the defensive interior is idealistic at best. Bonner's 2017 emergence was a direct result of the arrival of strength and conditioning coordinator Matt Balis.
Without more of that work, the Irish will need to turn to sophomore Kurt Hinish for an increase in snaps, perhaps pushing toward 50 per game with Bonner offering 20-30 and senior Micah Dew-Treadway filling in the balance. Hinish appears to be up to the task, which is necessary, because classmate Darnell Ewell is not.
[protected-iframe id="4322d87b3e2eb4d11caa19723fa3b36c-15933026-22035394" info="//platform.twitter.com/widgets.js" class="twitter-follow-button"]