A look at the Notre Dame roster explains Jordan Genmark Heath's move to linebacker from safety as much as, if not more than, his skillset does. The sophomore always knew he tended to play closer to the line of scrimmage than a typical safety might, but it was the absence of proven linebacker depth which sparked the position switch.
"[The coaching staff] knows what I can do at safety," he said following the April 21 Blue-Gold Game. "It was just testing me out a little bit, and I guess they saw that I could play it. This summer we'll try to figure out a way to get me onto the field."
Genmark Heath may have gotten onto the field at safety, but with junior Alohi Gilman now eligible, early-enrolled freshman Houston Griffith moving to safety from cornerback and the pending arrival of incoming freshman Derrik Allen, the back line of the defense has actually grown crowded with viable possibilities. When none of the three early-enrolled freshmen linebackers pushed forward as a strong backup to fifth-year linebacker Drue Tranquill, that lack of depth created the need for Genmark Heath to move up a defensive level.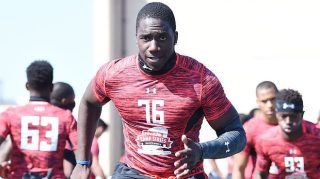 Of course, in that situation, any of the safeties could have made the move. Genmark Heath's natural playing instincts established him the most-logical choice, along with his body's initial reactions to his first year in a collegiate strength and conditioning program.
"When I first came in, I gained a lot of weight," Genmark Heath said. "At the same time, with my playing style, it was either going to be [this move] or some type of outside linebacker because I'm more of a downhill safety.
"… Internally, I feel like I'm a safety at heart, but I'm always open to changes. Obviously, the coaching staff has been around a thousand different players — they know how to put me in the best position to succeed."
The move up a position group may have "come a little from nowhere," but Genmark Heath's one request was it not be a decision wavered on.
"I told [defensive coordinator Clark Lea and Irish head coach Brian Kelly], if we were going to try it out, either we do it or we don't," Genmark Heath said. "I'm not going to go out there, try it out, okay I don't like it because I'm messing up. I'm all-in. I'm excited."
By the sophomore's count, the intrasquad scrimmage to end the spring was only his third day at linebacker. Mistakes were naturally made in those first few practices. When at safety, Genmark Heath worried about offensive linemen only on the occasional interior blitz. At linebacker, those interactions come much more often. That said, he enjoyed some of those blitzing moments; they fit his self-described preferences on the field.
"I just use those skills, my strengths, to this position," Genmark Heath said. "I just have to learn how to play the actual linebacker position with all the linemen and stuff."
In that regard, he has a unique resource at his disposal. The Buck linebacker whom Genmark Heath now backs up made a parallel move last offseason. Tranquill initially moved from safety to rover, a position more similar to safety than Buck is, but now having made the move inward to Buck, he can certainly appreciate the differences Genmark Heath must now learn.
Tranquill's advice has been rather simple, per Genmark Heath: Embrace the change.
"He said, just be open to it. Do what you think you're best at," Genmark Heath relayed. "That's one of my strengths, physical downhill and tackling.
"Keep doing that and everything will work out."
Tranquill also warned against the innate frustrations of the move. After all, Genmark Heath has never played linebacker before. To some degree, though, hearing from a veteran who has made this move under Lea's supervision proves the concept.
Growing up in Sweden, Genmark Heath used YouTube videos to study safeties, occasionally getting up at midnight to catch West Coast kickoffs. Now, he queues up highlights from San Francisco 49ers linebacker Reuben Foster, a rookie who made 72 tackles in 10 games in his rookie season last year. Upon making that reference, Genmark Heath begins to list off a number of other study subjects, all familiar names, beginning with former Notre Dame linebackers Jaylon Smith and Manti' Teo. He then continues on to the starters he now understudies for, Tranquill and senior Te'von Coney.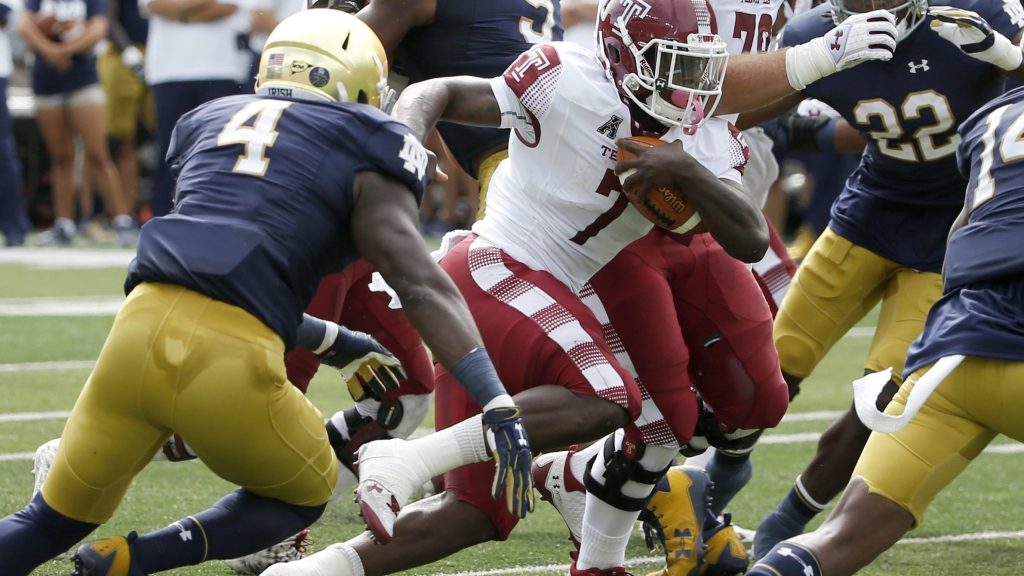 WHERE NOTRE DAME WAS/IS AT LINEBACKER:
Moving Tranquill, a fifth-year linebacker, inward to Buck from rover does not take a great leap of faith, and Coney had more than proven himself able of anchoring a defense by the end of the Citrus Bowl, considering his 17 New Year's Day tackles.
That stability provided left one question among the starters, rover, and three openings where the backups were concerned.
Senior Asmar Bilal entered the spring as the presumptive starter at rover, and he remains there. Sophomore safety-turned-rover Isaiah Robertson and sophomore Jeremiah Owusu-Koromoah have forced Bilal to earn that nod, though. Robertson presents as a coverage-based rover compared to Bilal's physical presence, and Owusu-Koromoah was recruited specifically to fill the rover role.
One or the other will find himself in the two-deep, but both will likely see meaningful snaps in 2018.
Unless Genmark Heath's progression stalls entirely, he looks to be the answer as one backup, behind Tranquill. Meanwhile, none of the three early-enrolled freshmen linebackers usurped junior Jonathan Jones at Mike linebacker, at least for the time being.
WHERE NOTRE DAME WILL BE:
Only one more freshman linebacker will join the fray, rover Shayne Simon. It may seem unlikely he cracks the two-deep and/or pressures Bilal further, but he is another example of a recruit brought in with rover in mind. A quick rise up the depth chart would not be an outright shock.
The three early enrollees, though, could make more of an impact than they did this spring after another four months learning Lea's scheme and working in a collegiate strength and conditioning program. If Genmark-Heath or Jones loses a primary backup role, it will likely be to Bo Bauer, Jack Lamb or Ovie Oghoufo. The newcomers simply have more obvious and natural room for improvement than do sophomores Drew White and David Adams.
[protected-iframe id="4322d87b3e2eb4d11caa19723fa3b36c-15933026-22035394" info="//platform.twitter.com/widgets.js" class="twitter-follow-button"]