Ian Book understands the realities of football. Even though Notre Dame head coach Brian Kelly described the sophomore as "1B" in the starting quarterback competition, a complimentary version of calling him the backup, Book knows the 1B passer will not see the field regularly. Only the 1A, senior Brandon Wimbush, will.
"It's just the nature of the game," he said after last weekend's Blue-Gold Game. "Only one quarterback can play, which we both know. We both came here to be the starting quarterback, so time will tell.
"No matter what happens, this competition is making us both better. It's really been fun, just competing and pushing each other."
The scrimmage concluding spring practice seemed to end the quarterback competition in reality, though Kelly will continue to describe it as a competition moving forward partly out of habit, minimally out of strategy and mostly to keep both quarterbacks motivated. Wimbush finished the exhibition with 341 yards and two touchdowns on 19-of-33 passing while Book threw for 292 yards and one touchdown on 17-of-30 passing. The two stat lines may not seem too dissimilar, but it should be remembered Wimbush was working against more of the starting defense than Book was.
Book's stock may have been at its peak following the dramatic Citrus Bowl victory over No. 17 LSU, a comeback win which Book led.
"After the bowl game, it was a great way to get some momentum," he said. "But still a lot of work to do and I think we, as an offense, feel pretty good."
The one strong half against the Tigers did not prove Book to be the best quarterback on Notre Dame's roster. It did prove, without a doubt — or an asterisk acknowledging how many injured players North Carolina had when Book started there in October — the Irish can win with Book taking the snaps. Kelly said as much the sentence before he described Book as 1B.
"We know Ian Book can win for us."
Wimbush also won for Notre Dame last season, starting 12 games and managing eight wins outright. The Irish were still competitive with him against LSU, too, before Book took over a stagnant-to-that-point offense.
Whether or not he surpasses Wimbush this summer or preseason, Book knows what he needs to do to make that a conversation. He will never match Wimbush's overall athleticism or raw arm strength. Book can, however, improve his understandings of collegiate defenses and steadiness in attacking them.
"Really focused on being able to identify coverages from defenses and just dive to that next step of taking film work to the next level," he said. "… My focus is just being consistent. No ups and downs. Just being consistent and really being able to read the defense, making things as easy as I can on myself."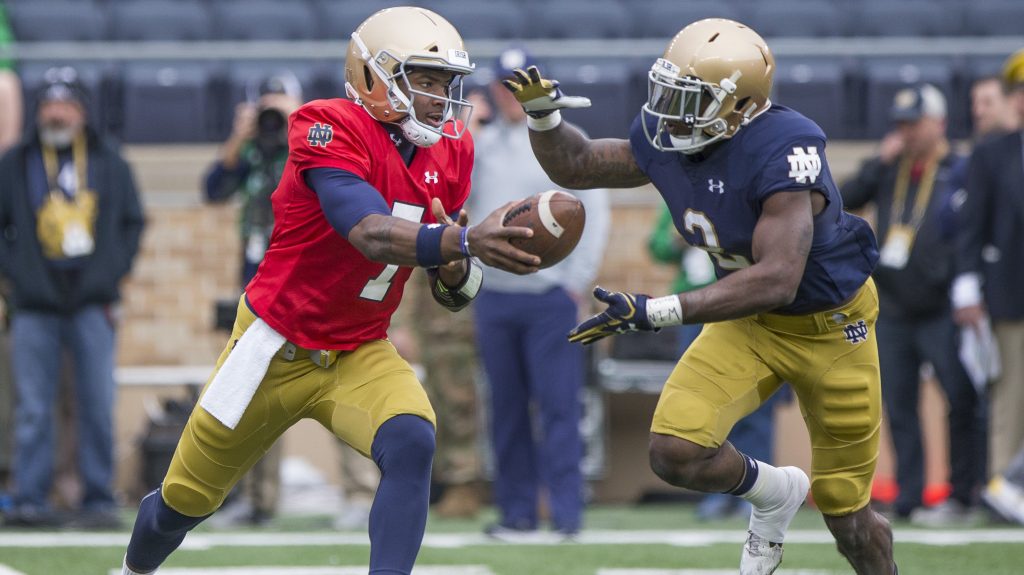 Meanwhile, Wimbush will be working on …
Yes, his accuracy and mechanics, but the returning starter has another facet to embrace. Kelly was pleased with Wimbush's spring performance, especially the finale, but the completion percentage and coverage progressions were only a piece of what Kelly kept an eye on.
"I was much more interested in how [Wimbush] was going to handle pregame, how he's been handling the game situations and getting his intensity up a little bit," Kelly said. "He's about as cool and calm as anybody.
"He needs that heartbeat to race a little bit more, and today he got it up a little bit. I thought it helped him in the way he plays. His intensity management was really good today and that was big for me."
That may be Kelly's want, but it is not necessarily Wimbush's usual.
"I'm not that guy," he said. "I can't. I'm not going to fake it when I'm out there.
"… They want me to be like that, be more vocal, and I have been, but it's nothing that everybody is going to see me and my face turning red, spitting out of my mouth. When I'm up there, I'm motivating the guys, motivating the receivers. Whether it's in the huddle or lined up, I've worked on that."
To interview Wimbush is to receive thought-out responses. When he describes the work he did with the trainers at 3DQB during spring break as "damn expensive," it warrants a raised eyebrow only because he is not the Notre Dame player one might expect to publicly slip in a four-letter word, even one as PG as the one used. The idea of him approaching a huddle riding high on emotion and shouting above a crowd out of passion rather than function is a tough concept to fathom. That is not a criticism, simply an observation.
In a way, that calm demeanor may have an occasional benefit.
"I try my best to lead by example, and when the time permits, I do open my mouth and let my voice be heard," he said. "I think the guys really listen when it is, because I don't talk too much. I do need to start speaking more and getting on the guys more. I think they understand when I do."
That is where the Irish quarterbacks are. Where will they be?
Incoming freshman Phil Jurkovec will join the quarterback competition this summer. For at least a week or two, Kelly will likely deem him some equivalent of "1C." Whether that moniker is accurate, an understatement or an overstatement will depend on Jurkovec's very first impressions in a college environment.
If Jurkovec is not in line to play in 2018, he will not even be the third quarterback on a non-existent three-deep depth chart. Notre Dame will still rely on sophomore Avery Davis for those emergency situations, even as Davis tries his hand at running back and receiver.
"He doesn't want to give up his ability to play quarterback down the road," Kelly said of Davis amidst his position switch.
[protected-iframe id="4322d87b3e2eb4d11caa19723fa3b36c-15933026-22035394" info="//platform.twitter.com/widgets.js" class="twitter-follow-button"]