Just about every sports website last week bore a version of the same headline: "Sports gambling is now legal!" This site did not, in no small part because wagering on sports is hardly more legal now than it was two weeks ago, and for the vast majority of us, that will not change between now and the start of Notre Dame's season.
The Supreme Court did not legalize sports gambling across the United States; it removed the illegality of 46 states individually deciding to allow sports gambling. Few states will pass such laws and host operating sportsbooks before Sept. 1. Those that do are likely to be confined to the Atlantic Coast (as in New Jersey and possibly Delaware).
Even if those headlines had been completely accurate, the greatest purpose of including sports gambling in an intelligent discourse does not change. More than a means to make money — it barely ever is, and the only true exceptions include a boxer beating up on a mixed martial arts fighter in a squared circle — gambling odds offer a truer and more precise method of predictive evaluation than hot takes and polls do. When they were mentioned around these parts last season, it was with those intentions.
Whereas the headline's goal is to attract readers, the tweet's goal is to earn retweets and the poll's seeming purpose is to offend every fan base, the bookmaker's goal is to attract equal investment on both sides of a wager, earning his book a five percent return on the entire handle. Money talks, literally so if paying attention.
With those disclaimers in mind, noticing a few pertinent over/under win totals for the coming season feels like a good use of time. It should be remembered, sportsbooks will not put any win total above 10.5 in college football. Too many variables are in play.
This scribe predicted the Irish over/under would be set at 9.5. That was apparently high, with the line holding steady at 8.5 wins. Unlike a few to come, it will likely remain at that mark through the offseason, barring any massive suspension.
Michigan, Stanford, Virginia Tech and Florida State also all hold at 8.5 as of this morning, though the Cardinal opened as high as 9.5 in some locations and the Hokies can still be found at 7.5 if shopping around. USC opened at 7.5 wins before getting moved all the way up to 9.0 in reliable books.
Of the Power Five programs with lines set (so, not Ball State and Navy), only Wake Forest and Northwestern are also expected to be better than .500 this season, at 6.5 and 7.5 wins, respectively. Vanderbilt (5.0), Pittsburgh (5.5) and Syracuse (5.5) will be considerable underdogs when they face Notre Dame.
Speaking of facing Syracuse, perhaps that much-maligned move to play that game at Yankee Stadium in New York City can hold an unexpected benefit for those covering it. New Jersey happens to be so tantalizingly close. Now go ahead and mark off that sentence as one never before written in history.
ON NATIONAL CHAMPIONSHIP ODDS
Again, only looking at the 10 major-conference foes on the Irish schedule, as well as Notre Dame … and listed in order of likelihood:
Michigan: 15-to-1.
Florida State: 30-to-1.
Notre Dame: 33-to-1 in most places, sometimes as high as 55-to-1.
Virginia Tech: 45-to-1 for the most part, seen as high as 50-to-1.
USC: 50-to-1 usually, but some 40-to-1 options exist.
Stanford: 55-to-1.
Wake Forest: 225-to-1.
Syracuse: 350-to-1.
Northwestern: 350-to-1.
Pittsburgh, Vanderbilt: 600-to-1 each, otherwise known as 20 percent more of a payout than one would receive if holding an early futures ticket predicting the Las Vegas Golden Knights would win the 2018 Stanley Cup. That is, if the Knights manage to win four more games.
A LONG HELD HOLLYWOOD GRIEVANCE
It will shock exactly no one who reads this space to learn I have a few friends who place the occasional wager. If I ever personally live in a state where sports gambling is legal, maybe than I will publicly admit my notebook paying homage to the Philadelphia 76ers is filled with more than hypothetical wagers. Until then, it is certainly nothing more than a proof of concept.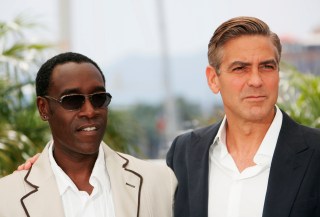 One of those friends considers "Ocean's 11" to be among his favorite movies, understandably so. Within that, he elevates the most-quoted Daniel Ocean line above all other bits of that script.
"Because the house always wins. Play long enough, you never change the stakes, the house takes you. Unless when that perfect hand comes along, you bet big, and then you take the house."
What card game exactly is Mr. Ocean playing? The perfect blackjack hand is not seen until the wager has already been placed, and it can still be foiled by the dealer flipping 21. Poker is not played against the house. It is against players. Go ahead, when that perfect hand comes along, bet big, but you are only taking other losers' money. You never take the house.
As it pertains to sports gambling, a topic to which Danny was not referring, herein lies the flaw to presuming profits. There is no perfect hand. UMBC beats Virginia. Leicester City wins the Premier League. An expansion team reaches the Stanley Cup Final. The house always wins.
Use gambling odds to put a conversation in perspective. Perhaps place a small bet to make a meaningless September afternoon more entertaining. Do not expect the supposed legalization of sports gambling to lead to a new source of taxable income.
INSIDE THE IRISH READING
— Tricks with jersey numbers; Troy Pride's sprinter's speed
— No. 89 Brock Wright, tight end
— Auburn walk-on fullback transfers to Notre Dame, following in family's footsteps
— No. 88 Javon McKinley, receiver
— No. 87 Michael Young, receiver
— No. 86 Alizé Mack, tight end
— No. 85 George Takacs, tight end
— Notre Dame's defensive line recruiting surge continues with Texas four-star's commitment
— No. 85 Tyler Newsome, punter and captain
— No. 84 Cole Kmet, tight end
OUTSIDE READING
— USC starting CB Jack Jones to miss 2018 season (academics)
— Incoming Irish receiver Braden Lenzy earns four top-two finishes at Oregon Track Championships
— Notre Dame football's Brian VanGorder got at least $257,000 in buyout
— A smattering of initial win totals from betonline.ag
— Joe Staley preparing Mike McGlinchey to one day take his job
— Jaylon Smith expects to be 'better than Notre Dame 100 percent'
— Bears waive Nyles Morgan
[protected-iframe id="4322d87b3e2eb4d11caa19723fa3b36c-15933026-22035394" info="//platform.twitter.com/widgets.js" class="twitter-follow-button"]