I am sorry, Dan.
No, not for having to ask a mutual friend what your name was fewer than 24 hours after meeting. That should be expected protocol following a wedding reception, especially one featuring a Notre Dame alum.
Rather, this apology is for letting Dan down last Monday. I will blame my computer, but men like Dan don't want excuses. They want Monday morning distractions.
I met Dan innocently enough.
"Hey Douglas, come here."
The voice belonged to the brother of the groom, and though he may not know me well, he knows me well enough to know when I am in a groomsman's tuxedo and have an empty glass in my hand, I have one destination in mind. I figured he was about to ask me to grab him a one-eyed beer. He had a two-year-old Nacho (that is his son's name, not a decrepit plate of appetizers) to deal with, anyway.
"I want you to meet Dan."
A family friend of the groom's, apparently Dan had seen a name in the wedding program and asked why such a fool was listed. He then explained how dependent he was upon this space to get through a Monday morning. There is no glamor or even praise in that comment, just an acknowledgement of the natural human condition of despising Monday mornings, especially when Saturday night included a wedding reception in a fire station.
Of course, that weekend preceded the week in which these "Monday's Leftovers" failed to appear. Do not blame the wedding's lingering effects. Instead, fault a sluggish piece of ASUS hardware. The appearance of Ovie Oghoufo's 99-to-2 entry was a minor 3 a.m. miracle.
By the time wiring began conducting correctly and each paragraph typed no longer elicited a 45-second technological pause, it was Thursday mid-morning and a mental white flag had long been waved. Belgium was a few hours from beating England and a Belgian felt more appropriate than a "Thursday Afternoon's Spoiled Leftovers."
Dan, if last week was a tough one for you because of this absence, I wish I had planned ahead better. It was a pleasure meeting last weekend and if that photo of you, me and my nth "Rye Not Try It" ever sees the light of day, I will conspire to block all of Maryland from viewing this page forevermore.
You did ask what horrendously unbelievable opinion I would propagate this fall. You'll have to wait a few more weeks for that reveal, whatever it may be. As for some other questions …
"I'm always trying to identify the top guys that will 'ascend' every year. What I mean by that is the guys that either come out-of-the-blue or guys that played last year and underwhelmed but this year make a huge leap. No established top-end guys. Who are your top few defensive and offensive breakouts?" — Mark H.
If reading this morning's 99-to-2 submission carefully, junior safety Jalen Elliott probably qualifies as someone who underwhelmed in the past but could be in position to make a positive impression this season. He was only a sophomore, starting for the first time, and burdened with quite the set of responsibilities in former Irish defensive coordinator Mike Elko's scheme. With another year in both the playbook and the weight room, Elliott should be ready to shine. If nothing else, his first career interception will be met with sarcastic applause that should instead be genuine, just as his pick in the Blue-Gold Game was.
Junior defensive end Khalid Kareem is another obvious answer. Jumping from third-team reps to the starter's role is not unheard of, but it usually occurs out of force. In this instance, Kareem moved past fifth-year end Jay Hayes, in part leading to Hayes' transfer to Georgia. Kareem will have both the opportunity and the role to make 40-plus tackles with half a dozen sacks. If one of those sacks includes a forced fumble in prime field position, that alone might establish Kareem as a "defensive breakout."
Offensively is a bit cloudier. Is it cheating to simply say one of the two freshman running backs (C'Bo Flemister and/or Jahmir Smith) and sophomore tight end Cole Kmet? It's not? Great. That's the answer.
"With the new redshirt rule of playing four games and preserving a year, could that apply to Jamir Jones as a true junior? In other words, he doesn't play until the last four games of the year and then still has two years left to play?" — nebraskairish
I believe it could, but that is not something that would happen even if it technically is allowed. Upperclassmen want to play. If told they are outright not going to, they are more likely to transfer somewhere with a clearer path in years to come. The net outcome on eligibility would be the same.
The applicable aspects of the new NCAA rule are tough to pinpoint, as Notre Dame could, and presumably will, take a few strategies with the freshmen:
— Use bowl preparations as something of a freshmen showcase, creating an entirely new reason to watch each of the 65 bowl games this winter. (Yes, that figure is exaggerated, slightly.)
— Burgeon special teams depth, rotating freshmen four games at a time rather than sapping the legs of the likes of Elliott. This would make the most sense for reserve defensive backs such as Tariq Bracy, Joe Wilkins and Paul Moala.
— Develop a player throughout September and October to use in November to add late-season depth. The three defensive linemen would be prime candidates for this if they are not called upon all season, anyway.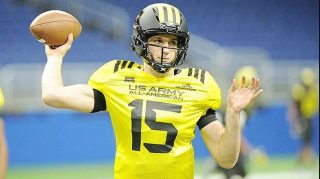 — Give a player extensive playing time in select occasions, namely quarterback Phil Jurkovec (pictured to left) in blowouts.
That last usage will garner the most attention, but it is the prospect of a few more available defensive linemen that will affect the most teams and seasons.
Consider recent Irish history. When a seemingly-endless string of defensive line injuries removed any semblance of depth in 2014, freshman Jay Hayes had to step in for three games, burning a year of eligibility. Head coach Brian Kelly justified the decision by pointing out how rarely elite defensive linemen stay for a fifth year, anyway. Doing so would necessitate passing up the NFL draft twice, after all.
That logic makes sense, and as a heralded recruit, the hope was Hayes would become an elite defensive linemen. In a quick shift, though, Kelly put a hole in that logic by sitting Hayes in 2015 to preserve a year of eligibility. That did not sit well with Hayes.
It should not be insinuated those decisions led to Hayes' transfer, not at all. (More on that in a minute.) It is to say the entire situation would have been avoided entirely if this new NCAA rule was in place.
Even Kareem could have relished this shift. His freshman season evades most notice when discussing lost years of eligibility, since he played in three of the first five games of 2016, but then he did not appear again except once more, against Virginia Tech in the season's penultimate contest. A fifth year is far from a certainty as something Kareem may someday inconsequentially wish for, but this rule change would have provided it without altering his career trajectory one bit.
Alas, before you ask, the NCAA is not applying the eligibility change retroactively.
"This spring we heavily over-signed new recruits, and we lost multiple graduate transfers who would have been valuable contributors. Are we forcing these players out because they are the only ones we can force out without a violation of team rules? Should we give up trying to guess attrition and leave over-signing to the programs that will more ruthlessly cut or find medical reasons to deactivate the underclassmen who don't show much potential to ever become contributors?" — Joseph B.
Notre Dame lost two fifth-year second-string defenders already bypassed in the depth chart this spring by juniors. When cornerback Nick Watkins and defensive end Jay Hayes opted to transfer, it was because they didn't opt for a fifth year only to spend it on the bench. Their decisions made sense, as did Irish defensive coordinator Clark Lea and Kelly leaning toward cornerback Troy Pride and defensive end Khalid Kareem.
Pride's and Kareem's ceilings are much higher than Watkins' and Hayes'. Giving those first-team reps to the veterans simply to preserve their pride would have short-circuited the development of the juniors. That would have been to the detriment of all four players, not to mention the program as a whole.
In the end, the hubbub about Notre Dame signing 27 recruits in this class and peaking at 89 expected scholarships was all for naught. The Irish roster now has 85 players, and it will not be surprising at all to see that drop to 83 before Michigan arrives Sept. 1. This should absolutely be kept in mind in years to come when the roster undoubtedly again rises above 85 players in the offseason.
More mailbag questions?
As always, send them to insidetheirish@gmail.com. What's the worst that happens? They get ignored. Or worse yet, answered in a tardy mailbag a week after a chance encounter between specialty drinks at a wedding reception.
INSIDE THE IRISH READING:
— Consensus four-star guard gives Notre Dame four OL commits
— Notre Dame's recruiting class gets an offensive skill player, consensus three-star RB Kyren Williams
— Medical issues force out LB David Adams, bringing Notre Dame to 85 scholarships
— No. 40 Drew White, linebacker, sophomore
— No. 39 Jonathan Doerer, kickoff specialist, sophomore
— No. 34 Jahmir Smith, early-enrolled freshman running back
— No 31 Jack Lamb, linebacker, early-enrolled freshman
— No. 30 Jeremiah Owusu-Koramoah, rover, sophomore
— No. 29 Ovie Oghoufo, linebacker, early-enrolled freshman
— No. 28 Nicco Fertitta, safety, senior
— No. 27 Julian Love, cornerback, second-team All-American, junior
— No. 25 Braden Lenzy, consensus four-star receiver, incoming freshman
— No. 24 Nick Coleman, safety and perhaps nickelback, senior
— No. 23 Drue Tranquill, linebacker and two-time captain
— No. 22 Asmar Bilal, first-year starting rover, senior
— No. 21 Jalen Elliott, safety, junior
OUTSIDE READING:
— Te'von Coney enters plea agreement for marijuana possession
— Te'von Coney had clarified his status with Notre Dame long before courts did
— "My Journey" by Braden Lenzy
— Don't question toughness of David Adams
— What should Florida State in Willie Taggart's first year? How good will Stanford's offense be? ($)
— Wake Forest's Greg Dortch's freshman year viewed through a national lens
[protected-iframe id="4322d87b3e2eb4d11caa19723fa3b36c-15933026-22035394" info="//platform.twitter.com/widgets.js" class="twitter-follow-button"]