Listed Measurements: 5-foot-11, 220 pounds
2018-19 year, eligibility: Junior with three seasons of eligibility remaining, including 2018.
Depth chart: Consider Jones the starting running back, though that will undoubtedly be a split duty. Whom he shares the backfield with is a bit of a lengthier discussion.
Recruiting: The No. 21 running back in the class and a three-star prospect, per rivals.com, Jones took up Notre Dame's offer of a scholarship rather than Oklahoma's, Florida's or Miami's. Considering the U.S. Army All-American hails from Florida, those latter two suitors stand out.
CAREER TO DATE
Jones preserved a year of eligibility as a freshman before becoming last season's primary backup to Josh Adams in competitive situations, when healthy. The number of qualifiers in that statement trace to Jones' bothersome injuries — a nagging sprained ankle and a balky quad limited him throughout much of the fall.
2017: 12 games; 44 carries for 232 yards, a 5.3 average gain per rush, and three touchdowns. Six catches for 12 yards.
QUOTE(S)
The two storylines following Jones these days illustrate his ideal possibilities as well as his injury-stricken worst-case scenario.
"You want guys that bring different skillsets," Irish running backs coach Autry Denson said in late March. "You want a variety of different skillsets. Together, with all of them playing and contributing, you get everything you need covered."
While that may not have actually mentioned Jones by name, it was entirely about him and his abilities blocking in both rushing and passing situations as well as catching passes. Such an array of possibilities might sound too good to be true. Until Jones can endure the wear-and-tear of his position for multiple weeks in a row, it is.
His most-durable stretch of 2017 came in the four-week midseason span featuring three blowouts and Notre Dame's bye week, running four times for 48 yards against Miami (OH), nine times for 31 yards at North Carolina and five times for 37 yards vs. USC.
"His strength in work volume is better than it was last year," Irish head coach Brian Kelly said before spring practices began. "That's going to prove itself to be probably equally as important because he's going to stay healthy.
"He wasn't healthy most of the season, as well. Stronger, he's got a coat of armor on him. His work volume is better, and finally we recognize how important he is and we have to make sure he gets the proper touches within this offense."
Some of that importance comes from the natural attrition of Adams heading to the NFL.
"Room at the top," Kelly said. "There is no guy in front of [Jones] that's a workhorse in Josh Adams. He sees that. That's a huge motivator."
WHAT WAS PROJECTED A YEAR AGO
"Running back depth charts can be turned inside out quickly. Just take a look at the last couple seasons in the Irish backfield. Obviously, an injury to Adams would thrust Jones into the spotlight, while also increasing Williams' role as the speedy alternative.
"But Jones could take over as the primary back even without an injury. Simply enough, if he capitalizes on the opportunities he is given, more will come his way. Typically, pass protection difficulties can limit a young back even if he is quite productive. Kelly insisted Jones has excelled at pass protection — Jones credited his time in youth football playing fullback for that strength. Taking that at face value until proven otherwise, Jones is only a stretch of consistent performance away from frequent chances.
"More likely, however, given Adams' past successes, Jones will serve as a respite for the bell cow. That role alone could result in a few hundred yards and multiple scores for Jones.
"… It is unlikely Adams declares for the NFL this season, but it is not unreasonable to acknowledge that as a possibility. If he did, Jones would rise to the top of the depth chart as more of an all-around back than Williams."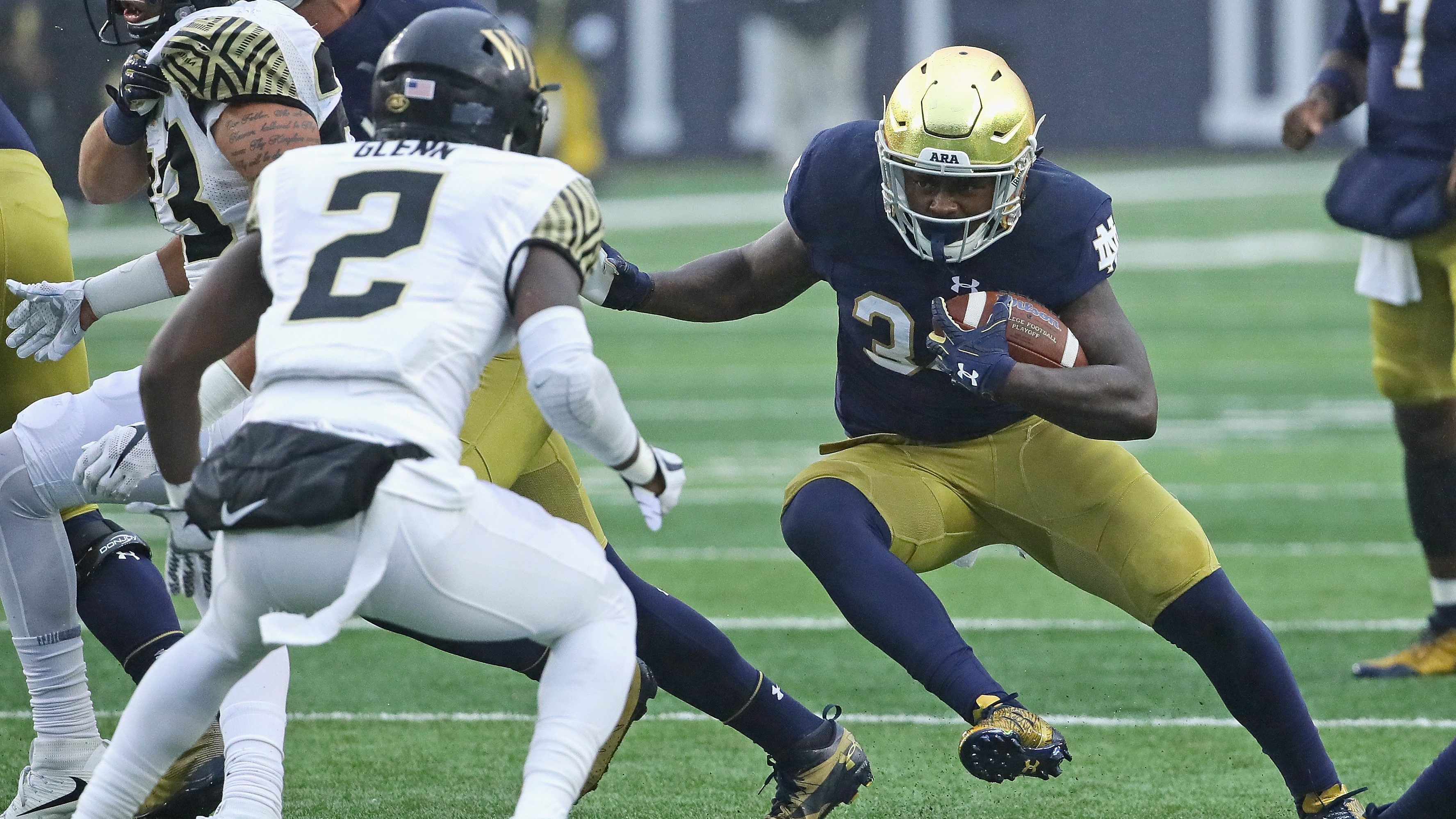 2018 OUTLOOK
Somehow, the veritable range of results for Jones' year do not feel inherently tied to Notre Dame's overall success. Yes, if he runs for 1,200 yards and a dozen touchdowns, that will certainly bode well for the season as a whole, but if he ends up with 300 yards and five scores, it would not necessarily mean the Irish ground game has stalled outright.
The combination of those minor injuries so greatly limiting him and the possibility of an all-or-nothing season from Williams makes it difficult to project Jones' production. When healthy, his aptitude in pass catching, pass blocking and run blocking opens up an entire chapter in offensive coordinator Chip Long's playbook. There are few things Long would love more than to routinely deploy a two-back set with Jones and Williams, then getting Jones in front of the faster Williams to lay a few blocks. The next play, as the defense wants to adjust to a bigger package to account for that threat, Jones could motion wide and stretch a linebacker into space, creating another mismatch.
But Williams might not be available for the whole season and that package only works at all if Jones can play through the varied bumps and bruises he will collect. Perhaps that "coat of armor" is as stout as Kelly suggested and Jones will do just fine even without a veteran backfield companion. If Williams is sidelined, Jones would be needed to take every competitive carry until a newcomer to the position proves ready. That is the not-quite-preferred scenario in which Jones averages 100 yards per game this year, as unlikely as that may seem.
Having nailed his statistical projection a year ago, let's double down: As the primary back, Jones falls short of 1,000 yards but does eclipse triple digits multiple times, scoring a half dozen or so touchdowns on the ground. This includes some expectation of health, a risky leap of faith to take for a back readying for a bigger role when he has not stayed active with a smaller one previously.
DOWN THE ROAD
Williams will be out of eligibility following this season, strengthening the gap between Jones and the rest of the position group. To counteract that, Notre Dame brought in two freshman running backs and moved sophomore Jafar Armstrong into the backfield from receiver.
If one of those three makes the most of any opportunities granted this season, than he will be in position to take over as the complementary back in 2019. That will be better for Jones, too, sparing his body some of the proverbial grind.
That could backfire on him, though, if he does not produce. As said before, running back depth charts can be turned inside out quickly. That is not only tied to injury. Sometimes a younger back simply forces a change when the upperclassman's performance is more tied to unfulfilled speculation than it is genuine results.
NOTRE DAME 99-to-2:
No. 99 Jerry Tillery, defensive tackle, senior
No. 98 Ja'Mion Franklin, defensive tackle, incoming freshman
No. 97 Micah Dew-Treadway, defensive tackle, senior
No. 95 Myron Tagovailoa-Amosa, defensive tackle, sophomore
No. 94 Darnell Ewell, defensive tackle, sophomore
No. 91 Ade Ogundeji, defensive end, junior
No. 89 Brock Wright, tight end, sophomore
No. 88 Javon McKinley, receiver, junior
No. 87 Michael Young, receiver, sophomore
No. 86 Alizé Mack, tight end, senior
No. 85 George Takacs, tight end, early-enrolled freshman
No. 85 Tyler Newsome, punter and captain, fifth-year senior
No. 84 Cole Kmet, tight end, sophomore
No. 83 Chase Claypool, receiver, junior
No. 82 Nic Weishar, tight end, fifth-year senior
No. 81 Miles Boykin, receiver, senior
No. 80 Micah Jones, receiver, early-enrolled freshman
No. 78 Tommy Kraemer, right guard, junior
No. 76 Dillan Gibbons, offensive lineman, sophomore
No. 75 Josh Lugg, offensive lineman, sophomore
No. 74 Liam Eichenberg, starting left tackle, junior
No. 72 Robert Hainsey, right tackle, sophomore
No. 71 Alex Bars, left guard and captain, fifth-year senior
No. 70 Luke Jones, offensive lineman, incoming freshman
No. 69 Aaron Banks, offensive tackle, sophomore
No. 68 Jarrett Patterson, offensive tackle, incoming freshman
No. 60 Cole Mabry, offensive tackle, incoming freshman
No. 57 Trevor Ruhland, offensive lineman, senior
No. 57 (theoretically) Jayson Ademilola, defensive tackle, incoming freshman
No. 56 John Dirksen, offensive lineman, incoming freshman
No. 55 Jonathan Bonner, defensive tackle, fifth-year senior
No. 54 John Shannon, long snapper, junior
No. 53 Khalid Kareem, defensive end, junior
No. 53 Sam Mustipher, center and captain, fifth-year senior
No. 52 Bo Bauer, linebacker, early-enrolled freshman
No. 47 Kofi Wardlow, defensive end, sophomore
No. 45 Jonathan Jones, linebacker, junior
No. 44 Jamir Jones, defensive end, junior
No. 42 Julian Okwara, defensive end, junior
No. 41 Kurt Hinish, defensive tackle, sophomore
No. 40 Drew White, linebacker, sophomore
No. 39 Jonathan Doerer, kickoff specialist, sophomore
No. 34 Jahmir Smith, running back, early-enrolled freshman
No. 33 Shayne Simon, linebacker, incoming freshman
No. 31 Jack Lamb, linebacker, early-enrolled freshman
No. 30 Jeremiah Owusu-Koramoah, linebacker, sophomore
No. 29 Ovie Oghoufo, linebacker, early-enrolled freshman
No. 28 Nicco Fertitta, safety, senior
No. 27 Julian Love, cornerback, junior, second-team All-American
No. 25 Braden Lenzy, receiver, incoming freshman
No. 24 Tommy Tremble, tight end, incoming freshman
No. 24 Nick Coleman, defensive back, senior
No. 23 Drue Tranquill, linebacker, two-time captain, fifth-year senior
No. 22 Asmar Bilal, rover, senior
No. 21 Jalen Elliott, safety, junior
No. 20 Shaun Crawford, nickelback, senior
No. 20 C'Bo Flemister, running back, incoming freshman
No. 19 Justin Yoon, placekicker, senior
No. 19 Justin Ademilola, defensive end, incoming freshman
No. 18 Joe Wilkins, cornerback, incoming freshman
No. 17 Isaiah Robertson, safety-turned-rover, sophomore
No. 16 Noah Boykin, cornerback, incoming freshman
No. 15 D.J. Morgan, safety-turned-linebacker, junior
No. 15 Phil Jurkovec, quarterback, consensus four-star incoming freshman
No. 14 Devin Studstill, safety, junior
No. 13 Lawrence Keys, receiver, incoming freshman
No. 13 Paul Moala, local safety, incoming freshman
No. 12 DJ Brown, cornerback, incoming freshman
No. 12 Ian Book, quarterback, junior
No. 11 Alohi Gilman, safety, Navy transfer
No. 10 Tariq Bracy, cornerback, incoming freshman
No. 10 Chris Finke, receiver, senior, former walk-on
No. 9 Daelin Hayes, defensive end, junior
No. 8 Jafar Armstrong, running back/receiver, sophomore
No. 8 Donte Vaughn, cornerback, junior
No. 7 Brandon Wimbush, quarterback, senior
No. 7 Derrik Allen, consensus four-star safety, incoming freshman
MEDICAL EXEMPTION
No. 35 David Adams, linebacker, sophomore
OUTGOING TRANSFER
No. 11 Freddy Canteen, receiver, outgoing transfer
[protected-iframe id="4322d87b3e2eb4d11caa19723fa3b36c-15933026-22035394" info="//platform.twitter.com/widgets.js" class="twitter-follow-button"]