Listed Measurements: 6-foot-1 1/8, 238 pounds
2018-19 year, eligibility: Coney has played in 37 of a possible 38 career games, looking to bring both those numbers past 50 in his fourth and final season.
Depth chart: Coney will move to Mike linebacker after spending much of his career as the Buck. That change will make him more a focal point on the defense while keeping him in the middle of nearly every play.
Recruiting: Coney narrowed his choices to Notre Dame and Florida, also holding offers from Clemson, Miami and Alabama. When the Gators fired head coach Will Muschamp, the decision became an easier one for the Under Armour All-American considered the No. 6 inside linebacker and No. 118 overall prospect by rivals.com.
CAREER TO DATE
For a career filled with hiccups and hurdles, Coney's stats have progressed in a rather orthodox fashion. As an early-enrolled freshman, he spent much of his time on kickoff coverage until Jaylon Smith suffered an injury early in the 2015 Fiesta Bowl. At that point, it seemed Coney would have a high-profile chance to shine. Instead, he injured his shoulder plays later, thus costing him the following spring's practices.
Then, an arrest for marijuana possession put him in the proverbial doghouse before the 2016 season, though Coney still established himself as a part-time starter, a role he carried into last season. By the midseason point, though, Coney took over as the starting Buck linebacker, splitting time with Greer Martini. Despite playing many snaps fewer — as in hundreds — than the likes of Drue Tranquill or Nyles Morgan, Coney led the Irish in tackles in 2017 with 116.
2015: 12 games; 13 tackles with 0.5 for loss.
2016: 12 games, nine starts; 62 tackles with 1.5 for loss.
2017: 13 games, starting seven of the final eight with the exception being against Navy and its triple-option offense; 116 tackles with 13 for loss and three sacks, one of which forced a fumble on USC's first play from scrimmage, a turnover Coney recovered to set up Notre Dame's first touchdown. He capped the year with 17 tackles in the Citrus Bowl victory against LSU.
QUOTE(S)
Coney considered heading to the NFL this offseason, instead opting for another year of development under linebackers coach and now-defensive coordinator Clark Lea. A second season of triple-digit tackles, one in which he stars more than his under-the-radar performance in 2017, could raise Coney's professional profile while also obviously helping the Irish as a whole.
Comparing this spring to last spring, Coney has already begun down that path, per head coach Brian Kelly.
"The first [change] would be moving to the Mike linebacker position, which we think is a natural position on the next level for him," Kelly said in late March. "… From a development standpoint, he was missing in action last spring. We didn't know where he was. He did not have a very good spring. Consequently, that put him behind in August. He didn't come out as a starter until week five.
"What we wanted to do was show how important it was for him to have a great spring. He is somebody who is unmistakable on the field whereas last year at this time, I didn't even know he was out there. … Building off of that, having a really good finish to his season last year, and then coming into this spring and continuing that elevation as a marquee player on our defense."
The most-significant piece of development needed by Coney for both this season and his future comes against the pass, an area in which Lea shouldered some of the blame for Coney's subpar showing last fall.
"He's a guy that has had a different level of attention to detail," Lea said the week before the Blue-Gold Game. "… He was spread thin in the fall, but he's really worked to improve himself as a player every day. I've not sensed one ounce of holding back or cruising to the finish here."
WHAT WAS PROJECTED A YEAR AGO
"A cynic here might wonder if Martini will get the initial starting nod as a default to a captain. Even if that is the case — and this is not to say it is — he will play well; Coney will need to earn the chance to start.
"He is certainly capable of that, but whether he does or not, Coney will see plenty of action this season. Notre Dame just does not have other options. … Coney is essentially the entire second-unit at linebacker. Provided Morgan, Martini and Coney all stay healthy, that is not an item of concern. A rotation of those three in nearly any ratio should serve the Irish well.
"… Both Morgan and Martini will be out of eligibility following 2017, all but guaranteeing Coney a starting gig next season, most likely in Martini's role. … Coney will be counted on to complement Tranquill as the veterans on what will continue to be a young defense.
"Knowing that clear future is ahead of him should push Coney to stay engaged in all facets this season."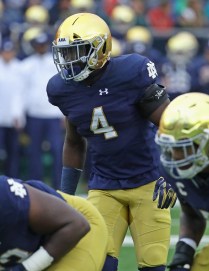 2018 OUTLOOK
It is hard to fathom a 100-plus tackle season with double-digit tackles for loss receiving as little praise as Coney's did last season. Some of that tied to him not starting for the first month of the year; some of related to the lack of big-play moments included in those 116 tackles. Coney was consistent, shockingly consistent, but not necessarily stellar.
The Irish will want more than three sacks and a hand in one turnover from Coney this season. If the defense is to take the leap increasingly expected of it, its leading tackler will also need to provide some fireworks.
His inefficiencies against the pass in the past make it unlikely Coney will snag a few interceptions, but breaking up a couple passes would be a start. Combine that with a handful of sacks and multiple fumbles to go along with his 100 tackles, and Coney could find himself in some All-American conversations.
A mere tackling machine will not warrant such notice, will not rise in draft projections and will not push Notre Dame toward the College Football Playoff. Coney will need to make more highlight-worthy plays this season to accomplish the things he came back to school for.
DOWN THE ROAD
Coney's next step is clearly the NFL. The question will be how high he can raise his draft stock. Among interior linebackers, the top of the draft-eligible pack includes names like Shaq Quarterman (Miami), T.J. Edwards (Wisconsin) and Cameron Smith (USC). They had five, seven and three pass breakups last season, respectively, not to mention Edwards' four interceptions. They made plays against the NFL's preferred means of offense.
Coney's best method of moving up draft boards is to strengthen his pass defense as Lea implied was already occurring in the spring.
NOTRE DAME 99-to-2:
No. 99 Jerry Tillery, defensive tackle, senior
No. 98 Ja'Mion Franklin, defensive tackle, incoming freshman
No. 97 Micah Dew-Treadway, defensive tackle, senior
No. 95 Myron Tagovailoa-Amosa, defensive tackle, sophomore
No. 94 Darnell Ewell, defensive tackle, sophomore
No. 91 Ade Ogundeji, defensive end, junior
No. 89 Brock Wright, tight end, sophomore
No. 88 Javon McKinley, receiver, junior
No. 87 Michael Young, receiver, sophomore
No. 86 Alizé Mack, tight end, senior
No. 85 George Takacs, tight end, early-enrolled freshman
No. 85 Tyler Newsome, punter and captain, fifth-year senior
No. 84 Cole Kmet, tight end, sophomore
No. 83 Chase Claypool, receiver, junior
No. 82 Nic Weishar, tight end, fifth-year senior
No. 81 Miles Boykin, receiver, senior
No. 80 Micah Jones, receiver, early-enrolled freshman
No. 78 Tommy Kraemer, right guard, junior
No. 76 Dillan Gibbons, offensive lineman, sophomore
No. 75 Josh Lugg, offensive lineman, sophomore
No. 74 Liam Eichenberg, starting left tackle, junior
No. 72 Robert Hainsey, right tackle, sophomore
No. 71 Alex Bars, left guard and captain, fifth-year senior
No. 70 Luke Jones, offensive lineman, incoming freshman
No. 69 Aaron Banks, offensive tackle, sophomore
No. 68 Jarrett Patterson, offensive tackle, incoming freshman
No. 60 Cole Mabry, offensive tackle, incoming freshman
No. 57 Trevor Ruhland, offensive lineman, senior
No. 57 (theoretically) Jayson Ademilola, defensive tackle, incoming freshman
No. 56 John Dirksen, offensive lineman, incoming freshman
No. 55 Jonathan Bonner, defensive tackle, fifth-year senior
No. 54 John Shannon, long snapper, junior
No. 53 Khalid Kareem, defensive end, junior
No. 53 Sam Mustipher, center and captain, fifth-year senior
No. 52 Bo Bauer, linebacker, early-enrolled freshman
No. 47 Kofi Wardlow, defensive end, sophomore
No. 45 Jonathan Jones, linebacker, junior
No. 44 Jamir Jones, defensive end, junior
No. 42 Julian Okwara, defensive end, junior
No. 41 Kurt Hinish, defensive tackle, sophomore
No. 40 Drew White, linebacker, sophomore
No. 39 Jonathan Doerer, kickoff specialist, sophomore
No. 34 Jahmir Smith, running back, early-enrolled freshman
No. 33 Shayne Simon, linebacker, incoming freshman
No. 31 Jack Lamb, linebacker, early-enrolled freshman
No. 30 Jeremiah Owusu-Koramoah, linebacker, sophomore
No. 29 Ovie Oghoufo, linebacker, early-enrolled freshman
No. 28 Nicco Fertitta, safety, senior
No. 27 Julian Love, cornerback, junior, second-team All-American
No. 25 Braden Lenzy, receiver, incoming freshman
No. 24 Tommy Tremble, tight end, incoming freshman
No. 24 Nick Coleman, defensive back, senior
No. 23 Drue Tranquill, linebacker, two-time captain, fifth-year senior
No. 22 Asmar Bilal, rover, senior
No. 21 Jalen Elliott, safety, junior
No. 20 Shaun Crawford, nickelback, senior
No. 20 C'Bo Flemister, running back, incoming freshman
No. 19 Justin Yoon, placekicker, senior
No. 19 Justin Ademilola, defensive end, incoming freshman
No. 18 Joe Wilkins, cornerback, incoming freshman
No. 17 Isaiah Robertson, safety-turned-rover, sophomore
No. 16 Noah Boykin, cornerback, incoming freshman
No. 15 D.J. Morgan, safety-turned-linebacker, junior
No. 15 Phil Jurkovec, quarterback, consensus four-star incoming freshman
No. 14 Devin Studstill, safety, junior
No. 13 Lawrence Keys, receiver, incoming freshman
No. 13 Paul Moala, local safety, incoming freshman
No. 12 DJ Brown, cornerback, incoming freshman
No. 12 Ian Book, quarterback, junior
No. 11 Alohi Gilman, safety, Navy transfer
No. 10 Tariq Bracy, cornerback, incoming freshman
No. 10 Chris Finke, receiver, senior, former walk-on
No. 9 Daelin Hayes, defensive end, junior
No. 8 Jafar Armstrong, running back/receiver, sophomore
No. 8 Donte Vaughn, cornerback, junior
No. 7 Brandon Wimbush, quarterback, senior
No. 7 Derrik Allen, consensus four-star safety, incoming freshman
No. 6 Tony Jones, running back, junior
No. 5 Troy Pride, cornerback, junior
MEDICAL EXEMPTION
No. 35 David Adams, linebacker, sophomore
OUTGOING TRANSFER
No. 11 Freddy Canteen, receiver, outgoing transfer
[protected-iframe id="4322d87b3e2eb4d11caa19723fa3b36c-15933026-22035394" info="//platform.twitter.com/widgets.js" class="twitter-follow-button"]