When a Sunday baptism precedes a Saturday wedding, you end up at a rescheduled Notre Dame practice Thursday. It only makes sense. Even if it didn't, it fits the supposed job description.
Though only the sixth practice of the Irish preseason, and coming more than three full weeks yet before Michigan arrives in town, Thursday marked just a few days short of halfway through preseason practice. (Prep for the Wolverines will begin about Aug. 26, 23 days after the first practice. Splitting that difference puts the midway point actually on Aug. 14, otherwise known as this coming Tuesday.)
Thus, it is not too soon to recap some things learned, both from that specific practice and from Notre Dame head coach Brian Kelly's post-practice comments thus far.
RELATED READING: Things To Learn — Notre Dame's preseason dotted by questions at complementary positions
— This space pondered a backup quarterback competition entering the preseason. End that wondering. Freshman Phil Jurkovec is not in the mix with junior Ian Book to back up senior Brandon Wimbush. That is, quite frankly, how it should be at this point. Book played well when needed last year, and it will take some time for Jurkovec to get up to speed. His lack of early enrollment sticks out in that regard, but fauting an 18-year-old for enjoying his final year of high school is to miss the point of much of this entire premise.
— Avery Davis will play this season, a lot. The former quarterback already appears to excel in his newfound running back and receiver duties, expanding offensive coordinator Chip Long's playbook exponentially. Sophomore receiver-turned-back Jafar Armstrong offers a similar boost, though slightly less noteworthy this week.
"It's really a tandem package where we want to be able to personnel the defense," Kelly said of the duo. "… Some of it has to be Jafar has to continue to improve, which he has."
Davis, in particular, seems to fit into the role like a natural. It may have been an overreaction in the moment, but this particular set of scribbled notes included the thought, "Avery Davis could have 400 total yards with three touchdowns." If memory serves, a catch amid traffic in the end zone prompted the thought.
— As such, Davis seems to be the backup running back to junior Tony Jones, with Armstrong offering relief and amplification when needed. Thursday was not an ideal day to determine which of the two freshmen had established himself, if either, as both were limited in action. Senior Dexter Williams essentially practiced with the fourth-string, if there were such a thing. *Insert obvious drawn conclusion here*
— Regarding Williams, though, when Davis was getting that red-zone work with the first-string, Williams was working through some drills more than 60 yards away. He still stepped away to yell encouragement, "I see you AD! I see you AD!" He continued until Davis offered some form of acknowledgement, the gridiron version of the Bleacher Creatures' roll call.
— To answer the third question from a week ago's "Things to Learn" … Senior Asmar Biilal will start at rover, though he is still not stellar in coverage. His physical abilities are clear, especially when greeting a member of the offense. During a special teams drill working on shedding blocks, he was the first one to receive genuine praise, even though the linebackers had gone through the line two or three times. Bilal is quick and strong, just not quick at reading a route and beating the receiver to the necessary spots. In other words, Wake Forest sophomore receiver Greg Dortch desperately hopes to line up against Bilal a few times Sept. 22.
— Senior Nick Coleman intercepted a Wimbush pass Thursday, confirming what Kelly would later state: Coleman remains in the mix at safety despite the apparent separation from juniors Alohi Gilman and Jalen Elliott and freshman Houston Griffith.
"[Coleman is] a guy who was fighting for reps in the spring," Kelly said. "He's come into this camp with just a better presence in everything that he does. Tackling, awareness, playing the ball in the air."
Coleman may not start at safety, but having four to rely upon would bolster defensive coordinator Clark Lea's confidence.
Davis has been discussed. Keys and McKinley are only similar in that they are receivers. McKinley's legs are as thick as Jones', despite being listed as a full three inches taller than the running back. If senior Miles Boykin is producing, it is hard to know when McKinley will get a chance to finally play, but he certainly looked ready.
The 170-pound Keys may not have the same difficulty finding playing time. Sophomore Michael Young works primarily on the field sideline, backing up junior Chase Claypool. Keys then fills out the second unit in the slot behind senior Chris Finke, the least-accomplished of the three starters.
Keys may not yet have all of Wimbush's trust, but if he continues to shake and slice past defenders as he did Thursday, he should earn it. He already has the attention of Kelly and receivers coach Del Alexander, who spent much of practice focused on Keys, coaching him up on details.
"[Keys] doesn't blink," Kelly said. "Nothing's too big for him. The game of football comes really easy, functional intelligence of the game. … He's a guy as well that when he gets the ball in his hands, he finds a way to make something happen.
"We're not going to shy away from playing guys that we think can help, even if it's in a part-time position."
18stripes.com contributor Michael Bryan recently asked on Twitter, who would be receivers Nos. 3-5 in terms of yards come season's end.
Finke is among the obvious possibilities, along with Young and either senior tight end Alizé Mack or sophomore tight end Cole Kmet. Consider this speculation that either Keys and/or McKinley make the cut, most likely Keys. Ignoring the obvious off-field issues and focusing on his freshman season, Keys is more reminiscent of Kevin Stepherson than freshman speedster Braden Lenzy is. Keys makes plays, while Lenzy simply tries to run away from defenders.
Until he adds some technique and muscle, Lenzy will get knocked off his route with any contact. That said, if he can get free, he will track down the ball, no matter how far it is thrown (figuratively speaking, of course).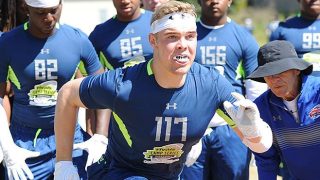 — As for Bauer, the crumpled notebook states it most simply, "Bauer is going to have himself a career." With two captains and at least one All-American candidate in front of him, that probably will not begin in earnest this season.
"Bo Bauer is a pretty smooth operator," Kelly said. "He knows what he's doing. He has good football instincts. He's physically put himself in a better position to compete."
In other words, Bauer may single-handedly be the linebacker depth Notre Dame has sought.
— Those few names (Love, Pride, Boykin, Wimbush) were expected to be noted positively and frequently, and they were. The lack of surprise leads to a lack of verbose expansion.
Wimbush was not perfect, throwing two interceptions as well as scrambling on the first play of one-vs-one scrimmaging when he had a bit more time to scan for a receiver. But he played confidently and quickly.
— Looking at a piece of scrap paper with a more informal "Things To Learn" specific to Thursday morning, the only remaining questions to answer are: "Could the second-unit OL genuinely fill in?" and "Same old Mack?"
To the first, let's go with a partial yes. Fifth-year center Sam Mustipher may be irreplaceable, and there are not four backup linemen ready to step in, but there are at least two. As long as Notre Dame maintains decent health up front, that depth should not be a concern.
As for Mack, the senior tight end made an early grab across the middle and ran it out to the end zone, but his play still feels inconsistent more than anything else.
— Only three more open Saturdays until push comes to shove. Get outside. Enjoy yourself, and remember, it counts as only one drink if it fits in one glass.
[protected-iframe id="4322d87b3e2eb4d11caa19723fa3b36c-15933026-22035394" info="//platform.twitter.com/widgets.js" class="twitter-follow-button"]