It has been a refrain for nearly four full years now. "Michigan hasn't scored against Notre Dame in 1,802 days." It is a misleading statistic, including a total of one game in that span, but a fun piece of bragging rights, nonetheless.
The Irish fan's memory of the 31-0 victory, the last time the two rivals met, tends to forget how close the Wolverines came to taking an early lead in 2014. Matt Wile missed a field goal on each of Michigan's first two possessions. He finished the year 15-of-21.
Notre Dame should not presume to be offered such a gift to start this season. Wolverines sophomore kicker Quinn Nordin went 19-of-24 last year, including 6-of-8 from beyond 40 yards with a long of 55.
2017 REVIEW
Michigan began last season 4-0, but the cracks in the figurative foundation were apparent even then. Though winning each of those by at least 16 points, all four games were competitive in the second half. Perhaps as should be expected of a team with an incompetent offense (25.2 points per game and 5.2 yards per play, both lows of head coach Jim Harbaugh's three years in Ann Arbor), special teams and defensive scores were pivotal in three of those opening wins.
Fundamentally-sound Michigan State, two weeks removed from its 38-18 loss to the Irish, did not offer the Wolverines any such end zone chances. The 14-10 loss was the first of four Michigan suffered in the Big Ten, all to the usual suspects (42-13 at Penn State; 24-10 at Wisconsin; 31-20 vs. Ohio State). A 26-19 Outback Bowl loss to South Carolina — though the Wolverines were favored by more than a touchdown — dropped their record to 8-5.
Offensively, the troubles largely traced to the quarterback play. Three different passers took turns leading the way, the first shift forced by injury and the second by ineffectiveness.
Defensively, Michigan gave up a mere 271 yards and 18.8 points per game. Only once did an opponent gain more than 350 yards: Penn State in a rout.
WHAT MICHIGAN LOST
A healthy Wilton Speight may have changed Michigan's 2017, but he was knocked out for the year in week four. Even to that point, the quarterback completed only 54.3 percent of his passes and had a meager 3 :: 2 touchdown-to-interception ratio. In Speight's place, John O'Korn struggled even more (53.5 completion percentage, two touchdowns, six interceptions). The point is, the Wolverines are now without both quarterbacks, but that is only a loss in the strictest sense of the roster.
Much more notably, left tackle Mason Cole and center Patrick Kugler are no longer around, the former a two-time All-Big Ten honoree.
Consensus first-team All-American defensive tackle Maurice Hurst (60 tackles with 13.5 for loss including five sacks) went to the Oakland Raiders in the fifth round of the NFL draft, and Michigan also lost its No. 2 tackler in middle linebacker Mike McCray (84 tackles with 17 for loss, including five sacks). While those are each significant departures, they are the only two defensively, allowing the Wolverines to return 14 of their top-16 tacklers.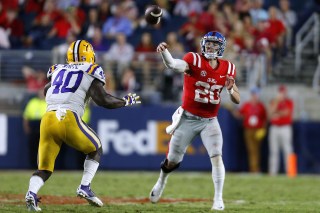 WHAT MICHIGAN GAINED
Either Ole Miss transfer Shea Patterson is Michigan's long-awaited quarterback hero, or he will be a disappointment to those fans. The Patterson hype has gotten a bit out of hand, but the hopes are understandable when remembering just how much the Wolverines' quarterbacks struggled last season, all three of them.
Patterson started 10 games in his two seasons at Mississippi before moving north as the Rebels embrace NCAA sanctions. He has 3,139 yards to his name, but more pertinent would be his 62 percent completion rate and 23 touchdowns compared to 12 interceptions.
Michigan did sign a four-star quarterback, Joe Milton, in the recruiting cycle, so if Patterson struggles, it is not a default Harbaugh would again turn to sophomore Brandon Peters (52.8 percent, four touchdowns, two interceptions).
Also in that recruiting class: four defenders of the four-star nature. They may not all play much, but given the NCAA's changed stance regarding eligibility concerns, they will undoubtedly see some time, adding depth to an abundance of riches.
HEAD COACH
Perhaps the most-discussed coach in the country, especially with Lane Kiffin hiding in plain sight at a Florida commuter school, Harbaugh enters his fourth year leading the Wolverines with some beginning to wonder about his future. That may seem harsh for a 28-11 record, especially since he did not take over a program in an ideal spot, but Harbaugh has gone 1-7 against the top 10 and 18-8 in the conference. Finishing 6-3 or even 7-2 in the Big Ten will not get the job done for Harbaugh at Michigan.
Some mention needs to be made of defensive coordinator Don Brown. To Notre Dame fans, his name may spark memories of a 2015 victory over Boston College at Fenway Park. In a season in which the Irish averaged 34.2 points and 207.6 rushing yards per game, Brown's defense held them to 19 points and 127 rushing yards, forcing four fumbles (recovering two) and intercepting three passes.
OFFENSIVE SUMMARY
As much credit as Patterson will inevitably receive if the Wolverines offense shows improvement, much more will likely be deserved by the receiving corps. All of it returns, and with sophomore Tarik Black healthy again, it should be much better than it was last season. Black played two-plus games, making 11 grabs for 149 yards and a touchdown before a broken foot cut him down.
Similarly, senior running back Karan Higdon ran for 994 yards and 11 touchdowns last year, averaging 6.1 yards per carry. With three returning starters on the offensive line (coached by Ed Warriner), Higdon should give Harbaugh and Patterson the luxury of a balanced offense.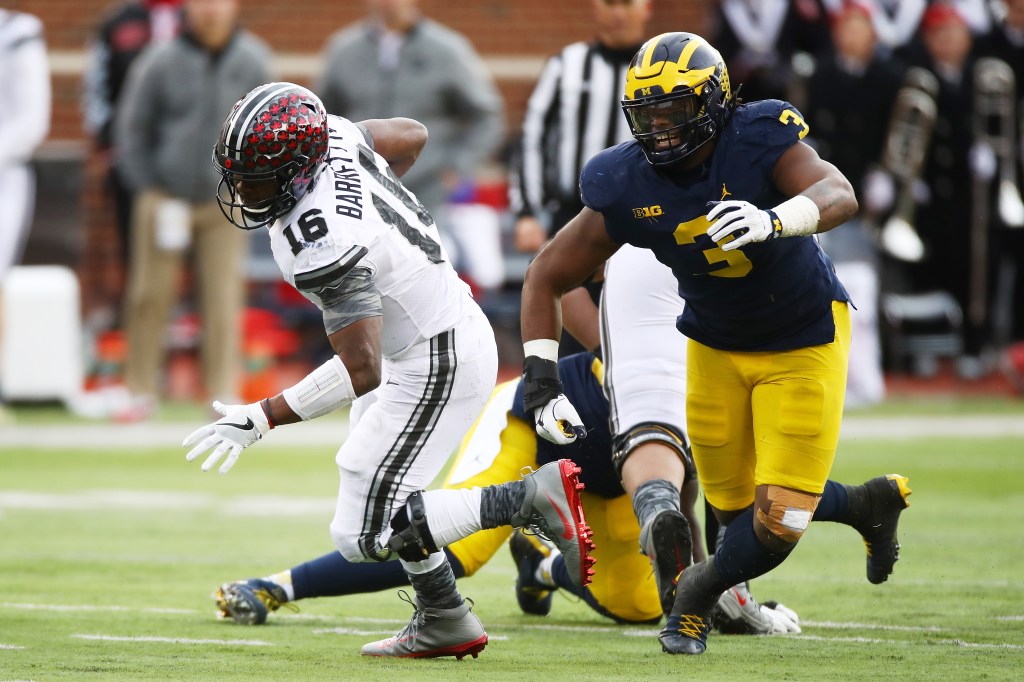 DEFENSIVE SUMMARY
Michigan allowed just 150 passing yards per game in 2017. Three times (Air Force, Michigan State and Minnesota), opponents did not reach triple digits through the air. A fourth, Rutgers, excelled to the tune of 101 yards.
And now, the Wolverines' entire secondary returns.
Similar claims can be made throughout Michigan's defensive roster. A defense that had 42 sacks returns 32 of them, including a combined 14 from defensive ends Rashan Gary and Chase Winovich. Junior middle linebacker Devin Bush made 100 tackles last season, leading the way in keeping seven different opponents to fewer than 100 rushing yards and nine of them to no more than 4.0 yards per rush.
It is hardly a reach to think Brown will enjoy this season immensely, no matter how the Wolverines offense fares.
SEASON OUTLOOK
Michigan is a national title contender; its odds to win it all are the sixth-best in the country at 14-to-1. The Wolverines probably will not win that title, but coming within at least a game of the Big Ten West title feels like a near-must for Harbaugh. Having to travel to Notre Dame, Michigan State and Ohio State will not help either cause.
Bookmakers expect Michigan to end up with nine wins, given the over/under win total mark of 8.5 with rates skewing toward the over. Those three games and a visit from Wisconsin project as the toughest third of the slate, but it is not as if traveling to Northwestern after a Wildcats bye will be a walk through the park or, if you will, a walk around the lake.
Even before the season starts, the Wolverines have already found drama, with the school putting together an investigation into allegations raised in a controversy down at North Carolina. The Tar Heels have suspended 13 players for selling team-issued shoes. Both programs are sponsored by Nike and featured within the "Jumpman" brand, and somewhere along the way North Carolina's compliance office was told similar occurrences were transpiring at Michigan. It is most likely little comes of the situation, but it certainly is not the story Harbaugh wants to be dealing with in the lead up to Sept. 1.
[protected-iframe id="4322d87b3e2eb4d11caa19723fa3b36c-15933026-22035394" info="//platform.twitter.com/widgets.js" class="twitter-follow-button"]