Maybe the ideal Notre Dame schedule this season would open with Ball State before hosting Michigan in 18 days. That would parallel last year's Georgia-after-Temple sequence. While it would rob spaces such as this the enjoyment of hyping the Wolverines' arrival all summer, it would also undoubtedly give the Irish a softer entry to the season. It would be a much harsher beginning for the Cardinals, though, rather than hosting Central Connecticut State on Aug. 30.
2017 REVIEW
Ball State nearly changed its entire 2017 in the first week. If the Cardinals had successfully finished off an upset bid at Illinois, the accompanying promise would have been undeniable and presumably contagious. Instead, lackadaisical special teams play set up an Illini touchdown in the final minutes. Ball State could not convert a 54-yard field goal to send the 24-21 loss to overtime.
Even then, it seemed the Cardinals might have a decent season ahead of them, beating UAB (51-31) and Tennessee Tech (28-13) in the next two weeks.
Those were the good times.
Third-year starting quarterback Riley Neal went down for the season with a leg injury against Tennessee Tech. Established running back James Gilbert joined him that afternoon with a thumb injury. In due time, two more quarterbacks were lost for the fall as the offensive line became more and more of a turnstyle throughout the season, giving up 33 total sacks. That cause was not aided by losing two right guards to injury before the second week of the year.
Ball State's top-two returning receivers were also lost to injury during the season. In other words, injuries bore much of the public blame for the 0-9 finish to the season, including a winless record in the MAC. Not a single one of those nine losses was closer than 12 points.
WHAT BALL STATE LOST
Rarely does a team lose its leading passer and shrug its shoulders, but Jack Milas' 53.1 percent completion rate and 2 :: 8 touchdown-to-interception ratio both spoke to his backup abilities and the team's overall deterioration.
Aside from Milas, the most-notable departures all come along the defensive line, not exactly a boon for the coming year. Defensive end Anthony Winbush made first-team all-conference despite the Cardinals' atrocious defense. His 11.5 sacks will be rather difficult to replace, as will be the 20 combined starts last season from defensive tackles Kevin Willis and John Swisher.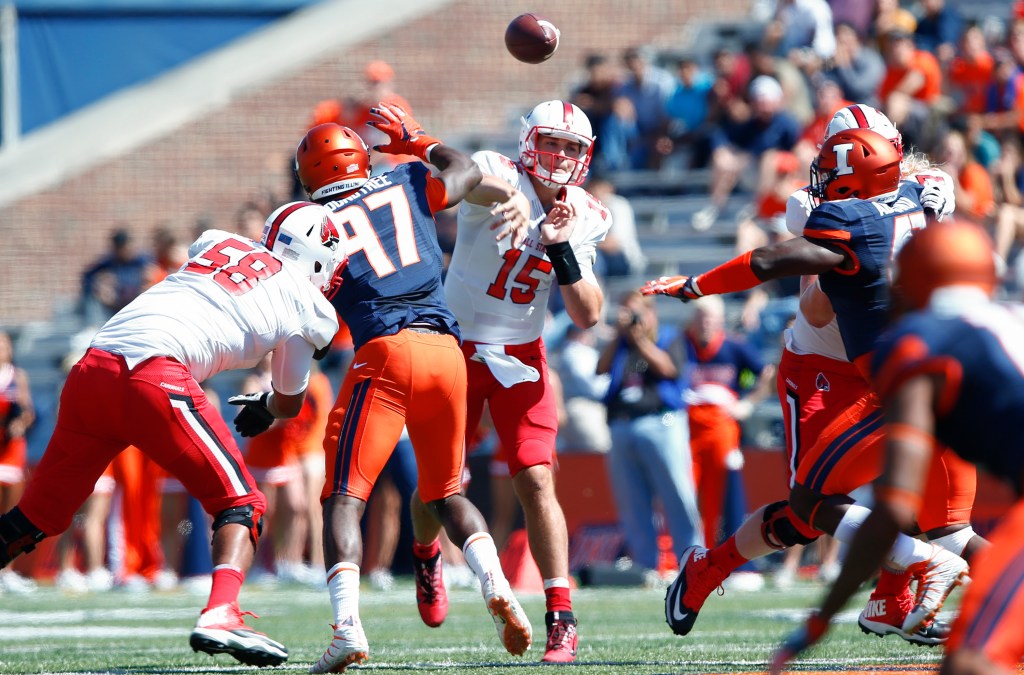 WHAT BALL STATE GAINED
Frankly, all those players injured last season should count as gains this year. Ball State suddenly has a three-year starter at quarterback, a three-year contributor at running back and two maturing receivers who have shown promise when healthy.
The fact that now-sophomore Justin Hall (pictured above, with ball) made 78 catches for 801 yards and three scores in only 10 games last year should stand out. Pairing him with a worthwhile quarterback and another year in a collegiate strength and conditioning program ought to give the Cardinals at least a semblance of an offense.
As far as Notre Dame concerns go, Hall is only 5-foot-9 and 182 pounds. If he wants to rely on speed, the Irish will turn to track star cornerback Troy Pride. If Hall opts for cuts and shiftiness, Notre Dame senior nickelback Shaun Crawford may enjoy the task/challenge.
HEAD COACH
Mike Neu enters his third season with a total of one conference win (31-21 at Buffalo in 2016) against 15 losses. His pedigree of spending two years as the quarterbacks coach with the New Orleans Saints may sound bolstering, but just how much coaching did Drew Brees need in 2014 and 2015?
Ball State hired a new athletic director this summer, Beth Goetz. Any time there is a change in that position, a struggling football coach takes notice in an uncomfortable way.
OFFENSIVE SUMMARY
The Cardinals averaged 17.9 points per game last year. The myriad list of injuries factors in, but there is also some simple inability at hand. They gained 4.5 yards per play. It just was not good enough.
Supplementing the Neal-to-Hall connection, the Cardinals now have multiple proven running backs. Sophomore Caleb Huntley ran for 1,003 yards and a 4.8 average last season filling in for junior James Gilbert, the first-team all-conference running back from 2016.
If Neu can call plays to somehow utilize both backs, now running behind an offensive line returning four starters, then Ball State could find some success in the MAC for the first time since going 7-1 in 2013.
DEFENSIVE SUMMARY
It is easy to criticize the Cardinals offense for not averaging even 20 points a year ago. It would not have mattered if it had — the defense gave up 40.7 points per game. That was not a typo. Forty point seven points per game.
It allowed more than 400 yards on seven different occasions. Three of those reached 500. Toledo broke 600.
That defense now converts to a 3-4 front and returns eight defensive backs with 2017 starts, but a complete reversal in effectiveness feels rather unrealistic.
SEASON OUTLOOK
Neal will truly need to produce for Neu's job not to be in danger. Aside from the opener against Central Connecticut State, Ball State's best chances at wins come from a visit from Kent State and a trip to Miami (OH) in the regular season finale. Even sweeping those would leave the Cardinals well short of bookmakers' thoughts of a 4.5-win total over/under.
The values wagered already indicate the under is the smart bet. As the MAC has risen, someone had to end up at the bottom of the pecking order. Currently, that is Ball State.
[protected-iframe id="4322d87b3e2eb4d11caa19723fa3b36c-15933026-22035394" info="//platform.twitter.com/widgets.js" class="twitter-follow-button"]