A year ago, the greatest and most obvious roster worry for Notre Dame was its defensive line. Irish head coach Brian Kelly and, arguably more notably, eventual consensus first-team All-American left tackle Mike McGlinchey both spoke highly of the unproven defensive front, but the fact that it returned literally zero sacks from 2016 resonated louder.
Kelly and McGlinchey were proven to be much more right than wrong, but one could argue outperforming low expectations does not inherently mean Notre Dame's defensive line played well, or as well as the program needs it to. If that is ever going to change, it is in 2018.
More specifically, the Irish pass rush may be about to finally arrive. Before writing off that thought as typical preseason fodder, consider the last time Notre Dame's defensive line returned more than the current 15 sacks from the year prior, it was 2013 and the defense had just carried the Irish to a national championship appearance. Defensive end Prince Shembo made 7.5 sacks in his penultimate collegiate season and counterpart Stephon Tuitt notched 12 while defensive tackle Louis Nix and line youngster Sheldon Day each had two. All four spent pertinent time in the NFL (though injuries ravaged Nix's career).
Notre Dame does not have that kind of frontline returning, but it has one worth anticipating.
"It's been awhile since we've had four [defensive ends] that we feel like we can go out there and compete with anybody," Kelly said Thursday.
The interior could be a stout one, led by senior Jerry Tillery and fifth-year Jonathan Bonner with sophomores Myron Tagovailoa-Amosa and Kurt Hinish providing quite capable depth, respectively, but it is indeed the ends who look set to excel.
They know it, too. The they under discussion being four juniors: drop ends Daelin Hayes and Julian Okwara, and strongside ends Khalid Kareem and Ade Ogundeji. For thoroughness' sake, the storyline asks junior Jamir Jones also be mentioned, now working at strongside end after two years as an inside linebacker.
"We feel we're confident to go up against any tackles and ready to change the game," Hayes said. "We're very confident. We've put in the work."
A five-star recruit, Hayes has long been the one from whom the most was expected, even though shoulder injuries robbed him of most of his high school career and any sustained time in a weight room. Then he began his Irish career at linebacker, learning coverages as much as pass rushes. Now with two full years not only at defensive end but in the same defensive scheme — something Hayes said he had not enjoyed since middle school — his body and technique are finally catching up to his raw potential.
"Just being stronger and more explosive, just making that a point," he said of his offseason. "Sometimes (last year) I would get engaged with a tackle and couldn't rip off. I knew I had to make that a point of emphasis.
When Hayes enrolled a semester early in January of 2016, he could bench press 225 pounds only 11 times. Now, he said he can reach 31 reps, part of a "bigger, stronger, faster, more explosive summer."
Hayes' role should not change much in 2018, simply his effectiveness. He will still split time with Okwara, something that theoretically keeps both players fresher, and Hayes certainly does not show any inclination of disliking the timeshare. Together, they combined for 47 tackles, 11 for loss and 5.5 sacks last year.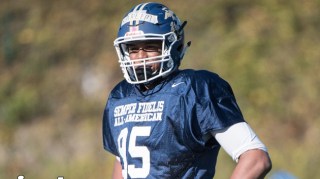 Kareem and Ogundeji, however, are in for a change. Gone are Andrew Trumbetti (out of eligibility) and Jay Hayes (graduate transfer to Georgia). That latter duo took the majority of snaps at strongside end last season. Now Kareem will lead the way and Ogundeji will need to provide enough of a supplement.
Kareem spent the summer focusing on his conditioning and his cardio as much as his strength. A coming increase in playing time demanded it, and he knows not to take the promotion for granted.
"I always just went in day by day and tried to be the best I can be," he said. "If I was going to be the starter, that's what it was going to be. I had to keep working. I know Ade and guys behind me are still competing to get that spot."
Given his stats of a year ago (21 tackles with 5.5 for loss including three sacks) and recognizing the sheer volume influx on the way, Kareem may seem the most-likely candidate for a breakout season. That overlooks Ogundeji, who has yet to record a tackle in his career but will now suddenly be playing 20-30 snaps a week at a minimum
"It's pretty common that you're not going to play somebody 75 plays," Kelly said. "Ade has had a great camp and we have great confidence in his ability to come in and play a high level of football for us.
"Khalid is the starter. He's earned it. But Ade has earned playing time, as well. He's a thrasher, he's physical and he's relentless."
Listed at taller than 6-foot-4 but only 255 pounds, Ogundeji is not a picture of raw strength. Kareem has seen up close how deceptive that can be.
"One thing that people don't understand is how strong he is," Kareem said. "He's going to be a key factor in the defense."
All three of Hayes, Kareem and Ogundeji hail from Michigan. Hayes and Kareem even enjoy hollering to each other across an interview room whenever one is asked if they knew each other in high school. "I've known 'Lid since I was 15," Hayes will say before discussing the gym they both worked out at.
The last time Notre Dame lost to Michigan, Okwara's older brother Romeo was held to one tackle.
Opening the season against Michigan does not exactly offer these ends an unknown opponent. They may, in fact, be uniquely familiar with the Wolverines. But an Irish pass rush is something largely unseen the last five or six years. That much could be very unfamiliar.
[protected-iframe id="4322d87b3e2eb4d11caa19723fa3b36c-15933026-22035394" info="//platform.twitter.com/widgets.js" class="twitter-follow-button"]