A year ago this preview piece remembered a freshman year Canadian roommate who gave one of the simplest and most cutting reviews ever offered of a piece of writing.
"You shouldn't have started with 'I think.' It made your point weaker."
Well, Mr. Maple Leafs Fan, I think your wedding last weekend was more fun than I expected. I think it was worth spending more than 24 hours in Columbus, Ohio, despite no news coming of a certain Buckeyes investigation. And I think I actually enjoyed eating dinner with two recent Tennessee graduates. Conversations with them and a few Ohio State folks will, in fact, inform certain projections seen in the second half of this series next week.
So there, you married PhD, sometimes "I think" works out just fine, doesn't it?
With that in mind, I think …
1) Maxing out one's credit cards in a West Virginia sportsbook on the Notre Dame vs Michigan point total over/under makes all the sense in the world, which inevitably means it will lead to garnished wages. Currently bookmakers have that number at 48 points with a bit of incentive to take the under.
2) How confident might that bet be? The Irish and Wolverines will not even break 41 points, falling a full touchdown short of that current mark.
3) The only way it breaks 48 is with multiple defensive and special teams touchdowns. Both defenses are talented enough to make that happen, but both doing so seems unlikely. That is where the new kickoff rules will be noticed: A kickoff fair caught within the 25-yard line places the ball at the 25-yard line.
It will reduce opportunities for special teams scores. As a collective society of football fans, we'll notice the change the first weekend, maybe even the first month. By midseason, though, the casual remote-holder will have largely forgotten about the shift toward safety.
4) Notre Dame senior kicker Justin Yoon will make the biggest kick of his life. That may not come against Michigan, but it will become a reality by the end of the season.
5) Remember receiver John Goodman's incomplete pass to start the fourth quarter at Oklahoma in 2012? That game is remembered as a dominant 30-13 victory, but the final period began with only a 10-6 Irish lead, though Notre Dame was driving deep into Sooner territory. Goodman's pass toward TJ Jones felt like it hung in the air forever. It had, after all, been five years since Goodman quarterbacked his high school team to an undefeated regular season. Two pass attempts in 2010 had not kept his arm lively.
Enter sophomore quarterback-turned-running back/receiver Avery Davis. At some point this year, he will throw a pass, be it on a trick snap or his own read option or a double pass. It will be a breath-holding three seconds. Perhaps this is simply the voice of a hope, a dream, a want for entertainment.
6) Irish running backs will have more catches than they did a year ago, totaling 24 and led by Josh Adams' 13 for 101 yards. This was thought even before Davis and sophomore receiver-turned-running back Jafar Armstrong made their respective position moves. Those changes make it a real safe guess now.
7) The last time Notre Dame entered a season with fewer career rushing yards returning in its running back depth than this year's 875 (641 from senior Dexter Williams, 234 from junior Tony Jones), was 2013 when Cam McDaniel entered with 134 yards and George Atkinson had rushed for 388.
The last time it had fewer career touchdowns than the current 11 (Williams with eight, Jones with three) was 2014. McDaniel claimed four scores and Tarean Folston offered three.
In 2013, the Irish finished with 1,963 rushing yards, averaging 151.0 per game.
In 2014, they managed 2,073 and averaged 159.5.
While Notre Dame will not match last year's prodigious rushing output of 3,503 yards and 269.5 averaged per game, it will not fall to those depths. Instead, it will finish a bit closer to the most-recent numbers than the ones from earlier in the decade. Averaging between 214.5 and 224.5 rushing yards per game sounds about right. A mobile quarterback deserves credit for some of that reduced regression.
8) Senior receiver Chris Finke will match his career totals of 16 catches for 224 yards and two touchdowns.
9) Two freshmen receivers will outperform then-freshman Michael Young's 2017 of four catches for 18 yards and a score. Those two will be Kevin Austin and Lawrence Keys.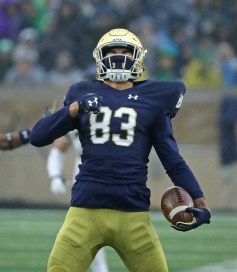 10) Junior receiver Chase Claypool will not finish second in receptions or receiving yards, as he did in both last season with 29 catches for 402 yards.
11) Fifth-year tight end Nic Weishar will catch at least three touchdowns, placing no lower than second among tight ends in the category. This thinking is largely based off Weishar's performance in the red zone last year and the trust he earned there both from the Irish coaching staff and from senior quarterback Brandon Wimbush. Two of Weishar's nine catches were for scores. That percentage could comically rise in 2018.
12) Wake Forest junior receiver Greg Dortch will score twice against Notre Dame on Sept. 22.
13) Stanford senior running back Bryce Love will equal that, if not more, a week later.
14) The game against the Cardinal will be the first of two in a row in primetime for the Irish. When Virginia Tech takes the field on Oct. 6, it will raise goosebumps, and no 280-character praise will come close to giving it proper due.
15) That entrance will still pale in comparison to the daunting feeling felt by the opposition whenever Metallica's "Enter Sandman" was played in its proper sporting environment, as Mariano Rivera took the field for the New York Yankees. A Red Sox fan of a father used to lament those eight-inning games.
16) Junior Ian Book will attempt fewer than 75 passes, his total of a year ago when he started one game, played the majority of another, saw mop-up duty in four more and collapsed under the lights at Miami, as well. It is the loss of the 18 passes in victorious blowouts that makes this guess most-likely accurate. Freshman Phil Jurkovec will take many of those snaps this year thanks to the NCAA's rule change regarding eligibility not being affected by appearing in up to four games.
17) Sophomore offensive lineman Josh Lugg will start multiple games. Notre Dame's offensive line enjoyed remarkable health last season. The only blip came when Alex Bars missed the second half at North Carolina, at which point Tommy Kraemer moved from a timeshare at right tackle to right guard, now his full-time position.
Expecting such fortune again is a bit of a leap, and nearly any injury would activate Lugg. If Kraemer is injured, in steps Lugg. If either tackle goes down, Kraemer is expected to move there, and in steps Lugg at right guard. If now-left guard Bars sprains an ankle, Lugg will be one of two considered, along with classmate Dillan Gibbons.
The only position which may not prompt Lugg would be if fifth-year center Sam Mustipher was knocked out of a game. First of all, that would be an absolute worst-case scenario for first-year offensive line coach Jeff Quinn. Second of all, there is a chance it would elicit Bars moving inward to center, at which point, well, you get the idea.
18) The Irish do not play freshman offensive linemen who do not enroll early. Even then, only three have played since 2008: Trevor Robinson that year, Steve Elmer in 2013 and Robert Hainsey last season.
No offensive linemen enrolled early this spring, yet multiple will play thanks to the NCAA's shift regarding eligibility concerns. That may not be the most-exciting reason to watch the fourth quarter against Ball State on Sept. 8, but it should be reason enough.
19) Former Notre Dame quarterback DeShone Kizer threw two touchdowns for the Green Bay Packers on Thursday in a 51-34 preseason victory over the Pittsburgh Steelers. That will be the most success Kizer has this year.
20) Long ago notes for this bit included a scrap of paper buried beneath a pile of legal pads. It speculated ESPN's "College GameDay" would visit campus when Florida State does on Nov. 10, marking the exact matchup which began the show's on-site trips 25 years ago. The Irish and Seminoles could conceivably still force that issue, but it seems exceptionally unlikely now with "GameDay" already showing up for the season opener. Rather than count this as a prematurely-incorrect pick, let's wonder if the Florida State weekend includes a 30th anniversary celebration of Notre Dame's 1988 title team.
[protected-iframe id="4322d87b3e2eb4d11caa19723fa3b36c-15933026-22035394" info="//platform.twitter.com/widgets.js" class="twitter-follow-button"]