There is not inherently a spot below to discuss Virginia Tech's entrance to the field at Lane Stadium. This space makes too much of it, admittedly, considering the scribe has long been a fan of former New York Yankees closer Mariano Rivera.
The soon-to-be first-ballot Hall-of-Famer used the same entrance song the Hokies use: Metallica's "Enter Sandman."
The classic piece of metal sets the atmosphere in Blacksburg, one that should not reach the crescendo of Hard Rock Stadium last November, but will still very much test Notre Dame's lessons learned from that 41-8 debacle at Miami.
2017 REVIEW
Virginia Tech relied on a first-year starter in sophomore quarterback Josh Jackson last season, and he began very well, exceptionally well, to win a 31-24 rivalry matchup with West Virginia in the opener. Jackson completed 15 of 26 passes for 235 yards and a score, adding 101 rushing yards and a touchdown.
Such success continued until Clemson visited in week five, picking off the youngster twice.
As the season progressed, though, Jackson seemed to regress. Conference competition and available film will do that. In the regular season's final six games, he did not break 218 passing yards, throwing for as few as 153 at Georgia Tech and 143 at Virginia. In three of those six, Jackson's completion rate fell below 50 percent.
Sound familiar, Irish fans?
As Jackson struggled, the Hokies could rely on a fantastic defense. Even with Clemson scoring 31, Miami and Georgia Tech each tallying 28 and Oklahoma State reaching 30 in the Camping World Bowl (all losses), Virginia Tech gave up only 14.8 points per game last year along with an average of 319 yards.
WHAT VIRGINIA TECH LOST
This offseason could have been worse for the Hokies, but not by much. For a few days, smoke swirled around Jackson's eligibility, but when it cleared there was nothing to see.
That was not the case with likely starting senior cornerback Adonis Alexander, gone in June. Senior nickelback Mook Reynolds was dismissed from the program, and junior college transfer cornerback Jeremy Webb furthered the difficulties with an Achilles injury knocking him out for the year.
Even without those unexpected departures, Virginia Tech's secondary had already lost Greg Stroman (20 tackles, 11 passes broken up plus four interceptions) and Brandon Facyson (19, 2, 5).
If that sounds like it would result in a dearth of depth, it pales in comparison to the Hokies' linebackers. Tremaine Edwards (109 tackles with 14 for loss including 5.5 sacks) heard his named called 16th overall in the NFL draft and Andrew Motuapuaka (92, 11.5, 3.5) is gone, as well. Including others, Virginia Tech essentially lost all of its linebacker rotation to natural attrition.
To top off the defensive woes, tackle Tim Settle (36 tackles with 12.5 for loss including four sacks) went to the Washington professional football franchise in the fifth round of the draft.
Offensively, the losses seem minimal in comparison. Running back Travon McMillian (104 rushes for 439 yards and two touchdowns) transferred to Colorado, top receiver Cam Phillips earned first-team All-ACC honors in his final season (71 catches for 964 yards and seven scores), and first-team All-ACC right guard Wyatt Teller finished his collegiate career.
WHAT VIRGINIA TECH GAINED
Not necessarily intentionally, the Hokies counteracted some of those defensive farewells by bringing in 10 early-enrolled freshmen. That may not pan out in production, but given the NCAA's relaxed views on eligibility concerns, there is a better chance than ever that some of those freshmen make their presences felt.
More specifically, speedy freshman running back Cole Beck will be a local favorite throughout his career, hailing from Blacksburg. His quickness alone could get him onto the field.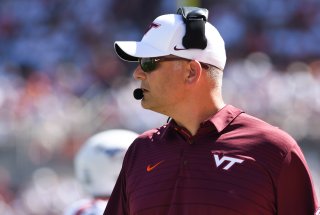 Junior receiver Damon Hazelton sat out last season after he transferred from Ball State, where he caught 51 passes for 505 yards and four touchdowns in 2016. That debut campaign made him think he could play at a higher level, and Virginia Tech agreed.
HEAD COACH
Justin Fuente enters his third year in the unenviable role of being the guy to replace a legend, but thus far Fuente has fared well following in Frank Beamer's footsteps. The Hokies won the ACC's Coastal division in 2016, finishing 10-4, and then fell to second in the division last year behind Miami.
Fuente's system might be a bit more familiar to Irish offensive coordinator Chip Long than it is to most. Long arrived at Memphis immediately after Fuente and his staff headed east. In familiarizing himself with his new team, Long undoubtedly studied an abundance of Fuente's film. That does not necessarily mean he knows the intricacies and nuances, but it is a starting point.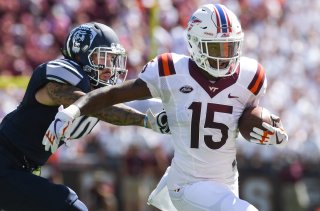 OFFENSIVE SUMMARY
This offense will go as far as Jackson takes it. By season's end, his will likely still be the only name on it known nationally. The best other chance would be sophomore receiver Sean Savoy. As a freshman, Savoy caught 39 passes for 454 yards and four scores. If he emerges as Phillips' replacement, those numbers could all easily double.
Fuente has made a career of preferring a running back by committee approach. Three look ready to share carries this season:
Junior Deshawn McClease: 108 carries for 530 yards and three touchdowns.
Senior Steven Peoples: 70 carries for 267 yards and two touchdowns.
Sophomore Jalen Holston: 70 carries for 226 yards and three touchdowns.
As such, do not be surprised if Jackson actually leads the Hokies in rushing yards, having gained 324 yards and six touchdowns on the ground in 2017. One way or another, Fuente generally insists on running the ball, even if unsuccessfully at points.
Three returning starters along the offensive line will attempt to keep Jackson upright, but it was not inherently an excellent front last season, so development will be needed. It cleared the path for the Hokies' offense to average a mere 3.9 yards per rush last year, including four games of less than 3.0, one of which was against FCS-level Delaware.
DEFENSIVE SUMMARY
Any other year this would be a much greater concern for opponents, but defensive coordinator Bud Foster returns only five full-time starters and even less overall experience.
Then again, Foster has been leading the Virginia Tech defense for more than two decades, and he has a strong building block to start with in three returning defensive line starters, led by third-team All-ACC tackle Ricky Walker (41 tackles with 12.5 for loss including 4.5 sacks). Pertaining to Notre Dame concerns, this defense will have had four relatively unconcerning games to come together immediately before facing the Irish.
SEASON OUTLOOK
Of all seasons to have a young defense, the Hokies undoubtedly wish it was not one in which they opened at Florida State on Labor Day. Blame the ACC conference offices. However that game ends, Virginia Tech should cruise to four wins before facing Notre Dame (vs. William & Mary; vs. East Carolina; at Old Dominion; at Duke).
Doing so would get the Hokies halfway to the bookmakers' projected win total.
[protected-iframe id="4322d87b3e2eb4d11caa19723fa3b36c-15933026-22035394" info="//platform.twitter.com/widgets.js" class="twitter-follow-button"]