If there is a trap game for Notre Dame this season, it just may be Pittsburgh, as always seems to be the case when the Panthers are on the schedule. The other prime candidates would be trips to Wake Forest and Northwestern, but the Deacons gave Notre Dame enough of a challenge last year to be remembered and the Wildcats received plenty of votes in the preseason Coaches Poll to be sure they are not off all radars.
Pittsburgh being a headache is not inherently an Irish difficulty. The Panthers upset both Penn State and Clemson in 2016 and topped then-No. 2 and undefeated Miami to close last year.
2017 REVIEW
Pittsburgh went through three quarterbacks last season, originally due to injury and then out of ineffectiveness. Max Browne started five games in the first half of the year before getting knocked out, at which point Ben DiNucci took over. When freshman Kenny Pickett subbed in and nearly pushed the Panthers past Virginia Tech in the penultimate week of the year, he earned the start against the Hurricanes.
Pickett's first career start marked a high note for all involved. He scored three total touchdowns, two on the ground and one through the air.
The other change for Pittsburgh as the season progressed came from its defense. Early in the year, the Panthers hardly stopped anyone — Oklahoma State most notably hung 59 points in the season's third week. In their final five games, however, only one opponent broke 17 points, winning three of them to push the record to a nearly-respectable posting of 5-7.
WHAT PITTSBURGH LOST
Browne and DiNucci, for starters, but Pickett's closing and age made him the frontrunner for the starting quarterback gig, anyway. He will need to find new receivers, with leading man Jester Weah (41 receptions for 698 yards and four touchdowns) done and multi-positional threat Quadree Henderson (17 catches for 186 yards; 36 rushes for 251 yards; 46 combined returns for 767 yards and two punt return touchdowns) now working his way onto the Pittsburgh Steelers' roster.
Pickett will also have to trust a new offensive line, having lost three starters, including first-team All-ACC left tackle Brian O'Neill.
Defensively this listing is rather short. Cornerbacks Avonte Maddox and Jordan Whitehead are the only names not returning among Pittsburgh's top-15 tacklers.
WHAT PITTSBURGH GAINED
Pickett's dual-threat abilities make him the almost-certain starter, but if he struggles in his first extended time, the Panthers can turn to former USC and Arkansas quarterback Ricky Town, eligible immediately thanks to a year in junior college. Pittsburgh also added four-star running back Mychale Salahuddin.
Returning nine defensive starters means not much is needed on that side of the ball. First-year coordinator Randy Bates likely will not complain about that, having arrived from Northwestern, where he was the linebackers coach.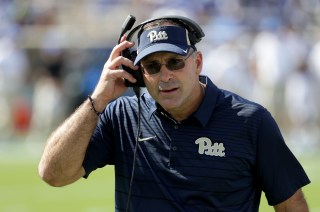 HEAD COACH
Pat Narduzzi is a known name for Irish fans. He is, indeed, the same Pat Narduzzi who used to coordinate the Michigan State defense. He did quite well there, but has yet to find a groove in Pittsburgh.
Narduzzi began with two 8-5 campaigns before tailing off last year. Nonetheless, the Panthers are a worthwhile 2-3 against top-10 opponents in Narduzzi's three seasons.
OFFENSIVE SUMMARY
If Pickett gets off to a strong start, he will get the attention. Part of that strong start will presumably derive from a running game, one most likely hinging on a committee of …
Junior Darrin Hall: 128 carries for 628 yards and nine touchdowns last year.
Senior Qadree Ollison: 90 carries for 398 yards and five touchdowns.
Sophomore A.J. Davis: Preserved a year of eligibility.
Pittsburgh's ground attack regressed last year, but that is in part due to losing two-year starter James Conner. Even then, it was an emphasis for Narduzzi. He has kept a balanced offense throughout his Panthers tenure. There is no reason to expect that to change now.
DEFENSIVE SUMMARY
This defense could be vintage Narduzzi. It returns its entire front-seven, its top-six defensive linemen and 13 of its top-15 tacklers, including eight of the top nine.
Last year those players gave up 26.6 points per game, to establish a middling comparison point.
SEASON OUTLOOK
More than looking at 2018, a strong season from Pickett could spark a good amount of Pittsburgh hype for 2019 and 2020, but that is getting ahead.
Staying ahead, November could halt that hype, though that will be a bit of a short-sighted overreaction. Ending the year vs. Virginia Tech, at Wake Forest and at Miami is not anybody's idea of an ideal finish. That stretch could also short-circuit any chances of the Panthers exceeding the win total over/under of 5.5 or them even finishing as high as No. 5 in the ACC's Coastal division, as the media projected in a preseason poll, only ahead of North Carolina and Virginia.
[protected-iframe id="4322d87b3e2eb4d11caa19723fa3b36c-15933026-22035394" info="//platform.twitter.com/widgets.js" class="twitter-follow-button"]