Florida State's greatest low in decades did not include as poor of a record as Notre Dame's did in 2016, but it led to much greater change. The Seminoles needed a game added on to the back of their schedule in order to preserve a 36-year bowl streak, but by then head coach Jimbo Fisher had already left for Texas A&M, sparking program-wide shifts.
As for Irish concerns, Florida State's fall reaped, in part, at least one reward. Notre Dame freshman safety Houston Griffith was committed to the Seminoles as their season fell apart. That, combined with Irish success, led him to rethink his collegiate decision. His subsequent early enrollment in northwestern Indiana has him in consideration to start at safety this season.
2017 REVIEW
Chalk part of Florida State's struggles up to the chances of football. Opening the year as No. 2 against No. 1 Alabama was expected. Losing sophomore quarterback Deondre Francois late in that 24-7 loss was not. Nor was needing to cancel the second game of the year, against Louisiana-Monroe, because of Hurricane Irma. Suddenly, the Seminoles would reach week four having played only one game and with a true freshman quarterback making his first career start.
James Blackman did well enough in that role, but Florida State still lost 21-27 to North Carolina State and the swoon had officially commenced. It bottomed out at 2-5 after a 35-3 Friday evening shellacking at Boston College.
Losing at Clemson to fall to 3-6 with only two games left seemed to seal the end of the Seminoles' bowl streak, one shy of tying the NCAA record. The down year, though, clearly would leave an opening the weekend of the ACC championship game. Thus, Florida State rescheduled the Louisiana-Monroe contest to reach 6-6 under the lead of interim head coach Odell Haggins, the defensive line coach and the only holdover from Fisher's staff by the end of the offseason. Haggins' coaching record reached 2-0 with a 42-13 victory over Southern Miss in the Independence Bowl.
WHAT FLORIDA STATE LOST
An All-American safety, six of its top-seven tacklers, two of its top-three receiving threats and, of course, a head coach and nearly all his coaching staff.
The safety, Derwin James complemented 84 tackles with 11 pass breakups and two interceptions. Even on a floundering team, James impressed enough to not only earn the national recognition, but also hear his name called No. 17 overall in the NFL draft.
Only linebacker Matthew Thomas had more tackles than James, with 85 including 10 for loss. Immediately behind that duo came two defensive linemen, end Josh Sweat (56 with 12.5 for loss including 5.5 sacks) and tackle Derrick Nnadi (53, 101, 3.5).
Receiver Auden Tate was second on the team in receiving yards with 548, but his 40 receptions and 10 touchdowns both led the Seminoles. Considering Florida State threw for a total of 21 touchdowns, his 10 stand out even more than usual. Tight end Ryan Izzo added three more among his 20 catches for 317 yards.
And that coaching staff. Fisher spent eight years leading the Seminoles, going 83-23, winning three ACC titles and one national championship. No matter the 2017 outcome, no matter the overall situation, no matter the paycheck awaiting him in College Station, his departure was and is a seismic change in the sport.
WHAT FLORIDA STATE GAINED
Let's leave Willie Taggart out of this until the next section. Instead, here is the spot to discuss how well Florida State continued to recruit despite — or perhaps because of — the coaching change. Leading the way is early-enrolled five-star defensive back Jaiden Woodbey. He may end up starting from the outset, in part because of his early arrival, a la Griffith.
Per rivals.com, 14 other four-star recruits were part of the most-recent class, making it the No. 10 class in the country. Undoubtedly, Taggart had something to do with that, known for his recruiting reach in Florida thanks to his four years at South Florida. Such success after a poor season and amid a coaching transition still stands out.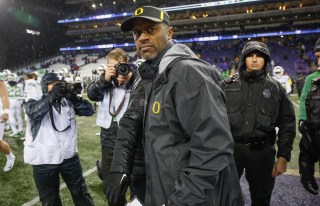 It allowed Florida State to have the fifth-highest "Blue-Chip Ratio" in the country, per Bud Elliott's annual study. Two-thirds of the Seminoles roster arrived as four- or five-star prospects, trailing only the likes of Alabama, Ohio State, USC and Georgia, and six percentage points higher than primary conference rival Clemson.
HEAD COACH
Taggart's time in the state led largely to his hiring. He was, after all, at Oregon for only one season, albeit a season that jumped the Ducks from 4-8 to 7-5. A Florida native himself, Taggart played at Western Kentucky and got his head coaching start there, immediately prior to heading to Tampa.
Taggart put together a somewhat new staff, pulling an offensive coordinator, Walt Bell, from that same gig in Maryland. His new defensive coordinator should be a familiar one to Notre Dame fans — Harlon Barnett spent the last three years as defensive coordinator at Michigan State.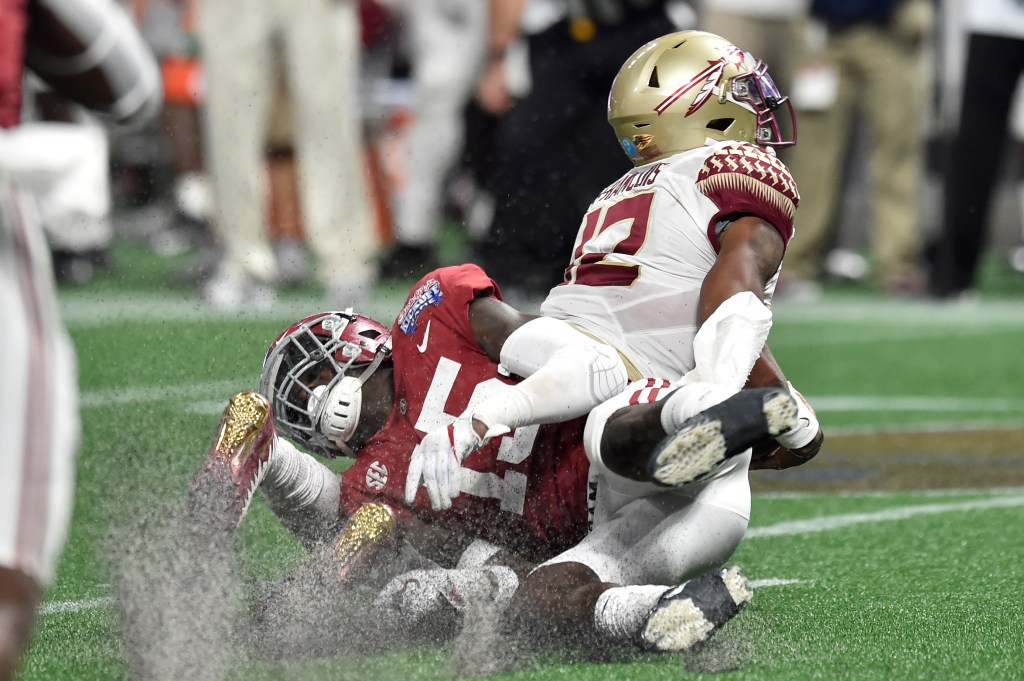 OFFENSIVE SUMMARY
If Francois' injury has any silver lining, it is that Florida State now has two young and talented quarterbacks with 13 or more starts to their names. It is an unusual circumstance, and deciding which one starts has been the primary storyline hanging over the Seminoles' offseason.
Francois was stellar as a freshman (58.8 percent completion rate for 3,350 yards and 20 touchdowns with seven interceptions and five more scores on the ground), the biggest reason Florida State began last season so highly-ranked. However, his name has come up in the headlines this offseason, seemingly on the fringes of legal trouble.
Blackmon, meanwhile, played rather well considering his unexpected circumstances last year, including playing behind an atrocious offensive line. He finished with 2,230 passing yards and 19 touchdowns with 11 interceptions while completing 58.2 percent of his passes. It was not as good as Francois, but Blackmon was not expected to be, either.
Francois likely emerges as the starter, but if he is unavailable at any point, about 127 other programs would gladly take Blackmon as their backup. (Alabama and Clemson the possible exceptions.)
Taggart's system calls for quick decisions, and last year's offensive line gave up 32 sacks, a year after allowing 36, meaning the quarterback did not have much time to ponder, anyway. If that line does not improve, it is unlikely the Seminoles rushing game does, either, even if led by sophomore Cam Akers (194 carries for 1,024 yards and seven touchdowns) and senior Jacques Patrick (134 for 48 and seven). Four starting offensive linemen return, so it is possible that weakness solidifies, but it is not as if those linemen were excellent last season, or even average. Clemson sacked Blackmon five times, as did Wake Forest. (Context: The Deacons sacked Irish quarterback Brandon Wimbush once.)
Their difficulties extended past the sacks allowed. Florida State gained only 5.7 yards per play, the first time below 6.4 since Fisher's second season. The Seminoles averaged 196 passing yards per game, a miserable number when compared to the previous three years' figures of 303, 256 and 264.
DEFENSIVE SUMMARY
While the offense sputtered, Florida State's defense was actually pretty good. Now led by junior defensive end Brian Burns (48 tackles with 13.5 for loss), the Seminoles will look to come close to the 21.2 points per game they allowed last year, along with 331 yards. More impressively, the defensive front held opponents to only 3.8 yards per rush.
Replicating that latter bit will require some unproven linebackers to establish themselves quickly. The linebacker corps returns six total starts, no player boasting more than two starts or a dozen tackles last season.
SEASON OUTLOOK
For a team that needed to add a Group of Five-foe in early December to reach a bowl game just a year ago, it is surprising to see Florida State ranked No. 19 in both preseason polls. That speaks to the talent on the roster.
Bookmakers put the season's expectations at 8.5 wins with the under looking more likely, even though the Seminoles are favored by a touchdown over the Hokies in 11 days. Trips to Louisville, Miami and Notre Dame will not ease that cause. Of course, neither will Clemson's visit to Tallahassee.
[protected-iframe id="4322d87b3e2eb4d11caa19723fa3b36c-15933026-22035394" info="//platform.twitter.com/widgets.js" class="twitter-follow-button"]