When Notre Dame's offense struggled against LSU on New Year's Day, Irish head coach Brian Kelly turned to backup quarterback Ian Book for a spark. Notre Dame was not losing at that point; the game remained scoreless, but through 28 minutes, starter Brandon Wimbush and the Irish had managed just 51 rushing yards against the Tigers defense. A different approach was needed.
Hence, Book.
Book stayed in after halftime, eventually throwing the game-winning 55-yard touchdown pass to Miles Boykin. That difference between the two quarterbacks is even more apparent now.
"I don't think Ian Book is ever going to be the runner that Brandon Wimbush is," Kelly said Thursday. "I don't know that Brandon Wimbush is ever going to spin the ball the way that Ian Book does. …
"They can both help us win and if we feel like we need them both to play at certain times, we'll do it, and if we don't, we won't."
To be clear, the senior Wimbush remains the starter and Kelly has no set intentions of splitting snaps or alternating series. A second year working with both Wimbush and offensive coordinator Chip Long has Kelly more confident in how to best-utilize Wimbush's abilities.
"What we know more than anything else is what Brandon's strengths are," Kelly said. "We didn't know that (last year). We were trying to figure out as the season went on, what can we do, what can't we do. We got frustrated at times and he got frustrated.
"We know exactly what he can do and we'll set our game plan that really goes to his strengths."
In other words, expect more of Wimbush running the ball and perhaps an emphasis on corner routes.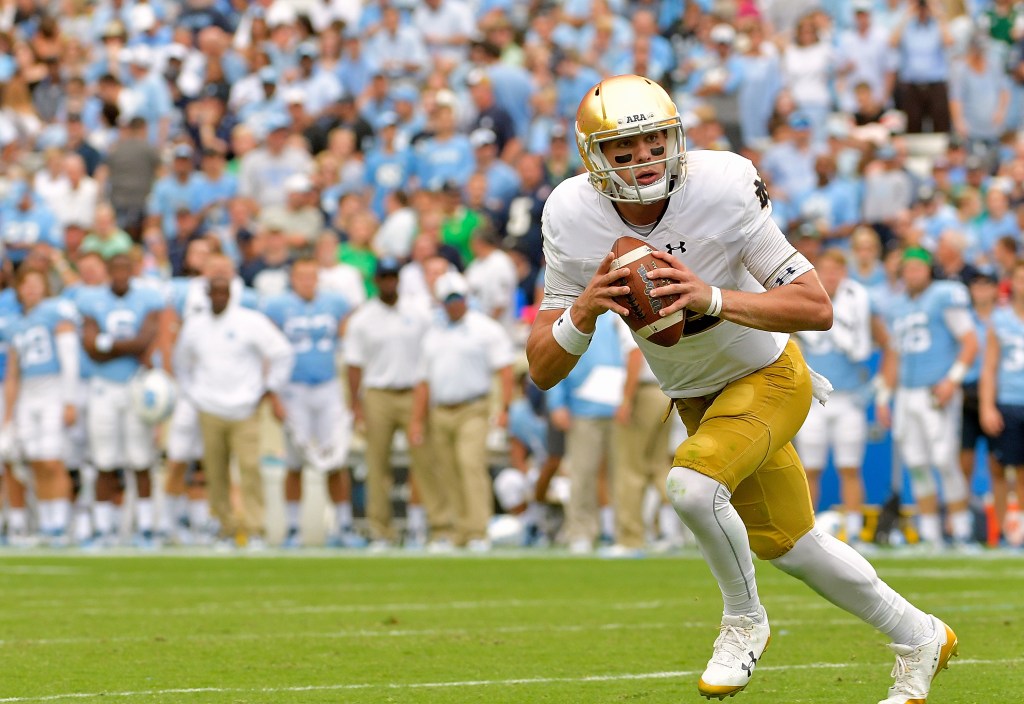 Even if Notre Dame turns to Book, Kelly sees another added strength of Wimbush's making that option more viable. In 2017, the first-year starter may have taken time on the sideline as a lack of faith in him. Now, it is an endorsement of Book.
"Brandon is not concerned if we felt like Ian needed to play," Kelly said. "Let's say we ran Brandon six times and he needed a blow, he's not going to be, 'Oh, you took me out of the game.' He knows the skillset that Ian has, that he can go in there and help us win, too. …
"Brandon knows and Ian knows that both of us can help this football team win. They're much more about the team winning and whatever we have to do to win."
That may seem an obvious sentiment, but it is not always the case, something Kelly admitted plagued the Irish a couple years ago. When Malik Zaire suffered a season-ending injury in 2015 and DeShone Kizer excelled in his absence, suddenly Notre Dame had two very similar, starter-caliber quarterbacks hoping to lead the way in 2016. Egos got in the way of finding any version of harmony.
"We've had [quarterback competitions] that were dicier, like it's 1A vs. 1B," Kelly said. "… It just didn't go well, obviously. This is a different situation."
ON MICHIGAN AND SHEA PATTERSON
Speaking of quarterback questions and playing to their strengths, the Wolverines announced Ole Miss transfer Shea Patterson will indeed start against the Irish in eight days. This surprised exactly no one.
Kelly and his defensive coaching staff have presumably been preparing for Patterson most of the summer, but readying for a transfer quarterback presents a quandary: Focus on the scheme at the new school or the performance and film at the previous school?
"Most good coaches, and [Michigan head coach Jim Harbaugh] is a really good coach, it's about player over plays," Kelly said. "His offense is always going to be about the player. You're going to look at what Shea is really good at. He throws the ball well. He's a scrambler. The offense is going to reflect that."
Notre Dame spent this week prepping for the Wolverines, spending two weeks on them as if they were the opponent after a bye week.
ON ROBERT HAINSEY AND OVERALL HEALTH
Sophomore right tackle Robert Hainsey returned to practice Wednesday, per Kelly, after missing close to two weeks with a lower leg injury.
Including Hainsey as healthy, no one on the Irish roster should miss the Michigan game due to injury, at least as of now.
[protected-iframe id="4322d87b3e2eb4d11caa19723fa3b36c-15933026-22035394" info="//platform.twitter.com/widgets.js" class="twitter-follow-button"]