We left off last week having covered much of Notre Dame's offense with interspersed schedule tidbits up through the Nov. 10 meeting with Florida State. That means we have the big picture questions to answer, specific Irish defensive players to highlight and thoughts about Syracuse and USC to get wrong. Needing to discuss the Shamrock Series at Yankee Stadium today feels appropriate, considering the "Notre Dame's Opponents" series reached the Orange this morning.
21) Freshman defensive tackle Ja'Mion Franklin will match Kurt Hinish's freshman stats from a year ago of eight tackles with 0.5 behind the line of scrimmage. That may sound like a pittance, but Hinish got that playing time at a position then unproven and desperate for depth. It has both experience and physical bodies now, so Franklin will need to make the most of his snaps in order to reach those numbers.
22) A couple weeks ago, a frequent commenter posited Notre Dame's sack leader would have fewer than six sacks. Take the over. In fact, multiple defenders will have at least six sacks. That will mark quite a leap from last season when defensive tackle Jerry Tillery led the way with 4.5.
23) Junior end Khalid Kareem will lead the Irish in sacks this year.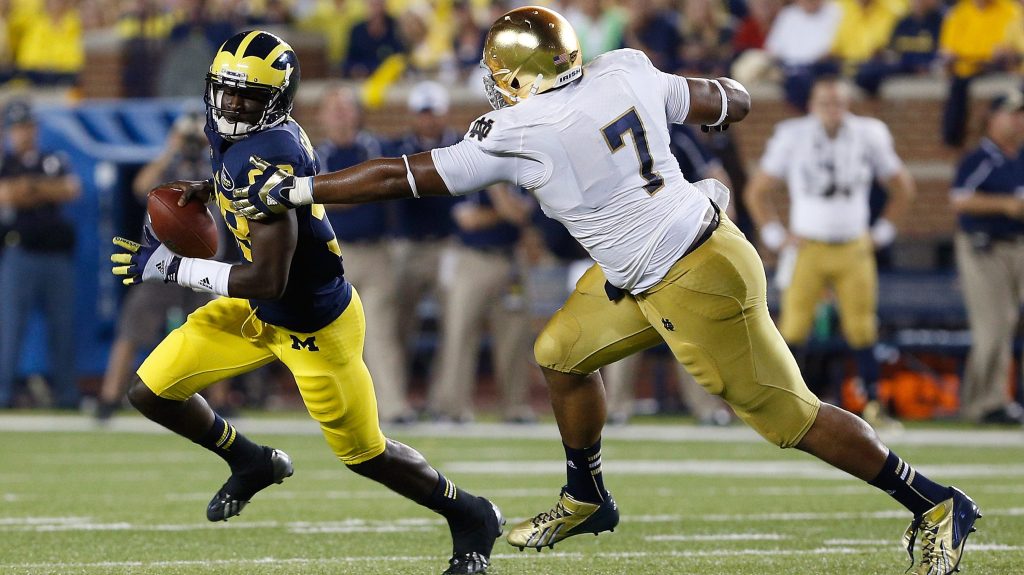 24) Kareem will not reach the levels of Stephon Tuitt a la 2012, when he had 12 sacks, but Kareem will come closer than anyone has since, currently Romeo Okwara's eight sacks in 2015.
25) Speaking of 2012's sacks, Notre Dame had 34 that season, the high of head coach Brian Kelly's eight years in South Bend. Predicting the Irish to match that would be an ambitious projection. Let's make it.
26) Notre Dame will give up more than 20 points more than 2017's three times, but its scoring defense will still allow fewer than last year's 21.5 points per game. For the first time since 2012, the Irish will give up fewer than 20 points per week. Stanford, Northwestern and USC are the obvious candidates to break 20, and continued belief in Greg Dortch and Wake Forest's abilities make the Demon Deacons a plausible fourth possibility. Then again, a bowl opponent could tip this over the edge, as well.
27) That does not mean the Irish defense is inherently worse. It isn't. Hence the fall in scoring average. Yards per game allowed will also fall from 369.2 to fewer than 350 yards per game.
28) Opposing running backs with pass-catching skills will trouble Notre Dame. The Irish linebackers are not best-suited for those coverage situations. Expect at least three such touchdowns of more than 20 yards.
29) Freshmen linebackers Shayne Simon and Bo Bauer will not preserve a year of eligibility. Freshman quarterback Phil Jurkovec will. Hey, to get to 40, some of these qualify as obvious.
30) Speaking of obvious, Notre Dame safeties will intercept more passes than they did in 2017, so at least one.
31) Here, a tougher one: Simon will make 10-plus tackles.
32) That will naturally pale in comparison to the combined total of senior Te'von Coney and fifth-year Drue Tranquill. If both healthy all season, they will exceed their combined total of 201 from a year ago. In fact, they should reach as high as 220 tackles between them.
33) The New York Yankees will not be swept in the American League Championship Series, guaranteeing Yankee Stadium hosts a game exactly one month before the Irish play the Orange there. This will give Notre Dame beat writers a primetime opportunity to gripe about spending a mid-November afternoon in an open air press box.
34) The best sporting event of the weekend before Thanksgiving in New York City will not be Notre Dame and Syracuse on Saturday, but rather it will be Connecticut and Syracuse rekindling Big East lore in Madison Square Garden that Thursday night.
35) Texas Tech will not win 6.5 games. Washington State will fall short of 5.5. Arizona State won't exceed 4.5. North Carolina will fire head coach Larry Fedora after the Tar Heels fail to win 5.5. Fair warning: This genre fell short of accurate in last year's rendition.
36) Virginia Tech will win more than eight games. Vanderbilt will top 4.5. Northwestern will prevail in more than 6.5, as will Michigan State regarding 8.5. TCU will surpass 7.5 wins, a number also applying to Arizona. Sticking in the Pac-12, Oregon will outdo its expectation of 8.5. In predicting overs last year, money could have been made.
37) The Irish will not reach the top five in the country at any point in 2018.
38) The Notre Dame win total over/under has settled at 9.5, with slightly more money coming in on the under. Life would be much easier if it was at last year's 8.5. Predicting that over was rather easy.
Let's break this down into two initial categories: Should-be wins, and the ones to think about. The first category includes Ball State, Vanderbilt, Pittsburgh, Navy and Syracuse. The latter seven split into two subsets: Likely and coin-toss at best. The likely's would be Wake Forest and Northwestern, despite their locations.
Thus, this over/under question is really: Will the Irish beat at least three of Michigan, Stanford, Virginia Tech, Florida State and USC? Yes. Take the over. For these purposes, the three argued with some degree of confidence are Michigan, Virginia Tech and Florida State. The two Pac-12 offenses may be able to survive Notre Dame's defense, despite high expectations for it.
39) Let's not be modest. It was impressive to predict the Irish would play an Orlando bowl game last year before the season started. Replicating that accomplishment is unlikely. Giving it a try, though, lands at a New Year's Day appearance in the Fiesta Bowl, a place that has not treated Notre Dame well in its last four chances despite going so very well in its 1989 debut.
40) As always, at least 15 of these 40 will be wrong, otherwise known as the reliable Prognosticator's Paradox.
[protected-iframe id="4322d87b3e2eb4d11caa19723fa3b36c-15933026-22035394" info="//platform.twitter.com/widgets.js" class="twitter-follow-button"]