It has been over-discussed already. There is no longer a need to rehash it at any point between now and Nov. 17. … Notre Dame will "host" Syracuse at Yankee Stadium this year while wearing somewhat-distinctive jerseys as part of the Shamrock Series.
2017 REVIEW
The Orange put together a down, then up, and finally down again season. Getting embarrassed at home by Middle Tennessee State is never anyone's preference. Nonetheless, Syracuse did just that in the season's second week, falling 30-23 and sending former head coach Scott Shafer, now the Blue Raiders defensive coordinator, skipping down the Carrier Dome staircases with a cigar between his teeth.
From there, though, the Orange rallied to a 4-3 record, highlighted by an upset of No. 2 Clemson. The Tigers may have been without their starting quarterback in the second half, but a win is a win is a win, and Syracuse looked primed to reach a bowl game for the first time since 2013.
The next two weeks included two trips to Florida and two close losses to No. 8 Miami (27-19) and Florida State (27-24). Even then, 4-5 kept a bowl game in reach. Unfortunately, quarterback Eric Dungey had an ankle injury that kept him limited against the Seminoles and then sidelined him for the rest of the year. Without him, things went downhill fast.
The Orange lost two at home (Wake Forest, Boston College) and one on the road (Louisville) by a combined score of 162-67. That is not a typo: Syracuse gave up 54 points per game to dash any bowl hopes or any lingering memories of that Clemson delight. Even with Dungey healthy and moving the offense, it was unlikely the Orange could match those point totals.
WHAT SYRACUSE LOST
Dungey will need to find new targets, now without his top-two receivers in Steve Ishmael (105 receptions for 1,347 yards and seven touchdowns) and Ervin Phillips (89 for 904 and four). Otherwise, the offense returns pretty much intact.
The other side of the ball was not as fortunate. All three starting linebackers are gone, including leading tacklers Parris Bennett (115 tackles with 11 for loss) and Zaire Franklin (85 tackles with 5.5 for loss). In fact, only two of Syracuse's top-seven tacklers return.
Just one base package defensive back departed, two-year starter Rodney Williams (46 tackles last season with two pass breakups). Of note to Irish fans, former Notre Dame cornerback Devin Butler finished his career with the Orange with 20 tackles in 2017. His departure is one of a few that will hurt Syracuse's secondary depth.
Even further down that listing, defensive tackle Kayton Samuel transferred to Indiana. His 12 tackles may not stand out, but he had started two dozen games in his three years and provided depth at a critical position.
WHAT SYRACUSE GAINED
Here is a cursory mention of four-star defensive back Atrilleon Williams, a recruit rating rarely heard in upstate New York.
Now let's get to the more complicated additions.
Orange quarterbacks coach and co-offensive coordinator Sean Lewis left to become the head coach at Kent State, an understandable career decision in every regard. In part to replace him and in part to fill the newly-added 10th assistant position, Syracuse brought in a high school coach from Texas to be quarterbacks coach, Kirk Martin.
Kirk has a son, Koda, a starting tackle from Texas A&M looking to transfer as a graduate student. Whether or not Kirk joined Syracuse, Koda likely would have. Why? Koda is married to the daughter of his new head coach.
It's all in the family.
HEAD COACH
That head coach, Dino Babers, is entering his third season needing to improve on consecutive 4-8 campaigns. With that 8-16 drag, Babers' career record still stands at 26-25, which does not even include his 19-7 record at FCS-level Eastern Illinois before moving to Bowling Green.
Babers has stirred the roster turnover most new coaches want; it just has not yet shown in the production.
Well, it hasn't aside from two games. In each of his seasons, Babers has orchestrated a Carrier Dome highlight, topping second-ranked Clemson last year and No. 17 Virginia Tech (31-17) in 2016.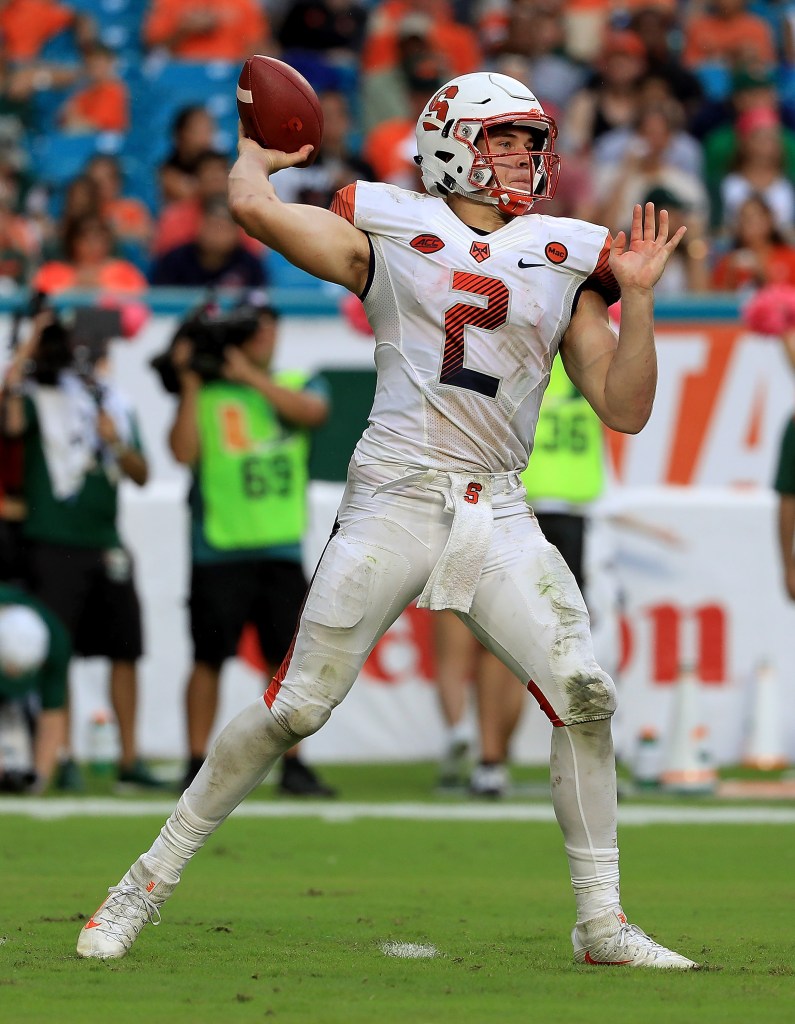 OFFENSIVE SUMMARY
Dungey may be all that is needed, if he can stay healthy. Consider his stats from a year ago in only nine games: 2,495 passing yards and 14 touchdowns with nine interceptions and a 59.7 percent completion rate; a team-leading 595 rushing yards and nine more touchdowns. Factor in sacks and that jumps to 764 yards on 118 rushes, an average of 6.47 yards per carry.
Now Dungey will be operating behind a line returning five past starters plus Koda Martin. His arrival will play a role in reshuffling the unit, but it is a veteran group no matter how it aligns.
Two actual running backs will help share Dungey's burden:
Junior Moe Neal: 92 carries for 488 yards and one touchdown.
Senior Dontae Strickland: 128 carries for 482 yards and four touchdowns, including 105 yards on 14 carries at Miami. Dungey added 125 (sacks adjusted), as well. For context: Notre Dame, as a team, rushed for 130 yards (sacks adjusted) against the Hurricanes.
Babers prefers a fast-paced offense. That does not mean it cannot rely on the run. Instead, it means he wants the next handoff to occur as soon as possible. With a four-year starter at quarterback, he should get his wish this year.
DEFENSIVE SUMMARY
Syracuse has a strong defensive line and a secondary returning three starters sandwiching a second-level returning a total of one career start. If the linebackers can catch up, the Orange should be ready to continue a trend toward defensive competency.
That trend fell apart in last season's last month, but if looking at the year's first nine weeks, Syracuse held opponents to 24.9 points per game. Comparing that to the 38.6 of the year before led to defensive coordinator Brian Ward being nominated for the Broyles Award, recognizing the best assistant coach in the country.
The following three weeks torpedoed both Ward's chances and that scoring average, jumping to 32.2 per game for the season. Even that compares well against that previous figure, though.
A similar effect shows up in the yards per game considerations. In 2016, the Orange allowed 501 yards per game. By the end of 2017, it gave up 444 yards on average. In the season's first nine games, that was as low as 365 yards per game.
Ward had the defense ready last year. It just fell apart as the season got away from the team as a whole without Dungey.
SEASON OUTLOOK
The rotation of divisional crossover opponents alone should boost Syracuse's win tally by one, trading a trip to Miami for a visit from North Carolina. If looking at that as a likely win, the Orange have three to be thankful for, also considering visits from Wagner and Connecticut. Even a season-opening trip in seven days to Western Michigan is not too daunting.
The rest of the schedule is not as favorable, hence a win total over/under mark of 5.5.
ALSO WORTH MENTIONING
This does not fit into any of the usual categories. When Dungey was hurt last year, in stepped Rex Culpepper, finishing the season with 518 passing yards and two touchdowns and three interceptions.
In March, Culpepper was diagnosed with testicular cancer. He partook in spring practices despite undergoing 10 weeks of chemotherapy. He has since been declared cancer-free.
[protected-iframe id="4322d87b3e2eb4d11caa19723fa3b36c-15933026-22035394" info="//platform.twitter.com/widgets.js" class="twitter-follow-button"]