USC entered last season with a Heisman candidate at quarterback, a possible No. 1 overall NFL draft pick, a cover story for every national magazine.
Yet somehow, more figurative ink has been spilled on the Trojans' quarterbacks this preseason.
2017 REVIEW
Considering USC began the year in the top five and had a quarterback the caliber of junior Sam Darnold, winning the Pac-12 championship and reaching a playoff-access bowl was not necessarily considered good enough. If not for a 49-14 loss at Notre Dame, though, the Trojans quite possibly would have been in the College Football Playoff. At the absolute least, they would have been squarely in the conversation.
Only the Irish and Washington State, three weeks prior, topped USC. The defeat in Pullman had some extenuating circumstances. In a classic piece of the Pac-12 botching its scheduling, the Trojans were playing their second road game in the span of six days that Friday night, and then they lost their second and third offensive linemen for the season in the first half. Giving up 462 yards did not help the cause, but USC gave up five sacks against the Cougars. The offensive line attrition certainly played a part in the loss.
The Trojans still made it to the Cotton Bowl, ranked No. 8 at the time and facing No. 5 Ohio State. The Buckeyes apparently wanted to prove they should have been in the Playoff, rolling to a 24-7 victory.
WHAT USC LOST
Obviously, Darnold, taken by the New York Jets with the No. 3  pick. His season may not have been as transcendent as some expected, but 4,143 yards and 26 touchdowns on 63.1 percent completions should not be scoffed at.
Along with Darnold, USC is now without two of his top-three receivers. Deontay Burnett set a blistering pace with 86 catches for 1,114 yards and nine touchdowns while Steven Mitchell added 41 receptions for 644 yards and four more scores.
Running back Ronald Jones also headed to the NFL after rushing for 1,550 yards and 19 touchdowns.
Defensively, the Trojans knew they would lose linebacker Uchenna Nwosu (second-round pick; 75 tackles with 9.5 sacks and 13 passes broken up), defensive end Rasheem Green (43 tackles with 10 sacks) and defensive tackle Josh Fatu (34 tackles with six sacks). They did not anticipate having to dismiss junior cornerback Jack Jones (40 tackles with eight passes broken up and four interceptions) due to academic concerns.
WHAT USC GAINED
In a class of 18 recruits, USC signed 13 four-star prospects and 5 five-stars, per rivals.com. Four of those latter five not only hail from California, but they are from southern California, reaching all the way to nearby San Diego. The fifth, linebacker Palaie Gaoteote, made the quick trek from Las Vegas.
Two of those names stand out above the rest: high school teammates quarterback J.T. Daniels and receiver Amon-Ra St. Brown, youngest brother of former Irish receiver Equanimeous St. Brown. Both seem likely to start from day one, and given their past three years together, it would seem their chemistry could help them acclimate quickly.
Yes, only three years together. Daniels was originally part of the recruiting class of 2019, but he opted to reclassify into this class. To some degree, this should be a non-story — while he played only three years of high school football, Daniels is the relative age of this class since he repeated eighth grade in hopes of being more physically ready for prep football at Mater Dei High School.
Nonetheless, quarterbacks reclassifying is a rare phenomenon, one usually seen only in basketball circles. In order to do so, Daniels essentially squeezed his senior year's academic work into his spring semester.
Running back Markese Stepp also should be mentioned, having once been a longtime Notre Dame commitment before flipping, somewhat a mutual decision.
HEAD COACH
No coach who goes 10-3 in his first season and 11-3 in his next should be criticized, especially when both years ended in playoff-access bowls. Despite that fact, Helton has somewhat fallen short of expectations each season, opening himself to some scrutiny, undeserved as it may be.
What has been most impressive about him is how much his teams have improved throughout the fall. In 2016, the Trojans opened 1-3, only managing to beat Utah State. Darnold taking the reins certainly played a part in reeling off 10 straight wins, but the team as a whole also improved. Last year, USC closed the regular season on a five-game winning streak in which it never scored fewer than 28 points.
Helton, for anyone who does not remember, served as the interim coach for most of 2015 before landing the head coaching gig that offseason.
OFFENSIVE SUMMARY
Technically speaking, it is not a sure thing Daniels starts. Junior Matt Fink or sophomore Jack Sears could, but it would undoubtedly be the Daniels Era at the first sign of trouble. Only Fink can claim any experience, that of 6-for-9 passing for 43 yards.
Whoever gets the nod will line up behind an experienced offensive line. Senior Toa Lobendahn moved to center from left tackle to replace Nico Falah. Given the Trojans' recruiting, a few suitable left tackle candidates exist.
Sophomore running back Stephen Carr will take over for Jones. Behind the bellcow, Carr still managed 363 rushing yards and three touchdowns in 2017, adding 188 yards on 17 catches. His pass-catching abilities could complement St. Brown in adding two speed threats to USC's aerial game. (Note: Prediction No. 28 in yesterday's Friday at 4 was made in part with Carr in mind.)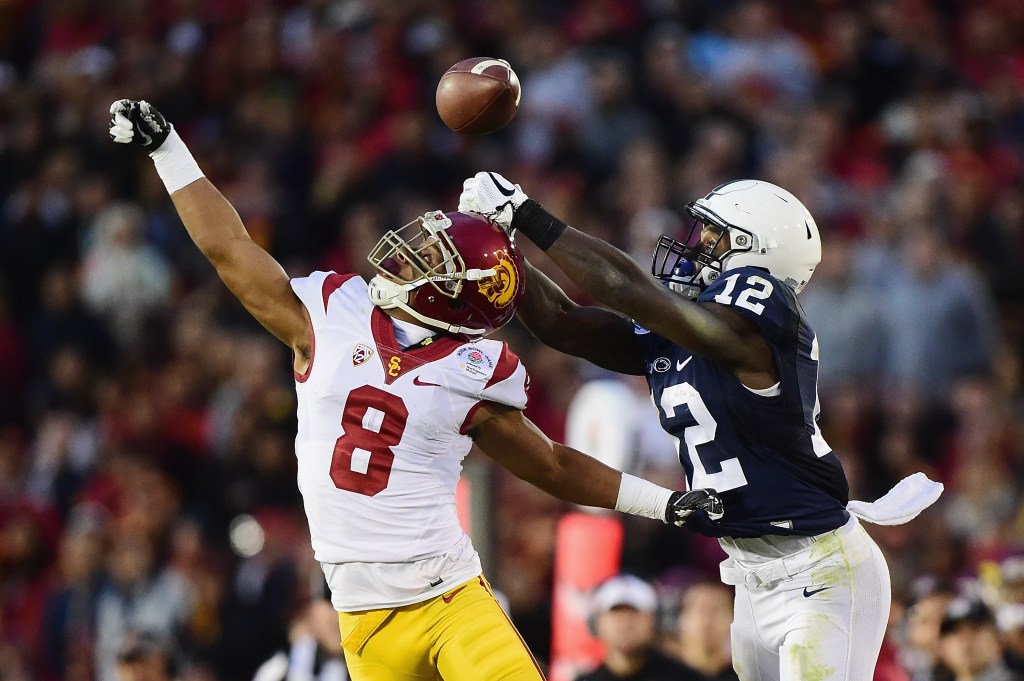 DEFENSIVE SUMMARY
A young defensive line will be supported by a deep and veteran back-seven. Given that line's inexperience, it is hard to fathom the Trojans coming anywhere close to last year's 46 sacks, but the secondary forcing quarterbacks to hold onto the ball could aid the cause.
That secondary returns three notable starters in four-year starting cornerback Iman Marshall (52 tackles with 10 passes broken up last year), three-year starting safety Marvell Tell (85 tackles and three interceptions) and two-year starting nickel back Ajene Harris (59 tackles and three interceptions).
The linebacking corps could be considered the best in the country with three seniors leading the way …
Cameron Smith: Leading tackler with 112 last season, including 11 for loss.
John Houston: 84 tackles with 3.5 for loss.
Porter Gustin: 16 tackles in only four games as injuries cut short his season, something they are already threatening to do again. Gustin suffered a slight meniscus tear earlier this month and is in doubt for the season's first few weeks.
SEASON OUTLOOK
If Helton gets No. 15 USC to another playoff-access bowl, he may be in consideration for coach of the year honors. Bookmakers set the Trojans' win total over/under at 8.5, and they heavily favor Washington to win the Pac-12, though the preseason media poll did establish USC as a slight favorite over Utah in the South Division.
Trips to both Utah and Arizona could be what do in the Trojans. Those two both loom as dark horse conference contenders, counteracting some of the luxuries of a schedule which does not include either the Huskies or Oregon as crossover opponents.
The beginning of the schedule may not set up well for a first-year starter. Opening with UNLV should be harmless enough, but then USC travels to Stanford and to Texas in successive weeks. What the Longhorns lack in top-end abilities these days, the Cardinal have in spades. What The Farm lacks in bothersome atmosphere, Darrell K. Royal and its 100,119 capacity should offer.
[protected-iframe id="4322d87b3e2eb4d11caa19723fa3b36c-15933026-22035394" info="//platform.twitter.com/widgets.js" class="twitter-follow-button"]