A defensive lineman around the left edge, theoretically the right-handed quarterback's "blind side," leads to a fumble and a recovery by a top-flight linebacker. It was all so familiar, yet different. Against Georgia 51 weeks ago, such a sequence cost Notre Dame the game. Against No. 14 Michigan on Saturday, it won the No. 12 Irish the game.
In that way, it was nearly poetic. Notre Dame finally — FINALLY — won a one-possession game against a ranked opponent. The 24-17 victory may have not felt that close for much of the evening, but if not for junior end Khalid Kareem's pressure leading to senior tackle Jerry Tillery's strip-sack and senior linebacker Te'von Coney's recovery, the result easily could have favored the visitors.
At some point, someone can ask Coney why in the world he picked up the loose ball and attempted to return it rather than simply cradle it lovingly on the ground, but that is a nit-pick for another day. Today the focus should be praise of the defense.
In a week, perhaps this will be tempered by the Wolverines offense sputtering against Western Michigan's defense, but given the Broncos allowed 55 points to Syracuse on Friday, it is more likely Michigan and quarterback Shea Patterson find their groove. At that point, the praise of the Irish defense will begin to stand out even more.
"I thought they played outstanding," Notre Dame senior quarterback Brandon Wimbush said. "They let up three points 'til the last couple drives there, and I think the d-line — you could say we have one of the better d-lines in the country, even from this game."
That defensive line blossomed with widespread contributions. Four different linemen pressured Patterson (plus Coney with two hurries) and a fifth intercepted a pass (junior Julian Okwara, the second of his career). In a game with relatively few plays — both teams ran 69 plays — seven linemen still made tackles, led by Kareem's eight and Tillery's four. When sophomore tackle Myron Tagovailoa-Amosa went down with what may be a serious knee injury, freshman Jayson Ademilola filled in without pause.
As much as Irish head coach Brian Kelly has said this line does not have the star talent of 2012's (Stephon Tuitt) or others across the country (Clemson, Auburn, even Michigan), it does have a few playmakers at the top end of its depth.
"That defensive line is relentless," Kelly said. "We can pour guys at you and keep the pressure on you."
That is exactly what Notre Dame did. A Wolverines quarterback dropped back to pass 39 times. Statistically, he was at least hurried on nine of those occasions, but the reality was more. Even Michigan head coach Jim Harbaugh recognized that dynamic.
"It was good pressure that their front was bringing the entire night," he said.
There could be more to come. That is not intended as an overreaction or hyperbole. It is simply a recognition of the minimal impacts of junior end Daelin Hayes or sophomore tackle Kurt Hinish in week one. They, along with fifth-year senior tackle Jonathan Bonner, did not get many chances to make big plays, because their linemates were making them already.
It is not a group with the raw soon-to-be-NFL talents of Georgia's a year ago, not by any means, but to make a game-sealing play straight out of the Bulldogs playbook? That speaks volumes, in this case, appreciated and appreciating volumes.
"It is just something you should expect from our defense, especially our defensive line," Kareem said. "We are coming after you every day, just getting better, going out there and doing our job."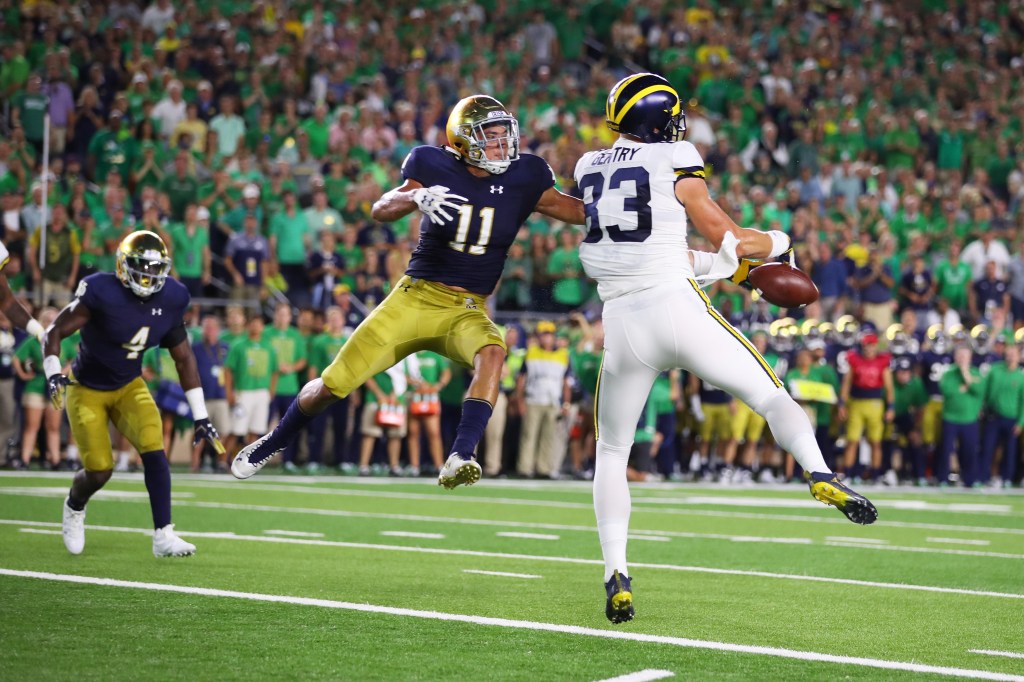 The Irish defense was also burgeoned by a playmaker on the back line, something not seen at Notre Dame in years. Junior Alohi Gilman's stat line is modest enough, with seven tackles, two pass breakups and one tackle for loss. Yet he was in tight coverage time and time again on third downs. Both those defensed passes came in the red zone, a big part of how the Irish held Michigan's offense to three points through nearly 58 minutes. On a fourth-and-four near midfield early in the second half, Patterson threw toward tight end Zach Gentry, only for a Gilman blanket to render it harmless.
"He plays with an edge and an attitude and a confidence," Kelly said. "He's a guy that has a good sense for the football, makes plays and creates a confidence in that unit in the back end.
"He's still learning back there, too. He hasn't arrived yet but he brings a different energy to that group and a confidence that we had been lacking."
It makes sense Gilman has some ground yet to cover, even if those two passes broken up equal 40 percent of the five from the two safeties positions in 13 games last season. He spent all of 2017 on the scout team. He had not played a competitive game in 21 months. Some rust needs to be knocked off.
"That's just the beginning," Gilman said. "The scary thing is, we still haven't reached the peak of our potential. It was a great confidence booster for us, hopefully carrying it into November."
The month of Notre Dame horrors, November, is still a ways off. The Irish first need to worry about a couple more genuine challenges in September (at Wake Forest, vs. Stanford) and then there is still another whole page of the calendar, but Gilman's point makes sense. This may not have been as good as this defense gets, and that is a concept somewhat attributable to its coordinator, Clark Lea.
Lea takes Mike Elko's straightforward concepts of pressure and makes them even more aggressive.
Yes, Lea is able to do that in part because of how much that defensive line has developed in just the two years since his arrival following the 2016 debacle. He also used it to his advantage. Consider the already-oft-lauded forced fumble. Usual ends Kareem and Hayes lined up inside with Juilan Okwara flanking Hayes on the offensive line's right and usual tackle Tillery alongside Kareem facing the left tackle. The odd alignment allowed Kareem to run a stunt around Tillery, breaking both free to get to Patterson. Lea wanted to send pressure in a myriad of ways throughout the season opener.
Calling his coordinator "Mr. Cool," Gilman explained the reminder the defense uses to stay focused when the game might allow for some relaxation. Players repeat the phrase "18 18."
"That was the amount of time that stopped us from getting to our goal last year," Gilman said, referring to reaching the College Football Playoff. "We can't take it for granted — we may be up, but we come into every half like it's 0-0 ready to go."
Without trying to determine exactly when Lea figured last year's three losses were, well, lost, those 18 minutes and 18 seconds presumably come from the late possession that got Georgia to 20 points, the opening few possessions at Miami and the first five minutes of the fourth quarter at Stanford. If not for those lapses, the season could have had an entirely different tone. Even without just two of them, the Irish would have been in the mix for a Playoff bid. Ultimately, Lea has diagnosed those as defensive mistakes and has set out to eliminate them.
When asked specifically about Lea late Saturday night, Kelly praised the entire coaching staff. Defensively, it certainly fits, as the progress spans from the defensive line to the safeties, with junior Jalen Elliott joining Gilman as a starter.
Notre Dame has not had depth on defense like that in awhile. Given it is Sept. 2, let's leave the timeline that vague for now.
[protected-iframe id="4322d87b3e2eb4d11caa19723fa3b36c-15933026-22035394" info="//platform.twitter.com/widgets.js" class="twitter-follow-button"]