Five Notre Dame freshmen played in the 24-17 victory over Michigan last weekend. Many more than that will debut against Ball State on Saturday.
That is in part because of the lower level of competition. No matter how one looks at it, the Irish simply should not face the same challenge or pressure against a team that went 2-10 last year compared to a top-15 opponent like Michigan. That creates an opportunity for a handful of inexperienced players, just as it always has.
This year is different, as has been abstractly discussed at length. The NCAA now allows players to take the field in up to four games without burning a year of eligibility. This will allow some to get a taste of experience this year without unnecessarily shortening their careers. It will bring added depth to Notre Dame's special teams and defensive line later in the season. It will give a carrot to chase for an injured player like sophomore defensive tackle Myron Tagovailoa-Amosa, who knows if his rehab goes well, he could get back on the field yet in 2018.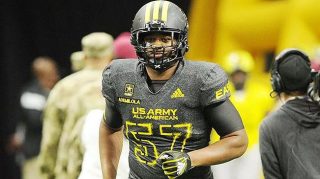 There are, of course, those who would have played anyway, beginning with the five who did so against the Wolverines: receiver Kevin Austin, defensive lineman Jayson Ademilola, linebacker Bo Bauer, cornerback TaRiq Bracy and safety Houston Griffith.
While it is conceivable the vast majority of the 23 other Irish freshmen follow their lead this weekend, only a handful of them will see genuine action throughout the season, as in more than four games. Looking at the last three years, Notre Dame has played between 10 and 12 freshmen each season, with 75 percent of them doing so from the fall's outset.
2015: 11 total freshmen, with 10 of them playing in at least one of the year's first two games (vs. Texas, at Virginia). The exception? Quarterback Brandon Wimbush providing emergency depth once Malik Zaire broke his ankle.
2016: 12 total with seven playing right away. Another, cornerback Troy Pride, eventually saw extensive action as injuries ravaged the secondary. Khalid Kareem, meanwhile, played in only four games but lost a year of eligibility.
2017: 10 total with eight in the first couple. Kicker Jonathan Doerer needed to regain some strength after hitting the proverbial wall in preseason practice and running back C.J. Holmes was activated to ease the load on some nicked-up ball carriers.
Even with the rule change, similar numbers will likely do more than mop-up against the likes of Ball State, Vanderbilt and Pittsburgh. That is, in part, due to them theoretically being better than their counterparts may have been in previous years, thus forcing the issue the old-fashioned way.
"A lot of those younger guys, we feel have the ability," Irish head coach Brian Kelly said back at the start of preseason practice when discussing how much deeper this roster is than in years past. "… Our depth is in that 65-85 range, which is going to show itself in special teams."
With the greatest challenge of most of the first month in the rearview mirror, that depth should indeed start to show itself.
"We've got a pretty good plan moving forward how we're going to use players," Kelly said Tuesday. "We'll see how that pans out over the next few weeks."
That began with Ademilola, whether or not Tagovailoa-Amosa broke his foot or not. Notre Dame had already identified Ademilola as next man in at a position where a surplus of depth is inconceivable.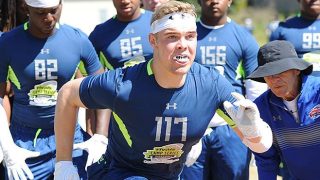 Playing Bauer on special teams all season makes sense, considering he is also the backup to senior linebacker Te'von Coney. If Coney can or needs to come off the field, it will be Bauer who replaces him. Similarly, Austin forced his way into the receiver rotation this preseason, now the first option in place of senior Miles Boykin. Bracy moved up on the depth chart when senior Shaun Crawford tore his ACL, and Griffith could end up a starting safety by the end of the month, quite frankly.
Who is next?
That would be linebacker Shayne Simon, no longer in the mix just at rover, but also behind fifth-year Drue Tranquill and sophomore Jordan Genmark-Heath at buck linebacker, per the depth chart released Tuesday.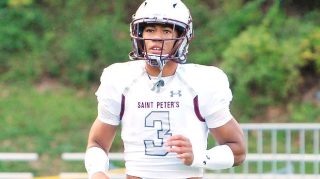 "We just think [Simon is] a really good player that has good instincts," Kelly said. "I think [defensive coordinator Clark Lea] feels comfortable, as I do, with that three-technique predominantly kicked his way that we can call a game and let him run and hit and play the position for us if need be."
Then comes Justin Ademilola, Jayson's twin brother at defensive end. The drop end position may seem set with juniors Daelin Hayes and Julian Okwara, but adding more depth along the line is always a good thing and Kelly picked up the mantle long carried by defensive line coach Mike Elston, insisting the lesser-recruited twin is nearly just as ready to play.
"He's really close," Kelly said. "… They've got really good football instincts, so you can play off that a lot quicker, and you can accelerate the teaching and the learning when they come in with some really good football instincts."
With defensive line in mind, another trip to the injury list would presumably mean it is time for tackle Ja'Mion Franklin to join the fray, so getting some early work would not be a surprise.
The same thought process applies to running back, where it would seem C'Bo Flemister has the edge over Jahmir Smith. If one of sophomore Jafar Armstrong, junior Tony Jones or (eventually) senior Dexter Williams were to sprain an ankle, those carries would not all fall to sophomore Avery Davis. That just is not his role in the offense. At least some would go to the freshmen. Given the nature of football, at least one sprained ankle or pulled hamstring is likely. (See: 2017.)
At this point, deferring to the depth chart turns the attention to slot receivers Joe Wilkins and Lawrence Keys, listed in that order behind senior Chris Finke. One other freshman is listed in the two-deep, Jarrett Patterson at left tackle, but that is only nominal; unior right guard Tommy Kraemer would be the actual next-man-up at left tackle should junior Liam Eichenberg go down.
This is the usual time when the freshmen expected to contribute get their first or second tastes of action. That has not changed with the new NCAA rule. It just means much of the rest of the class will make cameos, as well.
---
By this space's count, 10 freshmen played in the 2015 opener vs. Texas and seven of them played again at Virginia: Josh Adams, Nick Coleman, Nicco Fertitta, Alizé Mack, C.J. Sanders, Jerry Tillery and Justin Yoon. Equanimeous St. Brown, Te'von Coney and Dexter Williams played in only the opener.
Seven freshmen played in 2016's opener, a trip to visit the Longhorns: Chase Claypool, Jalen Elliott, Daelin Hayes, Julian Love, Julian Okwara, Kevin Stepherson and Devin Studstill. They all played the second week, as well, against Nevada, as did four others: the aforementioned Khalid Kareem, Jamir Jones, Javon McKinley and Donte Vaughn.
Aside from Doerer (seven games) and Holmes (8), last year's contributing freshmen all played at least 11 games, including both of the first two against Temple and eventual national runner-up Georgia: Jordan Genmark Heath, Robert Hainsey, Kurt Hinish, Cole Kmet, Isaiah Robertson, Myron Tagovailoa-Amosa, Brock Wright and Michael Young.
[protected-iframe id="4322d87b3e2eb4d11caa19723fa3b36c-15933026-22035394" info="//platform.twitter.com/widgets.js" class="twitter-follow-button"]