When it comes to MACtion, even the most-devout midweek viewer usually skips games involving Ball State. The Cardinals have won three conference games total since 2014 and have not posted a winning record since going 10-3 the year prior.
Thus, even an avid college football fan does not inherently know much about No. 8 Notre Dame's opponent this weekend. This is where Ryan O'Gara of the Star Press comes in …
DF: I will admit, I always start this off thanking my counterpart for both the time and the thought needed for the answers, but that sentiment may be even more true this week. To be blunt, I do not follow Ball State much (read: at all). While just keeping a finger on the national pulse can keep me informed about Michigan and Florida State, and even Navy and Syracuse, I rarely find myself reading anything about the Cardinals. Obviously, this year is the exception.
That said, you certainly know Ball State. How many years have you been on the beat at this point?
RO: This is my second season covering Ball State full-time. I have helped out on coverage at various points of my three and a half years with the Star Press.
Last season was a rough one, even by Cardinals standards. Ball State has not had a winning season since 2013, but finishing 2017 with a nine-game losing streak speaks to a trend very much going the wrong way. Of course, injuries played a part in that, but what else went wrong?
Most felt head coach Mike Neu walked into a tough situation in 2016, as recruiting had dropped off during Pete Lembo's final years at Ball State. And then Neu arrived so close to National Signing Day, he really didn't have much time to recruit. So 2017's class, ranked fourth in the MAC, was his first opportunity. When injuries hit last season, the Cardinals did not have the requisite depth to endure. They also had some really bad luck. How many teams can say they had to start four quarterbacks and seven offensive line combinations due to injuries?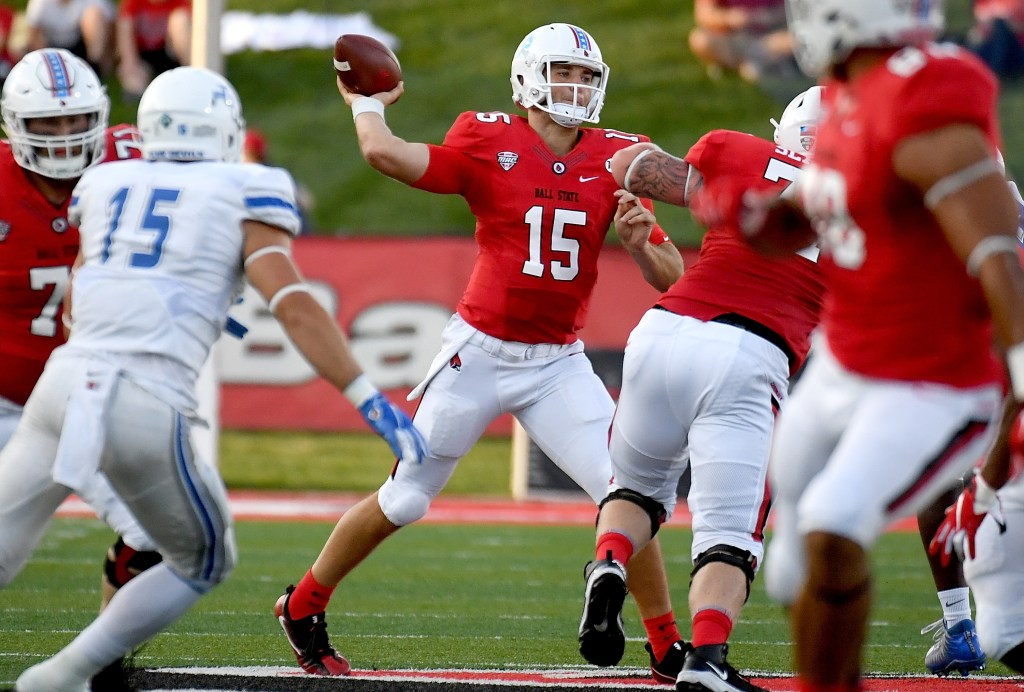 One of those injured, junior quarterback Riley Neal, returned last week with an efficient flourish in leading the Cardinals past Central Connecticut State, 42-6. He finished with 259 yards and two touchdowns on 23-of-30 passing. That is nearly surghical. How much of that was a credit to Neal compared to a criticism of (old on, need to search for the proper mascot name here, oh, of course) the Blue Devils' defense?
I give a lot of credit to Neal while of course acknowledging that CCSU will be one of the worst defenses Ball State will face this season. And to think, Neal's best receiver (Justin Hall) dropped a wide-open 41-yard touchdown pass deep down the middle, so Neal's numbers could have read 24 of 30 for 300 yards and three touchdowns. How's that for surgical? The most notable element of that performance was Neu's accuracy on deep balls, which he has struggled with in his career. He had several downfield throws in which the receiver didn't even break stride.
Neal's most-frequent target was somewhat expected, sophomore receiver Justin Hall with five catches for 38 yards. True freshman Yo'Heinz Tyler broke out, though, with two receptions for 83 yards and two touchdowns. On paper, the two are quite different. Hall is 5-foot-9 and shifty, while Heinz is 6-foot-4 and a more traditional big-play threat. Maybe not two catches for two scores, but was such generally expected of Tyler?
Tyler is a true freshman with a ton of potential. Most importantly, he has a skill set that Ball State sorely lacks with its two starting receivers being 5-9 and 5-8. He can go up and get the ball, and it's almost weird how easy he makes it look, even in practice. There was a ton of buzz regarding Tyler in the preseason, but then he didn't even play in the first half of the opener. When he got in, he clearly made the most of it. I'm anticipating he'll see more snaps against Notre Dame, but really we may not see him on a full-time basis until later in the season. At the bare minimum, I think he should be on the field in the red zone, either as a decoy or a legitimate option.
Flipping sides of the ball, there is no subtle way to ask this … How in the world did Ball State give up 40.7 points per game last year? Obviously, allowing 5.0 yards per rush does not help the cause, and the MAC is often a high-scoring league, but 40?
It was a disaster. Ball State couldn't stop anyone last season, and the defense didn't have the excuse the offense had with the injuries, but the offense does have to bear some of that responsibility, too, because when you are going three-and-out, you're giving the opposing offense good field position and not allowing your defense to rest. Switching to a 3-4 has helped already this season. I like Ball State's two outside linebackers, Ray Wilborn and Christian Albright.
Let's take a quick turn to the macro. Every collegiate coach in every sport feels the ground shift a bit beneath him or her when a new athletic director comes to campus. Beth Goetz arrived in Muncie this summer and Neu has gone 6-18 in his two seasons. Is there reason for him to worry about his job, or has Goetz genuinely preached patience?
Good question. That's something I asked about as well, because I didn't know the answer. I would say that in the third year of a five-year contract, Neu isn't in danger yet, but another season like 2017 would really hurt Neu's chances of getting another contract, obviously. But Goetz really seems to like Neu and the vibe around the program. She was at most preseason practices and interacted frequently with members of the program and fans of the program. She seems very confident that Neu will elevate the program, at least for the time being.
Before getting to a prediction request, curiosity insists on asking, is there a buzz around Ball State about this matchup at Notre Dame? The two have never played despite being fewer than 150 miles apart. Do you sense that proximity will lead to a decent amount of red in South Bend this weekend?
I'm not sure about how much red will be in the stands, but I know folks in Muncie are genuinely excited about this matchup. How could you not be? It's Notre Dame, a program so many in Indiana have grown up rooting for, or at the very least, watching on TV.
And how about that prediction? Can the Cardinals keep it closer than the 34-point spread predicted by bookmakers?
I think Ball State will cover. I think Notre Dame will roll, but I'm also wondering if this may be a game that Brian Kelly uses to take advantage of the new redshirt rule. Maybe some Notre Dame freshmen see some time in the second half, and that keeps it within the spread. I'm going with Notre Dame 48, Ball State 17.
[protected-iframe id="4322d87b3e2eb4d11caa19723fa3b36c-15933026-22035394" info="//platform.twitter.com/widgets.js" class="twitter-follow-button"]