Michigan defensive end Chase Winovich broke through Notre Dame's offensive line much of last weekend. With the Irish winning 24-17, nonetheless, his successes against two first-time full-time starters at tackle caused no long-term damage, instead perhaps the exact opposite.
As a defense, the Wolverines managed seven tackles for loss for 33 yards, including two sacks. Winovich accounted for half of that on his own, with 3.5 of his six tackles coming behind the line of scrimmage, costing Notre Dame 16 yards, including six on a sack.
"He's such a fast, athletic player, [sophomore tackle Robert Hainsey and junior tackle Liam Eichenberg] didn't feel overwhelmed," Irish head coach Brian Kelly said Thursday. "He's just so quick and athletic."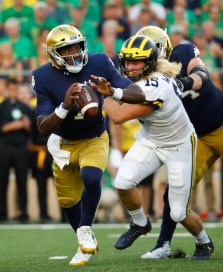 If Michigan had won, Winovich's success with quickness and athleticism could be viewed as a task failed. Instead, it is an evening to learn form.
"I don't think they feel as though their confidence has been diminished as much as they feel like both of them had a chance to work against two outstanding players in [Rashan] Gary and Winovich, so I think they leave the game feeling like they really got challenged more than they got beaten up."
Barring an unforeseen and nearly unprecedented breakout from an end on one of Notre Dame's 11 remaining opponents, the Wolverines defensive line was far and away the toughest the Irish will face this season. While Winovich had his successes, Hainsey and Eichenberg survived it without the greatest scathing, a loss.
Hainsey may see less time moving forward, albeit as a result of his fitness and build, not as a byproduct of struggling at points against Gary and Winovich. Looking at Notre Dame's roster, Hainsey is an outlier among offensive linemen. Eichenberg weighs 308 pounds. Fifth-year left guard Alex Bars weights 315 and fifth-year center Sam Mustipher is listed at 306. Junior right guard Tommy Kraemer tilts the scales at 316, while sophomore backup guard Josh Lugg is 314.
Hainsey comes in at 295, not quite the same behemoth, even if usually quite technically sound.
"He's a guy that would benefit not having an overload of snaps right now," Kelly said. "He's 296 pounds. He's a guy that has had problems keeping weight on. He's a guy we don't need to push. We need to be smart with him."
Kelly insisted this does not derive from the calf strain Hainsey suffered in preseason practice that greatly limited him for two weeks. Rather, this is using the long view, wanting to avoid wearing Hainsey down before the season's second half. In retrospect, perhaps this thought process was part of the logic to his timeshare with Kraemer at right tackle in 2017. At the time, no one on this side of the podium considered that as a possibility because it was so surprising to see a true freshman emerge as a pseudo-starter at all.
"At his size, we feel like we can rotate people in there and keep him fresh throughout the year," Kelly said. "We're really thinking about the long haul."
In that case, the obvious addition to the rotation is the same player who stepped in when Hainsey needed an IV in Saturday's third quarter — that likely was tied to the fitness lost to his strained calf. Kraemer moved out to tackle and Lugg stepped in at guard.
If either Hainsey or Eichenberg is injured, the Irish coaching staff plans to move Kraemer to that spot and insert Lugg into the starting lineup. In that respect, he is the practical backup in three different contingencies, so getting him some repetitions serves a purpose beyond just resting Hainsey.
"This is going to be a matter of him continuing to get a little more time each and every week and getting more comfortable," Kelly said. "He's got to settle down a little bit and get into the flow of things.
"We like Josh. We think he's going to be a good player."
Of all weekends to get the reserves some run, this is the most likely. That applies beyond the offensive line.
Given some of the preseason hype, it was mildly surprising to see so little of freshman Houston Griffith in the defensive secondary against Michigan and quarterback Shea Patterson. Per Kelly, Griffith continues to split his time between safety and nickel back, with Notre Dame likely needing him at both positions.
"I don't think we have the luxury to just settle him in at one position because there's competition," Kelly said. "We made the decision to cross-train him in the hope that that gets him more playing time. The only thing that he lacks is real snaps.
"When we get these kinds of situations, we try to decide are you better off just leaving it at one position or do you try to cross-train him and get him more reps. We think he's going to be a better player by playing."
ON CONCUSSION PROTOCOL
When senior tight end Alizé Mack took a shoulder to the head in last weekend's first quarter and took some time to get to his feet, it was a given he would enter the concussion protocol. Given Mack's history with concussions and the overall needed sensitivity to the injury in 2018, it surprised at least one member of the media (read: yours truly) when he returned to the game at all, let alone within a quarter.
A combination of advanced medical equipment and more available personnel made that possible.
"A medical tent allows us to immediately get to somebody that may have a head injury," Kelly said. "Then, with eye scan, which can give us immediate feedback on whether somebody can protect themselves and the immediate feedback on a computer to see what their testing shows.
"We were able to work through a concussion protocol (with Mack) in under a half hour, and I mean all the stages."
Throughout that process, Kelly said the medical staff kept him updated on Mack's progress and possible availability.
[protected-iframe id="4322d87b3e2eb4d11caa19723fa3b36c-15933026-22035394" info="//platform.twitter.com/widgets.js" class="twitter-follow-button"]