It never quite became taboo, but the phrase "bend, don't break" has largely been absent from Notre Dame conversations since former defensive coordinator Bob Diaco took it, and a library of other catchprases, with him to Connecticut following the 2013 season. By no means did that strategy backfire on the Irish back then — even 2013 featured defensive marks of 22.4 points and 366.2 yards allowed per game. Instead, those who came after Diaco preferred a more volatile approach.
Notre Dame first-year defensive coordinator Clark Lea may have found a balance between the two. Saturday made it clear the defense will concede yardage, snaps (and snaps and snaps and snaps) and time before necessarily allowing points. Ball State's 3.6 yards per play average should be described as nothing but paltry. For context, the lowest number forced by the Irish in 2017 was the 3.8 yards per play garnered by North Carolina. Just take a look at the Tar Heels these days to have an idea of what that company is like. (East Carolina: many points, North Carolina: not many points.)
"We're a big bend-don't-break unit," junior safety Jalen Elliott said. "Whenever we get on the field, we take it personally. We have a lot of people that compete at the highest level. When we go on that field, it's about getting the ball back to our offense and getting off the field."
The strategy certainly worked. Whenever the Cardinals appeared to have found a rhythm, Notre Dame would suddenly buckle down in the red zone. Just like Michigan a week ago, Ball State scored only one touchdown on three trips inside the 20-yard line, the only touchdowns the Irish defense has allowed this season. It bends, but the breaks are few.
Part of snapping back into place has been the aggressive pressure Lea dials up. Some of that comes from the talented Irish defensive line, pressuring the quarterback with only four rushers chasing the quarterback. This weekend's sole sack lands on senior linebacker Te'von Coney's stat line, but it was created by a four-man rush flushing Cardinals senior quarterback Riley Neal out of the pocket, led by senior defensive tackle Jerry Tillery.
That was one of seven Notre Dame tackles for a loss, joining three sacks and seven tackles for loss a week ago. The Irish chase the quarterback and get into the backfield plenty, but Lea is still able to take a, shall we say, flexible approach. Ball State needed to gain an average of 6.2 yards on third down. That may not seem all that high, but realize it faced third down 23 different times. Of 97 plays, that stands out.
Completely independent of how the Irish offense performed, Notre Dame has a defense it can depend on. Per Irish head coach Brian Kelly, it has development ahead of it, too.
"We're playing better in the back end," he said. "We're contesting for the football at a high level, putting pressure on the quarterback. There's some things we got to get better at. We know what they are. …
"We added some things that had been part of our install that we'd been working on that I think are effective and we're going to continue to get better at."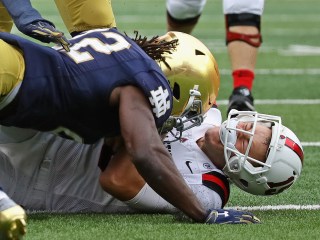 Senior rover Asmar Bilal deserves his fair share of credit for the solid defensive performance.
After spinning his wheels for three years, never doing enough to force his way into playing time, Bilal took over at rover this season seemingly by default when Drue Tranquill moved inward to Buck linebacker for his final season of eligibility. Broadly speaking, expectations were low enough of Bilal to create much anticipation around freshman Shayne Simon.
Perhaps Simon's appearance as third-string Buck linebacker on the depth chart this week should have portended Bilal's bettering play. Maybe they are unrelated. Either way, Bilal excelled against Ball State.
He finished with five tackles including one for loss and one quarterback hurry. The tackle for loss may as well as have been considered a pass breakup. The Cardinals stacked two receivers, right away creating a coverage read for Bilal that a cynic may have doubted would be made correctly. Neal then threw a screen to the trailing of the two, only for him to immediately be met by Bilal. He had correctly diagnosed the play, shirked the block and stuck Ball State with a three-yard loss.
That paled in comparison to Bilal sticking with Cardinals 5-foot-9 receiver Justin Hall on a first-quarter wheel route in the red zone. That was a mismatch clearly favoring Ball State, yet Bilal blanketed Hall the whole way.
Giving credit where it is due, Bilal has earned his starting spot. (That said, Lea should still move heaven and earth to avoid Bilal covering Wake Forest junior receiver Greg Dortch in two weeks.)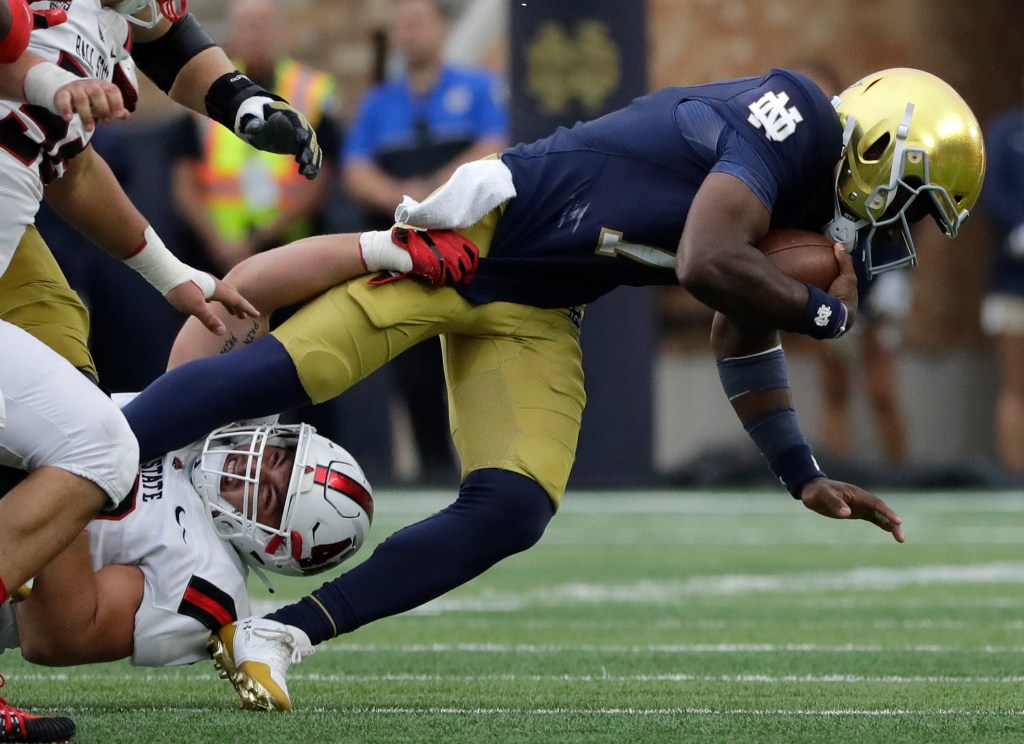 Now then, about that quarterback play …
Both Kelly and senior quarterback Brandon Wimbush insisted the offensive game plan did not specifically reduce the number of designed quarterback runs included. And they know better than anyone outside the meeting rooms, so it seems best to take their word for it, but … it is just hard to believe.
"We had our [run-pass options] and the defense that they played prompted me to throw the ball out," Wimbush said.
That is believable, especially considering the pressure the Cardinals defensive line brought most of the afternoon.
Yet, Wimbush had seven carries for 18 yards, once discounting the four sacks for 25 yards. Two of those rushes and 10 of those yards came on the final possession of the game, simultaneously burning clock while trying (and succeeding) to pick up one last first down. His only rush in the first half was a circuitous scramble to gain an exceptionally anticlimactic, albeit impressive, two yards.
"I don't think it was intentional at all," Kelly said. "I think it was just part of play calling and part of what we're doing. I think sometimes we look too much into the whole, did you run him, did you not run him.
"The game and circumstances kind of dictate the play calling. Just has to flow with the game."
With Notre Dame clinging to a 14-6 lead and suddenly-gifted good field position by junior safety Jalen Elliott's second interception of the day, the first Irish play from scrimmage called in the second half by offensive coordinator Chip Long was, in fact, a quarterback draw.
It was a pivotal point in the game. Capitalizing on that interception gave Notre Dame its winning points and separated the Irish from Ball State, who failed to make the most of turnovers. Being his first play call after the half, Long theoretically had time to ponder the call. And he deferred to what sets Wimbush apart.
When has the Irish offense best produced with Wimbush taking snaps? When he has kept a defense on its heels with his legs. While that is not always possible, and thus developing Wimbush as a passer remains a priority, it is undeniable to this point. Last week, he took 17 carries for 95 yards (sacks adjusted), a 5.59 yards per rush average. When Notre Dame scored 49, 49 and 48 points against Boston College, USC and Wake Forest, respectively, in 2017, Wimbush ran for 207 yards, 116 yards and 114 yards. Yes, there is a cause-and-effect involved, but that only underscores the relationship.
Against speedier defenses (read: Georgia, Miami … perhaps Virginia Tech this season), that dual-threat option is not as readily-available. Taking advantage of the opportunity of a lower-tier opponent to work on the pocket passing game makes sense.
Either the Irish did not do that and instead simply took an odd, to put it generously, offensive approach or Kelly and Wimbush felt the need to deny the pseudo-practice.
Some may call for a change at quarterback, but Wimbush's performance against the Cardinals absolutely does not warrant that. One of his interceptions was the result of a missed block getting him hit upon release, another was a simple drop by senior receiver Miles Boykin. Factor in another Boykin drop and an utterly-egregious one from sophomore Avery Davis, and Wimbush's stat line could suddenly look like 21-of-28 for 367 yards with one touchdown and one interception. That is a charitable scenario, but it is also a plausible one.
That hypothetical aside, Wimbush's legs are what set him apart. The ability to gash a top-flight defense like Michigan's for 95 yards from the quarterback creates a dynamic no defensive coordinator wants to ponder. Removing that reduces the potency of Notre Dame's offense. If for just one week to tinker and toy, so be it. If for flow of the game considerations, it seems a dubious decision.
Especially because it is clear the Irish offensive line is not yet a cohesive unit.
Ball State sacked Wimbush four times and made six other tackles behind the line of scrimmage, not to mention four more official quarterback hurries and untold pressures. Notre Dame's tackles had no answers for the Cardinals' rush. Wimbush trusts in the line to improve, and it will need to if he is to become the pocket passer perhaps preferred.
"We all have to do our part in being better," he said. "It's me protecting myself, getting us in the right protection, and I have no doubt that my guys up front are going to do their job and that's never an issue for me. Those guys are leaders up front and I know they will take it as a responsibility to get better and improve each week."
To be blunt, they will need to.
[protected-iframe id="4322d87b3e2eb4d11caa19723fa3b36c-15933026-22035394" info="//platform.twitter.com/widgets.js" class="twitter-follow-button"]