The last time Notre Dame played an SEC team in a typical environment (not a neutral-site bowl game a month after the regular season ended), it didn't go so well, falling to eventual national runner-up Georgia about 53 weeks ago. Vanderbilt, however, is not a program of the same caliber as the Bulldogs. The Commodores are currently 2-0 with dominant wins against Middle Tennessee State and Nevada, but they also have not finished with a winning record since 2013, encompassing all of head coach Derek Mason's four-year tenure.
Is this Vanderbilt team different? Are these Commodores capable of knocking off the No. 8 Irish? Let's ask Adam Sparks of The Tennessean.
DF: Oddly enough, Vanderbilt has held my intrigue since I did my first deep-dive on the Commodores back in late July. On paper, something seems to be on that roster. Then again, maybe I was just distracted by the concept of a four-year starter at quarterback. The last one of those at Notre Dame was some guy named Quinn. How long have you been on this beat? Have you been watching Kyle Shurmur all along?
AS: I've been on the Vandy beat since 2014, so I've covered Kyle Shurmur since day one – when Derek Mason pulled off his QB's redshirt midway through the 2015 season to start him in his debut as a freshman. Shurmur has made steady progress ever since with very few (if any) points of regression. (DF note: Shurmur started five games in 2015 and has started every game since.)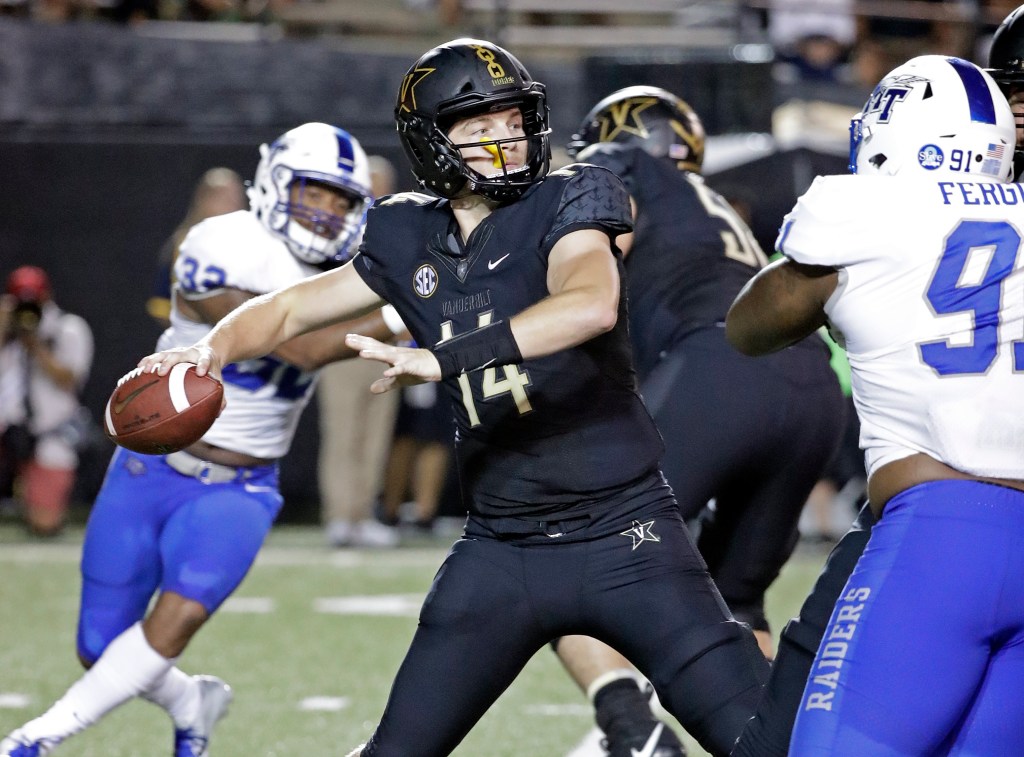 The son of New York Giants head coach Pat Shurmur, Kyle has 32 career starts to his name. His experience is obvious. He is also efficient, going 23-of-32 for 258 yards and two touchdowns last week against a decent Nevada team, not to mention completing 57.9 percent of his passes in 2017. What sets Shurmur apart, if anything does at all? Is he more than the embodiment of all the usual "coach's son" clichés?
Most of the coach's son clichés would apply to Kyle Shurmur. He's a respected leader (although more in a super competitive way, not a rah-rah everything-is-awesome type way). He has a great understanding of the offense. Over the years, offensive coordinator Andy Ludwig has given Shurmur more freedom in the offense at the line of scrimmage. Many of Vandy's best run plays have been pre-snap check-downs by Shurmur. He's got an NFL mind and an NFL arm. This game and the upcoming SEC games may determine if Shurmur is a late-round pick or a mid-round pick. He lost three senior receivers from last season's team, so this season is a challenge because he's throwing to mostly unpolished wideouts (except No. 1 target Kalija Lipscomb).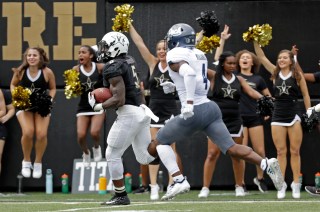 He works behind a veteran offensive line — heading into the season, I had them at 97 returning career starts — but few trusted playmakers are around for Shurmur to rely upon. Lipscomb leads the way, currently with 14 catches for 145 yards and three touchdowns this season, but who else will the Irish need to account for?
Vandy uses a three-back rotation. Illinois transfer Ke'Shawn Vaughn is the most-complete back. He's got some good explosion, but he's still working through some rust after sitting out last season. Khari Blasingame is a big, experienced north-and-south runner. Jamauri Wakefield has a good burst. You'll see all three. Vandy's young wide receivers will be a work-in-progress all season, but one or two of them need to step up in this game. I would keep an eye on junior tight end Jared Pinkney. He has NFL ability and he was worked into the passing game early last week. (DF note: The 6-foot-4 Pinkney caught four passes for 98 yards against the Wolfpack.)
Flipping sides of the ball, Vanderbilt's defense was atrocious last year. Is that an appropriate adjective? What improvements and/or changes has first-year coordinator Jason Tarver brought in?
The defense struggled most of the season. It looked good through three games, including a win over No. 18 Kansas State. But a murderers' row of Alabama, Florida and Georgia at midseason beat up the front-7, and it never recovered. Jason Tarver is a longtime friend of Derek Mason, so they work well together. Tarver runs a base 3-4 scheme, but he will alter his fronts regularly. Three-man front, four-man front, seven guys standing at the line of scrimmage before the snap, everything under the sun. Tarver likes to bring pressure from unexpected sources and mix up coverages between man and zone. The goal is to confuse the quarterback and affect blocking assignments as much as possible. That sounds like a no-brainer, but it's gone well so far. Vandy will try to keep Brandon Wimbush in the pocket and hope for turnovers.
RELATED READING: Notre Dame needs to 'respect' Vanderbilt, its Stanford-inspired defense
Initially, 2017's defense was the toast of Nashville. After three weeks it was, statistically-speaking, the best in the country. Alabama unraveled that quickly and efficiently, and one could wonder if the Commodores ever recovered. This season is not off to as strong of a start, if for no other reason than the schedule has not included a ranked opponent yet, but Vanderbilt showed little weaknesses in its 35-7 win vs. Middle Tennessee State or its 41-10 topping of Nevada. Do any lessons linger from last year's hot start to terrible finish?
Like I said before, that Alabama-Florida-Georgia stretch took Vandy off the tracks last season. The best news is that Alabama is not on the schedule this season. The next-best dose of good news is that the Commodores appear to have more depth on defense this season, so perhaps they can better survive a really physical game or physical stretch of the season. Tarver has added a few wrinkles to Mason's defense that has given it a little more bite on that side of the ball. I think Vandy comes into this one really humble, especially after what happened against Alabama last season. That being said, 2018 Notre Dame is not 2017 Alabama, so the 'Dores need to just play smart and see if they can hang around.
Sticking with that macro view, losing seven straight conference games is not a good look for anyone. Does head coach Derek Mason have reason to worry? Aside from a 6-6 regular season in 2016, he has produced few positive results with the exception of beating Tennessee each of the last two years.
No, Derek Mason has job security. In summer 2017 (after a bowl appearance), he signed a contract extension. Mason still has four years left on that deal (with the option of an additional year), and Vanderbilt doesn't fire coaches with multiple years or a big buyout remaining. Plus, Vandy likes where he has the program off the field. He's a good ambassador for the program, and he's likable. He hasn't won enough, but honestly that's looked at differently at Vanderbilt than other SEC programs. James Franklin, historically, was the exception for this program. Mason is fine for now (unless this team goes like 2-10, but that seems unlikely at this point).
What have I missed? Aside, obviously, from asking for your prediction for Saturday afternoon.
If the Commodores can get early turnovers and finish drives, this one could be competitive. I think they will do both to a decent degree. I think Vandy piles up some field goals, keeps Notre Dame in check for a while, and this game is still in doubt entering the fourth quarter. But ultimately, the Irish have plenty of talent, a strong defense and an obvious home-field advantage. Vanderbilt covers, but Notre Dame wins. Notre Dame 31, Vandy 23.
[protected-iframe id="4322d87b3e2eb4d11caa19723fa3b36c-15933026-22035394" info="//platform.twitter.com/widgets.js" class="twitter-follow-button"]