Wondering if Notre Dame can bounce back from a victory may come across as a typo, misplaced priorities or a skewed understanding of the binary system applicable to any game ruled by a scoreboard, but it fits in line with how the No. 8 Irish presented themselves following last weekend's 24-16 victory against Ball State.
Post-game interviews were filled with thoughts usually expressed by a team that just lost and had its Playoff hopes dashed, not one that found a way to win and remain undefeated.
"We have a standard that we hold ourselves to, and today we don't think we did that," senior linebacker Te'von Coney said. That was among the most-upbeat of the sentiments, somewhat appropriate since Coney played quite well against the Cardinals, making 14 tackles.
Others were more grim.
"We know we can play a lot better than we did today," fifth-year left guard and captain Alex Bars said. "Kind of a bad feeling in our mouth."
Bars didn't even dabble in the "we're happy to win the game" ethos that Notre Dame head coach Brian Kelly espoused afterward. Neither did fifth-year center and captain Sam Mustipher.
"We didn't get it done today," Mustipher said.
Actually, the Irish did get it done against Ball State, just not in a convincing, reassuring or momentum-building manner. That defeated mindset was understandable, even if unnecessary.
It was also pervasive enough, it could conceivably serve as a partial substitute for Notre Dame's response to its first loss, whenever that may come. At that point, the Irish will need to entirely turn to pride and resiliency to remain motivated through the end of the season. While the need to find such abstract inspiration is not yet at hand, as those Playoff aspirations survive, Notre Dame will need to immediately refocus and return to that standard set in the season-opening win against Michigan. Vanderbilt is good enough to capitalize on getting overlooked in the binary way the Cardinals were not.
It should be that simple. Nearly lose and become frustrated in the process; double down on what led to success in the first place; return to that success.
It may not be that simple for the Irish offensive line.
The Commodores have managed nine sacks in two games, while Notre Dame has given up six. Vanderbilt has made a tackle behind the line of scrimmage a total of 16 times this season; Irish ball carriers have been tackled behind the line 17 times already. If the line does not improve its play, those trends will collide in a bad way.
Hence much of Bars' and Mustipher's blunt assessments last Saturday. The teammate most impacted by their unit's struggles had no doubts about what will come next from Nore Dame's line.
"Those guys are leaders up front," Irish senior quarterback Brandon Wimbush said. "I know they will take it as a responsibility to get better and improve each week."
They will need to.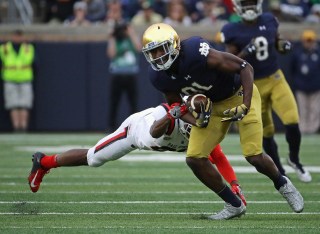 If the offensive line begins to gel, it may — in part — lead to more quarterback-designed runs than were seen last week. Then again, that is not saying much, considering there were no such plays executed in the first half against Ball State and less than a handful after halftime. Wimbush's greatest strength was removed from his arsenal, be it by the Cardinals' scheme, the line's struggles or Notre Dame's game plan.
Perhaps the reality is some combination of the three. That would make the most logical sense. Whatever the case was, it was undeniable. Wimbush's legs did not churn the Irish toward first downs as they do when the offense is running at its best. His abilities to both throw downfield to stretch the defense and dash for a quick first down without much concern is what makes Wimbush an effective quarterback. Removing either one turns him into a manageable one-dimensional threat.
Wimbush being more than that is why he is the starter, and why he should remain so. If the hope was to either preserve his body from some of the physical wear of running or to develop his progressions and reads in a game in which mistakes could be afforded, then a return to the dual-threat offensive game plan should be irrefutably seen this week. If, however, last week's absence of Wimbush rushes was something more than that, well, it will also be seen this week, but it may not result in the same forgiving outcome last Saturday did for the Irish.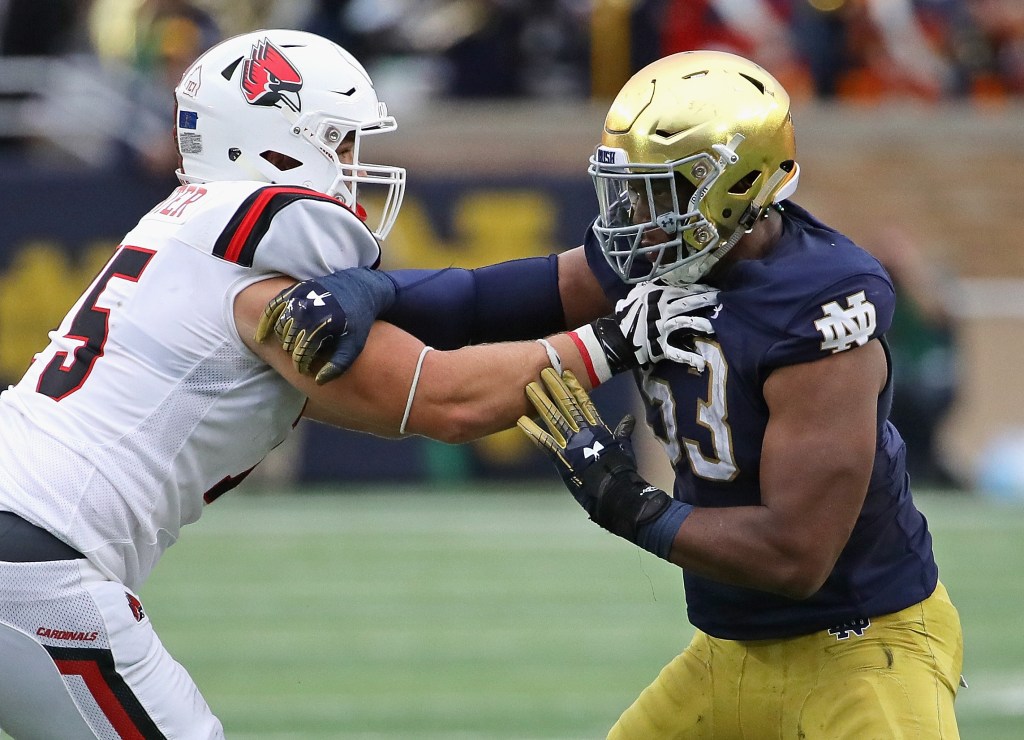 Unless, of course, Notre Dame's defense remains impenetrable for at least three quarters again.
Clark Lea's defense, led by Coney and fifth-year linebacker and captain Drue Tranquill, has not given up a touchdown before the fourth quarter this season. While the Irish offense has struggled to find its footing, the defense has afforded it that time rather than suddenly have to play catch-up.
The Commodores, meanwhile, scored two touchdowns in the first three quarters against Middle Tennessee State (including a touchdown in fewer than three minutes on their opening drive) and 34 points against Nevada a week earlier, including four trips to the end zone. It is not exactly a high-powered offense, but it is an efficient one.
If Notre Dame can keep Vanderbilt out of the end zone until the final frame, it will both be a boon for the Irish offense and the beginning of an intriguing pattern to monitor, rather than a mere two-game coincidence.
[protected-iframe id="4322d87b3e2eb4d11caa19723fa3b36c-15933026-22035394" info="//platform.twitter.com/widgets.js" class="twitter-follow-button"]