The week after defending a school-record 97 plays, with the real count being even higher than that once factoring in penalties, Notre Dame's defensive depth has now suffered its third significant blow of the season. Irish sophomore linebacker Jeremiah Owusu-Koramoah will be out for the year after breaking his foot in practice, head coach Brian Kelly announced Thursday.
Without Owusu-Koramoah, freshman Shayne Simon becomes the default backup to senior rover Asmar Bilal, while also continuing to take practice reps at Buck linebacker.
"The question would be much more about getting [Simon] in a position where he can help us," Kelly said. "He's going to have to play sooner or later. Each week is getting him closer and closer to if something happens, he has to go play at a high level for us.
"He can go into a game and play. We need to continue to build on where he is now and get him playing at a high level. He can line up at linebacker and play the position. We need to continue to work on the details of the position."
Part of the reasoning for working Simon at multiple spots stemmed from sophomore Jordan Genmark Heath apparently coming out of the season opener with a knee contusion that limited him last week. Now at 100 percent, per Kelly, Genmark Heath should be the backup to fifth-year Buck linebacker Drue Tranquill (pictured above), while freshman Bo Bauer works behind senior Te'von Coney.
The trio of Simon, Genmark Heath and Bauer may be able to suitably fill in if called upon for brief stints, but Kelly wants them to be capable in the entire defensive playbook before relying on them, particularly the two freshmen.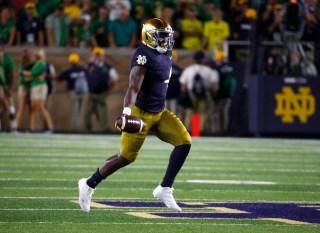 "It's no secret, Coney and Tranquill have played a lot of snaps," Kelly said. "It's crucial that those guys continue to grow. As we evaluate them in practice, it can't be that they can line up in one defense and we can get them on the field. That's not good enough. We can do that right now, we could have done that last week.
"We have to get them to run our defense. We're building that to the point where if they have to play, they can run our defense in all facets."
Both schools of thought have merit. On one hand, Coney and Tranquill each played every defensive snap last week, and Bilal logged all that did not include a nickel or dime secondary. Finding some chances to get them respite will pay off in the long run.
On the other hand, substitution rules could allow for an opportunistic offense (perhaps one led by a four-year starter at quarterback, such as Vanderbilt's Kyle Shurmur) to manipulate a package including a naïve backup. Suddenly the one defense Simon, as an example, may be comfortable in could no longer be applicable, but he could not be replaced without burning a timeout.
Other linebacker reserve options include junior Jonathan Jones and freshman Jack Lamb, but Jones was quickly passed by Bauer this offseason and Lamb dealt with nagging injuries in the preseason.
Owusu-Koramoah preserved a year of eligibility in 2017 and had appeared only in special teams roles through two games this season without making a tackle. He joins senior nickel back Shaun Crawford (ACL) and sophomore Myron Tagovailoa-Amosa (broken foot) as contributing defenders sidelined for all or most of the season.
Speaking of injuries … Kelly indicated sophomore tight end Cole Kmet will be out Saturday with a high ankle sprain from the victory against Ball State.
As for snap counts … The observation may arise only as a result of recency bias remembering the Cardinals' meticulousness driving against the Irish defense. The 97-plus plays were the most Notre Dame has ever faced. That record may not hold up long. Sept. 22-opponent, Wake Forest, ran 104 plays in a 41-34 loss to Boston College on Thursday. The Deacons' rampant snaps were as much a function of a quick-paced offense, compared to Ball State's methodical contentedness to take the yardage the Irish defense afforded it.
ON WIDE RECEIVER DEPTH
Only three Notre Dame receivers have caught passes this season: senior Miles Boykin with seven receptions, junior Chase Claypool with six and senior Chris Finke with five. Only twice has senior quarterback Brandon Wimbush even targeted another receiver, both toward freshman Kevin Austin.
Austin has come close to emerging in the offense thanks to his natural talents, while sophomore Michael Young remains in the mix with him due to Young's understanding of the offense.
"You take both of them to get that one guy," Kelly said. "Right now, Michael just knows the offense a little bit better than Kevin.
"Kevin, obviously, has a little more length and can do some things in one-on-one matchups."
Austin works behind Boykin as the boundary receiver where his size can best be utilized while Young backs up Claypool on the field side, where Kelly said the screen game or quick-action plays could become a factor.
Freshman Joe Wilkins spent the week with the offense, rather than the scout team, per Kelly, adding another piece to the puzzle.
[protected-iframe id="4322d87b3e2eb4d11caa19723fa3b36c-15933026-22035394" info="//platform.twitter.com/widgets.js" class="twitter-follow-button"]