SOUTH BEND, Ind. — This one cannot be explained as a controlling victory clouded by a tight score. Vanderbilt (2-1) very much gave No. 8 Notre Dame (3-0) all it could handle Saturday as the Irish held on for a 22-17 victory.
"It's much better than it was last week," senior quarterback Brandon Wimbush said. "… We executed how we wanted to execute today, and we feel good coming away from it. There is so much more to learn, so we're excited for that."
That upbeat attitude notwithstanding, this result remained in doubt until the final 67 seconds, and even those included one last attempt at a lateral miracle from the Commodores. Aside from that formality, Notre Dame junior safety Jalen Elliott ended the game with his breakup of what looked to be a first-down conversion at the Irish 11-yard line. If Vanderbilt junior receiver Kalija Lipscomb (pictured above) had held onto the pass from senior quarterback Kyle Shurmur, the Commodores were in prime position to take a lead and leave a sluggish Irish offense less than a minute to respond.
Lipscomb had the pass initially. Irish junior safety Alohi Gilman admitted he thought it was complete "for a little bit." Instead, Elliott maintained contact with Lipscomb all the way to the ground, doubling the impact as they hit the turf. The ball popped out at the last possible second and Vanderbilt's final real threat went with it. In forcing the ball out as he did, Elliott displayed the difference in Notre Dame's effort and focus this week compared to against Ball State a week ago.
"A play is six seconds; we want our players playing through that six seconds," Irish head coach Brian Kelly said. "We felt like we were pulling off plays a little early last week, so the emphasis was defining what compete meant. It's kind of like the old adage of don't run to the cone, run through the cone. We felt like maybe we ran to the cone too much last week."
That incompletion was one of few offensive mishaps for the Commodores in the second half. After gaining 180 yards before halftime, Vanderbilt raised that to 240 in the second half, each drive reaching far into Notre Dame territory, with the exception of the last-gasp lateral play. The Irish managed only 133 yards in the same period, allowing the Commodores to cut a 16-3 lead to the final five-point margin.
"I'd like to say we're a finished product," Kelly said. "We're just not. We're trying to find our identity on offense.
"We're a good defense, we're not a great defense yet. We've got some things to clean up, but I really, really like our football team and the way they competed today."
The one sustained drive Notre Dame did put together in the second half came as the fourth quarter began. Senior quarterback Brandon Wimbush completed 4-of-4 passes for 53 yards while junior running back Jafar Armstrong added 17 yards on three carries. At the 2-yard line, junior quarterback Ian Book stepped in for Wimbush to run a goal line package including three tight ends.
What looked like a surefire running play deceptively led to both sophomore tight end Brock Wright and fifth-year tight end Nic Weishar to run routes, Weishar cutting deeper into the end zone while Wright went from a fullback position to the flat. Book connected with Weishar, notching the winning points even without converting a subsequent two-point conversion attempt.
"Whenever [Weishar] gets the ball or wherever he's targeted, he typically catches it and makes a great play," Wimbush said. "Like he did today."
Wimbush finished with 122 yards on 13-of-23 passing with another 84 yards gained on 19 rushes. Junior running back Tony Jones added 118 rushing yards and 56 receiving, averaging 9.2 yards per touch.
Shurmur completed 26 of 43 pass attempts for 346 yards and a score with 11 of those caught by Lipscomb for 89 yards.
TURNING POINT OF THE GAME
Beginning at the midpoint of the second quarter, every remaining Vanderbilt drive brought the real possibility of scoring. That one ended in a goal line fumble, then came a field goal and a missed field goal. The sequence would soon include two touchdowns before finally yielding to Elliott's pass defense. Between the field goal attempts and the touchdowns, Irish junior cornerback Troy Pride picked off a pass in the end zone.
It was a heave more than anything else, Shurmur looking for Lipscomb from 36 yards out, despite double coverage. Given how things had been going and would continue to go, though, logic figures Vanderbilt would have offered a more imminent threat soon thereafter. It was, after all, a first-and-10 shot.
Pride adjusted to the ball in the air and made a simple interception, at which point he foolishly tried to return it. Nonetheless, this was the only conventional defensive stop for Notre Dame for 36 minutes, a time span in which the Commodores scored all 16 of their points and left at least 10 more to regret.
PLAY(S) OF THE GAME
It is not a sure thing Vanderbilt junior receiver Donaven Tennyson would have scored midway through the second quarter, on the drive beginning the aforementioned run of bending by the Irish defense. He was, however, still upright just a yard from the end zone. Perhaps Pride would have tackled him there, but even if he did, the Commodores would have been set up for a first-and-goal from the one. A touchdown was likely.
Enter Gilman. As Pride stopped Tennyson, Gilman got his grips on the football and ripped it loose. Both he and Elliott leapt for the airborne prize, serving only to knock the jump ball into the end zone still loose. Junior cornerback Julian Love beat Vanderbilt fifth-year running back Khai Blasingame to securing the fumble, earning Notre Dame a touchback.
Maybe the Irish defense would have stonewalled the Commodores at the one — it has shown excellent red-zone abilities this season — but it is most likely the combination of Pride, Gilman and Love literally saved seven points.
"What I was pleased with is that it's a drill we work on, that we come up through the receiver and try to strip," Kelly said. "We stayed with the play right through the whistle and got the ball out.
"It was a rugby scrum in the end zone, and we were able to get on it."
PLAYER OF THE GAME
Senior kicker Justin Yoon seemed destined for these honors when he made three first-half field goals to provide the majority of Notre Dame's scoring to that point, but a kicker cannot be deemed player of the game if he misses his final kick, as Yoon did looking to give the Irish an eight-point lead late in the fourth quarter.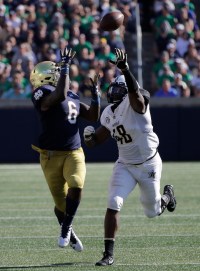 Jones had no such mishap. He took four carries for 41 yards on the opening drive and started the next one with another 14-yarder. Notre Dame rushed for 245 yards, averaging 5.1 per rush, and Jones set that tone.
"[Our rushing game] is great for the pass game, and I would say if we rush good, we win," Jones said, simply enough.
He also twice streaked up the right sideline for touch passes from Wimbush, exposing a flawed Vanderbilt coverage and accounting for the two longest Irish completions of the day.
"If you do a good job defending him, then we're creating space on the drive route coming back," Kelly said. "They're really easy complements for us versus man coverage."
STAT OF THE GAME
Entering the weekend, Notre Dame had converted five trips into the red zone into four touchdowns, falling short with a missed field goal against Ball State.
The Irish had given up touchdowns on only two of six opposing trips into the red zone, a fourth-quarter score to Michigan and Ball State each.
Against the Commodores, only two of Notre Dame's five visits to the red zone reached the end zone, the other three all yielding field goal attempts. Meanwhile, Vanderbilt turned three drives inside the red zone into two touchdowns and a field goal. (Since the ball was not snapped within the 20-yard line, neither the Pride interception nor the Gilman strip/Love recovery count as red zone stops, statistically speaking.)
The Irish thrived in the red zone last season on both sides of the ball, but this is the danger of a "bend, don't break" defense. Bending brings you that much closer to breaking.`
QUOTE OF THE EVENING
"There's things we've got to work on. It's the third game of the season. If you're a finished product after game three, you're destined for greatness. We're not there yet. We're not destined for greatness. So if anyone wants to write that greatness column, I would tap the brakes." — Notre Dame head coach Brian Kelly
SCORING SUMMARY
First Quarter
11:02 — Notre Dame field goal. Justin Yoon 26 yards. Notre Dame 3, Vanderbilt 0. (10 plays, 74 yards, 3:58)
0:58 — Notre Dame touchdown. Brandon Wimbush 12-yard run. Yoon PAT good. Notre Dame 10, Vanderbilt 0. (15 plays, 94 yards, 5:21)
Second Quarter
7:33 — Notre Dame field goal. Yoon 33 yards. Notre Dame 13, Vanderbilt 0. (6 plays, 49 yards, 1:10)
1:15 — Notre Dame field goal. Yoon 46 yards. Notre Dame 16, Vanderbilt 0. (10 plays, 51 yards, 3:55)
0:00 — Ball State field goal. Ryley Guay 21 yards. Notre Dame 16, Vanderbilt 3. (8 plays, 72 yards, 1:15)
Third Quarter
0:11 — Ball State touchdown. Ke'Shawn Vaughn 3-yard run. Guay PAT good. Notre Dame 16, Vanderbilt 10. (5 plays, 47 yards, 2:44)
Fourth Quarter
11:04 — Notre Dame touchdown. Nic Weishar 2-yard pass from Ian Book.  Book pass on 2-point conversion failed. Notre Dame 22, Vanderbilt 10. (11 plays, 75 yards, 4:07)
7:22 — Vanderbilt touchdown. Jared Pinkney 18-yard pass from Kyle Shurmur. Guay PAT good. Notre Dame 22, Vanderbilt 17. (9 plays, 75 yards, 3:42)
[protected-iframe id="4322d87b3e2eb4d11caa19723fa3b36c-15933026-22035394" info="//platform.twitter.com/widgets.js" class="twitter-follow-button"]