SOUTH BEND, Ind. — There was no more insisting Notre Dame simply needs to put everything together, even if an argument could be made that is yet the case. Irish senior quarterback Brandon Wimbush has shown his peak abilities in the past, if not this season. Notre Dame's defense is coalescing into a dominant unit. For once, the Irish special teams contributed in a positive manner during Saturday's 22-17 victory against Vanderbilt.
But head coach Brian Kelly did not try to put those distant and separate occurrences alongside each other. Instead, he acknowledged a plain reality.
"There's things we've got to work on," Kelly said. "It's the third game of the season. If you're a finished product after game three, you're destined for greatness. We're not there yet."
Notre Dame is not there yet. While it has yet to trail this season, it has also yet to cruise, and at some point the latter will beget a change in the former. For now, though, the idea of greatness can remain a possible destination on the horizon. As long as the Irish land on the winning side of each week's binary result, there is a road to that figurative resort. It just is not a path one can see clearly at the moment, given Notre Dame's overall struggles with focus and consistency.
An easy response would be to wonder if the first step to getting to that northern California vista is recognizing where the Irish are currently. Some metaphor exists about in order to get to a destination, directions can be offered only when knowing the present location. Let's skip that reach and instead turn to what Kelly apparently expected at the start of preseason practice in August, as it compares to now.
"I thought we'd have some growing pains on offense in terms of young running backs," Kelly said. "I think the pieces are there, but it was going to take some time, especially knowing what the schedule looked like early.
"We were going to have to really play physical and play hard and play every play."
Notre Dame did indeed need to play every play against the Commodores, although the final snap's couple of laterals never presented a realistic threat.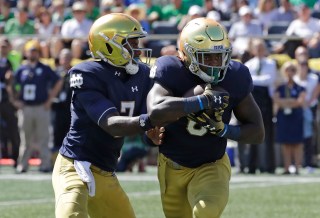 The Irish could claim a lead largely because of the run, and that came in no small part courtesy of senior quarterback Brandon Wimbush. While it was junior running back Tony Jones who began the ground attack with 27 yards on two carries, it was more noteworthy when Wimbush took the fourth snap of the afternoon for nine yards. That came approximately one whole half sooner than his first designed run did during last week's slog against Ball State.
"I had to use my feet more than I did last week," Wimbush said after taking 19 carries for 84 yards. "It's one of my weapons and it's deemed effective when we're playing teams. Running lanes were there for me, and I had to take advantage of that."
Those lanes were there for Wimbush and Jones and, to a lesser extent, sophomore Jafar Armstrong because Notre Dame's offensive line showed up. The Irish averaged 5.1 yards per carry. Wimbush was not sacked. Notre Dame's first two drives covered 74 yards in 10 plays and 94 in 15 while converting 4-of-5 third downs and controlling the ball for 9:19 of the first quarter.
At that point, the Irish control of the trenches was set, and Vanderbilt's persistence never outright changed that. The improved offensive line led to a resurgent rushing attack, finishing with 245 yards, a high for the season by triple digits.
"[The running game] opens up a lot more," Wimbush said. "Obviously, it's a cliché answer, but the run game opens up play-action, opens up regular passes.
"They'll stock the box, and I think things on the perimeter become more viable for us to attack, and we'll keep improving and getting better at the run game."
If those growing pains yield more days like Saturday from the Irish rushing game, then Wimbush's life becomes easier as a passer, too. For now, that remains somewhat conceptual, even after he finished with a 56.5 percent completion rate against Vanderbilt. But a theoretical possibility is still a possibility, and one more likely with the groundwork of a ground game.
Notre Dame's defense needs no growing pains. And it forces opposing offenses into unwelcome ones.
Vanderbilt frequently trailed by large margins in 2017, yet only twice did quarterback Kyle Shurmur attempt more passes than he did in Saturday's tight contest with 43. As the Irish defensive front held the Commodores to a lousy 3.96 yards per carry, Shurmur and Vanderbilt took to the air as the only available means to move the ball.
That worked, except for when it very much didn't. Two turnovers in the passing game counteracted the benefits of Shurmur's 60.5 percent completion rate and 7.58 yards per attempt, both quite representative of his marks over the previous season plus two games (59.0 percent; 7.58 yards per attempt). However, those 43 attempts are an anomaly. Shurmur averaged 30.64 attempts per game across those 14 games.
Vanderbilt was not trailing by such a margin it needed to rely on the throw to catch up. Rather, the 'Dores needed to rely on the throw to function at all.
Further context: Ball State's Riley Neal has averaged 27 attempts per game with a 64.8 percent completion rate and 6.93 yards per attempt in two other games this season. Against Notre Dame, Neal threw 50 times with a completion rate of 46 percent and an average of 3.6 yards per attempt.
Neither Vanderbilt nor the Cardinals were behind by enough to justify heaving as early and often as they did. If they wanted to run to come back, they could have given it an honest effort, but they knew the Irish front-seven was not going to allow as much. That becomes a tricky proposition for the Neals and Shurmurs of the world because …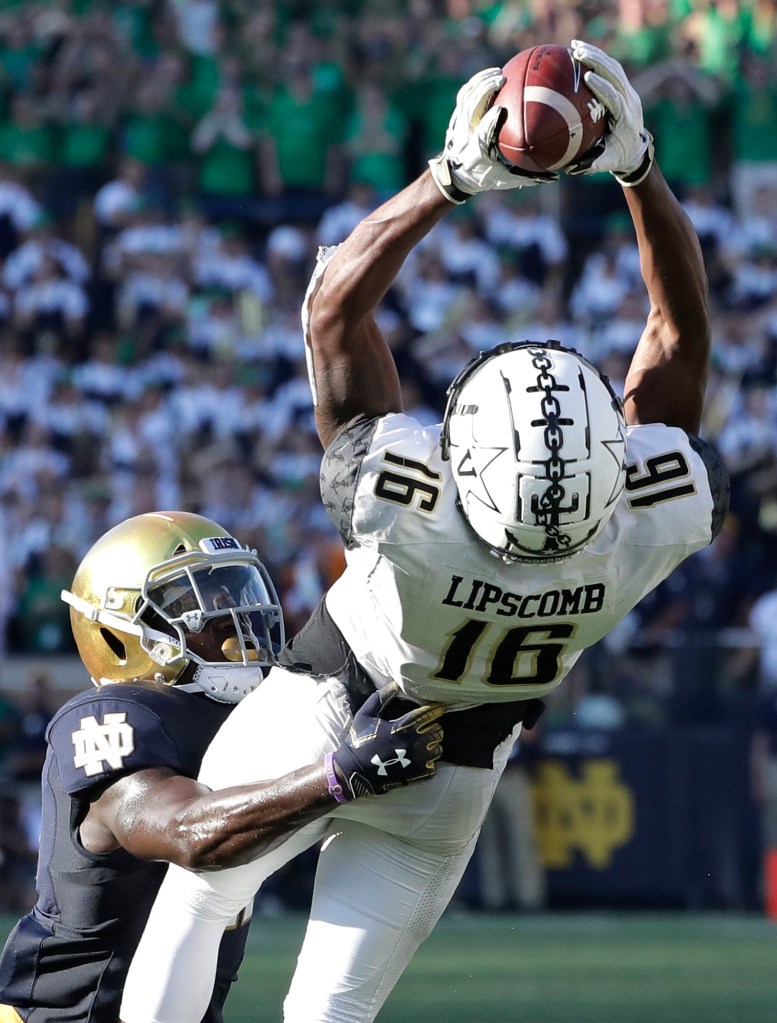 Notre Dame has genuine safety play, maybe even outright good.
The preseason hype went to junior Alohi Gilman, who has delivered with a nose for the ball and 22 tackles to date. The headlines go to junior Jalen Elliott, now with two interceptions, a game-sealing pass defense and 18 tackles. Freshman Houston Griffith joined the fray Saturday, making four tackles while contributing mostly in a nickel back role.
"It's definitely a group effort," Gilman said. "[Safeties coach Terry] Joseph prepares us well. He trains us hard. He pushes our limits during the week of practice and it's a combined effort."
A year ago, no one was praising Elliott. If that sounds harsh, it is also true. He finished with 13 starts and only 43 tackles and two pass breakups. Extrapolate his current production across just 12 games and it equals 72 tackles with two for loss, eight interceptions and four pass breakups. That is more than improvement. That is worthy of national notice.
Don't consider that hyperbolic. Elliott has made the defensive difference in consecutive weeks, making the choice to rely on the pass a curious one by both Vanderbilt and Ball State.
"We've got a lot more experience back there on the back end," Gilman said. "Second of all, just confidence. We come out to practice and we know how hard we work and we put confidence in each other. Jalen puts confidence in me, I put confidence in Jalen. When you do that, you play with an edge.
"… He's been locked into his craft, what he can do better. From man and zone concepts to communication to everything."
The duo have improved the single-greatest Irish weakness to the extent it is now a pertinent strength. Without lacking safety play, Notre Dame's defense has no obvious holes (aside from linebacker depth). The team as a whole may still struggle with focus, consistency and 60 minutes of dedicated effort, not to mention experience and comprehensive scheming, but the pieces are there.
Whether or not they all show up at the same time later in the schedule is a different discussion altogether.
[protected-iframe id="4322d87b3e2eb4d11caa19723fa3b36c-15933026-22035394" info="//platform.twitter.com/widgets.js" class="twitter-follow-button"]