Ever want to underestimate the possible effects of turnovers? Check back on Northwestern's loss to Akron this weekend. Notre Dame has flirted with such disaster once this season, but escaped Ball State unscathed. Despite those three interceptions, the Irish are plus-three in turnover margin this season.
Michigan (2-1): The Wolverines had no trouble with SMU, winning 45-20 and led by an efficient performance from quarterback Shea Patterson (pictured above), completing 14-of-18 passes for 237 yards and three touchdowns. For comparison, Patterson went 20-of-30 for 227 yards against Notre Dame to open the season.
Michigan now gets a chance to pile on Nebraska's woes (12 ET; FS1), favored by 18.5 against Scott Frost's Cornhuskers with a combined point total over/under of 49.5. In other words, the Wolverines should not match last week's tally, but a 34-15 victory would be a statement unto itself.
Ball St. (1-2): A week after coming within a touchdown of the Irish, the Cardinals fell 38-10 to another in-state foe, Indiana. Junior quarterback Riley Neal completed 12-of-24 passes for 115 yards, a large drop-off in attempts from the Notre Dame game when he threw 50 times. Ball State did average 5.2 yards on 39 rushes, much more effective than the 3.6 yards per rush in South Bend.
The Cardinals may get back to winning ways before conference play commences with a visit from Western Kentucky (3 ET; ESPN3) in which Ball State is favored by three. The over/under of 52.5 hints at a 27-24 conclusion.
Vanderbilt (2-1): The Commodores lost, in case that was missed in these parts. They now welcome South Carolina (4 p.m.; SEC Network) with the Gamecocks favored by 2.5 and an over/under of 51.5. That math equals another 27-24 ending.
Wake Forest (2-1): Junior receiver Greg Dortch did not score in a 41-34 loss to Boston College on Thursday, but he did catch nine passes for 93 yards and return two kickoffs for 57 more. It was the Demon Deacons' ground game, though, that kept them in the game with 298 yards on 60 carries. Yes, 60. (Context: Vanderbilt ran a total of 70 plays this past weekend.) The Eagles responded with 220 rushing yards of their own, averaging 5.0 yards per carry.
The Irish arrive at Wake Forest (12; ABC) as eight-point favorites with an over/under of 57.5, posing a 33-24 possibility. It may be hard to believe Notre Dame could score 30-plus points given its inconsistent offense to date, but the Deacons have held only one of their last eight Power-Five opponents to fewer than 30 points, a streak that includes the 48 the Irish scored against Wake Forest last year. Those eight opponents have averaged 38.6 points.
Stanford (3-0): Senior running back Bryce Love sat out the 30-10 victory against FCS-level UC Davis with an undisclosed injury. Trevor Speights handled the rushing duties in his place, taking 11 caries for 87 yards, but it was once again the KJ-to-JJ connection that set the tone for the Cardinal. Quarterback KJ Costello found receiver JJ Arcega-Whiteside for two touchdowns.
Stanford will most likely need Love back at full strength this week for a trip to Oregon (8 ET; ABC). Favored by two points with an over/under of 55.5, the Cardinal may come out ahead by a score as narrow as 28-27, but it is more likely they have an easier time of the Ducks than that.
Virginia Tech (2-0): Hurricane Florence gave the Hokies a bye week, though they did not agree with the timing of East Carolina's decision to cancel the game. Odd as this may sound, Virginia Tech travels to Old Dominion this weekend (3:30 ET; CBSSN). The Monarchs are in their fourth season at the FBS level. With Virginia Tech favored by 27.5, a 38-11 conclusion seems generous to Old Dominion on both sides of the ledger.
Pittsburgh (2-1): The Panthers bounced back quickly from their 51-6 embarrassment to Penn State, responding with a 24-13 upset of Georgia Tech. At least, it was an upset by the bookmakers' concerns; Pittsburgh was a field goal underdog.
Now the Panthers are on the precipice of an ACC winning streak, visiting North Carolina (12:20 ET; ACC Network) as 4.5-point favorites with an opportunity to put another hole in Larry Fedora's sinking ship. Expect Pittsburgh to do much better than a simple 27-23 victory over the Tar Heels.
Navy (2-1): The Midshipmen ran 62 times for 484 yards, an average of 7.8 yards per carry, in a 51-21 victory against FCS-level Lehigh and now travel to SMU as touchdown favorites (12 ET; ESPN News). The over/under of 65.5 suggests the Mustangs should at least score a few more points than they did against Michigan, albeit in a 36-29 loss.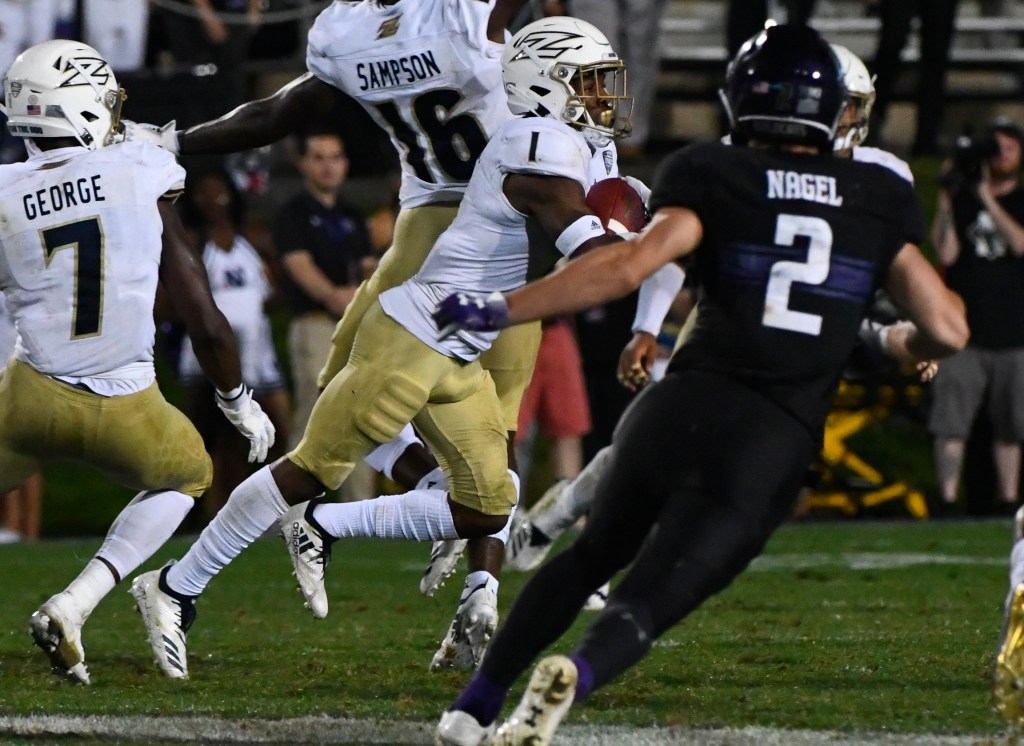 Northwestern (1-2): This bye week probably arrives at an ideal time for the Wildcats. Senior quarterback Clayton Thorson threw for 383 yards and three touchdowns on 33-of-53 passing, but also had two interceptions … returned for touchdowns by Akron in a 39-34 Northwestern loss. The first pick-six cut the Wildcats' lead to 21-19 after initially leading 21-3. The second gave the Zips a 39-28 lead. Between them, Akron ran a fumble back to take its first lead.
Yes, in a game in which Northwestern was favored to win by three touchdowns, it gifted the opposition three touchdown returns off turnovers.
Florida State (1-2): Something has gone awry in Tallahassee, and it has done so in drastic fashion. To be clear, Syracuse is a good team with an experienced playmaker at quarterback. Losing at the Carrier Dome should not be considered a huge step backward for the Seminoles. Clemson did just that in 2017, after all.
Although the Tigers scored more than the seven points that Florida State managed in a 30-7 loss. The Seminoles took 23 rushes for 62 yards and managed 240 total yards, converting 1-of-14 third downs.
A year ago, Florida State's porous offensive line was faulted for much of its struggles. That line has continued to regress to the point that now articles are published pondering just why it is so bad all of three weeks into the season. With all that in mind, this is an unfortunate time for the Seminoles to host Northern Illinois (3:30 ET; ESPNU), even if favored by 10 points. The Huskies return their entire defensive line from last season, a unit that led the team to 43 sacks, 14 of which came from junior end Sutton Smith, the reigning MAC Defensive Player of the Year. Forget the spread, take Northern Illinois outright. (Want further reason? The Huskies gave up only 120 rushing yards per game, three yards per carry, last year. Florida State's running game will not find its way this weekend.)
Syracuse (3-0): The Orange naturally deserve some credit for the Seminoles' misery this weekend. Even with senior quarterback Eric Dungey sidelined for much of the game with an eye injury, Syracuse did not struggle. Holding Florida State to four yards per play will help that cause.
Dino Babers should have no trouble building that momentum moving forward thanks to a visit from Connecticut's atrocious defense (4:00 ET; ESPN News). The Huskies gave up 56 points to Central Florida in the opener, understandable considering how long it has been since the Knights lost. Then came 62 points from Boise State, a rather high-powered offense in its own right, so arguably excusable. But 49 points to FCS-leve Rhode Island this past weekend? That makes the spread of 27.5 in the Orange's favor feel slight, although the over/under of 75 is probably well set, a testament to Syracuse's defense, despite its lofty nature.
USC (1-2): Publicly, Trojans head coach Clay Helton is feeling the heat after a 37-14 loss at Texas. As bothersome as the loss was, the rushing stats are much more embarrassing. By the box score, USC ran for -5 yards. Stephen Carr led the Trojans in rushing, taking seven carries for 10 yards, somehow including a 23-yard gain.
Freshman quarterback J.T. Daniels did play well, completing 30-of-48 for 322 yards with one interception, again relying on classmate and high school teammate Amon-Ra St. Brown for nine catches and 168 yards.
This may be make or break time for Helton and USC. They host Washington State on Friday (10:30 ET; ESPN) as 3.5-point favorites with an over/under of 53. Can the Trojans get their season back on track with a 28-24 victory? Helton has done it before, bouncing back from a 1-3 start in 2016 to finish 10-3 with a Rose Bowl victory. Technically speaking, USC is only 0-1 in the Pac 12 at this point, so another Rose Bowl berth is still very much in play if a ground game shows up in any regard whatsoever.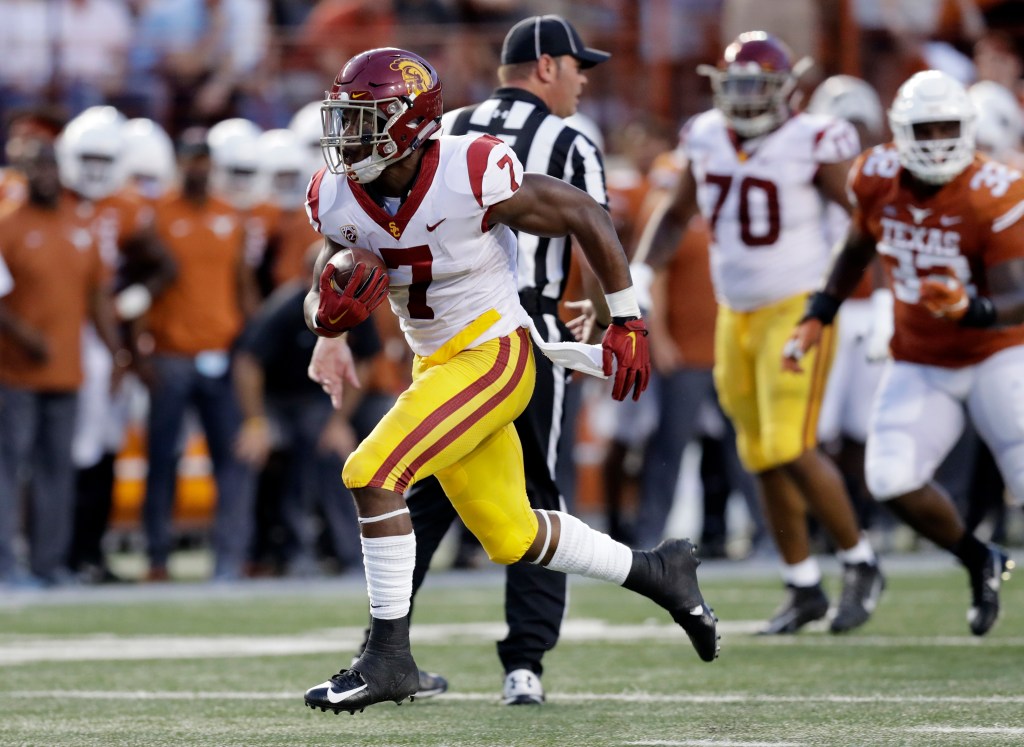 10:30 p.m. ET Friday: USC vs. Washington State on ESPN.
12 p.m. ET Saturday: Michigan vs. Nebraska on FS1; Wake Forest vs. Notre Dame on ABC; Navy at SMU on ESPN News.
12:20 p.m. ET: Pittsburgh at North Carolina on ACC Network.
3 ET: Ball State vs. Western Kentucky on ESPN3.
3:30 ET: Virginia Tech at Old Dominion on CBSSN; Florida State vs. Northern Illinois on ESPNU.
4 ET: Vanderbilt vs. South Carolina on SEC Network; Syracuse vs. Connecticut on ESPN News.
8 ET: Stanford at Oregon on ABC.
Favorites: USC -3.5; Michigan -18.5; Navy -7; Pittsburgh -4.5; Ball State -3; Virginia Tech -27.5; Florida State -10; Syracuse -27.5; Stanford -2.
Underdogs: Wake Forest +8; Vanderbilt +2.5.
[protected-iframe id="4322d87b3e2eb4d11caa19723fa3b36c-15933026-22035394" info="//platform.twitter.com/widgets.js" class="twitter-follow-button"]