As much as a team can struggle to a 3-0 record, that is how Notre Dame has started this season. Wake Forest would jump for that complaint, though, coming off a 41-34 loss to Boston College. That defeat dampens the Demon Deacons' conference dreams in a year in which the ACC seems to be in flux.
Irish fans remember Wake Forest from last year's 48-37 victory that seemed to serve as something of a demarcation point in the season. Conor O'Neill of the Winston-Salem Journal tells us what to expect this time around …
DF: Conor, of all things, I hate to ask you to focus on football this week. You have lived in North Carolina for a few years now, right? Even with that being the case, you cannot be used to hurricanes. How have you and Winston-Salem as a whole endured Hurricane Florence?
CO: Thanks for starting on this note, Douglas.
Yes, I've lived in North Carolina full-time for almost seven years, and I went to college at Elon, which is about 45 minutes east of Winston-Salem, so I know the region well. That certainly doesn't mean I'm used to hurricanes.
Winston-Salem was spared from the worst of Florence. It rained for nearly all of Saturday and Sunday, but other than a few downed trees and flooded intersections at low areas, there really wasn't much of an impact. It was pretty much the best-case scenario, especially when you see much of the eastern part of the state is under water — still.
Obviously, I am still going to ask you to focus on football. If you'll forgive me … Let's start with the quarterback situation at Wake Forest. It went from stable in the spring to clouded in the summer when presumptive starter Kendall Hinton was suspended for three games for a violation of team rules. At Notre Dame, that phrasing could mean a litany of things, so I won't put you on the spot to shed some light with an interpretation. I will, however, ask you, why was he working at receiver in the preseason?
Hinton was working at slot receiver for several reasons, but the main one was that his athleticism is going to have to be used at some position. And since it seems like Sam Hartman has a firm grasp on the position — at least, for now — Hinton wouldn't be doing Wake any favors by standing on the sideline as a backup quarterback. So while Hartman and sophomore Jamie Newman took the first- and second-team reps in their fall camp battle, Hinton needed to prove he could be valuable to the team and learn to play receiver.
A freshman, Hartman has played well. Maybe not excellently or even well enough to capture the country's attention, but well. What about him has Hartman in line to face the Irish this weekend?
The best attribute for Hartman right now — and it honestly might be this way for his entire career — is that he's been through things no 19-year-old should ever have to go through. The main two events I'm talking about there are: 1) His adopted brother, Demitri Allison, committed suicide when Hartman was a sophomore in high school. He won a state championship game three days later. And 2) Hartman suffered from a birth defect that was discovered before his junior season started, and the fluid buildup in his left shoulder nearly led to his death. That happened about a month before the season opener. Hartman came back for that opener, weighing 40-50 pounds less because of surgery and a hospital stay, and threw an 80-yard touchdown on the first play.
The kid has been through some things.
He's been groomed to be a quarterback by Will Grier's father, among others, and at the risk of heaping too much hyperbole on here, it almost feels like it was destiny that Hartman is where he is right now.
RELATED READING: Talent, tragedy and triumph: The legend of Sam Hartman
Sam Hartman's path to Wake Forest's starting QB has been anything but normal
No matter who the Deacons trot out at quarterback, we all know who his favorite target will be. I don't mean to sound lazy or come across as the reporter so many of us cannot stand in post-game scrums, but I am afraid if I ask you a question about Greg Dortch, I will fill up any reasonable word count with adjectives. Just this once I am going to use the dreaded two-word command: Talk about junior receiver Greg Dortch.
Oh man, I should've looked here before I answered the Hartman question, because I could talk about Dortch for twice as many words.
He's just everything you want out of a dynamic slot receiver in today's college offenses. He can separate from coverage, has open-field moves to make defenders miss in a phone booth, has an insane catch-radius — everything. Dortch really is the complete package, and as Deacons head coach Dave Clawson said before the season, everything Wake Forest's offense does is designed to get Dortch the ball in space.
What separates Dortch is that he genuinely loves football. Watching him in spring practice, when he was finally able to return to the field after recovering from the punctured small intestine that cost him the final five games last season, was like watching a little kid who was just released from a timeout. That continued into fall camp, and with a country-leading 224.7 all-purpose yards per game, his rise has been incredible to watch.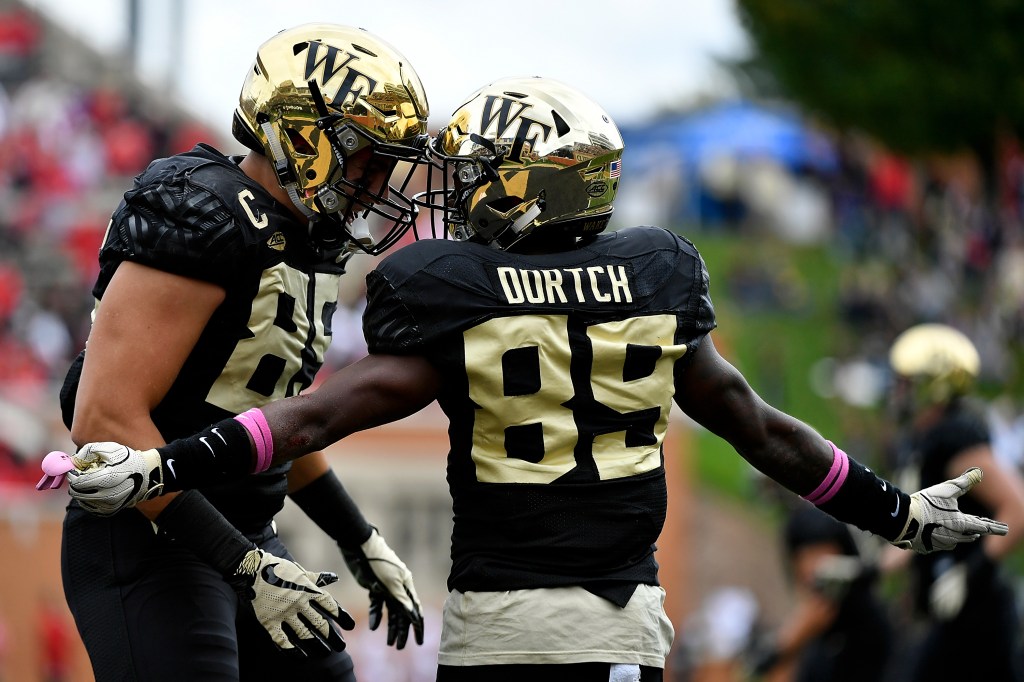 Okay, but seriously, can Notre Dame legitimately hope to stop Dortch or should defensive coordinator Clark Lea simply try to contain the damage he does? It has been a bend-don't-break defense this year, but Dortch's bubble screens seem perfectly designed to counter that.
Dortch is almost assuredly going to get the ball – the key is to limit his yards-after-catch and the number of times he gets it. Kicking through the end zone on kickoffs and punting away from him are two of the easiest ways to play keep-away from Dortch.
And if Julian Love can move into the slot, that's a matchup I'd love to see – no pun intended.
One more offensive question: The beauty of playing last Thursday night was everyone in the country watched. Otherwise I may not have noticed Wake Forest ran 105 plays, many a symptom of an up-tempo offense. Is that the norm? I don't really remember that being the case last year, but I could be forgetting or it could be dictated by new personnel.
That was pretty much the norm last year, especially in the second half of the season. It has honestly caught me off guard that Hartman has come in and still been able to run 94 (Tulane), 81 (Towson) and 105 plays. I thought there would be a slight drop in pace, just because you're replacing four-year starter John Wolford with a true freshman. I was wrong.
Switching to defense, it struggles. If looking at only Power-Five opponents, seven of the last eight have gashed the Deacons for at least 30 points. Any hopes of that having been fixed were effectively dashed by Boston College's 41 points last week. Specifically, the run defense is a problem. Last year the Deacons allowed 186 rushing yards per game, No. 89 in the country, which may seem borderline acceptable, if not for the six-game stretch where that jumped to 256.8 yards per game. What is missing in Wake Forest's run defense?
Honestly, the run defense has been the strength of the defense so far. Yes, AJ Dillon ran for 185 yards last week. But 88 of those yards came on three carries, leaving the other 97 yards on 30 carries.
The problem last week was that Dillon hit them for a 45-yard touchdown run on the third play of the game. He's a legitimate Heisman contender, and the pre-game focus on Dillon coupled with a big run on the third play meant play-action worked all night against some creeping-up safeties and linebackers.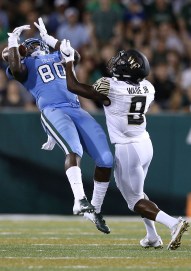 What changed? In a year-plus of the scheme formerly run by Mike Elko, Notre Dame has fared well defending the run. This season it has done such to the point that opponents attempt many more passes than usual, essentially bailing on the ground game. How have the Deacons fallen off so quickly from allowing only 142 rushing yards per game in 2016?
I don't think Elko's importance can be overstated. Wake Forest had a hidden gem for three years and obviously it's hardly a secret anymore that Elko is one of the best coordinators in college football. It helps Notre Dame that Lea was his understudy.
The other major factor in the Deacons' defense, as Clawson explained this week, is that they lack an alpha communicator in the back-seven. They had one with Ryan Janvion, whose last season was 2016, and to a lesser extent had one last year with Jessie Bates III. Now, it's on senior safeties Cameron Glenn and Chuck Wade Jr., both captains, to be louder.
I can't let you skip out of here without offering a vague prediction for Saturday afternoon. And you can't just say you predict you will be thankful for the early kickoff, because that is a certainty.
Well … I am happy with a noon kick.
I think there's going to be no shortage of points scored, to begin with. And I think Wake's defensive struggles are more of a story than Notre Dame's offensive struggles, so I'd give the edge to the Irish. Something like 30-21 would be a probable score. ​
[protected-iframe id="4322d87b3e2eb4d11caa19723fa3b36c-15933026-22035394" info="//platform.twitter.com/widgets.js" class="twitter-follow-button"]