The instinct is to lead with a "book" pun here to cleverly recognize Notre Dame junior quarterback Ian Book's performance in his first career start made by coaching choice rather than injury to usual-starter Brandon Wimbush. Such wordplay would be a disservice to Book's showing in the 56-27 Irish victory at Wake Forest on Saturday and minimize the decision made by Notre Dame head coach Brian Kelly to make the change despite a No. 8 ranking and remaining undefeated.
"I didn't sleep great last night because that's a pretty big decision to make when you're 3-0 and your quarterback that was leading your team is [12-3] as a starter," Kelly said. "Had a lot of confidence in Ian and I thought our offense played to the level I thought it was capable of."
Book improved that record to 4-0 without any trouble, even if the Deacons did hand the Irish their first deficit of the season with a first-quarter field goal. Book responded by completing all four of his passes on the subsequent drive, three of them going to senior tight end Alizé Mack for 41 yards. Once sophomore running back Jafar Armstrong found the end zone with a 30-yard score, Notre Dame never trailed again, rattling off 28 unanswered points in one stretch spanning much of the second and third quarters.
Armstrong finished with 98 yards and two touchdowns on only eight carries, part of the Irish gaining 245 yards on 39 carries (sacks adjusted). Book threw for 325 yards and two more scores — giving him five total thanks to three short jaunts across the goal line of 2, 2 and 1 yard — to bring the Notre Dame total to 566 yards, its most of the season by 152.
Despite giving up more than 17 points for the first time of the year, the Irish had little trouble with Wake Forest's up-tempo attack. The Deacons gained 398 total yards, their first time falling short of 500 this season, on 92 plays, a lackluster average of 4.2 yards per play. Their final two scores came against what was increasingly Notre Dame's second and third-units, the first time those reserves have gotten a chance to stretch their legs in a game.
They can thank Book for that opportunity, above all others.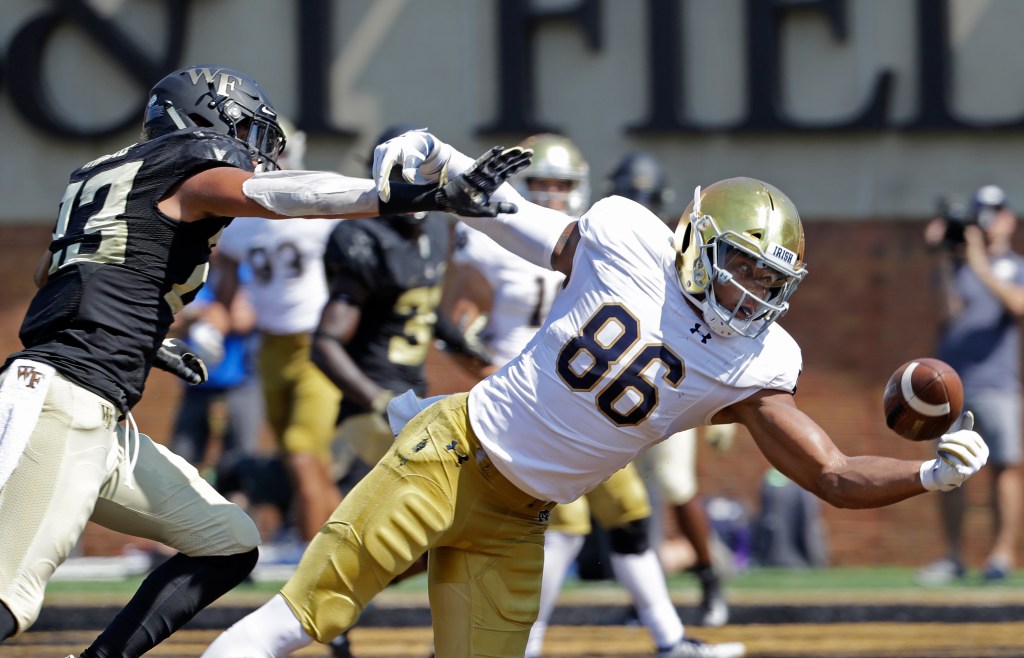 PLAYER OF THE GAME
Book, obviously. His stats jump off the page no matter the situation: A 73.5 percent completion rate to gain 325 yards by connecting with 10 different receivers (two more than the season's previous high, set last week against Vanderbilt). Nine rushes for 47 yards (sacks adjusted). Five total touchdowns.
If this proves to be Book's coming-out party, that will be a tough standard to maintain.
His connection with Mack stands out. Though the senior did not reach the end zone, Book looked for him eight times, including repeatedly early to build a rhythm. Mack caught six of those for 61 yards, both career highs. Frankly, he nearly matched his combined output in the season's first three games of six catches for 74 yards.
Book found Mack both in the flat and headed downfield on a seam route, displaying a diverse skill set from the tight end previously only speculated about. Mack was not the only tight end Book looked to, also connecting with sophomore Brock Wright for a three-yard score, Wright's first in his career and only second career catch. His first? It came last week, on a pass from Book.
TURNING POINT OF THE GAME
If not the early days of the week when Kelly decided to switch his primary playmaker, inserting Book into the starting lineup and moving Wimbush to the sideline, then …
For the first time this season, the Irish did not score on their first possession. The Book experiment looked to be a questionable one when Notre Dame could not muster much on its second possession, either. A fumble from sophomore receiver Michael Young ended the third. At that point, 12 plays had yielded 42 yards and no points. Wake Forest led. Another long day appeared imminent.
The Irish scored touchdowns on eight of their next nine possessions. The fourth of which eliminated any Deacons hope before it could genuinely take root. Wake Forest had just run a breakneck drive covering 75 yards in 10 plays that took fewer than three minutes to come within 21-13. The Deacons had begun the day trading field goals for touchdowns, but when senior running back Matt Colburn scored from two yards out, suddenly their offense seemed more viable. The execution it needed had shown up.
Notre Dame responded with a play many have become conditioned to cringe at. It is nearly a pavlovian response: When the Irish run a bubble screen to a receiver, express frustration and doubt the play-calling acumen as soon as the pass is thrown parallel to the line of scrimmage.
It is hard to doubt the concept when it results in a 66-yard dash by Young, sprung by blocks from Mack and senior receiver Miles Boykin. Book's stat line was the beneficiary, thanks to both the yards after the catch and the chance to score a 2-yard rushing touchdown. In just 62 seconds, Notre Dame's lead was back to two possessions before halftime. Wake Forest would not score again until the Irish had already raced to a 49-13 lead near the end of the third quarter.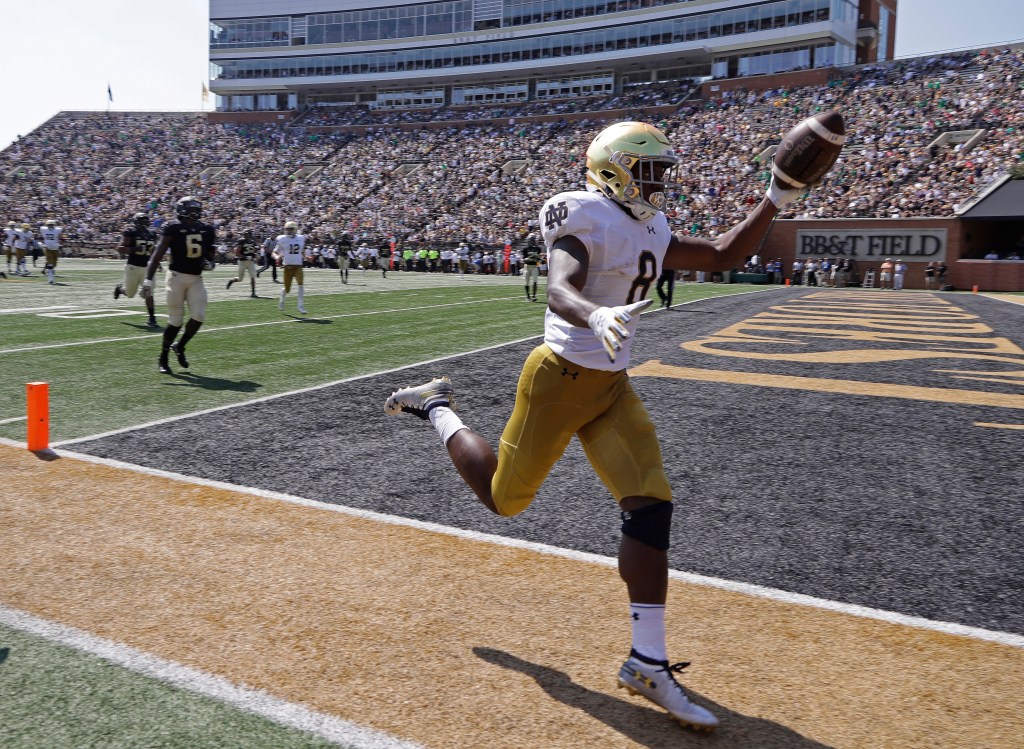 STAT OF THE GAME
At halftime, Book's stat line read 16-of-24 passing for 189 yards. The two dozen pass attempts stood out, especially in comparison to the team total of 15 rushing attempts to that point. It was the first time Notre Dame's offense skewed toward the air in the first half.
Vanderbilt: 27 rushes in the first half; 17 passes.
Ball State: 20 rushes; 17 passes.
Michigan: 25 rushes; 15 passes.
Even with the hefty lead, the Irish balance came closer to even than it had all season.
Wake Forest: 40 rushes in the game; 36 passes.
Vanderbilt: 48 rushes; 26 passes.
Ball State: 41 rushes; 31 passes.
Michigan: 47 rushes; 22 passes.
"It's where we have wanted it to go and grow," Kelly said. "The balance necessary of run and pass is where ultimately this offense has been (going). I brought [offensive coordinator Chip Long] in to run a balanced run-pass offense.
"You saw what it should look like today."
The shift toward the air showed in both the total of 566 yards and in the average of 7.4 yards gained per play. The previous peak for the Irish was 5.8 against Ball State. (Vanderbilt: 5.1; Michigan 4.4)
PLAY(S) OF THE GAME
Young's bubble screen nearly to the end zone could qualify, but instead this space will include mention of a moment that occurred long after the result was determined. Freshman quarterback Phil Jurkovec undoubtedly did not expect his first collegiate playing time to come anywhere but Notre Dame Stadium, but the last two weeks of close games had changed those plans. With about four minutes left at Wake Forest, the heralded passer entered.
On his third snap, he comfortably and confidently fired a deep pass toward classmate Kevin Austin. The receiver's legs innocently tangled with the defensive back's, removing any chance of a completion, but it was telling how at ease Jurkovec was with the heave.
On the next snap, Jurkovec ran around the right end for a 7-yard gain, enjoying every step of it.
It was not all wonderful by the supposed quarterback-of-the-future, as he then missed a wide-open Wright on a crossing route, the exact kind of spot a quarterback praised for his accuracy should shine.
A WIN IS A WIN IS A …

SCORING SUMMARY
First Quarter
5:19 — Wake Forest field goal. Nick Sciba 30 yards. Wake Forest 3, Notre Dame 0. (4 plays, 1 yard, 0:41)
3:06 — Notre Dame touchdown. Jafar Armstrong 30-yard run. Justin Yoon PAT good. Notre Dame 7, Wake Forest 3. (6 plays, 75 yards, 2:13)
Second Quarter
14:56 — Wake Forest field goal. Sciba 39 yards. Notre Dame 7, Wake Forest 6. (12 plays, 54 yards, 3:10)
11:25 — Notre Dame touchdown. Brock Wright 3-yard pass from Ian Book. Yoon PAT good. Notre Dame 14, Wake Forest 6. (10 plays, 80 yards, 3:31)
9:19 — Notre Dame touchdown. Tony Jones 4-yard run. Yoon PAT good. Notre Dame 21, Wake Forest 6. (2 plays, 4 yards, 0:10)
6:26 — Wake Forest touchdown. Matt Colburn 2-yard. Sciba PAT good. Notre Dame 21, Wake Forest 13. (10 plays, 75 yards, 2:53)
5:24 — Notre Dame touchdown. Book 2-yard run. Yoon PAT good. Notre Dame 28, Wake Forest 13. (4 plays, 75 yards, 1:02)
Third Quarter
9:46 — Notre Dame touchdown. Chase Claypool 7-yard pass from Book. Yoon PAT good. Notre Dame 35, Wake Forest 13. (9 plays, 74 yards, 3:18)
5:15 — Notre Dame touchdown. Jafar Armstrong 1-yard run. Yoon PAT good. Notre Dame 42, Wake Forest 13. (7 plays, 71 yards, 2:25)
4:18 — Notre Dame touchdown. Book 2-yard run. Yoon PAT good. Notre Dame 49, Wake Forest 13. (3 plays, 47 yards, 0:47)
0:44 — Wake Forest touchdown. Kendall Hinton 23-yard run. Sciba PAT good. Notre Dame 49, Wake Forest 20. (9 plays, 75 yards, 3:34)
Fourth Quarter
11:27 — Notre Dame touchdown. Book 1-yard run. Yoon PAT good. Notre Dame 56, Wake Forest 20. (11 plays, 75 yards, 4:17)
4:53 — Wake Forest touchdown. Jamie Newman 15-yard rush. Sciba PAT good. Notre Dame 56, Wake Forest 27. (13 plays, 79 yards, 6:34)
[protected-iframe id="4322d87b3e2eb4d11caa19723fa3b36c-15933026-22035394" info="//platform.twitter.com/widgets.js" class="twitter-follow-button"]