At the beginning of the season, it would have been conservative to project up to three Notre Dame opponents would get through four weeks without a loss. That could have risen to four if expecting Michigan to beat the Irish in the opener. With Virginia Tech and Florida State meeting in the first week and USC heading to Stanford in week two, the projection would have been for those four to total just the two losses inherent to those head-to-head contests; additionally, Northwestern could reach this point undefeated if able to get past Purdue the Friday before most teams took to the field, which the Wildcats did.
Rather than just a pair of defeats, though, those latter five opponents have already combined for seven losses, with the most shocking coming this past Saturday evening at a 20,000-seat stadium in Norfolk, Va.
Michigan (3-1): The Wolverines look like what was anticipated before the season, giving credence to their No. 14 ranking. Michigan held Nebraska to 132 total yards in a 56-10 victory, including a meager 39 rushing yards on 30 carries. The Wolverines, meanwhile, rushed for 285 yards on 45 attempts. No matter how much the Cornhuskers are struggling, those numbers indicate Jim Harbaugh has his team trending in the right direction.
While a trip to Northwestern (4:30 ET; FOX) should not be Michigan's toughest task of the Big Ten season, it is the most-daunting foe since the opener at Notre Dame. Nonetheless, the Wolverines are favored by two touchdowns with a combined point total over/under of 48. Given Michigan's blowouts of late (49-3, 45-20, 56-10), a margin greater than 31-17 seems likely.
Ball St. (1-3): The Cardinals botched a great chance at a non-conference win with Western Kentucky visiting. Ball State led 21-20 until the Hilltoppers finished an 8-play, 76-yard drive with a 5-yard touchdown run with only 1:38 remaining. Rather than make the most of that last chance, Cardinals quarterback Riley Neal threw a pick-six to gift Western Kentucky a 33-21 victory.
Ball State will try to forget about that letdown with Kent State (3 ET; ESPN+) visiting Saturday. The Cardinals are favored by 8.5 points and a 61-point over/under hints at a 35-26 finish, granted Neal does not throw any more last-minute interceptions for touchdowns.
Vanderbilt (2-2): The Commodores falling to South Carolina felt inevitable, and averaging 4.8 yards per pass attempt and 2.8 yards per carry very much made it so. Going 2-of-14 on third downs did not help the cause in a 37-14 loss.
Vanderbilt gets a reprieve this week, arguably its last until the season finale vs. Tennessee, with a visit from FCS-level Tennessee State (4 ET; SEC Network).
Wake Forest (2-2): The Deacons' weekend did not end with their loss to the Irish. On Monday, head coach Dave Clawson fired defensive coordinator Jay Sawvel after just 17 games at Wake Forest, two of which featured Notre Dame running wild.
Clawson did not name a specific interim coordinator, instead deferring to a collective, which will have a chance to find its footing this week against Rice (3:30 ET) as 25.5-point favorites, although the over/under of 67 implies the Deacons will still give up three touchdowns.
Stanford (4-0): Oregon head coach Mario Cristobal left the door open for a spectacular Cardinal play when he did not opt to kneel out all but the last 10-12 seconds of the clock in a close game. His decision to push for one more first down led to a fumble, a touchdown and a 38-31 overtime victory for Stanford. Let this be once again a reminder: It is idiotic to run for a few yards when simply kneeling and punting will pin an opponent deep in its own territory with just one play left to score a touchdown.
Some credit should go to the Cardinal. The Ducks left the door open, but Stanford forced the issue and took the opportunity presented. Many teams would not do that.
The Cardinal will arrive at Notre Dame Stadium (7:30 ET; NBC) as 4.5-point underdogs with an over/under perhaps lower than expected at 54 points. A 29-24 final would make for a tense night.
Virginia Tech (2-1): The Hokies' loss at Old Dominion remains hard to fathom, even if it was only the fifth-biggest upset, by money line odds, in the last two seasons. Virginia Tech was a 27.5-point favorite and lost 49-35 to an 0-3 Monarchs team. Bud Foster's defense gave up 632 yards.
Even harder to fathom? That may not have been the low point of the Hokies' weekend. Head coach Justin Fuente dismissed defensive end Trevon Hill on Sunday. Hill led Virginia Tech with 3.5 sacks this season after managing 9.5 tackles for loss in 2017.
And then Fuente announced the Hokies will be without starting quarterback Josh Jackson for the foreseeable future thanks to a fractured fibula suffered in the fourth quarter of that loss, when the game was tied at 28.
Without Jackson, Virginia Tech will turn to junior Ryan Willis at Duke (7 ET; ESPN2) as 5.5-point underdogs. Foster's defense may be needed to rebound, even without Hill, in order to keep the game close in Willis' first career start. An over/under of 50 suggests a 27-22 final.
Pittsburgh (2-2): The Panthers are not good, and few things make that clearer than losing 38-35 at North Carolina in what should be Larry Fedora's final year, if he even lasts the whole season. Pittsburgh was outscored 17-0 in the third quarter of a loss that will look only worse with time.
Things will not get better at Central Florida (3:30 ET; ESPNU). The Knights are favored by 15.5 in what should end up along the lines of a 41-25 result.
Navy (2-2): The Midshipmen scored first in overtime at SMU, forcing the Mustangs to need a touchdown. Once they had that, first-year head coach Sonny Dykes opted for a trick play to score a two-point conversion and knock off Navy 31-30. It is hard to blame the Midshipmen defense; when an offensive lineman positions himself in the slot, you expect the screen pass to go to him, not to be a fake before a throw to the backside.
Navy rushed for a prototypical 349 yards on 78 attempts, an average of 4.5 yards per carry, but three turnovers played a role in its undoing. The Midshipmen have a bye this weekend.
Northwestern (1-2): The Wildcats' bye presumably gave senior quarterback Clayton Thorson time to finally get his barely-healed ACL a bit healthier. Northwestern will need him even more now, as running back Jeremy Larkin announced a Monday retirement due to a diagnosis of cervical stenosis. In three games this year, Larkin had rushed for 346 yards and five touchdowns, adding another 127 yards receiving.
Not to put too fine a point on that unfortunate situation, but it should make Michigan's strengthening rush defense seem that much stouter.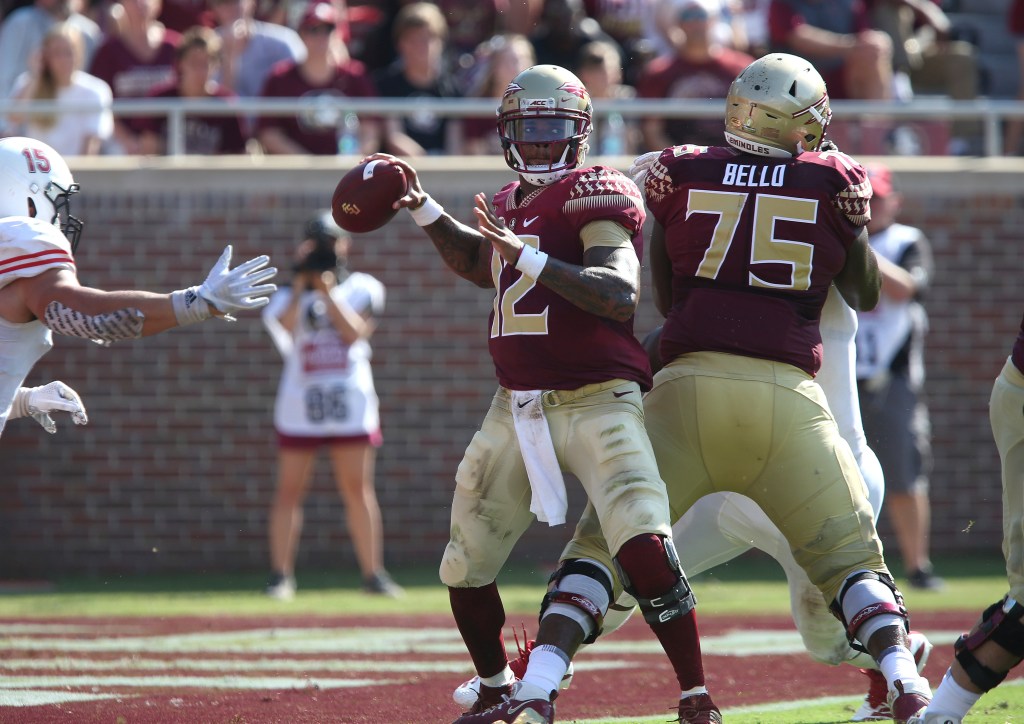 Florida State (2-2): The Seminoles started to right the proverbial ship with a 37-19 victory against Northern Illinois. While quarterback Deondre Francois threw for 352 yards and two touchdowns on 23-of-31 passing, what may have been more impressive was Florida State's offensive line limiting Huskies defensive end Sutton Smith to just two tackles for loss, including one sack.
The Seminoles will have a chance to string together a winning streak at Louisville (3:30 ET; ESPN2), favored by six points. The 47-point over/under would make for a lower-scoring affair, 27-21 or so.
Syracuse (4-0): Senior quarterback Eric Dungey accounted for five touchdowns in a 51-21 rout of Connecticut, part of the Orange's 636 total yards. As well as Syracuse and Dungey are playing, Connecticut's defense makes Wake Forest's look like an SEC contender's.
On the complete opposite end of the spectrum is Clemson (12 ET; ABC), where the Orange head this weekend as 22-point underdogs. Given how well Dungey has the offense humming, it may be reasonable to think Syracuse will do better than the 21 points allotted by a 64-point over/under, but coming within three touchdowns of Clemson seems unlikely as the Tigers have officially turned to Trevor Lawrence as their starting quarterback.
USC (2-2): The Trojans were outgained 435 yards to 354 in a 39-36 victory against Washington State on Friday, needing a blocked field goal with 1:41 left to prevent overtime.
USC has yet to cover the spread this season; doing so this week will require more than a field-goal margin at Arizona (10:30 ET; ESPN2). The Wildcats average 29.5 points per game, exactly what would be needed to make good on a 61-point over/under.
12 p.m. ET: Syracuse at Clemson on ABC.
3 p.m. ET: Ball State vs. Kent State on ESPN+.
3:30 ET: Wake Forest vs. Rice; Pittsburgh at Central Florida on ESPN; Florida State at Louisville on ESPN2.
4 ET: Vanderbilt vs. Tennessee St. on the SEC Network.
4:30 ET: Michigan at Northwestern on FOX.
7 ET: Virginia Tech at Duke on ESPN2.
7:30 ET: Stanford at Notre Dame on NBC.
10:30 ET: USC at Arizona on ESPN2.
Favorites: Michigan -14; Ball State -8.5; Wake Forest -25.5; Florida State -6; USC -3.
Underdogs: Stanford +4.5; Virginia Tech +5.5; Pittsburgh +15.5; Northwestern +14; Syracuse +22.
[protected-iframe id="4322d87b3e2eb4d11caa19723fa3b36c-15933026-22035394" info="//platform.twitter.com/widgets.js" class="twitter-follow-button"]