It is a simple fact: No one on the Irish roster has played in a victory against Stanford (4-0), be it this version of the Cardinal ranked No. 7 in the country or one entering Notre Dame Stadium as an unranked underdog two years ago. In each of the last three meetings, the Irish have led in the second half, only for Stanford to outscore them 38-7 in the fourth quarters.
"Certainly they know they haven't beaten them, those guys that have been here," Notre Dame head coach Brian Kelly said Tuesday. "… There comes a point where if you've looked back on the three games, we had a lot to do with why we didn't win the last two games."
Kelly was referring to those second-half leads and fourth-quarter collapses.
"We turned the football over," he said, specifically recognizing three turnovers in last year's fourth quarter. "This is much more about us taking care of the football and playing it for four quarters.
"We have a great deal of respect for Stanford and how they run their program, but we need to play for four quarters and play good football."
That may take on an even greater emphasis this weekend. Gifting possession to any opponent is a debilitating mistake, but doing so against an offense the caliber of the Cardinal's can be lethal. Stanford's offense has been deceptively-explosive throughout head coach David Shaw's seven years, averaging more than 32 points per game in four of those seasons, but this is his best passing attack since Andrew Luck led the offense to 43.2 points per game in 2011. Junior quarterback K.J. Costello averages 264 passing yards per game with a 64 percent completion rate.
The yardage figure would be the highest since Luck's time (279 yards per game) if it holds through the season, while only he (71.2 percent) and the 2015 version of Kevin Hogan exceeded Costello's accuracy (67 percent).
"Costello has really come into his own this year distributing the football," Kelly said. "… Poise in the pocket, delivering the ball in some really, really tight windows, accuracy."
Costello's breakout ties directly to the receivers and tight ends at his disposal. The headlines go to 6-foot-3 senior receiver J.J. Arcega-Whiteside (408 yards, seven touchdowns, 24 yards per catch), but he is far from alone. Junior tight end Kaden Smith adds another 258 yards with a 14.33 reception average, and the list continues with the likes of senior receiver Trenton Irwin, sophomore tight end Colby Parkinson (three touchdowns on eight catches) and sophomore receiver Osiris St. Brown.
"[Costello] has a number of weapons," Kelly said. "We all know Arecaga-Whiteside has been a go-to guy but now obviously a number of tight ends are outstanding, big-body types that he can get the football to."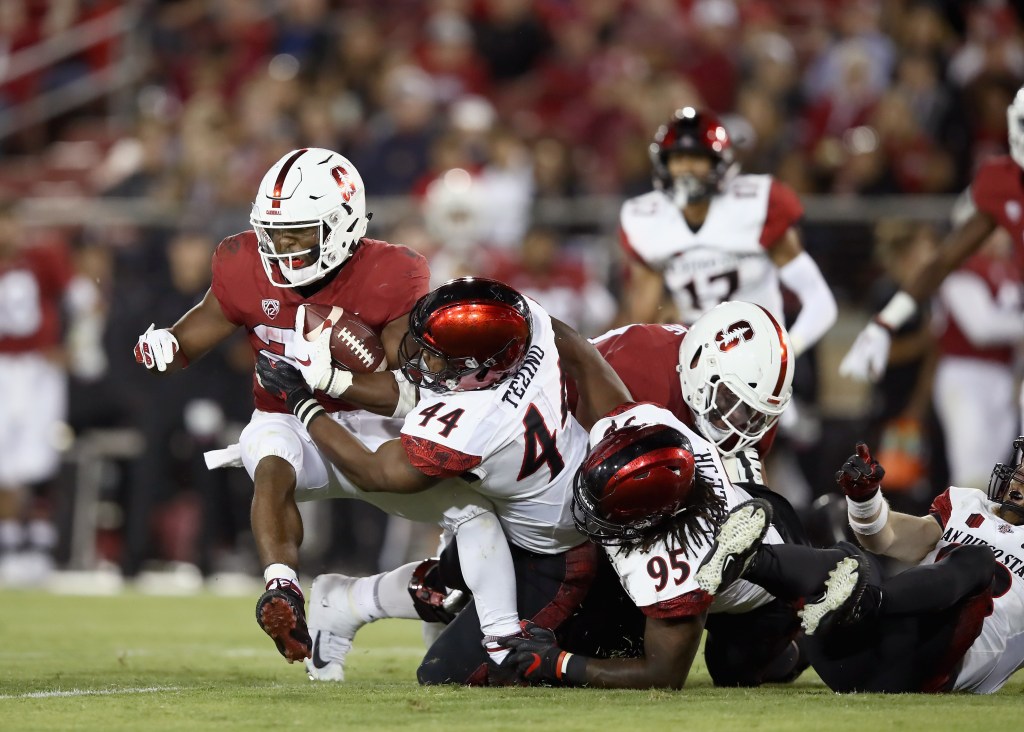 One name in particular has not yet been mentioned. If looking at only this year's stats — 254 yards and two touchdowns on 54 carries in three games — senior running back Bryce Love appears to be little more than above average. Kelly is not fooled. Love was the Heisman runner-up for a reason.
"We know about Bryce Love, the best back in the country," Kelly said. [Editor's Note: Expect to hear a similar description of Boston College's A.J. Dillon in 14 months.] "Once you think he's down, he's gone."
From what Kelly has seen, defenses have keyed on Love, aiding Costello's development. The threat of Love breaking off multiple 50-yard touchdown runs is too great to ignore.
"He's going to get his yards, he's just too good of a player," Kelly said. "You're really focusing on making sure that you're not short at the point of attack. You can't put him in a situation where he can go the distance.
"Each and every week, defenses have been very careful in making sure that the box looks were such that he's not going to get easy looks."
JA'MION FRANKLIN OUT FOR THE YEAR
The freshman defensive tackle tore his quad tendon from the bone Saturday and will require surgery, Kelly said. The tendon will need three months to reattach, and due to atrophy in that interim, Franklin will need another three months before he is back healthy. Kelly expects Franklin to be ready by spring practice.
"Kind of an unusual injury," he added.
Without Franklin and having already lost sophomore tackle Myron Tagovailoa-Amosa for much of the season to a broken foot, Notre Dame is down to just five defensive tackles on the roster: Fifth-year Jonathan Bonner, seniors Jerry Tillery and Micah Dew-Treadway, sophomore Kurt Hinish and freshman Jayson Ademilola. Sophomore Darnell Ewell moved to offensive guard earlier this season.
This could lead to seeing junior end Khalid Kareem lining up on the interior more often, something Irish defensive coordinator Clark Lea enjoys doing in obvious passing situations to get an additional rusher on the field or to stunt Kareem around an edge-aligned Tillery.
[protected-iframe id="4322d87b3e2eb4d11caa19723fa3b36c-15933026-22035394" info="//platform.twitter.com/widgets.js" class="twitter-follow-button"]