When Brian Kelly turned over his offense to junior quarterback Ian Book last week, he did it with hopes Book would be able to more frequently incorporate No. 8 Notre Dame's skill position players than senior Brandon Wimbush had through three weeks.
"We're looking for somebody to facilitate the offense and get the ball out to our playmakers, Kelly said Tuesday. "And that was one of the reasons why we thought Ian would be a great fit for that, and that happened."
Whether or not Wimbush should have been able to spread the ball around earlier in the season does not need to be re-litigated. Book is the starter, no matter what non-committal statements Kelly offered Tuesday and presumably will for at least the next couple weeks. That decision has been made, and Book benefits from it not just because of the obvious aspect of playing, but also from having more playmakers at his disposal than Wimbush did.
Even though seniors Miles Boykin and Chris Finke and junior Chase Claypool had not contributed in primary roles in the past, they have been the starting receivers all along this season; they were the obvious candidates for offensive fireworks. Senior tight end Alizé Mack and sophomore tight end Cole Kmet were expected additions in a theoretical sense entering the year, neither having proven much in the past but both possessing unique athleticism making them prime possibilities in offensive coordinator Chip Long's schemes.
Wimbush had those five, and Book will as well (though he has not yet had Kmet at his disposal due to a high ankle sprain).
To use Kelly's words, others were "not ready" for most of the season's first few weeks. Namely, junior running back Tony Jones, sophomore running back Jafar Armstrong and freshman receiver Kevin Austin. Given his hamstring injury in preseason practice, sophomore receiver Michael Young could easily be included with them.
With Book at the helm at Wake Forest in the 56-27 Irish victory, both Austin and Young showed up. As did Mack, nearly matching his season totals with six catches for 61 yards after managing just six catches for 74 yards in the first three games combined. Much of Mack's influx ties to Book, although some fault undoubtedly belongs with the Deacons' porous defense. Austin and Young, however, simply had not made plays to that point.
"We've been begging for it," Kelly said. "We've just been trying to get guys to emerge. There's a lot of running, a lot of tempo, a lot of pace. We want guys to emerge and continue to grow."
Austin had been targeted three times in the first three games, catching one for four yards. Against Wake Forest, he was officially targeted four times, pulling in two catches for 35 yards. That fails to include an 11-yard reception negated by penalty and an incompletion wiped off the board by a defensive pass interference.
"Kevin, obviously a freshman, the first couple of weeks of camp, really shot out of the starting line and looked great and then hit a wall a little bit," Kelly said. "He's bounced back and is starting to show that second burst.
"He's going to continue to emerge for us, and you'll see more and more of him."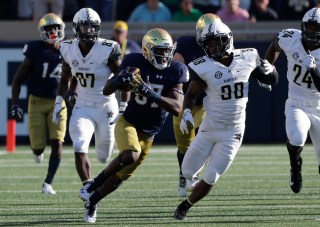 More weeks with six targets from Book should quickly add up. Young was targeted just once by Book, but it was rather notable going for 66 yards and finishing inside the 5-yard line. His clearly exhausted legs and subsequent inability to make one more cut to find the goal line likely ties to the lingering conditioning effects imposed by that hamstring injury. Nonetheless, Young adds a shifty deep element to Notre Dame's offense that was lacking without him through the season's first couple weeks.
"He's starting to feel better and better," Kelly said. "… We're just looking for guys that can continue to impact in all areas at the wide receiver position, running back and offensive line."
The continued growth from Armstrong and Jones changes the conversation at running back, as well. Yet even now, they still have key pieces of development ahead of them.
"They still have to pick their feet up and run through and make some more plays," Kelly said Saturday.
Another back should join their fray this weekend, helping lessen that workload and therefore make it more likely Armstrong and Jones manage to run through an additional tackle or two every handful of carries. Senior running back Dexter William's return to active status also adds another playmaker for Book's choosing.
"He gets into the second level, and he's an explosive back," Kelly said Tuesday. "Does he have 20 carries in him this week? Probably not, but I think he can be integrated within a backfield that is emerging and getting better each and every week."
Kelly said Williams has been working in selected drills with the first-string in the last couple weeks, meaning he should be able to get into any part of the game. However, Williams has never had more than eight rushing attempts in a game, not to mention a game when he had hardly been hit a month into the season, so expecting more than a handful of carries from the speedster against No. 7 Stanford may be an overzealous hope.
All three of the backs may have to remember who is at right guard on a given play. Senior Trevor Ruhland started in junior Tommy Kraemer's place at Wake Forest due to a sprained ankle Kraemer suffered last Wednesday. Ruhland played well — but again, the Deacons defense played terribly. Kelly did not completely close the door on Ruhland seeing continued playing time, perhaps in conjunction with Kraemer once the latter is healthy.
[protected-iframe id="4322d87b3e2eb4d11caa19723fa3b36c-15933026-22035394" info="//platform.twitter.com/widgets.js" class="twitter-follow-button"]