If there is any opponent this fall Notre Dame knows well, it is Stanford. Other teams are on this year's schedule just as they were last season's (USC, Navy, Wake Forest), but only the Cardinal return a starting quarterback and nearly all offensive weapons.
Yet, this No. 7-ranked team is unlike the Stanford renditions of the last few years. Let's turn to Jacob Rayburn of the Cardinal Sports Report to explain how so.
DF: Jacob, as always, I appreciate you taking some time out of the week to offer some thoughts from the Cardinal side of the country. With this matchup a little earlier than its usual mid-October or late November slot, I know even less about Stanford than I would usually claim to.
I typically start by discussing an opponent's offense, but I am actually more interested in the Cardinal defense. Entering the season I had low expectations for it, coming off its worst statistical season in David Shaw's tenure with 368 yards and 22.7 points allowed per game. Then losing Pac-12 first-teamers tackle Harrison Phillips and safety Justin Reed, second-team cornerback Quenton Meeks and a few other pieces, I figured the defense would continue to slide. Before diving into what has become reality, were your preseason expectations similar?
JR: There was no doubt in anyone's mind before the season most of the uncertainty was on the defensive side of the ball. Stanford lost playmakers in Phillips and Reid without any obvious heirs at defensive tackle or safety. On paper the defensive line was in the most questionable state of the Shaw era with only one returning starter, junior end Dylan Jackson, and not much proof they could consistently get into the backfield.
Any hope of a rotation up front relied heavily on underclassmen. There were a lot of eyes on the development of Dalyn Wade-Perry at nose tackle. The redshirt freshman has a lot of potential but before the season no one knew how fast he'd come along.
There actually was optimism before the season about the back seven, although there were several spots where depth was expected to be a problem. Joey Alfieri was back at outside linebacker after a year-long experiment to play inside. That really didn't work and there wasn't much doubt that his return to the outside would be successful. Sean Barton returned from a devastating knee injury last year and his athleticism combined with development on the mental side of the game was expected to be a big plus next to Bobby Okereke.
Stanford's safeties were considered a weak link before the season and many people were in wait-and-hope mode. Ben Edwards and Frank Buncom struggled at times the past couple years and neither has the all-around game Reid brought the past two seasons. Comparatively, there was a lot of excitement about the cornerback situation. Alijah Holder was on the mend after a knee injury last year and a healthy Holder is one of the best cornerbacks in the country.
Furthermore, Paulson Adebo was set to make his collegiate debut after redshirting last year. The coaches were very excited about him and it seemed only a matter of time until he beat senior captain Alameen Murphy for the starting spot opposite Holder. Murphy is a versatile player who can play nickel or safety and is still one of the unquestioned leaders of the unit.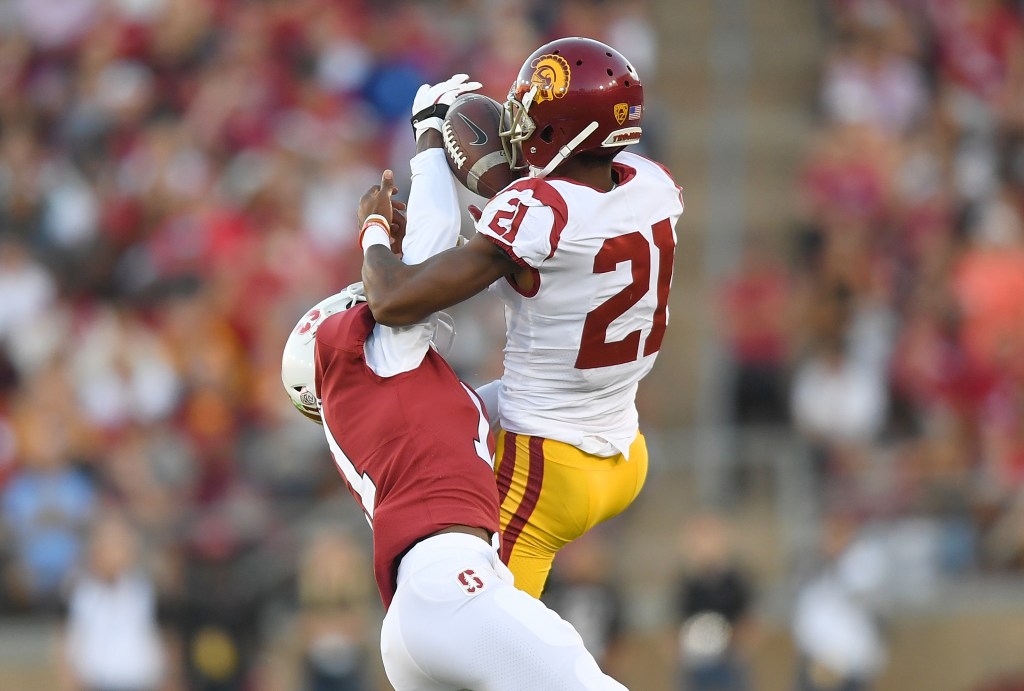 Instead, Stanford has allowed a mere 13.5 points per game. The 356.75 yards per game may not be a number Shaw likes, but that scoring defense stands out. To my eye, the Cardinal have relied on turnovers to effectively (and clichély) bend but not break. In the USC victory, for example, Stanford forced three turnovers. The defense has notched nine total this season. Is that the secret sauce or is there more in-depth analysis available behind the defense holding up thus far?
Compared to those preseason expectations the defense has been a pleasant surprise. There's no magic touch here, just a lot of work done in the offseason to come together as a disciplined unit. Alfieri said the defensive players held extra meetings and as early as January realized they needed to commit to having a great offseason. The coaches challenged them to bring back the "Party in the Backfield" mentality and also focus on making plays on the ball. Stanford starts each practice with individual drills that include techniques to get the ball away from offensive players. They want it to be muscle memory for every guy who steps onto the field and that was validated when former walk-on, seldom-used backup safety Noah Williams caused the game-saving fumble at Oregon.
Stanford defensive coordinator Lance Anderson has been very happy with how well each defender is sticking with his job and not playing hero ball. It hasn't been perfect in that regard and the Oregon game was a clear example of that.
The Cardinal were shredded by Justin Herbert in the first half but the defense shut down Oregon on its last seven drives, allowing only one touchdown. After the game the players summed up the change as simply doing their jobs correctly.
Last year Phillips and Reid were the bad-play erasers. They'd chase down the mistakes others made. There aren't any guys on this unit who can do that to the same level, so they shouldn't try. But when each guy does his 1/11th — a common phrase at Stanford — then good things happen.
Things have obviously shifted at Notre Dame this week with the insertion of junior Ian Book at quarterback. His specialty is a quick progression and some precision in the mid-range game, but he lacks a dangerous deep ball. Will the Cardinal defense be susceptible to that attack or would you expect the secondary to withstand the methodical approach?
The emerging strength of the defense is the cornerback play. Holder and Adebo are playing at a very high level and Murphy is a solid player who is a better tackler than his performance at Oregon would suggest. If Book and Notre Dame want to try to string together four or five passes to move the ball downfield that fits into what Stanford prefers to give. Anderson protects against the big play and trusts that Holder and Adebo will bring down receivers right at the moment of the catch. Also, there is confidence that eventually there will be a pass deflection. Adebo leads the country with 11.
Stanford will be without starting safety Ben Edwards for the second straight week and Malik Antoine will play instead. Antoine and Buncom are solid in coverage. It's Buncom's strength after starting his career at corner, but he needs to have a much better day of taking angles on receivers who catch passes in front of him than he did at Oregon. He had a couple really rough plays when an Oregon receiver ran around him.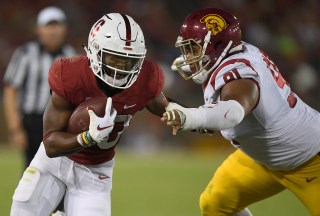 Flipping to the offense, the needed question is, where is Love? That is not an attempt at a knock-off Haddaway song. That is a wondering of how and why senior running back Bryce Love has just 254 yards and two touchdowns on a 4.3 yards per carry average. He missed the UC Davis game, but even in just three showings, one would expect the Heisman runner-up to produce more.
Bryce Love's disappearing act has much more to do with his supporting cast than his own ability. The offensive line has struggled mightily to open up lanes for him and there are a couple main reasons. One is that opposing defensive coordinators have constructed some dramatic unscouted looks that stumped the line and Stanford coaches at first viewing. San Diego State brought blitzers from all over the place in the season opener using their 3-3-5 scheme to create confusion.
Clancy Pendergast and USC went to an extreme mode with disguised shifts. Shaw said the following week it was unlike anything he's seen in 20 years. Defenses aren't sticking with their base against Stanford because what Love accomplished last season was unprecedented in terms of big plays.
The second biggest factor has been health. Stanford's line has been constantly hit by injuries going back to the start of the offseason when fifth-year center Jesse Burkett wasn't available until the final week of camp. He missed the first two games. Foster Sarell was injured in the USC game and he was a strong candidate to eventually win the left guard job. Devery Hamilton was the starting left guard but was out for the Oregon game. Right tackle A.T. Hall was hurt against UC Davis and played the second half at Oregon on one healthy foot.
But Shaw has also been disappointed by the lack of discipline — at least one holding penalty in each game and usually several — and the guys are getting beat one-on-one much more than is expected with a Stanford line. New offensive line coach Kevin Carberry implemented a new pass protection scheme and put in a lot of work improving pass protection, which has produced good results, but the same can't be said about the run blocking performances.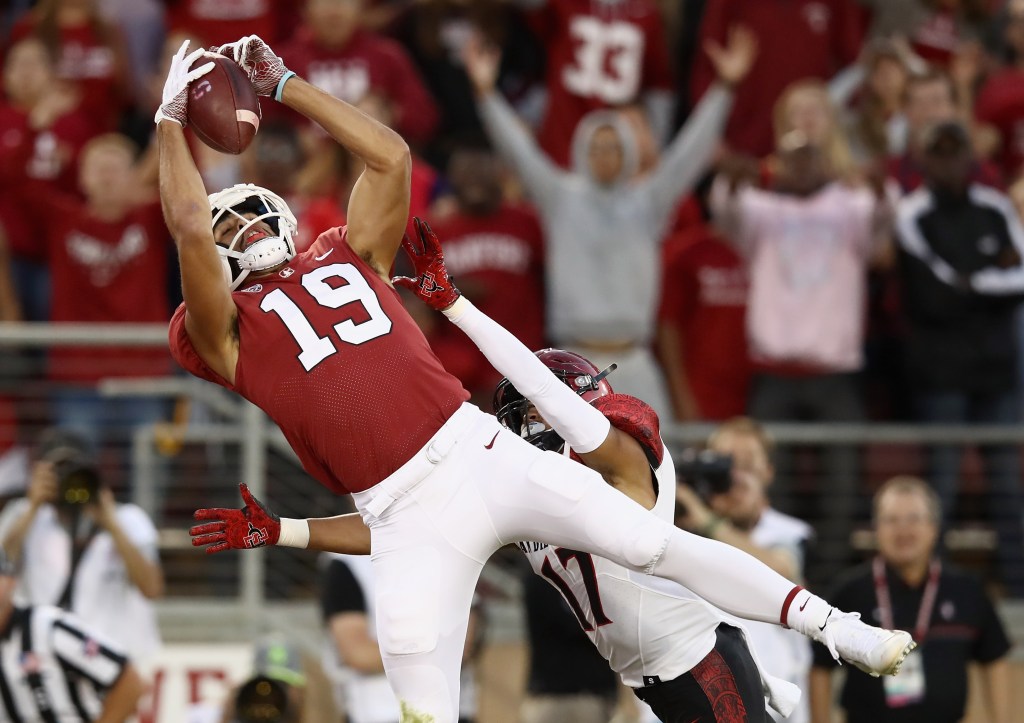 Not that Stanford's offense has lagged too much without Love excelling. Led primarily by quarterback KJ Costello and receiver JJ Arcega-Whiteside, the passing game has taken off: 10 touchdowns against three interceptions, 264 yards per game. That average would be the highest since Shaw's first year, the final season of some guy named Luck. Has this been the result of a shift in scheme or simply the development of personnel?
Stanford's passing offense has taken the lead because that's what Shaw has been forced to lean on as each game progresses. Costello has taken a step forward after taking over the job during last season. He is a smarter player now and has improved his pocket awareness and mobility in the backfield.
And why not lean on the passing game when you have Arcega-Whiteside and tight end Kaden Smith? They each have a chance to be one of the best in the country at their respective positions and are future NFL players. Tight end Colby Parkinson has become much more than a 6-foot-7 red-zone threat, so Costello is looking to him more and more between the 20s. Trent Irwin is "Mr. Reliable" at receiver and can be consistently counted on to make a play to move the chains. Then you add Bryce Love — who may get more involved in the passing game — and there are plenty of reasons for a quarterback to smile.
Stanford also is developing receivers redshirt freshman Osiris St. Brown and freshman Michael Wilson into greater roles. St. Brown had a big catch at Oregon and position coach Bobby Kennedy expects more from him with each game.
I have two broader view questions for you. First, how odd is it to be covering a Cardinal team seemingly driven by its offense and a bevy of playmakers? Aside from the 2015 fireworks provided by Christian McCaffrey, that has been rather rare at The Farm of late.
It's interesting that you reference 2015 because before the season that was the most obvious comparison to what Stanford has on this offense. This is not the 2013 offense that seemed to rely on pounding away down the field with the occasional big play over the top. In 2015 there was an effective balance between the two with a nice mix of explosiveness and time-eating drives. This year there is a quick strike feel that's different from last year. Last season Love's ability to break 50-plus yard runs ended a lot of drives quickly. Against Oregon, Stanford had two touchdown drives of three plays — five passes and one touchdown run by Love.
Secondly, Brian Kelly made the point this week that Stanford knows what it feels like to beat the Irish, but not vice versa with these rosters. "They have beaten Notre Dame. They believe that they can come in here and beat Notre Dame." Do you get that sense from the program at all? Just like nobody in an Irish uniform can claim to have beaten the Cardinal, all of Stanford's roster knows only victories against Notre Dame.
Stanford's players feel confident going into Notre Dame but the Oregon game served up plenty of humble pie to make sure they don't swagger into South Bend expecting the game to go their way. Of course it helps that this is a mature team that knows what it feels like to play in South Bend and win.  
With that trend in mind, what are your thoughts when you see the Irish favored by 4.5 points? (Editor's note: Since asking Jacob this, the spread has risen to 5.5 points.)
I think Notre Dame wins by a score. This has been a wonderful series to watch for most of the past 10 years and I expect a similarly tight game. I give the edge to Notre Dame with Book giving the offense a boost and knowing Stanford's offense has yet to put together a good performance for a full 60 minutes.
[protected-iframe id="4322d87b3e2eb4d11caa19723fa3b36c-15933026-22035394" info="//platform.twitter.com/widgets.js" class="twitter-follow-button"]