If it feels like Stanford's passing game has been focused on too much this week, it is only because the Cardinal do not usually have a dangerous passing game, let alone one nearly unique in the nation in its approach. Stanford's top-4 receivers stand an average of 6-foot-4 ¼ tall, with the shortest of them at 6-foot-2.
One might be tempted to argue Notre Dame's receiving corps stands just as tall. Literally, it comes close. Figuratively, hardly at all. The top-4 Irish receivers average 6-foot-2.66, a number lowered by 5-foot 9 ½ senior Chris Finke. The other three — senior tight end Alizé Mack, junior receiver Chase Claypool and senior receiver Miles Boykin — average 6-foot-4 ⅜, but they do not play as tall as the Cardinal quartet. Stanford junior quarterback K.J. Costello frequently relies on their height (namely 6-foot-7 tight end Colby Parkinson) and vertical athleticism (6-foot-3 receiver J.J. Arcega-Whiteside), whereas it is the physical presence of Claypool and the mismatched speed of Mack that make them alluring targets.
"They have size," Notre Dame head coach Brian Kelly said Thursday of the Cardinal approach. "They have very smart and savvy receivers. They play back into the defenders and they obviously know how to control themselves playing for the football. They're certainly a challenge."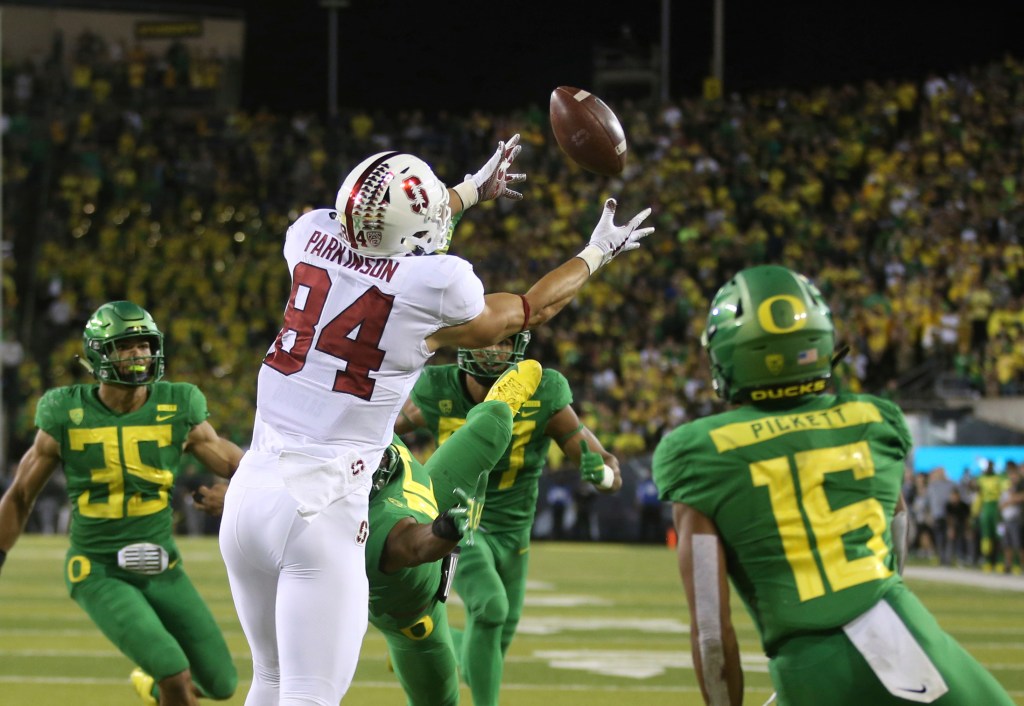 Will the Irish secondary be able to contain Stanford's aerial attack? It averages 264 yards per game, compared to the 223.5 Notre Dame has given up thus far, all to passing games yet to find their exact footing. To keep Costello on the lower end of that difference, the Irish safeties will have to show up. Imagine saying any part of that sentence with sincerity a year ago.
Juniors Alohi Gilman and Jalen Elliott will almost certainly be needed to help Notre Dame's lauded cornerbacks over the top. As much praise as Gilman and Elliott have received this year, and deservedly so, they rarely have been tested in coverage. Gilman made a couple nice plays defending a Michigan tight end in the opener, notching two pass breakups with his efforts, including one in the end zone, but that has been about it. Even then, Gilman was defending a route, not a spot.
Nobody matches up well against a 6-foot-7 target with good hands. It becomes about beating him to the spot as much as it is defending the pass. If Parkinson cannot establish his position where the play calls for, it becomes that much harder for Costello to target him. Studying film can help that cause, but recognizing it in real-time becomes another challenge.
"Oregon was in pretty good coverage late in the game and [Costello] was able to fit the ball into tight windows," Kelly said. "Grit, moxie, he has a good character set there to help his football team win."
Some of that challenge will land at the feet of the Irish linebackers. A former safety, fifth-year Buck linebacker Drue Tranquill should fare well in that aspect, but senior Te'von Coney's greatest weakness has long been pass defense. He has improved this year, but has yet to show true aptitude in that duty. By no means does Notre Dame have an inherently better option, aside from turning to a dime package heavily-reliant on defensive backs and perhaps just as liable against tight end maneuverings. Will Coney finally showcase a complete game, both helping the Irish this weekend and himself in future aspirations?
Of course, Coney and Tranquill and senior rover Asmar Bilal will also be counted on against the run game, headlined by Stanford star running back Bryce Love. Mostly, though, Notre Dame's defensive line will have to hold that point of attack. When stories claim the Cardinal offensive line has dropped off this season, it is similar to saying such of the Irish offensive line. Just because it is not as great as it was the last few years does not mean it is not still plenty good.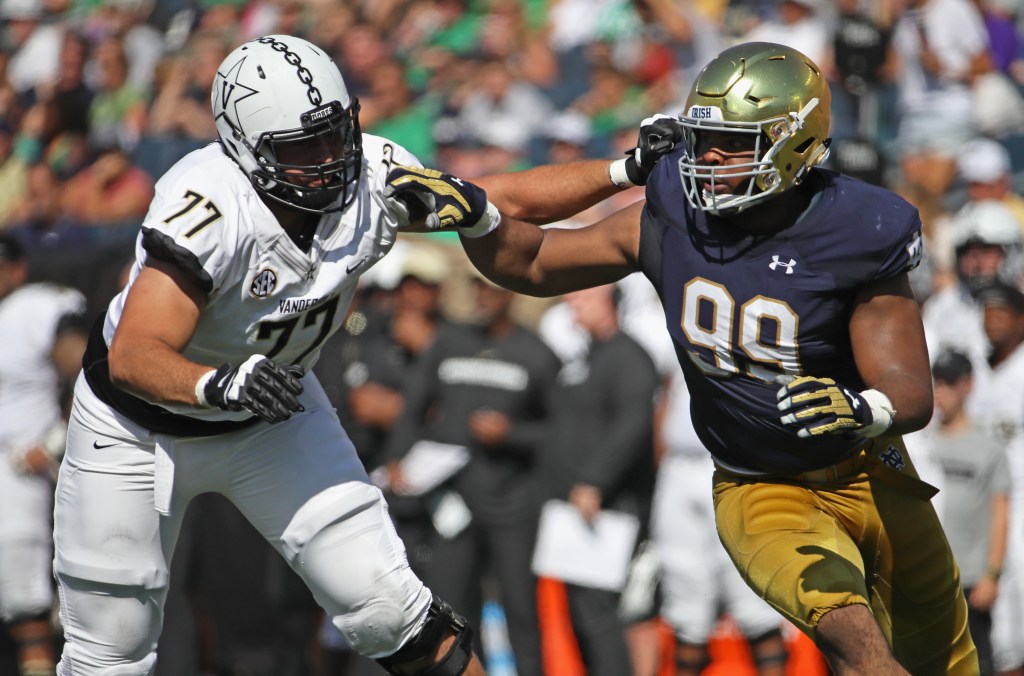 Will Notre Dame's defensive line hold up against the first worthwhile offensive line it faces this season? Lacking such a front was a large part of Michigan's undoing to start September. Stanford does not have that problem.
What will help the Irish is the plodding pace preferred by the Cardinal and Costello. Wake Forest has run 372 plays in four games this year, second in the country in plays per game at 93. Context: Texas Tech leads the country with exactly one more play at 373 through four games. Stanford has run 232 plays, a mere 58 per game.
"We're going to play our top guys, but this won't be a situation where we feel we've got to get a guy out just to get him out," Kelly said.
Notre Dame's defensive line is not yet hurting for depth — the quick progress from freshman tackle Jayson Ademilola means it still goes a solid eight deep despite the loss of sophomore Myron Tagovailoa-Amosa — but being able to keep senior tackle Jerry Tillery in for three-quarters of the snaps, it not far more, is a luxury the Irish will not often enjoy this season. His ability to not only hold the point of attack but to also disrupt it is unparalleled on Notre Dame's roster, and the Irish will need that against the Cardinal who have converted 66.7 percent of its third-and-shorts, per Bill Connelly's S+P data.
In some respects, that pace of play could make this game feel like a matchup with Navy does. The Midshipmen run plenty of plays, 74.75 per game, but their triple-option attack leads to long drives and a lopsided time of possession pie chart and fewer drives for their opponent. This exact phenomenon is what got No. 5 Oklahoma into trouble against Army last week. The Sooners offense just rarely had the ball.
Stanford, similarly, reduces the number of drives in a game. On average, there is one fewer competitive possession per team in regulation in the Cardinal's four games than there have been in Notre Dame's. Perhaps more notable, the Irish had 14 such possessions against Ball State, while Stanford has twice topped out at 12.
All this is to say, scoring opportunities may be scarce Saturday night (7:30 ET; NBC) just because all opportunities will be scarce. Notre Dame will need to be efficient with the drives it does have.
That will be a test for junior quarterback Ian Book. As good as he was last week, and he was, it was still against a defense playing so poorly in the last year-plus that Deacons head coach Dave Clawson immediately set to firing his defensive coordinator. This may not be a vintage Cardinal defense — the respective season preview in this space included phrases such as "meager expectations," "not meant to sound entirely negative," and "losing the aforementioned defensive stalwarts" — but it has performed far better than was expected entering the season.
This will be a much more indicative test for Book. If the Irish can produce against Stanford, then it further raises the 2018 ceiling with Book behind center.
Somewhere here, and given this offensive segment here feels appropriate, it should be acknowledged the simplest of things to learn this weekend: How will senior running back Dexter Williams be reintegrated into the offense? Anything more than his career-high in carries of eight would be a shock.
A fun prop may be to wonder which will be higher: Williams carries or tight end receptions? Mack has caught a career-high six passes in two games, Book's two starts.
"Ian is somebody that's going to find the tight end," Kelly said simply enough.
Back to the matters at hand … Raising the 2018 ceiling will tie to seeing how Book and Notre Dame as a whole fare in a tight situation. Hard as this may be to believe, the Irish have won their last five one-possession games, including the first four contests in their current five-game winning streak.
Nonetheless, the Notre Dame offense has not had to produce in the closing moments, or really in a fourth quarter much at all. The Wolverines were not within one possession until 2:18 remained. Ball State didn't get within that much until 1:30 was left on the clock. Vanderbilt managed to close to such a gap with 7:22 to go, but it still never found a lead to put make-or-break pressure on the Irish offense.
Notre Dame has been outscored 38-7 in its last three fourth quarters against the Cardinal. The Irish may need to reverse that trend this weekend, even if they haven't needed to or proven they can yet this season.
Stanford is undeniably the best team Notre Dame has faced to date and likely will be all season. How Book fares against a worthwhile defense, especially late in the game, will determine the conversation for the rest of 2018, one direction or another.
Regarding opponents … How does Syracuse fare at No. 3 Clemson at noon ET on ABC?
Come Sunday, what time will be granted for the Notre Dame at Virginia Tech kickoff on Oct. 6? That announcement was placed on a six-day hold, meaning it will finally be decided sometime this weekend. The options are 3:30 or 8 ET.
[protected-iframe id="4322d87b3e2eb4d11caa19723fa3b36c-15933026-22035394" info="//platform.twitter.com/widgets.js" class="twitter-follow-button"]