As Notre Dame's success thus far puts more and more scrutiny on its remaining schedule, weekends like this past one stand out. The Irish opponents went 7-4 with those four losses all coming against teams now ranked in the AP top 15, including No. 6 Notre Dame itself.
Michigan (4-1): The Wolverines tried their hardest to gift a game to Northwestern, yet came back with 20 unanswered points to win 20-17. Michigan outgained the Wildcats 376 yards to 202, but three short fields gave Northwestern a 17-0 lead. Jim Harbaugh's team could exhale only when running back Karan Higdon took a carry five yards for the 20-17 margin with 4:06 left, his second touchdown of the day.
The Wolverines now host Maryland (12 ET; ABC) as 17.5-point favorites. The combined point total over/under of 53 implies a 35-18 result.
Ball St. (2-3): The Cardinals enjoyed their best day of the season in a 52-24 victory against Kent State, snagging a conference victory in their first MAC game. Considering Ball State has not won multiple conference games since 2015, this start creates a decent chance at matching that pair, if not more.
Quarterback Riley Neal led the way by completing 30 of his 50 passes for 402 yards and four touchdowns, adding 61 yards and another score on 11 rushes.
The Cardinals now host Northern Illinois (3 ET; ESPN3) and are only 3.5-point underdogs, so perhaps they can flip the indicated 27-24 conclusion and keep the MAC success rolling.
Vanderbilt (3-2): The Commodores were not supposed to struggle against FCS-level Tennessee State. Suffice it to say, they did. It took a 68-yard touchdown pass from Kyle Shurmur to Kalija Lipscomb with 6:20 remaining to pull out a 31-27 victory. Vanderbilt had no one but itself to blame, losing the turnover battle by a negative-two margin and therefore cancelling out much of the total yardage differential, which was 553 yards for the 'Dores and 373 for the Tigers.
From here on out, Vanderbilt gets to enjoy SEC play, and this week that means heading to No. 2 Georgia (7:30 ET; SEC Network) as a 26.5-point underdog. The over/under of 52 means bookmakers expect Georgia to struggle offensively, relatively speaking. A 39-13 Bulldogs victory would be the second-fewest points they have scored this season, ahead of only last week's 38.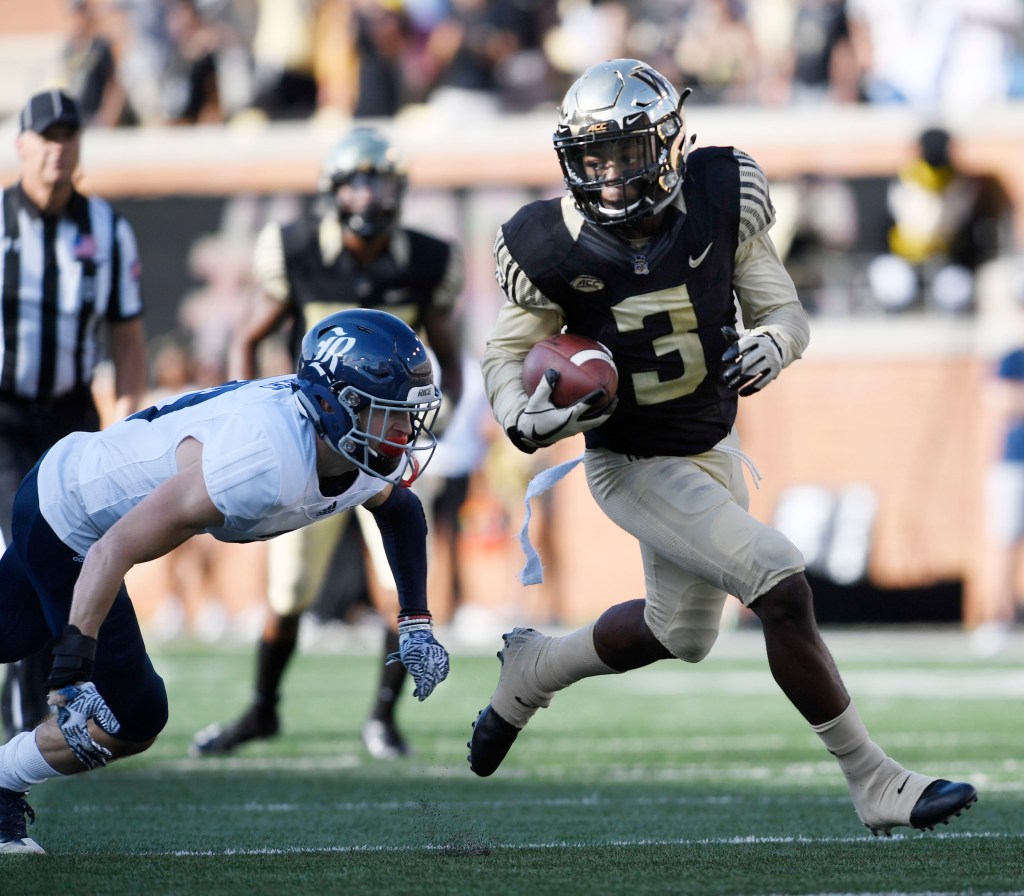 Wake Forest (3-2): The Deacons' efficient offensive performance in a 56-24 victory against Rice just a week after Notre Dame kept them in check speaks to the level of the Irish defense. Facing Notre Dame, freshman quarterback Sam Hartman completed 12 of 24 passes and junior receiver Greg Dortch caught only six for 56 yards. They fared better with the Owls in town; Hartman completed 15 of 17 passes for 241 yards and four touchdowns. All four of those scores went to Dortch, as did 11 completions for 163 yards.
Hartman and Dortch may need to replicate all of that against No. 4 Clemson (12 ET; ESPN) to cover a 17-point spread, especially if Tigers freshman quarterback Trevor Lawrence starts. The 62-point over/under suggests he will in a 40-22 Clemson win.
Stanford (4-1): The 21-point loss handed to the Cardinal by Notre Dame was only the fifth of that magnitude during David Shaw's tenure as head coach, a span that reached exactly 100 games Saturday. The previous four:
2011 vs. No. 6 Oregon, 53-30.
2014 at No. 5 Oregon, 45-16.
2016 at No. 10 Washington, 44-6.
2016 a week later vs. Washington State, 42-16.
In the games following those, Stanford covered the spread only in the last instance, upsetting Notre Dame, making this weekend's 5-point edge against Utah (3 ET; ESPN) seem a bit dubious. The Utes may not win, but they should fare better than the 26-21 result expected by an over/under of 46.5.
Virginia Tech (3-1): The Hokies rebounded well after that humbling loss to Old Dominion two weeks ago. Virginia Tech went back on the road and beat a genuinely good Duke team 31-14. Starting in place of injured Josh Jackson, quarterback Ryan Willis went 17-of-27 for 332 yards and three touchdowns. It may not be accurate to say the Hokies are better off with Willis than they were with Jackson, but the thought can at least be considered after Willis' debut, especially if remembering Virginia Tech was a 5.5-point underdog.
That same margin currently applies to the Hokies matchup with the Irish (8 ET; ABC). A 54-point over/under infers a 30-24 ending.
Pittsburgh (2-3): If possible, the Panthers' 45-14 loss at Central Florida was worse than the score indicates. The Knights outgained Pittsburgh 568 yards to 272 and held the Panthers to 109 yards on 33 rushing attempts, an average of 3.3 yards per carry,
Pittsburgh should at least be able to score more this weekend even though they are 5-point underdogs against Syracuse (12:20 ET). Odd as it may seem, the ACC matchup is available on only regional sports networks, which is bothersome considering the possible early-afternoon entertainment value of a game cruising past its over/under of 60 points.
Navy (2-2): Coming off a bye needed simply due to travel demands that have already been quite lengthy, the Midshipmen now travel up into the Rockies to face Air Force (3:30 ET; CBS SN). Navy is favored by 3.5, and should win thanks to the week off, but a grinding, methodical afternoon will be in store. The service academies rarely combine to score more than the 49.5 expected points, a theoretical 27-23 tally.
Northwestern (1-3): Without running back Jeremy Larkin — who retired from football last Monday due to a diagnosis of cervical stenosis — the Wildcats struggled mightily to run the ball. Adjusting for sacks (of which Michigan managed six), Northwestern took 28 carries for 71 yards, a 2.54 yards per attempt average. That is how you give up a 17-point lead to a conference opponent.
Life does not get much easier for the Wildcats, traveling to No. 20 Michigan State (12 ET; FS1). The 11.5-point underdogs did cover without much trouble last weekend, and while that hardly matters in the real-world of binary results, little more should be expected from Northwestern this weekend, keeping things within the 29-18 score projected by a 47.5-point over/under.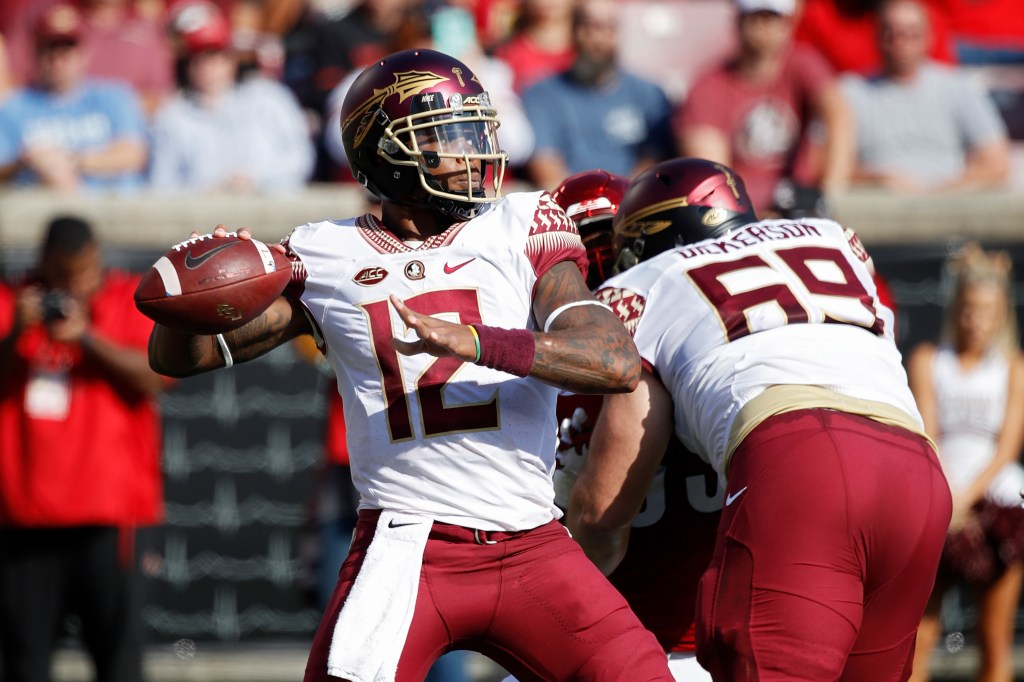 Florida State (3-2): The Seminoles won an ACC game. To repeat: Florida State will not go winless in conference play. That was never a strong possibility, but losing their first two by lopsided scores left the Seminoles in position for such quips. They ended that fun with a 28-24 win at Louisville.
Quarterback Deondre Francois completed 16 of 27 passes for 294 yards and four touchdowns, the most important of which came from a 58-yard completion to Nyqwan Murray with only 1:13 left.
Florida State probably will not turn the triumph into a winning streak as it heads to No. 17 Miami (3:30 ET; ABC) with the Hurricanes favored by 12.5 with an over/under of 50.5. A 32-19 loss to an in-state rival would not be a good chapter for Willie Taggart to add to his first season in Tallahassee, but expect something along those lines, nonetheless.
Syracuse (4-1): There was more to the Orange's 27-23 loss at Clemson than the injury to Tigers freshman quarterback Trevor Lawrence and the subsequent solid play from backup Chase Brice. The observant eye hardly expected Syracuse to pull off the upset even as the clock ticked into the final minute with the Orange still ahead.
That acceptance of the inevitable tied to Clemson's success in recent years and winning ways in close games. It was a result of Syracuse kicking three first-half field goals, a tough way to find a victory on the road. And it had logic when realizing Clemson outgained the Orange 469 yards to 311 but turned over the ball three times to only one from the Orange.
Syracuse should be able to rebound against Pittsburgh, though, despite that regional sports network idiocy. At least it is better than pay-per-view.
USC (3-2): The Trojans barely got by Arizona, 24-20, but they did, and that was despite three turnovers compared to only one from the Wildcats. Running back Aca'Cedric Ware (pictured at top) paced USC with 21 carries for 173 yards and two scores, part of the team's 47 rushes for 253 yards, a 5.4 yards per attempt average.
This win mattered more than may be realized. The Trojans got off to a slow start this season, and a 24-20 victory against Kevin Sumlin's staggering Arizona is hardly a sign that USC has figured it out, but as long as the Trojans win their games in the Pac-12 South, they are in position to reach the conference title game. At this point, USC is 2-1 in the conference heading into a bye.
12 p.m. ET: Michigan vs. Maryland on ABC; Wake Forest vs. Clemson on ESPN; Northwestern at Michigan State on FS1.
12:20 ET: Pittsburgh vs. Syracuse.
3 p.m. ET: Ball State vs. Northern Illinois on ESPN3; Stanford vs. Utah on ESPN.
3:30 ET: Navy at Air Force on CBS SN; Florida State at Miami on ABC.
7:30 ET: Vanderbilt at Georgia on the SEC Network
8 ET: Virginia Tech vs. Notre Dame on ABC.
Favorites: Michigan -17.5; Stanford -5; Navy -3.5; Syracuse -5.
Underdogs: Ball State +3.5; Vanderbilt +26.5; Wake Forest +17; Virginia Tech +5.5; Pittsburgh +5; Northwestern +11.5; Florida State +12.5.
[protected-iframe id="4322d87b3e2eb4d11caa19723fa3b36c-15933026-22035394" info="//platform.twitter.com/widgets.js" class="twitter-follow-button"]