The season-ending injury to fifth-year Alex Bars obviously hinders No. 6 Notre Dame's offensive line at left guard, but it also may lead to reduced play at left tackle. Bars moved to left guard from right guard in the spring specifically to line up next to junior Liam Eichenberg, a three-year starter and captain providing an experienced crutch for a first-year starter to lean on.
Eichenberg was to have that help for a full season, not just five weeks.
"I'd rather have Alex Bars next to him," Irish head coach Brian Kelly said Tuesday when asked if Eichenberg is ready to handle the position without his usual linemate. "[Eichenberg] certainly has progressed each and every week that he has gotten more snaps. We knew that would be the case."
If there is any solace to the situation, it surprisingly comes in the form of Notre Dame's limited offensive depth. Only one reserve lineman can boast much experience — and even that is in terms of one career start and many years working as a backup center — but that reserve is indeed a backup guard these days. In fact, senior Trevor Ruhland's years of working at center in practice should help him step right into Bars' stead alongside Eichenberg.
"His bones have been made by playing center," Kelly said. "By nature, he's had to be that kind of player, one that has to communicate, one that has to call out fronts."
By no means is losing Bars anything but unfortunate — in many regards, the midseason adjustments will compare to and arguably be tougher to manage than those needed in the spring and preseason to replace last year's left-side All-American duo — but Ruhland is just a week removed from starting and playing an entire game at left guard while junior Tommy Kraemer recovered from an ankle injury. Ruhland also played plenty against No. 7 Stanford once Bars went down.
"It makes for a pretty good situation where you can plug him in," Kelly said. "That's kind of how he's been coached and taught, so he does a really good job of that.
"When we put him in against Wake Forest, it was extremely seamless. In that situation, we expect the same."
The Irish will need that performance from both Eichenberg and Ruhland this weekend at No. 24 Virginia Tech (8 ET; ABC). To borrow a line from The Athletic's Andy Bitter, who was borrowing from the legendary Mark Twain quip, "The reports of Virginia Tech's demise were greatly exaggerated." Especially as they pertained to the Hokies defense. Against No. 22 Duke, Virginia Tech (3-1) allowed just 2.0 yards per rush, managed three sacks and held the Devils to only 4-of-16 on third downs. The debacle two weeks ago at Old Dominion was the anomaly, not a data point from which to start a new trend.
"[Hokies defensive coordinator Bud] Foster has earned that respect over his career and what he's been able to do," Kelly said. "He can do about everything from a defensive standpoint."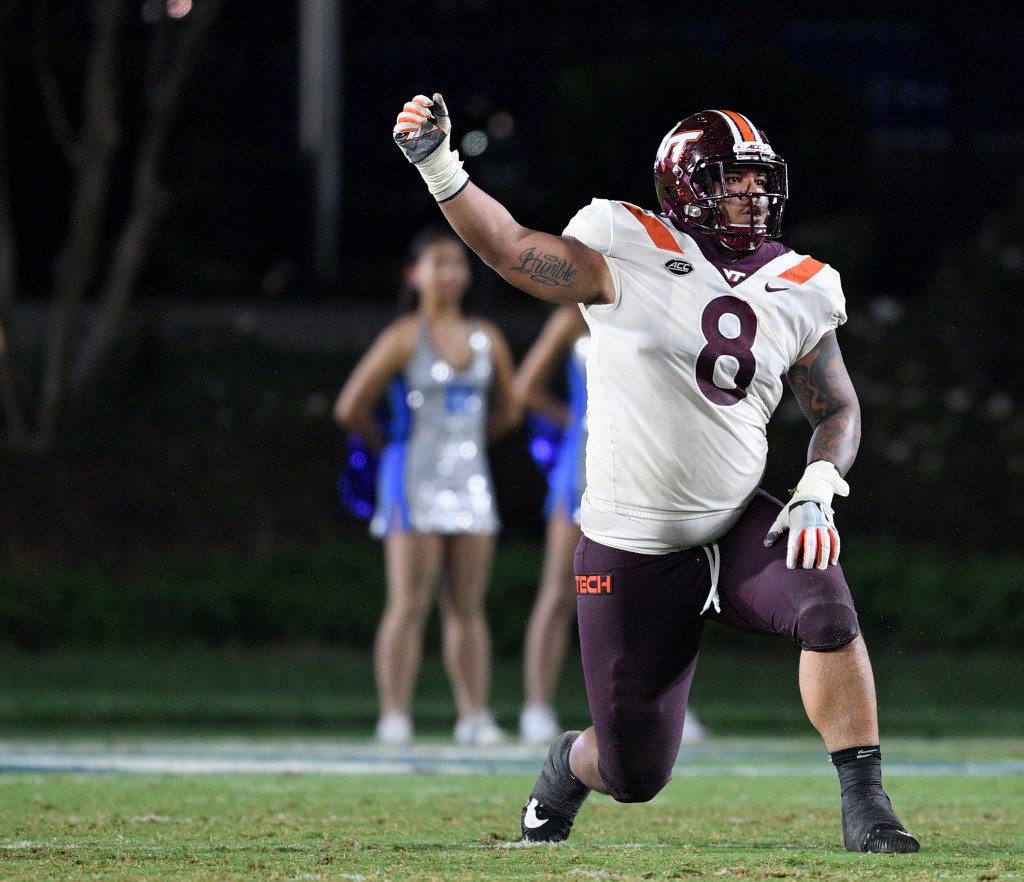 Kelly highlighted senior defensive tackle Ricky Walker and junior defensive end Houshun Gaines, the duo which combined for those three sacks against Duke.
"They run to the football. They're athletic and they play really hard," Kelly said.
Walker and Gaines lead a defense that allows 2.65 yards per carry, good for No. 7 in the country, and 84 rushing yards per game, ranked No. 4. Removing the loss at Old Dominion from the numbers, the Hokies have given up 2.14 yards per attempt and 66.33 per game in their three wins. For context, Michigan allows 2.37 yards per rush and 86.40 per game, including Notre Dame's 132 rushing yards on 47 carries, a 2.8-yard average.
In other words, Ruhland will be needed and Eichenberg cannot noticeably drop off if the Irish are to maintain the offensive success found in the last two weeks.
ON DEXTER WILLIAMS' RETURN
Some things are better offered without further explanation or addition. This may be one of them.
Kelly was asked about senior running back Dexter Williams and his relationship with his mother, who moved from Orlando, Fla., to live with Williams for much of the season to help focus through his four-week suspension.
"She's the matriarch of that family," Kelly said. "I remember recruiting Dexter, and Dexter's home was kind of a safe sanctuary for all the kids in the neighborhood. So she would have, I know when I visited that home, 10-15 kids in that home, just because it was a safe sanctuary. She was the matriarch of that neighborhood.
"So there's a very strong relationship there. If I have ever had a problem, I just call her and it gets fixed like that. There's no debating when it comes to his response to his mother.
"Certainly she's going through a difficult time right now, but she's very strong and inspirational to Dexter. His fight to get back to where he is was certainly personal, but family had something to do with it, as well."
Eric Hansen of the South Bend Tribune wrote a feature worth reading on Cheryl Williams and her fight with a terminal illness.
JONES' ANKLE, KAREEM'S ANKLE
With Dexter Williams back in the fold, Notre Dame may be able to manage without junior running back Tony Jones, but it would rather not need to. Kelly said Jones' ankle sprain responded well in the first few days of the week.
"He's probably better than we at first indicated or thought. … He's in a really good position to get after it today in an aggressive manner on a Tuesday. Better than had been forecasted."
Junior defensive end Khalid Kareem will have to continue playing through such an injury. Each and every week, Kareem has needed to be helped off the field at some point. A balky ankle clearly slowing him, despite his success thus far this season. With the bye week a fortnight away but sandwiched by two opponents expected to be less formidable than the Hokies or even Northwestern, Kareem may be able to get some time off if he can grit his teeth through this week.
"The bye week would be good for him," Kelly said. "But he's a tough kid. He'll come back out and he is going to practice hard even if he's a little dinged up."
[protected-iframe id="4322d87b3e2eb4d11caa19723fa3b36c-15933026-22035394" info="//platform.twitter.com/widgets.js" class="twitter-follow-button"]