A backup quarterback transferred in from the Charlie Weis-created debacle known as Kansas, playing in an atmosphere supporting him, a crowd at the least much more formidable than No. 6 Notre Dame is used to.
A defense burned for 632 yards by Old Dominion, but led by a Hall of Fame defensive coordinator.
No. 24 Virginia Tech (3-1) is something of an enigma thus far this season. To help explain the Hokies, we turn to Mike Barber of the Richmond Times-Dispatch.
DF: I appreciate you taking some time to educate Notre Dame fans, Mike. Otherwise the only thought in many heads may be, "Virginia Tech lost to Old Dominion. This should be easy." We will certainly get to that. I know you told me you have been at the Richmond Times-Dispatch since 2012. Have you been on the Hokies beat for that whole stretch?
MB: Yep, started in Feb. 2012, so this is my sixth football season covering the Hokies. In 2016, I started also cover U.Va.
Before diving in to that massive upset of two weeks ago, let's take care of the proverbial housekeeping. Virginia Tech has lost so many expected defensive contributors over the last few months, keeping track of them from afar is somewhat difficult. Looking through my notes, I have senior cornerback Adonis Alexander, senior nickel back Mook Reynolds and junior college transfer cornerback Jeremy Webb as all gone, and all were possible starters. Then the day after that Old Dominion loss, head coach Justin Fuente dismissed defensive end Trevon Hill, despite Hill's leading the Hokies in sacks. Am I missing anybody? Have I mischaracterized the importance of any of these losses? Was this all a coincidence? Of these names, I think only Webb's was injury-related.
That's a good list. Tech lost three senior starters last year – linebacker Andrew Motuapuaka and cornerbacks Greg Stroman and Brandon Facyson – then had defensive tackle Tim Settle, linebacker Tremaine Edmunds and safety Terrell Edmunds leave early for the NFL draft. Alexander wasn't going to be academically eligible, so he went to the NFL supplemental draft. Reynolds had a drug arrest and was dismissed. Webb, a junior college transfer and the expected replacement for Alexander at corner, injured his Achilles working out his first day on campus. Then the day after the Old Dominion loss, Tech booted Hill.
So, at kickoff Saturday night, the Hokies will be without 10 players who either started last season or were expected to start this year. (Editor's context: Notre Dame is without six players who fit those parameters, but five were part-time starters at best, if not less this season. No position was left completely bare with the closest spot being the situational nickel back without senior Shaun Crawford.)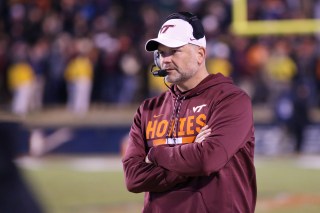 Without Hill, how viable is Virginia Tech's remaining defensive line? Senior tackle Ricky Walker earned third-team All-ACC honors last year, while junior defensive end Houshon Gaines managed 2.5 sacks at Duke last week (splitting that third one with Walker). The Irish offensive line is going to be adjusting this week without fifth-year left guard Alex Bars. Can the Hokies take advantage of that?
The defensive line is the strength of the defense this year, even without Hill. A week ago, in an effort to protect the young secondary that got exploited by Old Dominion, coordinator Bud Foster rushed three and dropped eight players in coverage. Still, Tech was able to get a ton of pressure on Duke quarterback Daniel Jones, led by Walker and Gaines.
Foster dubs Walker the "bell cow" of the defense and Gaines is an up-and-coming star. Gaines will be playing with a heavy heart. His mother passed away Monday. Emmanuel Belmar is playing in Hill's spot, with a trio of redshirt freshmen also rotating in there.
For Tech to be successful against the Irish, the defensive line will have to play well.
RELATED READING: Virginia Tech anticipating Houshun Gaines to play against Ntore Dame following death of his mother
Sticking with Virginia Tech's defense, and looking back at that loss to Old Dominion — the Hokies gave up 632 yards. The offense did its part, scoring 35 points, but Foster's defense just got gashed. What happened?
In short, everything we predicted might happen in the season opener against Florida State reared its head in Norfolk against the Monarchs two weeks ago. Virginia Tech's rookie corners got beat one-on-one, losing battles for the ball when passes were in the air. The two rookie inside linebackers got out of their gaps and missed tackles. Whip linebacker Khalil Ladler, playing back at safety in place of Divine Deablo (who is back this week), was not comfortable in that position and struggled.
Maybe most of all, when Foster attempted to make in-game adjustments to combat Old Dominion's game plan of testing the young corners, his inexperienced defensive personnel struggled to take that coaching on the fly and put it into action. Again, many of us thought this would happen in Tallahassee in the opener, but the Seminoles' offensive game plan that night never really stressed the defense enough to force in-game adjustments.
By the end of the season,  I expect this to be a fairly decent defensive team. It certainly looked dominant against Florida State and very good against Duke. The problem, being so young, is consistency.
Flipping to offense, how is the Hokies offensive line? Notre Dame's defensive line has come on strong this season, now with 10.5 sacks among 20.5 tackles for loss. It often feels like those numbers do not do proper service to the consistent pressure provided by the front, headlined by senior tackle Jerry Tillery and junior end Khalid Kareem. Will Virginia Tech be able to slow them down?
The offensive line is much improved this season over recent years. It brought back three starters and honestly, the lineup itself has been a week-to-week, sometimes series-to-series, rotation of change. But Tech has the pieces to play well up front. Left tackle is maybe the most interesting spot. Redshirt freshman Silas Dzansi missed last week but is expected back against Notre Dame. True freshman Christian Darrisaw started last week and likely will again, even with Dzansi's return.
Sixth-year senior Kyle Chung can play – has played – all five positions on the line, so his versatility allows line coach Vance Vice some freedom moving his pieces around.
The results, at least so far, have been mixed. Tech is averaging a respectable but not amazing 4.6 yards per rush. Its allowed eight sacks in four games. This is the best defensive line the Hokies have faced this season and I expect them to have some trouble controlling Notre Dame's front.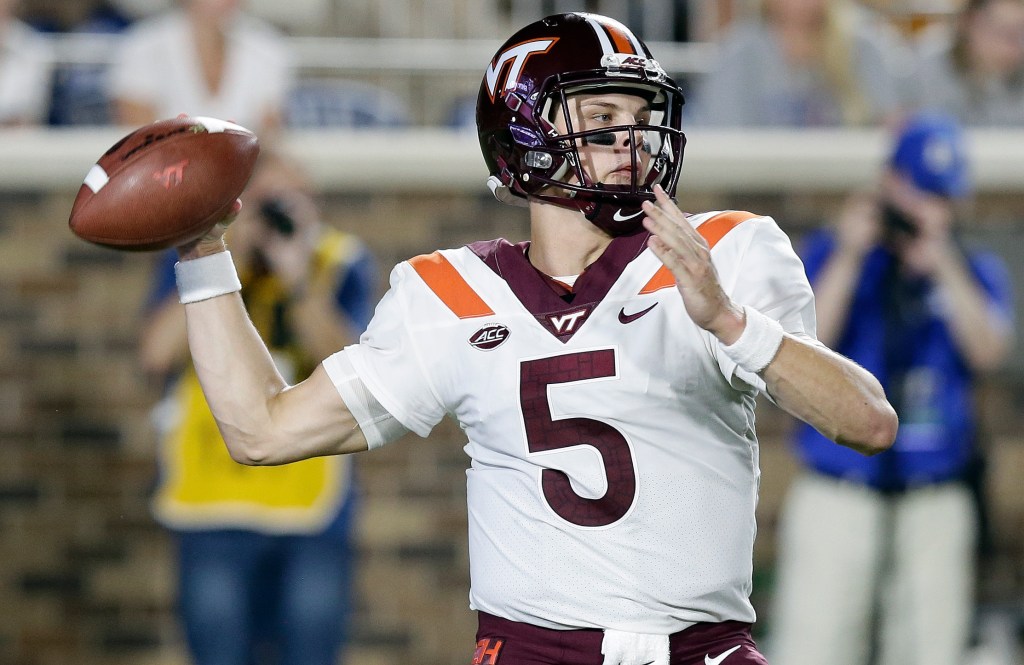 What could be gleaned from junior quarterback Ryan Willis in his start against Duke in place of injured sophomore Josh Jackson? Looking at things like completion percentage and yards per attempt, it takes a logical leap to say Willis is a significant improvement over Jackson in the passing game, but his 332 yards top all but one of Jackson's 15 single-game efforts, and Willis did it against a strong Devils defense.
Willis, a transfer from Kansas, had big game against Duke, moving the offense with his passing. He threw for 332 yards and three touchdowns and had five different receivers catch passes for more than 24 yards. All that earned him ACC quarterback of the week honors.
Duke didn't get much pressure on Willis. I expect that to change this week.
Willis might have a stronger arm for deep balls than Jackson. Overall, I'd say there's not much change for Tech since Jackson broke his leg. Jackson was a steady, productive player behind center, but not a superstar. I expect the same from Willis.
He's a very good passer and a more-than-capable runner in the sense of getting yards when the yards are there. If he keeps the ball on an RPO play and there's 12 yards there to gain, he'll gain them. He won't turn that into a 65-yard touchdown. Neither would Jackson.
Before getting to some version of a vague prediction, let's close with the most important question: Is the "Enter Sandman" entrance as enjoyable as it is hyped to be? I have high hopes. Start preparing me now to be let down if need be.
I remember the first time I experienced it, I was still in college at Rutgers, covering a game at Lane Stadium. I was blown away. Over the years, the novelty has worn off some for me – but not when it's a night game. I expect Saturday night to be one of the times when all the ESPN gushing about what a great venue Lane Stadium is holds up. And yeah, I think you'll like "Enter Sandman."
Notre Dame is currently favored by 5.5 points. What do you expect from Saturday night? Have I missed anything notable that may factor in, aside from Frank Beamer's bronze statue?
Virginia Tech is way better than it looked in the Old Dominion loss and it showed that against Duke last time out. The offense is going to have a fine season, even without Jackson, and the defense is rounding into form, even after losing Hill. I expect the Hokies to end up competing for the ACC Coastal Division title with Miami. (The Hurricanes visit Blacksburg on Nov. 17.)
That said, I don't expect them to be able to compete with Notre Dame on Saturday night. I expect a decent game in the first half, as the team's feel each other out. But I expect the Irish to exploit mistakes by Tech's defense in the second half as young players again struggle with in-game adjustments.
I have Notre Dame winning this game by a touchdown.
[protected-iframe id="4322d87b3e2eb4d11caa19723fa3b36c-15933026-22035394" info="//platform.twitter.com/widgets.js" class="twitter-follow-button"]