The public perception of Notre Dame could not be much better than it is right now. At 3-0, the Irish were viewed as barely getting by thanks to a defense just good enough to enjoy mediocre wins. A quarterback change and two blowouts later, No. 6 Notre Dame is now discussed as one of the most-likely Playoff entrants and a complete team.
Some of that talk ties to the Irish schedule. Not only is it a much easier slate the rest of the way than was expected in the preseason, but it is also a topic begging to be debated this week, just as Notre Dame (5-0) visits No. 24 Virginia Tech (3-1), arguably its toughest remaining game. Thus, the talk has been more than flattering; it has been much and it has been loud.
"They know if they prepare the right way and eliminate distractions, they are a good football team," Irish head coach Brian Kelly said Thursday. "I am okay with that. We've worked hard on that."
When dealing with 18- to 23-year-olds, it is natural for some of that hype to go their heads. Eliminating distractions is easier said than done. To some degree, though, Kelly does not want Notre Dame to tune it all out. The outside view can reinforce what the locker room is already thinking, enforce focus on the task at hand. If to the right extent — a fine line to toe, to be sure — then that swagger can benefit the Irish.
"I'd rather have a confident football team as long as it is not a cocky and overconfident football team," Kelly said. "… As long as it is not too far out there, I'd rather have a confident team."
Maintaining the "consistency in performance" seen against No. 7 Stanford will make that confidence warranted, confidence already showing itself in a quote with language not fit for the dinner table.
For all the applause following the 38-17 victory against the Cardinal, stringing together back-to-back such performances serves as a truer litmus test for the Notre Dame season. Of course, it also includes two ranked opponents typically known for their own consistency. Gauging validity and the appearances of quality opponents tend to go hand-in-hand.
That is where some degree of measured reaction comes in — an unpopular tactic in these hot-take times. A common handicapping mantra is, "No team is as good as its most recent win, and no one is as bad as their most recent loss." Frankly, the Irish were not as bad as two of their first wins, either.
Applying this to the Hokies supports the argument of this being a genuine ranked opponent, a tough game, Notre Dame's greatest remaining challenge. (Statistical analyses give a nod to the season finale at USC, but the Trojans could well be knocked out of Pac-12 contention after their next two games and just playing out the string … or firmly in the Pac-12 title game by the time the Irish arrive in Los Angeles and already looking ahead to a rematch with North division winner Stanford.)
Virginia Tech is not as bad as it showed in the 49-35 loss at Old Dominion two weeks ago. Imagine a world where that had not happened, where Hurricane Florence had not given the Hokies an extra week to look past the regional rival, where the young Virginia Tech defense had not lost all semblance of focus … then what would the outlook on this weekend be?
As of the hours before Friday's sunrise, Notre Dame is favored by 6.5 points. In that hypothetical, might that line be 3.5? Will that Old Dominion-caused change in perception lead to less focus or concern from the Irish?
"If we can't prepare the right way this week because we're distracted because everybody's telling us how great we are, then we'll be in big trouble," Kelly said Tuesday. "This team has shown an ability to prepare the right way, a maturity to stay away from the distractions."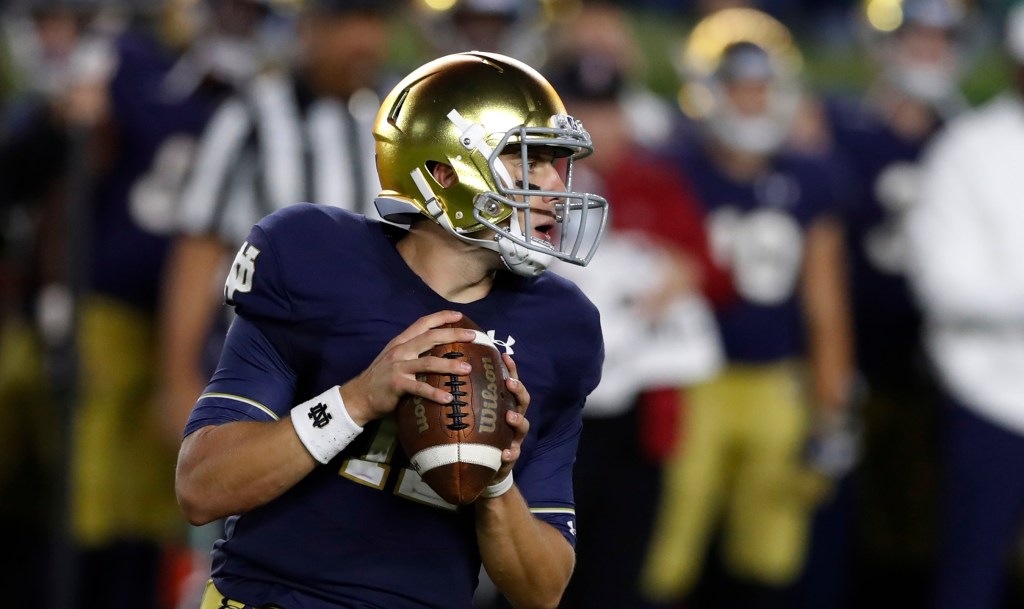 The unavoidable distraction is that of the road environment. The Hokies are not the giant-slayers of Iowa or Auburn when at home, but some things still cannot be denied regarding Lane Stadium:
— It will be much louder than Notre Dame Stadium ever/usually is.
— It will not be a welcoming place for the Irish, a first this year if being sincere.
— It will be junior quarterback Ian Book's first road start in front of a real crowd. Larry Fedora's incompetence reduced last year's North Carolina showing and Wake Forest's general considerations of football diminished that atmosphere two weeks ago.
— Oh, and has it been mentioned Lane Stadium features an exciting entrance from Virginia Tech that will make it worthwhile to tune into ABC at 8 ET on Saturday even if kickoff will not come for another 21 minutes? It has? Great. Just making sure.
The last time Notre Dame entered a stadium glad to jeer it, Miami temporarily changed the answer to "Is The U back?" The memories of that night are stark and have informed Irish practices for at least seven months, plausibly 11.
"[We] haven't talked about the Miami situation since we left Miami," Kelly said. "It's been much more about environmentally handling the situations that will come before us. We certainly use that situation to create the situations that will come before us."
To create those situations, Notre Dame turned the speakers at its practice fields up to 115 decibels this week. "Enter Sandman" most certainly played. The offensive line has prepared to work without verbal communications, a greater worry without fifth-year left guard Alex Bars.
"I was public [after Miami] in saying that I don't think even I handled it the right way in giving them enough information about the situation," Kelly said. "I can't be caught off-guard, and maybe I was the one that was caught off-guard because I didn't prepare them the right way.
"We won't be caught off-guard going into Lane Stadium."
Hyped and praised entering a true road game against a team quite-possibly overlooked because of a fluke upset — if the Irish can disregard all those factors and come out of the weekend with bowl eligibility, then few big-picture questions will remain, if any.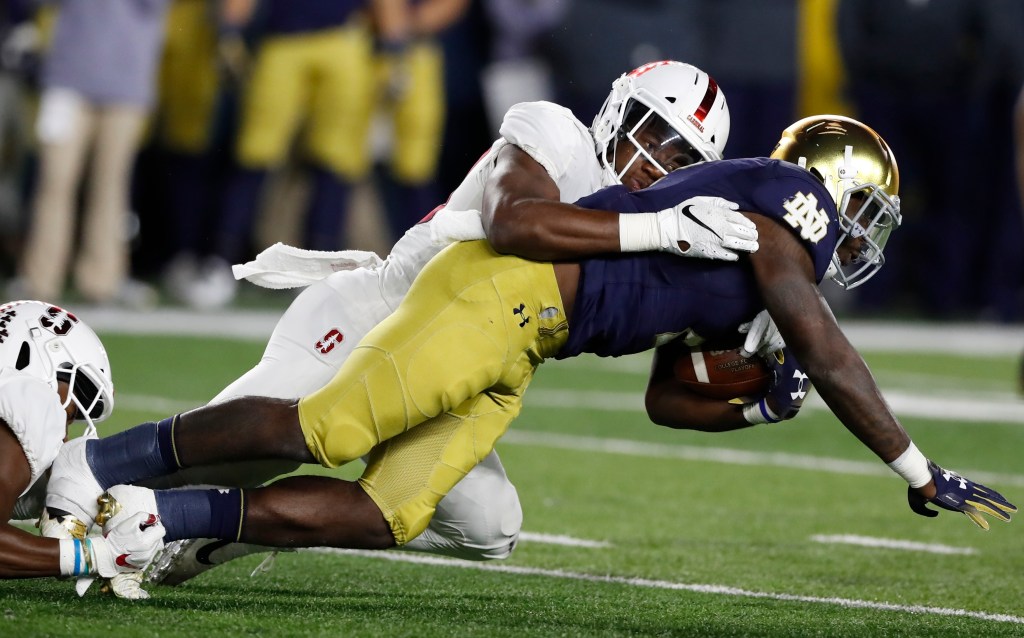 A more micro view … blitz pickup may be a concern.
Senior running back Dexter Williams has never been good at it. Though Kelly expects junior running back Tony Jones (sprained ankle) to be fully available, that could always change quickly, once again putting the entire onus on Williams.
How he fares in pass protection may be the only hindrance left to Williams' overall usage after his 161-yard explosion last week.
"I was counting on if we could get eight, 10 (carries) max, we'd be in great shape," Kelly said of his expectations for Williams last week, when he had 21 rushes. "To his credit, he really worked hard to be in the best possible condition to go in there and impact.
"I don't think there's any restrictions in terms of what he could do for us moving forward now.:"
Similarly, how senior Trevor Ruhland fares at left guard will illustrate how Notre Dame's offensive line will manage without Bars for the second half of the season. Kelly said sophomore Aaron Banks will play Saturday as well.
"He's a big and athletic kid that has gained confidence in his ability, to put it bluntly," Kelly said Thursday. "What we like about him most is that he's adapted well to go from tackle to guard this week. Kind of excited to watch him play."
As it pertains to Ruhland (on right of top picture), these seven games afford the Irish coaching staff a chance to gauge his fifth-year possibilities. Including four commitments in the recruiting class of 2019 and defensive tackle-turned-offensive guard sophomore Darnell Ewell, Notre Dame will have 16 rostered offensive linemen in 2019 if it offers one more year to Ruhland. The sheer numbers make it something to think twice about before doing, unless he removes any doubt from the equation in the coming weeks.
ON DRUE TRANQUILL
The fifth-year linebacker will have to deal with the expected frustrations of a casted broken hand.
"It doesn't limit his grasp," Kelly said. "We don't see any issues. Now, he won't be able to go out there and grab them with one hand. There are some limitations there, but none to the point where it would not be in our best interest to have him on the field."
SOME SCORING NUMBERS FOR NO PARTICULAR REASON
The math is scribbled on a nearby legal pad. No harm in placing it here for anyone curious.
The Irish averaged 34.2 points last season, the most of the Kelly era. Despite opening with 24-, 24- and 22-point showings this year, they currently average 32.8 points per game.
Notre Dame gave up 21.5 points per game in 2017. It currently ranks tied for No. 26 in the country by allowing only 18.8 points per game this season. If removing any games involving FCS teams, the Irish jump to tied for No. 16 in the nation with LSU (four qualifying FBS games) and Ohio State (five).
[protected-iframe id="4322d87b3e2eb4d11caa19723fa3b36c-15933026-22035394" info="//platform.twitter.com/widgets.js" class="twitter-follow-button"]