BLACKSBURG, Va. — On the road, against a ranked opponent, with everything to lose and only the status quo to gain, No. 6 Notre Dame (6-0) had no trouble Saturday night. The 45-23 victory at No. 24 Virginia Tech was not securely in-hand until three unanswered touchdowns to start the second half bolstered the Irish lead to 38-16, but it is not that Notre Dame was ever pressed. Once again, it never trailed, the fifth such occurrence this season.
"It's a deep team," Irish head coach Brian Kelly said. "It's a talented team, but I would say, more importantly, it's a very confident football team in what we can accomplish."
The Hokies kept things close in the first half by sticking to the tenets long-established by former head coach Frank Beamer, who fittingly was honored a few times throughout the day. A strong punt rush forced Irish fifth-year punter Tyler Newsome to absorb a bad snap rather than get off a meager attempt at a punt, and senior quarterback Ian Book's first interception of the season gave Virginia Tech a second short field.
The game stayed simply close, rather than tilt toward the Hokies, because Notre Dame's defense stuck to the tenets now-established by first-year defensive coordinator Clark Lea. Both those short fields turned into field goals, not touchdowns, as did another first-half drive deep into Irish territory. Notre Dame easily could have entered halftime trailing by three or even 11. Instead, it held a 17-16 lead despite those miscues.
"Coach Lea always says, we want to make them snap the ball as many times as possible in the red zone," junior cornerback Julian Love said. "I think we did that today. They had to earn it."
Virginia Tech never struggled to gain yards, finishing with 441, but the Irish defense bought its offense time by limiting the damage. In the first half, the Hokies ran nine plays within 30 yards of the end zone, gaining a total of 18 and scoring just one touchdown on those four such possessions.
Eventually, the Notre Dame offense broke through, as has been the case in each of junior quarterback Ian Book's three starts this season. He finished with 271 yards and two touchdowns on 25-of-35 passing. Both scores went to senior receiver Miles Boykin, who had 117 yards on eight catches.
Each of those touchdowns came during Notre Dame's second-half run, one a 40-yard completion and the other a 5-yard score. Both showed the chemistry between Book and Boykin, especially the first. When Book needed to step up into the pocket, Boykin knew to break off his route and find an opening as soon as possible.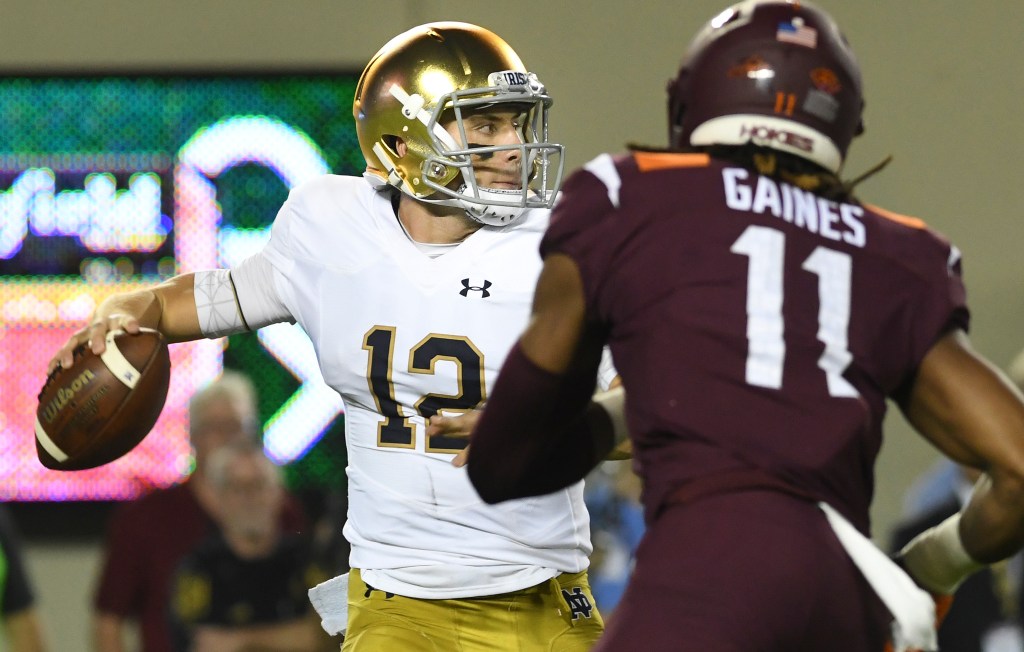 The win moves the Irish to 6-0 — bowl eligible — and through the toughest two-week stretch in the schedule without a blemish. More than that, beating two top-25 teams, one on the road and both by three touchdowns puts this version of Notre Dame, the version with not only Lea's dominant defense but also Book's humming offense, into a conversation with few other programs in the country this time of year.
TURNING POINT OF THE GAME
The Irish squandered all the momentum heading into halftime. Reaching the break with a one-point lead should have been a good feeling, but the Hokies had outgained Notre Dame by 55 yards, had threatened more times and had scored with just a dozen seconds left before halftime. To top that off, Virginia Tech was getting the ball to start the second half.
The singular point of recognition here came eight plays after halftime, not counting the kickoff, but the first five snaps played just as significant of a role. The Hokies had scored on four of their last six possessions, mixing in one punt and one turnover. There was reason to believe they would threaten again, grab a lead and turn Lane Stadium into a rock concert. Instead, Notre Dame forced a punt after five plays. Not quite a three-and-out, but the possession never reached a dangerous area.
Irish senior running back Dexter Williams lost two yards on the first play of the subsequent drive. Doing so may now qualify as stat-padding, elongating his following run to 97 yards for a touchdown, the second-longest rushing score in Notre Dame history. If he had lost an additional yard on the previous carry, he would have tied Josh Adams' record from 2015 (vs. Wake Forest).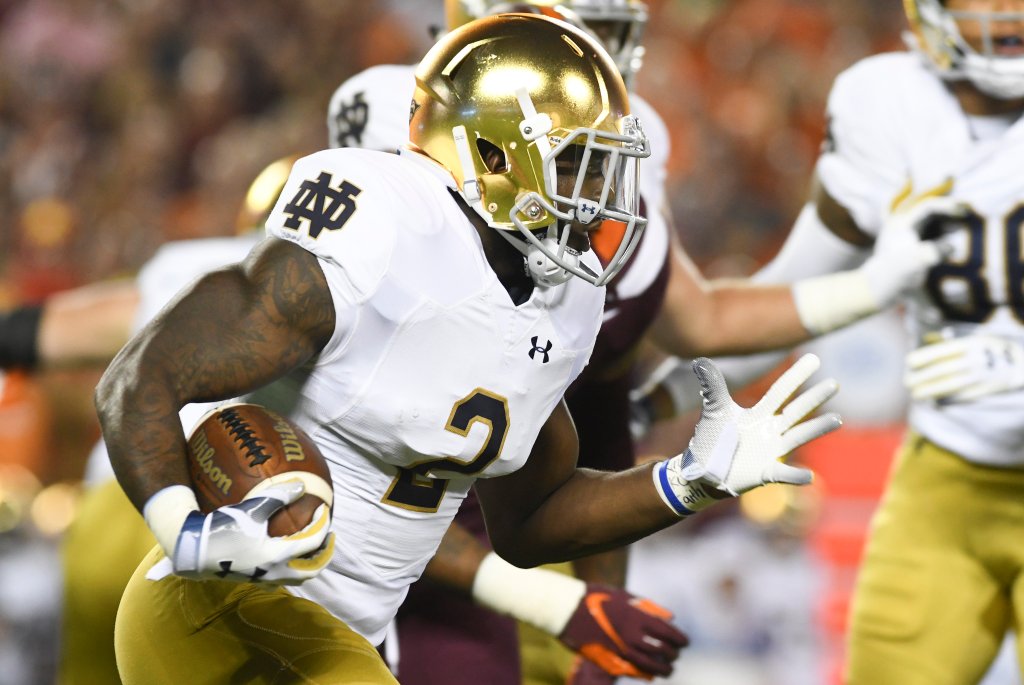 "It was a long run," Williams said. "I was looking at the jumbotron the whole time making sure I didn't get caught. It was a little delayed. I just had to finish that run."
At halftime, Williams had gained 19 yards on seven carries, and he had not come close to breaking loose on any of those rushes. The 97-yard dash was unexpected, simply a play the Irish trusted in the shadow of their own goal posts. Blocks from senior tight end Alizé Mack and junior right guard Tommy Kraemer, pulling across the line to the left edge, sprung Williams.
"We had a couple of plays that we felt comfortable with that we could run down there," Kelly said. "We pulled Tommy Kraemer, he had a nice kick-out block. [Williams] has great speed, and he was able to hit it.
"There are no levels to that defense. If you get through that first level, we felt pretty confident we could get a chunk play there. We didn't expect to go 97 yards."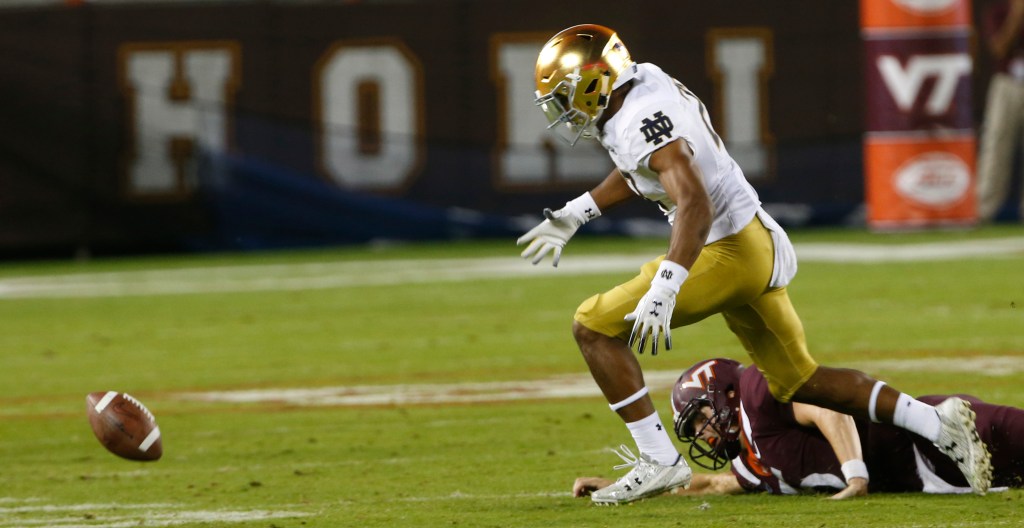 PLAY OF THE GAME
Hardly anyone would have faulted junior defensive end Khalid Kareem for not springing back to his feet immediately after missing a sack of Virginia Tech senior quarterback Ryan Willis. Instead, Kareem popped up from the field and laid another hit on Willis, popping the ball loose for cornerback Julian Love, who had started to charge when he saw Willis under duress.
"I just had the mentality that I would not be stopped," Kareem said. "Had to keep going, give it everything until the final whistle blows. I was on the ground, saw the quarterback go by and made a final effort to fight through."
Love did not need to do much. The fumble even bounced perfectly for him, making the 42-yard scoop-and-score a mere formality and Love's third career defensive touchdown. For a moment, the play looked to be the prototypical turning point of the game — a quick Hokies score before halftime curtailed that.
The combination of Kareem's perseverance and athleticism and Love's nose for opportune moments nonetheless epitomized the Notre Dame defense.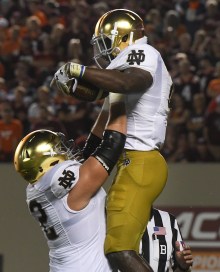 PLAYER OF THE GAME
For the second-straight week, Williams set two career highs, upping his peak rushing yardage total to 178 yards from 161, set a week ago, and reaching the end zone three times, one more than his previous best.
Even if removing that 97-yard highlight from his numbers, Williams had a productive day. His other 16 rushes averaged 5.06 yards. There is no situation where that is not good enough.
"At the end of the day, I thought Williams was the difference," Virginia Tech defensive coordinator Bud Foster said. "He made a difference in the game against Stanford and he made a difference in the game today with that big run."
STAT OF THE GAME
Clearly, Williams was not on pace for that at halftime. Neither was Notre Dame. The Irish gained 160 yards in the first half, compared to 278 in the second. That may seem like it is largely the byproduct of that touchdown, the longest rushing score in Lane Stadium history. More than that changed, though.
Notre Dame's play distribution shifted 180 degrees.
First half: 25 passes, 10 rushes (counting sacks as pass plays and not counting the blown punt at all).
Second half: 12 passes, 19 rushes.
Even if removing the final Irish drive from the tally, an exercise in running out the clock more than trying to gain yardage, the meaningful second-half differential was 12 passes compared to 15 rushes.
Once the Irish firmly established their run game, the offense kicked into gear, leading to a 28-point half and a résumé-worthy victory.
QUOTE OF THE NIGHT
"We overplayed that. That worked out well for us," Kelly said when asked how Notre Dame handled what was expected to be an electric environment.
"Football coaches, including myself, don't want to make the same mistake twice, and I made one last year at Miami. We overplayed it (this year). They were prepared for the atmosphere, and that wasn't the issue today."
SCORING SUMMARY
First Quarter
9:24 — Notre Dame touchdown. Dexter Williams 1-yard run. Justin Yoon PAT good. Notre Dame 7, Virginia Tech 0. (12 plays, 75 yards, 5:36)
6:58 — Notre Dame field goal. Yoon 31 yards. Notre Dame 10, Virginia Tech 0. (5 plays, 59 yards, 1:09)
0:53 — Virginia Tech field goal. Brian Johnson 39 yards. Notre Dame 10, Virginia Tech 3. (13 plays, 53 yards, 6:05)
Second Quarter
10:06 — Virginia Tech field goal. Johnson 43 yards. Notre Dame 10, Virginia Tech 6. (7 plays, 17 yards, 3:09)
3:21 — Virginia Tech field goal. Johnson 33 yards. Notre Dame 10, Virginia Tech 9. (6 plays, 37 yards, 2:31)
1:08 — Notre Dame touchdown. Julian Love 42-yard fumble return. Khalid Kareem forced. Yoon PAT good. Notre Dame 17, Virginia Tech 9.
0:12 — Virginia Tech touchdown. Damon Hazelton 3-yard pass from Ryan Willis. Johnson PAT good. Notre Dame 17, Virginia Tech 16.
Third Quarter
11:49 — Notre Dame touchdown. Williams 97-yard run. Yoon PAT good. Notre Dame 24, Virginia Tech 16. (2 plays, 95 yards, 0:42)
4:59 — Notre Dame touchdown. Miles Boykin 40-yard pass from Ian Book. Yoon PAT good. Notre Dame 31, Virginia Tech 16.(9 plays, 70 yards, 3:32)
Fourth Quarter
9:08 — Notre Dame touchdown. Boykin 5-yard pass from Book. Yoon PAT good. Notre Dame 38, Virginia Tech 16. (11 plays, 64 yards, 4:43)
5:40 — Virginia Tech touchdown. Eric Kumah 15-yard pass from Willis. Johnson PAT good. Notre Dame 38, Virginia Tech 23. (13 plays, 80 yards, 3:19)
4:50 — Notre Dame touchdown. Williams 31-yard run. Yoon PAT good. Notre Dame 45, Virginia Tech 23. (2 plays, 44 yards, 0:48)
[protected-iframe id="4322d87b3e2eb4d11caa19723fa3b36c-15933026-22035394" info="//platform.twitter.com/widgets.js" class="twitter-follow-button"]