BLACKSBURG, Va. — Notre Dame was here a year ago. The last time the Irish beat ranked opponents in back-to-back weeks? 12 months ago. The last time Notre Dame won three consecutive games by three possessions? Again, 12 months ago. The last time the Irish controlled their own path to the College Football Playoff? You get the idea.
There is something different this time around, though, and it is more than not having two top-20 teams yet on the calendar. (Of course, that helps, and barring a USC charge, there are unlikely to be any remaining ranked opponents.) This year, No. 6 (now No. 5) Notre Dame has not yet reached its peak. More than anything else, that was clear during Saturday's 45-23 victory at No. 24 Virginia Tech.
The Irish (6-0) let the Hokies (3-2) hang around throughout the first half, missing on big plays and instead gifting the home team field position. Notre Dame was fortunate to reach halftime leading 17-16 rather than trailing by 11, yet the Irish also left points on the board, a 17-3 first-quarter lead one overthrown pass away from becoming reality.
"We were a little uneven in the first half," Notre Dame head coach Brian Kelly said. "… We got outside our boundaries a little bit, trying to do a little bit too much."
As well as the Irish played overall — and they did — no one phase of the game was particularly dominant. Virginia Tech actually outgained Notre Dame by three yards and converted a respectable 10-of-21 third downs. The 441 yards allowed were a season-high for Irish coordinator Clark Lea's defense.
Yet, Notre Dame won by three possessions on the road against a ranked opponent. To combine these two sentiments: A flawed Irish performance was still good enough for a statement-making road win.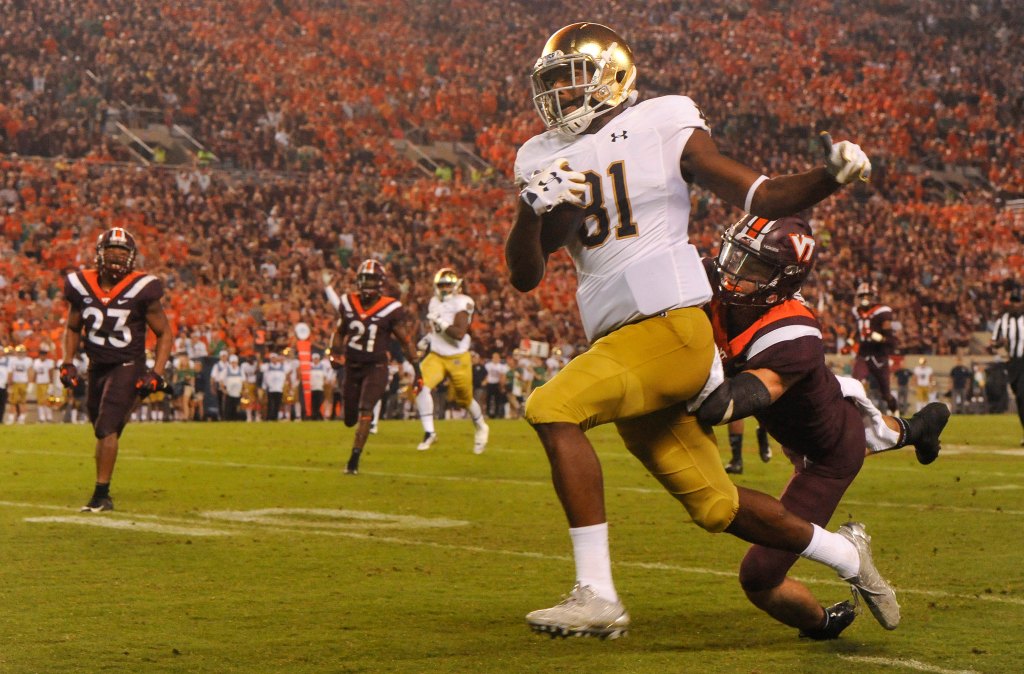 How much better could Notre Dame be? That starts with junior quarterback Ian Book. Even if he has been the catalyst to the offensive revival that has averaged 46.3 points per game the last three weeks, the room for improvement is obvious. In Book's mind, the 45 points scored against Bud Foster's defense were not nearly as many as they could have been. He floated the idea of 70.
"They're still a great defense," Book clarified. "Not banging on them at all. Just saying we had so many opportunities that I didn't hit."
He started the day methodically and precisely, completing his first eight passes for 114 yards, highlighted by hitting seemingly-uncovered senior receiver Chris Finke for 56 yards. That was the last deep ball Book would hit, missing a yet again inexplicably-uncovered Finke on the next drive for what would have been a rarely-seen first-quarter backbreaker. Both senior Miles Boykin and junior Chase Claypool also lost out on deep touchdowns due to Book overthrows.
As a good teammate should, Boykin took ownership for at least part of the issue — "Our timing is a little bit off, because we're open." — but when all three starting receivers are overthrown in one game, the adjustment needs to be made by the quarterback.
"He was a little flat with throws," Kelly said. "He missed some of the big ones down the field. When the ball comes out flat, he's a little excited. Those throws he'll hit."
If/when Book does hit them, the Irish offense will have all facets clicking at once for the first time since 2015.
The naked eye's first glance could see Book with a bounce in his feet as he attempted those deep throws. Rather than his usual clean and quick release, there was obvious concern in those moments. What needed to be lofted passes toward the physical presences of Boykin and Claypool were instead akin to flair singles, well out of their reaches. Perhaps that was nerves, maybe some was compensation for a lack of a truly strong arm, or the answer could be as simple as Boykin's timing.
"I was being a little skittish," Book said. "I wasn't giving my guys a chance, which you can't do. I put that all on me."
To point out an offensive shortcoming after scoring 45 against a Hall of Fame defensive coordinator speaks to just how high the Irish ceiling may be.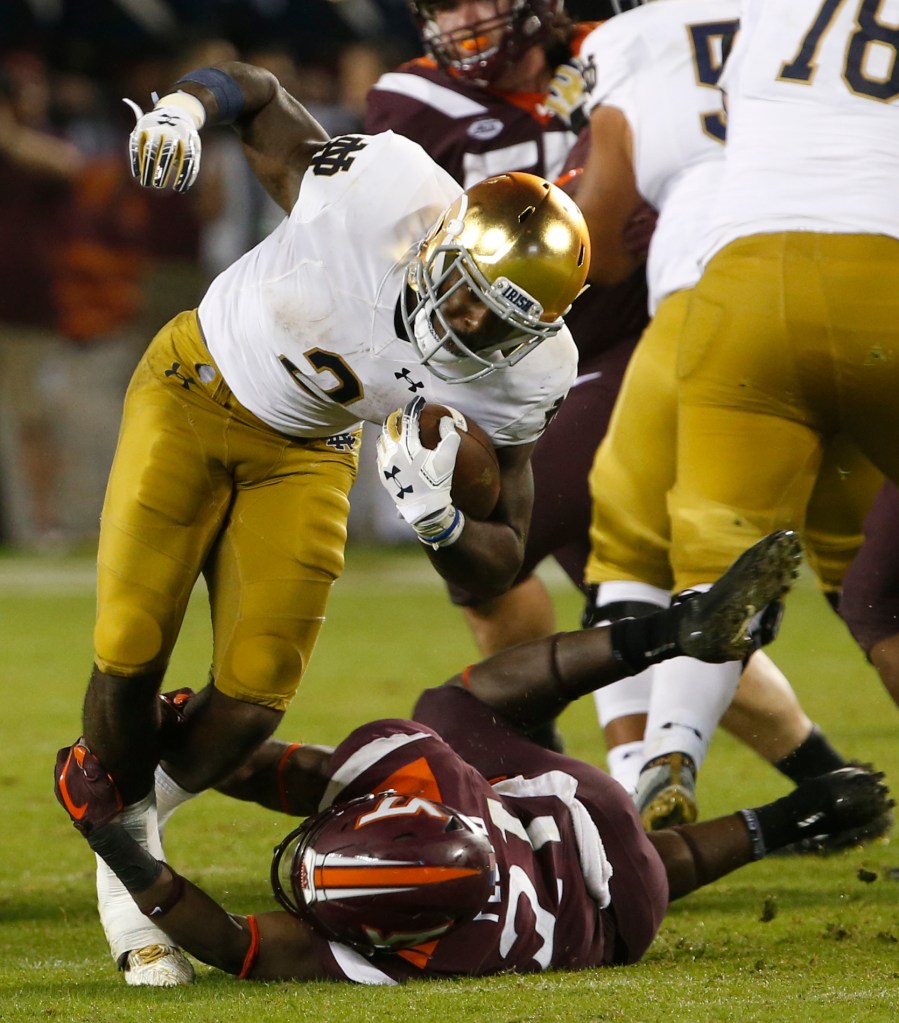 The running game has certainly shown up, and any remaining concerns about senior Dexter Williams' durability can be shelved. As of two weeks ago, he had never taken more than eight carries in a single game. He now has 38 total in the last two, and his final two runs may have been the most impressive.
Notre Dame was not looking to score again with fewer than five minutes remaining and a 15-point lead. Virginia Tech had resorted to an onside kick. Recovering that usually indicates the game is over but for running out the clock. All that was genuinely expected from Williams was staying in bounds.
Instead he broke multiple tackles on two runs, still running hard, covering 44 yards on his own for his third touchdown of the day.
The phrase "running angry" is usually meaningless, but it may be the best way to describe Williams at that point. He had nothing left to prove — 15 rushes for 134 yards and two touchdowns would have been a stellar stat line on its own. The Irish did not desperately need more. Nonetheless, Williams powered through first contact with a determination and certitude not seen in his first three seasons.
Returning to Lea's defense, in giving up its most yards of the season, it actually showed the quality of its depth up front. Junior defensive end Daelin Hayes did not make the trip due to a stinger suffered last week against Stanford. Classmate Julian Okwara missed the second half due to a targeting call, perhaps the easiest such call in the history of the rule.
That meant Notre Dame was without half its pass rush. Hardly anything seemed lost. Freshman defensive tackle Justin Ademilola is expected to contribute these days, and his three tackles spoke to that. Twin brother and end Jayson Ademilola is not inherently thought of in that role this soon, but he added a tackle of his own.
Junior end Ade Ogundjei flipped sides of the line and made two tackles once Okwara was sent to the locker room. More importantly, the weak side of the line did not become an actual weakness with Ogundeji, remaining a simple alignment description. Junior Jamir Jones made two tackles in his first significant action, playing a supporting role to both Ogundeji and junior strongside end Khalid Kareem.
"He got after it," fifth-year linebacker Drue Tranquill said of Jones. This innocuous quote warrants inclusion because it was noteworthy Jones played enough to even merit a post-game thought, let alone played well.
"Those guys are huge," Tranquill said of the line reserves as a whole. "They work their butts off. A lot of the bigger names get praise, but … to have two or three deep at each position, that's huge for us, and it's going to be huge for us accomplishing our goals."
Freshman linebacker Shayne Simon notched three tackles, his first coming on what is believed to have been his first defensive snap of his collegaite career, entering on a third-and-goal from the 1-yard line and joining senior linebacker Te'von Coney to make a tackle for a four-yard loss. Freshman cornerback TaRiq Bracy continues to contribute, making one tackle on special teams and one on defense.
This defensive depth had not been seen to date. It could be the difference between yet another November swoon and a truly special season.
The Irish are through half the season undefeated. The remaining schedule looks less than challenging. The offense has not found its ceiling. The defense has found some depth.
Notre Dame may yet improve, which is not something oft-said about a 6-0 team.
[protected-iframe id="4322d87b3e2eb4d11caa19723fa3b36c-15933026-22035394" info="//platform.twitter.com/widgets.js" class="twitter-follow-button"]